Building Portfolio for a Photographer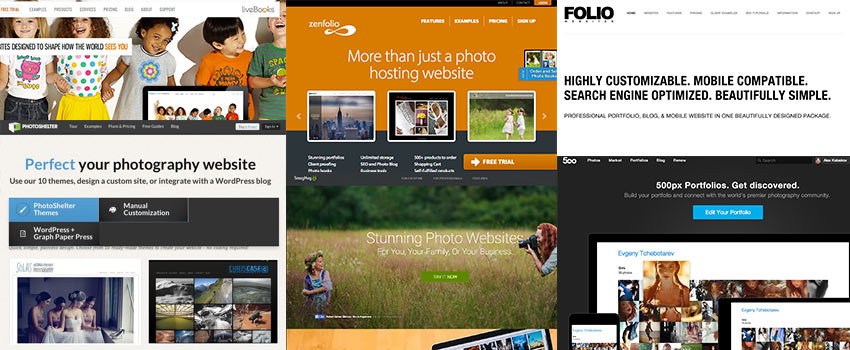 We had a discussion on the forum about finding the best ways to create a successful photographer's portfolio, and many different questions were brought up during the course of that discussion. Below are few of the questions asked:
Is it important for a photographer's portfolio to be responsive (i.e change design on a fly to best fit on mobile browsers)?
What's the best platform and hosting for a photographer's portfolio?
How to handle SEO and increase the ranking of a website with mostly static visual content?
Build your own portfolio on self-hosted service v.s ready-to-use solutions like SmugMug.com or 500px.com?
As a former web developer, (SEO specialist 8 years ago) and commercial photographer with a portfolio which desperately needs to be re-built and updated  (www.koloskov.com - check it out and try to see why I do not like it), I am going to find out what the best solution would be for a photographer who wish's create an eye-catching, SEO friendly portfolio.
I am going to record and explain every step along the way of creating my new portfolio, and we'll end up with a series of videos for a mini-course that will be released to the public after completed.
To make this course helpful and valuable to the whole community, I need your help on finding out what the situations are with your own portfolio, as well as what you believe would be most interesting and would like to see covered in the course. Please take a minute and answer these questions below.
If you feel like there are different answers and/or different questions to be asked, feel free to post in the comment area of this post. This will help make these videos more valuable for you and the rest of the community.
Note: please vote for each poll individually 
Thank you!

P.S Old poll results are saved and every opinion was counted! We had to replace pools due to reported problems.
Below are results we got on old polls

Where do you host your photographer's portfolio?
I've got a self-hosted portfolio on my own domain (58%, 57 Votes)
I do not have a portfolio yet and looking for creating it soon (26%, 26 Votes)
I use online service for photographers like portfolios on 500px or Smugmug (16%, 19 Votes)
Total Voters: 99
Loading ...
In case you have your own hosted portfolio, what platform do you use for it?
Custom build php/.net or HTML portfolio website (36%, 24 Votes)
Wordpress-based with off-shelf portfolio theme (26%, 17 Votes)
Wordpress with customized theme (php coding, custom css) (21%, 14 Votes)
Content Management System other than Wordpress (15%, 10 Votes)
Flash-Based portfolio (similar to simple viewer) (2%, 1 Votes)
Total Voters: 66
Loading ...
What the most interesting topic you want to be covered?
SEO and other optimization to improve search ranking of existing portfolio (56%, 41 Votes)
Technical info on how to build photographer's portfolio form a scratch (29%, 21 Votes)
Find out more about existing options of getting build a portfolio (15%, 12 Votes)
Total Voters: 73
Loading ...
The lighting magician, owner of AKELstudio, Inc.
---
You may also like to read: