After a great success of our "Splash Garden" series, and now we waned to created something similar on a white background. So, one day was spent in a studio and we got our "Liquid Love" , the header image of this post.
This is me during the shot:
What we learned is this:
How to create free floating "C" shaped splashes, how to create them repeatedly without much efforts. There was no any other device involved other than my hands, but I like it this way: once technique developed, I can use it to create as many shots as needed… and usually we need a lot… to create something magnificent in a post production.
Below are few shots from hundreds we got. Now my post-production lady will use them as  "frozen" strokes of paint brush, and to create some really cool art. I am sure soon we'll see it:-)
Frozen paint strokes  
Now, the really cool is that I've got a 13 minutes video tutorial from the shot, available for Splash Masters (will be on a separate package for $9.95 soon as well). In this video I explain and demonstrate how everything was done.
Such "C" shaped splashes will work great for many kind of product and advertisement shots: it is easy to wrap them around a subject, crating swirl-like effect. Possibilities are endless, and I am sure those who were looking for such stuff will appreciate this mini tutorial.
---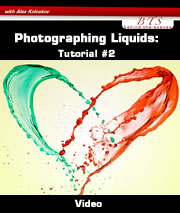 Continue to the video (premium content)
Or, alternatively, you can buy it for $9.95 with instant download on our e-store.
The lighting magician, owner of AKELstudio, Inc.
---
You may also like to read: