Welcome to Professional Photography Forum
If you submit your shot for the review, you must supply it with the lighting setup images (or diagram in case you do not have shots of the setup)
Topic RSS
The Beer shot: deadline 03/21
(0

votes)
March 15, 2012 - 9:43 am
Member Since: September 4, 2009
Forum Posts: 1257
For this week we'll do a beer shot. A photo for and advertisement: we should create image not only technically perfect, but also creative enough to actually sell the product. Imagine that we'll be shooting for a new brand in a beer industry, and nobody knows it yet.
It can me pouring beer, splash, beer in a glass or in a bottle.  Anything will work, anything creative and interesting to look at:-)
Want to watch a previous hangout? It is here: Studio Photography Insights with special guest: Bill Cahill
Need inspiration? Look here: 
Creative action photography: 11 amazing beverage images.
Alex, the lighting magician.
March 16, 2012 - 10:43 am
Member Since: March 3, 2012
Forum Posts: 5
Offline
Greetings everybody!
Here is my shot for this weeks beer shot. I wanted to put in some splashes too, but just didnt get the little pool yet, so I couldnt spill any water in my studio. Hope to get is ASAP.
 A pic direct as it is from camera:
And after some editing in Photoshop
And a little behind the scenes pic
BIG thanks to my awesome girlfriend for assisting me by the shot!
Greetz,
Matt
March 16, 2012 - 9:03 pm
Member Since: September 4, 2009
Forum Posts: 1257
Hello, im the "new guy"
I can agree with Akex here, i think you should do another try on the PP, i think the photo have a big potential to be really good, i like the bottles in the first picture because i think they look more natural and inviting. Good work!
I have one question: How idd you get the bottles to stand like that? Fishline or somethink?
Regards
Patric
March 17, 2012 - 2:13 am
Member Since: March 3, 2012
Forum Posts: 5
Offline
Tnx for your posts Alex and Patric. It would be awesome to see, how would Genia edit this pic.
Well Im still getting in this PP stuff.. so im not the best yet at that.
I used a white kinda "fish line" yes
And my girlfriend balanced it. It took a while to figure it out how to hold it corectly, but when you find it out, it`s easy
Greetz,
Matt
March 18, 2012 - 3:22 am
Member Since: March 4, 2012
Forum Posts: 12
Hi Alex,
Im had some PC troubles the past few months on and off so I had some downtime and I usually follow what your up to but somehow during one of my downtimes I missed the start of this project you have started and how to become part of it. Could you please either directly let me know how and if I can join in this project you've started or share a link with me that has the details. I would really like to be a part of what your doing with this idea.
Thank you,
Jeremy Guinaugh
PS, I have you in my circle on google+ and I have a wordpress account but it was migrated from when windows live killed its blogging servie Live Writer, Since then I have not done much with setting up or maintaining my WP account but its still active. But if that is needed to join this project then I will work on thatt as well.
digitalfinger
Lytchett Matravers, Poole, UK
March 18, 2012 - 7:58 am
Member Since: March 4, 2012
Forum Posts: 177
OK here's my attempt.
When I was setting up the shot, I broke the glass
 So I turned a negative into a positive and photographed it
I used 4 strobes 2 in back and 2 in front and a reflector on the label. The broken pieces of glass I shot separately under the same lighting then photoshoped them in
to create the image.
Terry Croom  
digitalfinger
Lytchett Matravers, Poole, UK
March 18, 2012 - 9:28 am
Member Since: March 4, 2012
Forum Posts: 177
March 18, 2012 - 1:02 pm
Member Since: March 4, 2012
Forum Posts: 37
I admit it up front there are few beverages in the entire world I dislike more than beer and or ale. So it's not actually an over appealing assignment. I would guess I might be the only one who poured the props down the drain when finished.
My first thought was to use a cool bottle I found at the store. Had the idea to use it two versions probably with a glass(es) of beer or maybe two in the shot.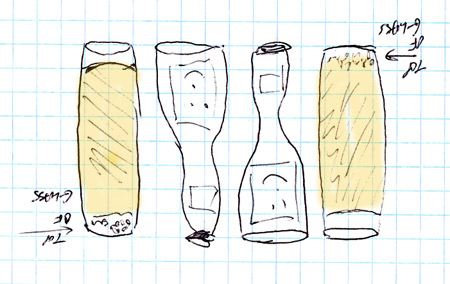 I first set up the beer bottles to get the general idea, and did a couple of test fires. The bottles were fine but I wanted more light inside bringing up the color and shape. Unfortunately every time I got light to go through the bottle the interior became cloudy. It looked very unappetizing.
Here was the first pair of bottles and a test for the rear light. No matter what I did the interior looked like crap whenever it was lighted.
Oh well I had also purchased a much nicer and traditional colored beer so I movde on to it. I decided to light the whole thing from below and behind, using a small hand held light to bring up the label and foam. The bottle and glass got spritzed with some water to give it a bit or of chilled look, and I used a black reflector to get an outline on the clear glass against the white background.
General set-up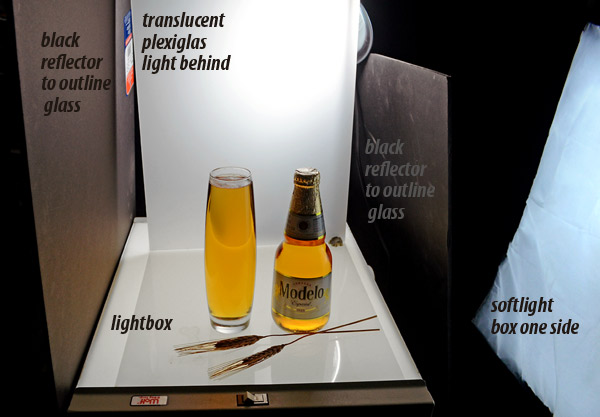 I had to blend the floor and background in photoshop as I don't have a continuous background that is translucent. I also cut down a bit of the black edge on the glass as I thought it was a bit too thick. First image shows the camera pic un-retouched ….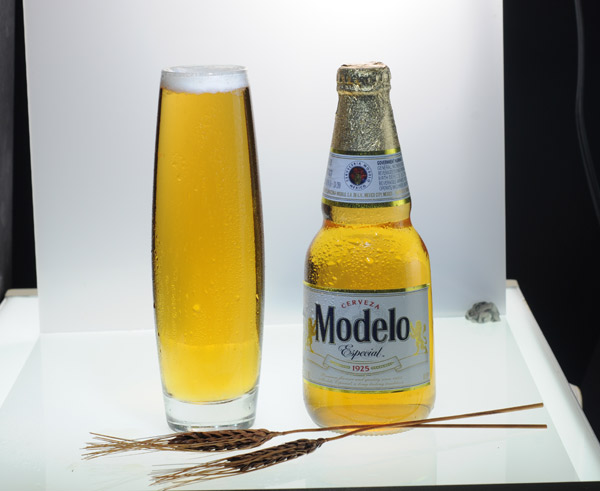 And the final photoshop reworked pic.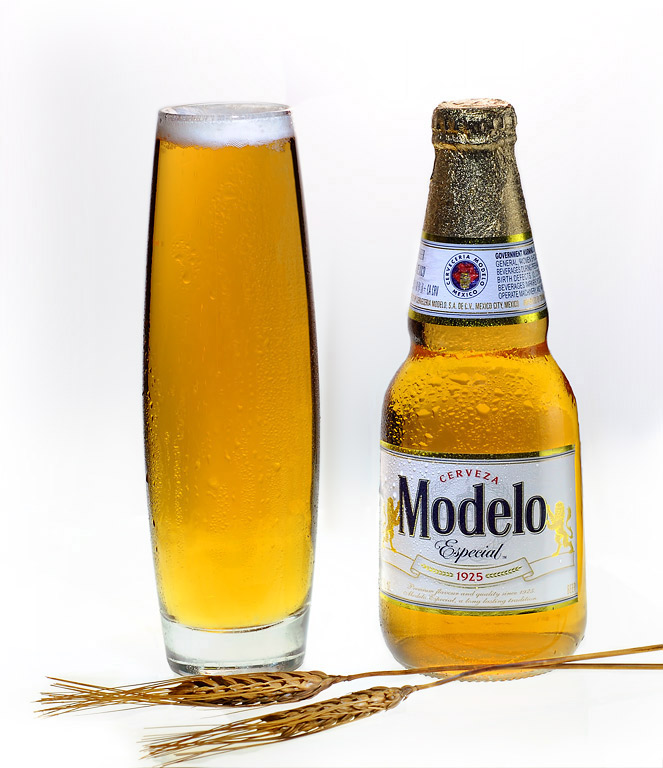 March 18, 2012 - 2:12 pm
Member Since: March 5, 2012
Forum Posts: 1
Hello
Sorry for my little Italian English.
Here is my shot for this week about beer shot, I haven't a set up photo but I'll serach to axplain this.
I have done 4 shots :
the first on white with 2 banks  front the bottle for a good illumination.
After I have create a selection of the bottle.
The second shot, I have used 3 flashes: 1 under the table with a red gel, to create the fire , 1 flash behind
the scene with a blue gel and grid, the third with a snoot and grid to the bottle.
The other 2 shots with all the flash turned off and I have used a red LED illumination with 2 seconds each shot.
After, I put selected bottle in the good shot, I used curves , finally I merged the other 2 shots with  blend mode adjustments.
I hope to have explain clearly my shots.
Thanks  Alex for your lessons !!!!
Gianni From Florence Italy
i really like Ron Gibbs photo, very nice work!
When my kids were sleeping i rushed up my flash gear and started shooting, but my younger doughter woke up so i did only get 30 minutes of photographing.
One thing i dont like about this picture is that i didnt get the time to light the whole bottle as i wanted. I want some light on the neck of the bottle to, will se if i get some time before 3 / 21 to shot this image again. Another thing may be that the flash i use to lght up the lable is a bit reflective. 
This is a Swedish beer from a small town in Sweden.
March 19, 2012 - 6:47 am
Member Since: March 6, 2012
Forum Posts: 5
Offline
Hi, I just finish to shoot the assignment for this week. To create the block of ice I need take some time. there are 2 shoot of the setting I used in studio. The hensel 800 with the blu gel from  the right, an hensel 500  back of me and another hensel 800 from the left, with softbox and another light diffuser on the table.
March 19, 2012 - 9:29 am
Member Since: September 4, 2009
Forum Posts: 1257
Wow, so many submissions! We still work on our shot:-)
Jeremy Guinaugh, There is nothing special you need to do to join the group: just start doing our assignments, and you will receive the feedback and critique on them during hangouts. I have added you to a studio hangout circle, meaning you'll be invited every Wednesday and Thursday. However, it does not mean you'll be able to join, as only first 10 may do so: this is limitation form google.
In any case you'll be able to watch the hangout and do our assignment. Looking forward to see your work!
Alex, the lighting magician.
Forum Timezone:
America/New_York
Most Users Ever Online: 298
Currently Online: tzimi, PoTing Huang, France, Flo, plunk, Larry Pollock, gabadilla, fotocorus, Mike Smith, BAZ, Keith_Bridges
75 Guest(s)
Currently Browsing this Page:
1 Guest(s)
Members Birthdays
Upcoming
Danislav Mironov
Top Posters:
Paul Williams: 623
charles sweigart: 409
France: 298
Paul Whittingham: 289
BAZ: 276
teknishn: 267
Kathy Place: 209
Michael Diamond: 180
Corey: 179
digitalfinger: 177
Member Stats:
Guest Posters: 8
Members: 5325
Moderators: 6
Admins: 5
Forum Stats:
Groups: 12
Forums: 79
Topics: 1860
Posts: 10659
Newest Members: Rahul M Varghese, Marc Bautista, Fran, Pablo Toledo, george h, Ussery Ussery, Checho Lalan, Pablo Seco, Suresh Kumar R, Dan Butter
Moderators: Cris Anzai (19), Curtis Hustace (114), aldem (0), David Le Tellier (35), 24x7 (0), mailpoet_admin (0)
Administrators: Alex Koloskov (1257), Joshua Geiger (97), Genia (12), Flo (1219), Editor Editor (0)