Hey guys, Camerapixo magazine has published this interview with Alex Koloskov, and I think it will be interesting for Photigy readers. Artur Heller, co-founder of Camerapixo, let us to re-post the interview here on Photigy, so here it is, enjoy !
---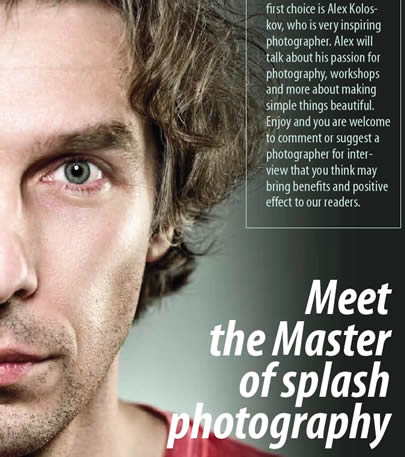 Hello Alex, please tell our readers who you are and what is your purpose in professional life?
Hello everyone, I am Alex Koloskov, a curious photographer who loves to work in a studio, shooting tricky and challenging to photograph things. I also love to share my findings and solutions, and this is how people know me :-) This is probably the purpose of my professional life as for now: to help other photographers to get things done by showing uncommon ways and unusual solutions in photography.
I started as a commercial photographer, but when I became successful in it, I realized that doing commercial photography assignments is not what I want to do for the rest of my life. I found myself much more fulfilled by helping other photographers.
What made you take the leap into professional photography?
Photography was my hobby for many years, and doing it professionally was a natural move towards my passion.
Would you give a brief walk through your work flow?
Once I understand the requirements for the shot, I usually have few ideas in my head about how to get the shot done. The sooner I get into the studio and start playing with the lighting or building a custom rig needed for the shot, the better.
I do not usually do much of research, I prefer to approach the task with "clean mind": quite often it allows me to create unique solutions and produce something crazy enough to make people go "WOW" ;-)
Alex, do you have a favorite walk around lens…If so what Is It? 
I am a studio photographer, and my most loved studio lenses are Canon 180mm F3.5L Macro for products and Canon 70-200 F2.8L IS for people. These are the best from Canon for tasks I do in a studio.
When going outside, 90% of the time I use canon 8-15mm F4.0L fisheye lens: I like to create unusual shots from "usual" places, and this lens fits my desire perfectly :-)
What is your favorite product to be photographed?
No preference here, the more challenging subject, is better: I love to solve puzzles. Usually it is hi-glossy things or  "in motion" stuff, like liquids.
Are there times when you are not satisfied with your work? How do you know when a photo is really good? 
I am almost never 100% satisfied with the result, as improving the shot is an infinite process for me. I can spend days finding better ways to get the shot as close to the goal as possible, without using Photoshop.
However, every time I have to find a point when the result is "good enough" to make me be proud of myself. And when I get this feeling, I know it is time to stop :-)
You have created great photography, what do you get the greatest satisfaction from?
The greatest satisfaction is when I see how my tutorials and behind the scene videos help fellow photographers to create something really cool. I love to inspire people ;-) Another great moment I have is when I see the final image for a first time after a post-production, and it turns my "WOW" button on :-)
We do many composite shots, where multiple pieces I shoot in studio get combined into one image during a post-production, and in many cases there is no way to see the end result before the post-production piece is completed.
What was the funniest thing you have ever experienced in your career?
Sometimes when the shot is done we decide to go further and go creative, doing crazy things… And it is fun when it turns to producing unexpected and usual results.
Do you rely on lighting (natural, or artificial), or do you rely on dark-room/computer manipulation? 
We always use the most from both: I do the maximum I can in studio with the lighting and camera, and my retoucher uses computer manipulations as deep as needed to get the desired result. In general, we do not care how the image was created, the only end result is what matters. 
How do you make simple things beautiful?
It happens when we mix creative ideas with perfect technical execution and do not compromise the quality on each of the steps: photography and postproduction. I've seen many great ideas were done poorly and this is what killed the beauty of the end result. I have also seen perfectly done plain shots, and they never look beautiful to me. Only by mixing a true artistic, creative approach and perfectly "engineered" execution is what can produce beautiful things, IMO.
Tell us more about your online photo coaching.
We work on creating photo coaching courses, where we will not just be teaching the students, but be oriented on getting great results from each photographer. This is something I found missing on all the courses I've seen online: instructors seem to be worry only about providing the best learning materials, but not on having students to deliver great shots during, or after the course.
I will concentrate on making sure that our students will produce an outstanding results during the course. Only this will ensure that our course was not waste of time and money. Check out Photigy.com workshops page for announcements.
What have you learned from mistakes in photography?
I did not have any mistakes. Every negative result I had was a great learning experience and I can't call it mistake. Mistakes are something which we regret, and I do not have anything to regret in my photography :-)
And the best thing I learned is to be myself, not trying to meet expectations of photographer's community when it comes to self-assignments.
Can you suggest one or two "secrets" our readers can do to improve their ability to take better photographs?
There is no "secret" behind successful shots, the only difference between great and plain shot is that photographer did not stop after unsatisfactory or mediocre result. Did not stop even after 10 attempts of getting desired shot, continued to "dance around" and eventually got the image which makes him/her feel good about themselves.
So, the secret is to never give up, work till you will be proud of yourself :-)
How does your family feel about your photography and do you travel a lot?
I am happy photographer, my wife is my post-production artist and she loves working in Photoshop. Our kids grow up in the studio, and it is great feeling when I work in the studio with kids "helping" me around :-)) I
do not travel much, and if we travel, we do it with the whole family. I do not like to be separated from those who I love, and this is one of the reasons I enjoy working in our studio, which is the basement of our house :-)
This was one of the reason I stopped doing commercial architecture assignments: despite a great success I had to leave this marked as it required too much travel where I couldn't have my family with me. I can tell that I never regret this decision.
What was the most interesting photography trip you have ever taken? Why?
All my photography trips happens in the studio, and the most interesting are the hi-speed action liquid shots. Liquids are so unpredictable, messy and fun to work with!
Any books that you would recommend that are inspirational.
I have never read any photography-related books, all my inspiration comes from other photographer's work I see online, as well as reading about life of people like Steve Jobs or Albert Einstein. Inspiration and creativity is something which can be found only inside our brains, and to know myself, to find my true desires is essential part of being inspired. These are few from books I've enjoyed reading:
The 4-Hour Workweek: Escape 9-5, Live Anywhere, and Join the New Rich by Timothy Ferriss
What advice can you give aspiring photographers?
Find your passion and follow it. You can be successful and become "the best" only doing what you truly love. Do not think about the money, think about what do you feel when doing your work. Do you feel good, inspired, is it interesting for you? Are you waking up thinking how cool the day will be because you have not finished something pretty interesting yesterday? If you'll find your passion, money will follow.It works only this way, not vise versa:-)
Any projects you are working on currently? Anything planned for the future?
Working on few online courses and other educational projects. Have few crazy ideas for the shots I want to do, hope soon you'll see them.
Is there something that only few people know about you? Can you reveal it?
I am trying to be always open, answering any question w/o hiding anything. My wife knows more about me than the rest of the world, but I think these little thing are not really interesting for anyone except her :-)  
Do you have any dreams, what would you change if all was possible?
I want to help people to find themselves. I see that 99% of human population are doing what they have to do, but not what they truly want to do. Just ask yourself: would I continue doing what I do if I'd have as much money as I needed? If the answer is "no way", than you are not doing what you love :-) We were taught that this is OK to live like this, but I know that there is another, better way to spend our lives.
I hope I'll be able to help to change educational system and create new programs aimed towards developing personal skills and finding "built-in" talents of each human being, rather than preparing our kids to become a perfect fit in the commercialized consumer chain. I think we all would live in much better world if our kids would become creators, not consumers. 
Anything else you would like to add?
I have so may ideas to share but do not have time to do it now, hope one day I'll write a book:-)
Thanks for letting us picking your brain Alex:

)
– My pleasure, I glad that I met you guys and wish Camerapixo project to be successful. You are doing great things! 
---
Want to say few words about Camerapixo magazine:
This is an amazing source of inspiration for me and Alex, there are hundreds of creative and inspiring phootgrapherspublish their work, and every issue is such a pleasure to read. Do not miss it!
Photographers also take these courses