Best photos From Our Photigy Community and the Thoughts that Inspired Them 
Below are some incredible photos that were shared with us within the last 30 days in our Forum and Facebook Community. We asked each photographer to provide a short answer to just three basic questions. Why did you photograph the image? What was the most problematic during the process?
What was a cool discovery that you learned while creating the image. Some of the photographers took it upon themselves to give more elaborate responses than others, but we can all see that  each Photographer showcases some high caliber work. The answers you find will not only surprise you, but we hope they inspire you as well.
Thank You to all who participated and provided insights. Our Community continues to grow and prosper, because of these like minded photographers that are willing to share their processes, insights, and their work. 
Chocolate and Raspberries By Kathy Place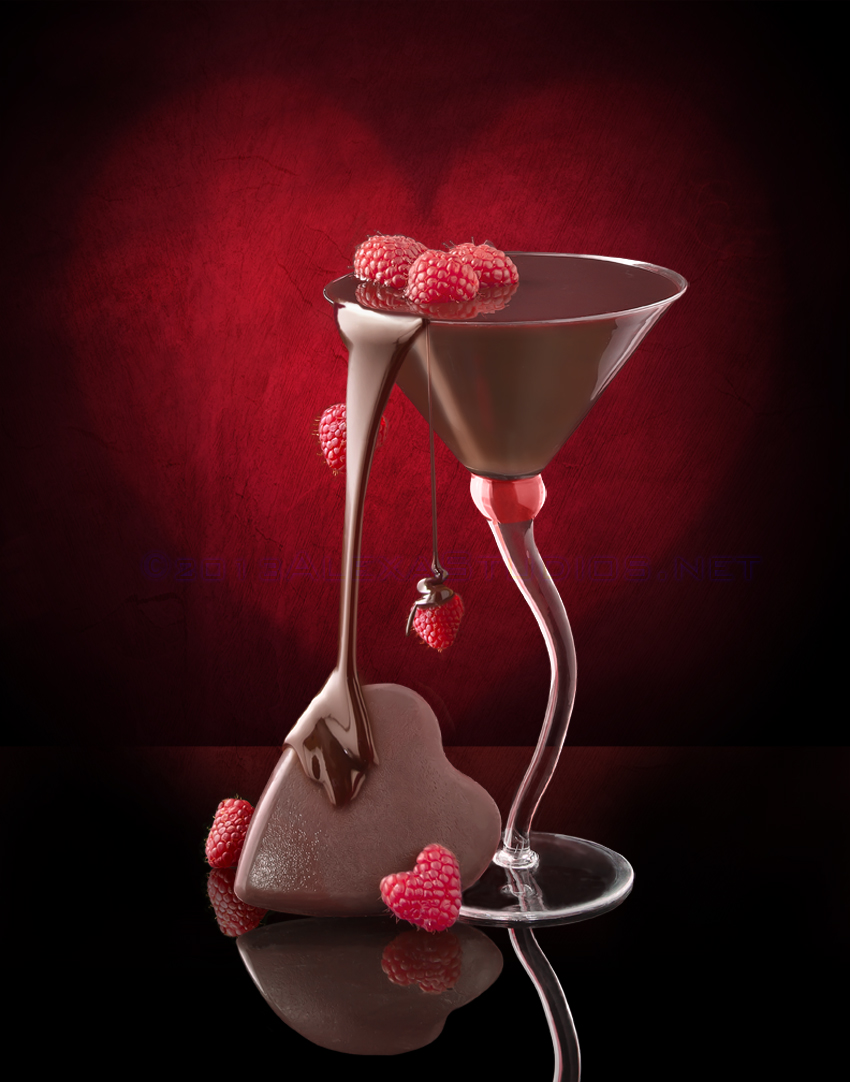 The worst part of doing this image was by far the clean up. Chocolate syrup has a mind of it's own.
One interesting thing I found was fruit will sink into chocolate, some slow, some fast, so I filled the glass 3/4 of the way up, cut a piece of foam to fit the glass, laid it on top of the chocolate (and it stayed), then covered the foam with more chocolate before setting the raspberries on top. It worked great! I did have a line of foam in the glass to clone but it was minimal.
The chocolate flow was done separately. Other then that it was a pretty easy shot to put together in Photoshop, just messy to clean up afterward.
Speyside Single Malt Scotch Whisky By Florian Hartmann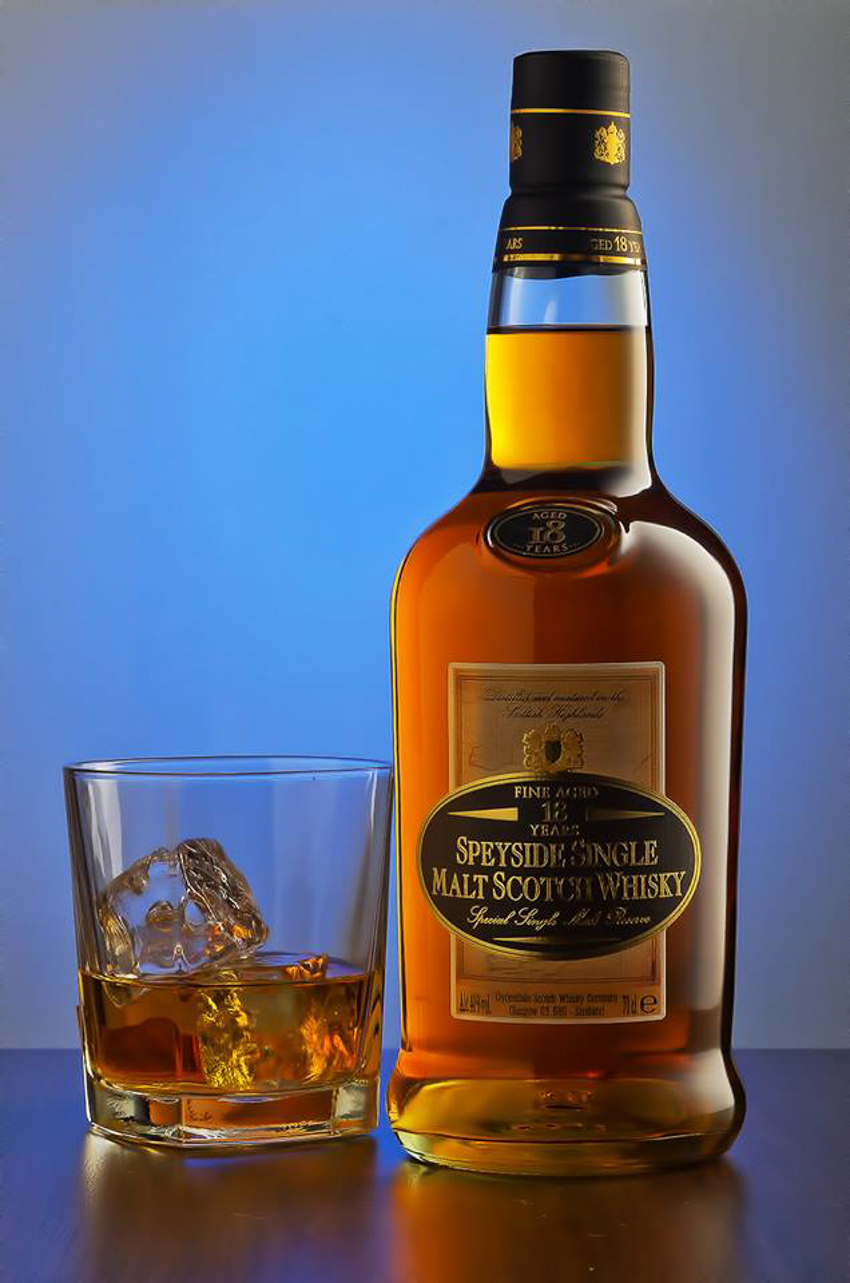 After keeping the bottle inside it's packaging for almost exactly one year, I finally got to shoot it. My aim was to create a look similar to what Alex does, in a similar way that Karl Taylor shows in his short tutorial.
I had to improvise a lot and the final result will be a composite of some different lighting setup-stackings and focus stacking. At this stage, it's just been through camera raw without local adjustments.
Andrew Mikhaylov
Website: andym.ru
Location:Krasnoyarsk City, Russia
Bvlagari Perfume By Andrew Mikhaylov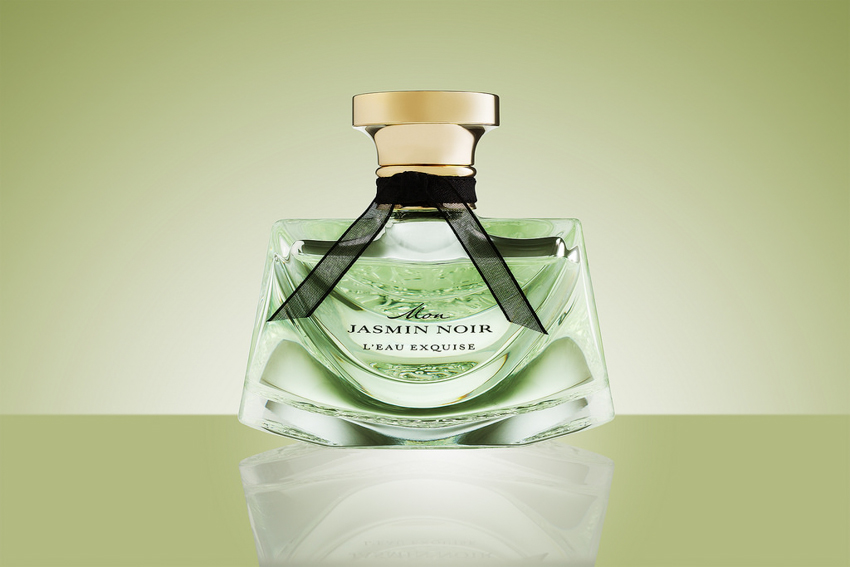 I chose this bottle of perfume because of difficult shape and reflections, it was a little challenge for me. The most problematic areas were on the cup of the bottle, it has very reflective cover surface like a mirror. Also bottle itself refract light in very different directions so you have to control and pay attention to it.
Once again I discovered a power of postproduction and lighting control, mix of these two parts give you awesome images.
Bvlagari Omega Seamaster Watch By Gani Piñero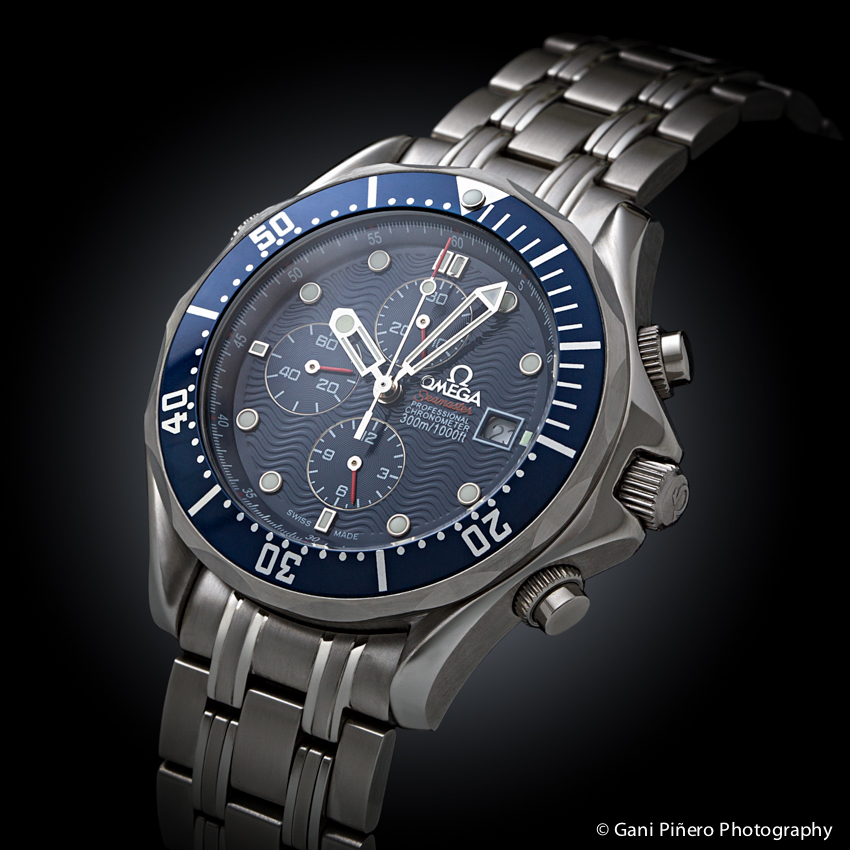 I was hoping to shoot the watch for the recent Pro Corner watch photo assignment, but with other jobs that I had at the time, I wasn't able to get it done for the critique.  Since I missed the assignment, I still wanted to shoot the watch in a way that I might be able to add it to my portfolio.  The watch itself is a replica that was purchased in China.  After examining photos online of the actual watch, I figured this might be a good enough replica to get a great watch shot.
One of the problematic parts of photographing this watch was the face.  The glass surface is convex and not flat, like many other watches.  It was difficult to keep the detail on the watch face surface crisp while reducing the glare on the surface of the glass. Initially I just went with the partial glare as a feature of the photo, but the loss of detail on the face surface was distracting. Ultimately I was able to reduce the glare and bring back some contrast on the face of the watch in post.

Another area that posed some challenges were the reflections from my studio, the camera, lightstands etc.  Since I was using a light panel above the watch, using a cone would have changed my entire setup.  So instead I used a "modified cone".  I took some flexible white plastic and formed 3/4 of a cone to go around the lower parts of the watch to eliminate reflections from below.  Since my light source was above the watch, it also acted as a reflector and brought some highlights to the sides and front of the watch.

One thing I learned from shooting this watch is that lighting setups don't need to be overly complex.  I started with one light figuring that I would add lights as I needed and I was able to keep it to one light with reflectors and playing with the position of the watch and the light source.  I think in this case, the use of the one light helped to capture the texture in the face of the watch and keep good shadows on the bracelet.

The rest of the clean up was handled in post production
New Amsterdam Gin By Tim Kou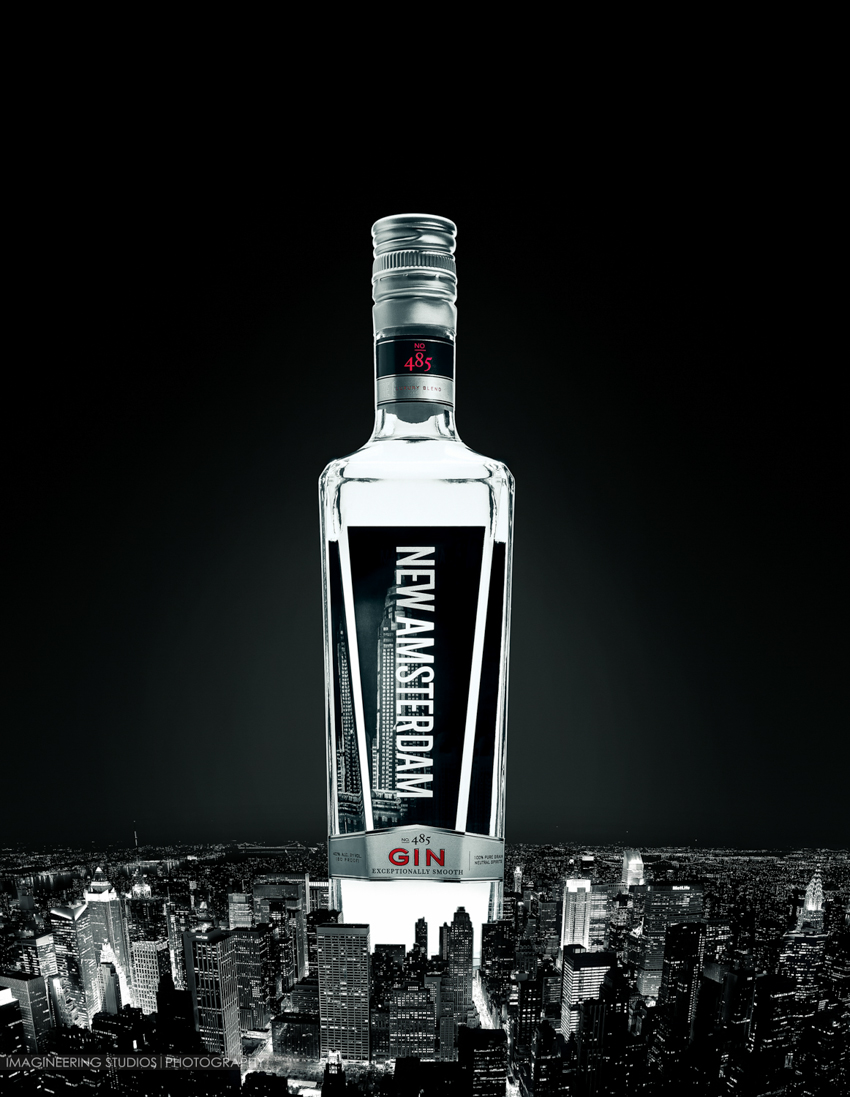 I shot this image as a portfolio builder and an exercise in digital composite technique.
Approaching this shot, I knew that I wanted the bottle in the midst of tall buildings in New York. Obviously, it was going to need to be a composite. One issue that I knew would come up was lighting the building image in the bottle itself since it is actually on the back label of the bottle.
I ended up compositing 4 images for the bottle only, to get lighting right in the building image, on the neck and neck label and on the lower label. As product photography goes, sometimes you just can't get the perfect shot straight out of the camera. And you can't be afraid to do multiple shots with different lighting and composite them together later. The tricky and essential thing is making sure the lighting make sense when you do it.

In this particular shot, I wanted to make it seem almost as if the bottle was lit by the city itself in some areas. So, I used a couple shots where the lighting was coming from the bottom.

I try to always look at the image as a whole as well as getting into the fine details. It's the little things that really make an image for me. But, if the little things aren't created in the greater context of the whole, they can have the tendency to detract from the main subject and distract the viewer. And it's most important to send the clearest message to the viewer as possible without getting bogged down in details. So, I always do my best to communicate my clients' message with impact in all the fine details that make the whole image speak loudly.
Blue Splash Image By Joshua Geiger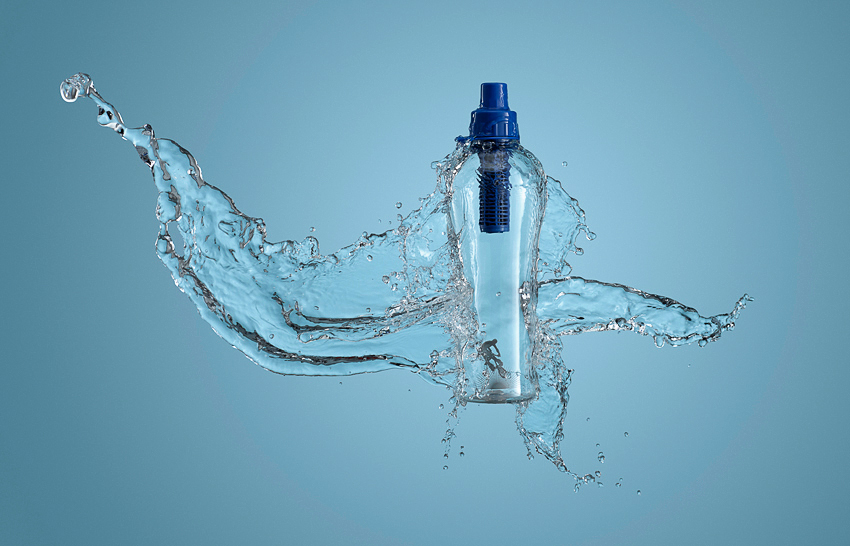 Why was it photographed?
Well, as some of you might know… there is a section of the Photigy forum where Alex will post leads on potential client projects. This image was created for a client I got through that part of the forum. The brief said that the client needed some images of their filtered water bottle with a variety of splashes. After speaking with the client, they decided to proceed with 6 images for their website and Amazon store. The only "instruction" I had on the project from the client was that I needed to use their bottle, and that there had to be a splash in each image. Everything else was up to me. Background color, splash shape, composition…everything.
What was the most problematic?

I think the most problematic part of this shoot was setting up for it and cleaning up during the shoot and afterward. because of the amount of water I was going to be using, I knew I was going to need a lot of plastic tar ping and plenty of space. Actually, space was a big factor too. I usually shoot in a smaller room but with as much diffusion as I was planning to use, mixed with the depth of field I required, I needed to rent a larger space and that involved packing up pretty much everything in my studio and hauling out to another location. The shooting of the bottle and capturing the splashes was actually quite effortless in comparison to the planning, set-up, break-down and constant cleaning that took place (thank God for wet/dry vacuums).

What was something cool I discovered while shooting this project?

One cool thing about this project is that it led me to create some new diffusers. I have seen tons of different solutions for diffusion. Everything from nice expensive large sheets of white 2447 plexiglass, to shower curtains stretched around the most random frames you could find. I've tried the plexi and it's nice but it's heavy and pretty cumbersome to work with, especially if you have to move locations.

The solution I decided to try for this shoot was to create a large frame out of 1″ PVC pipe and cover it with the typical white Savage diffusion plastic. However, I needed to transport these easily and they were pretty large. I decided to make them easy to break down and put together so I used 2″ velcro to adhere the plastic to the PVC frame. Now, when I need to break them down, I just take off the plastic and roll it up, break down the PVC frame and it all fits on one light stand bag.
Perfect! You can see images of these diffusion panels here: http://2013.geigerfoto.com/#!/blog
Firearm By Giorgio Cesarini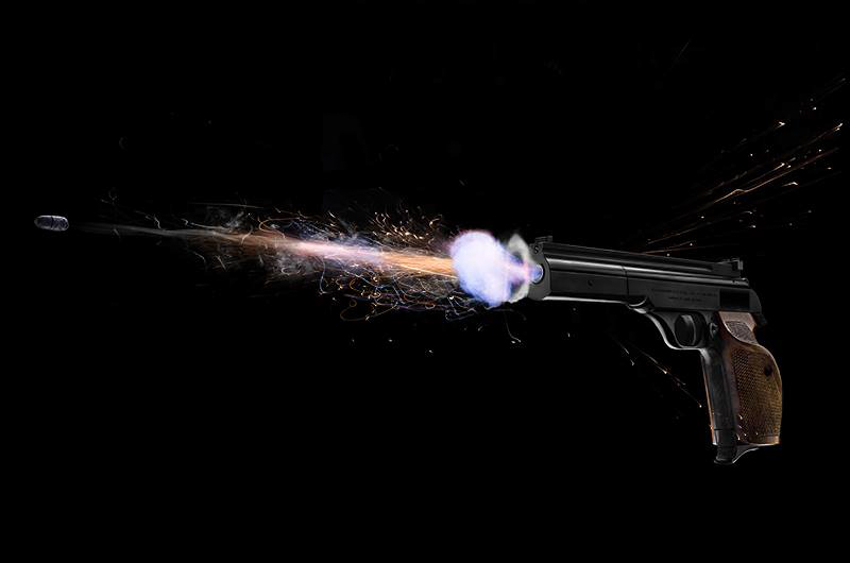 Why photograph a weapon?
The idea comes from an article I read recently on the photograph of firearms. Personally I do not like the use of weapons, but I find it interesting to photograph subjects that I have ever dealt with. Much of the Italian export business its firearms, therefore I wanted to confront myself on this commercial reality.
Which subject to choose?

The choice fell on a a small .22 caliber target shooting. It is not a defense weapon, but a small firearm but with elegant design. However it is an Italian particular product, many parts are handmade and the gun has no large diffusion. In fact in a fast earch on google I haven't find any pics on this weapon.

How to photograph that?

I did not want to do the classic catalog photo. My idea was to take it in action with maximum details as possible, as in normal still life. Photographing it with a real firearm shot would probably not be safe, and also would not show the richness of details. The consideration was bullet speed was around 320 m/s, and my fastest speedlight has a minimum light time of 1/20.000, it mean 1,6 cm of moving effect at the lowest flash power and more at higher flash power.

So I plan to create such an image in 3 different steps, a still life of product, a still life of bullet, and the explosion effect. In my plan I already imagined the hardest thing would be the effect of the explosion, the only one I could not be able to use a focus mount and good lighting control.

The still life of gun was not so hard, simple lighting setup and 10-12 different focus at f5.6, aperture where my 50mm lens have a good MTF50.

Bullet still life: I have prepared a real .22 bullet with the real grooves etched from its barrel. I choose Macro shots because the very small bullet dimensions, and showing as much details was my goal. This passage had worked good the same. 4-5 focus at 7.1 aperture, I used the same lens with an 2X extension tube.  The reduced depth of field forced me to close the aperture more.

As expected the most difficult part was the series of shots on explosions, I used a small firecracker. I shot it in a open space and also forced it inside a little iron tube. The firecracker do not perfectly simulate the firearm explosion, and this photography had also much different lighting phases. The light emitted from the combustion of fuse, the light emitted from firecracker explosion, and also light of my flashes synchronized with a sound trigger.

Conclusion

I must find a way to simulate better a explosion in a tube, I'm not entirely convinced by the explosion effect. I want the light emitted from combustion less and particle propulsion effect more out of the tube. Maybe it is possible to try without a real explosion, but only with sugar propulsed by compressed air.
Love Birch By Jeff Creech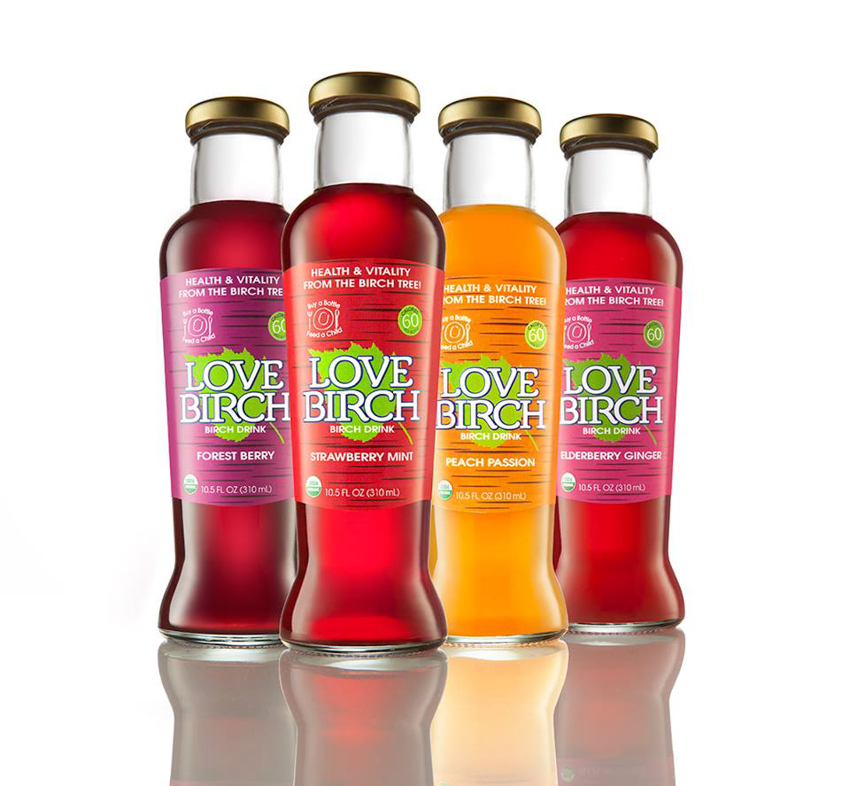 Photography is my full-time passion, but living in Louisville, KY means that I don't feel comfortable making it my full-time job. I maintain my photography website, and frequent a handful of photography forums, but that is the extent of my promotional activities. Love Birch happened to find me through a Google Search and our initial conversations focused on identifying their specific needs. As a new brand, Love Birch was scheduled to attend a beverage conference within a few weeks and needed several photos to use on their website and in their booth.
After agreeing on a price, Love Birch overnighted a box of prototype bottles to my house/studio. Being that the bottles were prototypes, there were noticeable defects in the glass and labels that had to be corrected in post. Interestingly enough, two of the four flavors of beverages had noticeable bubbles at the surface caused from agitation during the shipping process that also had to be dealt with in post.

The client asked for 5 photos, in total. One for each of the four flavors, and a group shot of all flavors. Because of the variety of ways the photos were to be used, the client asked for the photos to be shot on white.

During the shoot, all photos went smoothly, with the exception of the group photo. Because of the arrangement of the bottles, each needed to be lit separately and composited to maintain consistent lighting across all bottles. 75% into completing the group photo, I realized that a more polished image could be achieved by combining all 4 of the individual photos into the group shot.

All photos were delivered to the client on a white background. For my own portfolio, I decided to create colored backgrounds that reflect the four flavors. Each background was created from scratch in Photoshop. After posting the images on the Photigy Facebook group, several members recommended I recreate the neck of the bottle to show some of the color from the new background. The final images are a result of that recommendation.
Glass of Beer By Igor Klimov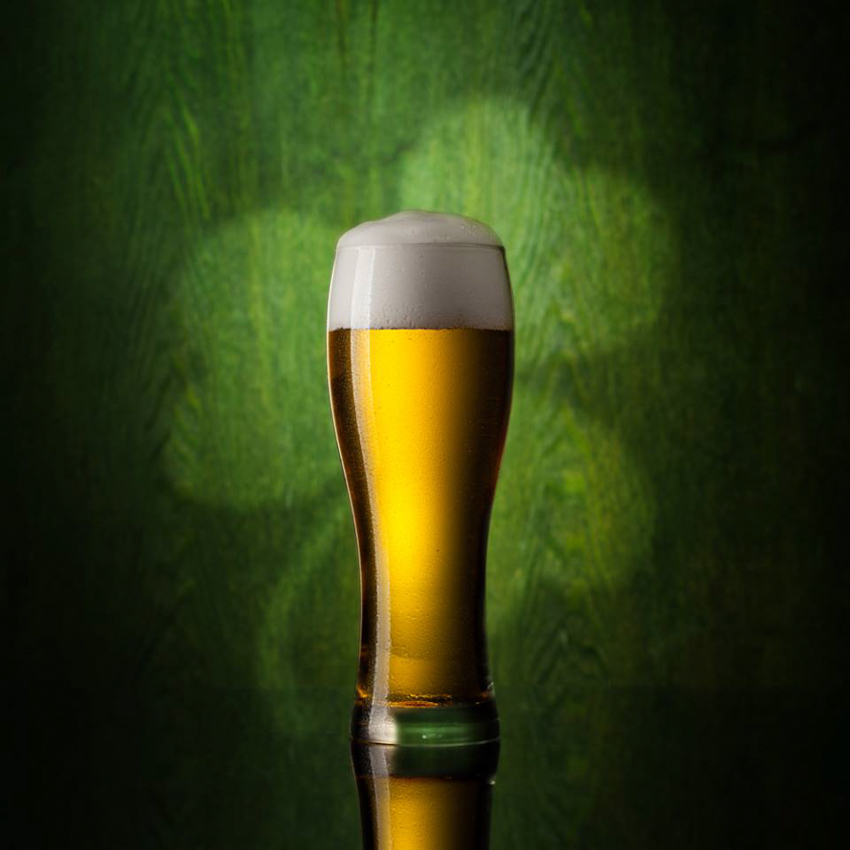 The idea for this shot came to my mind on the way to our studio. I was thinking what images would be interesting to stock images buyers, and what I can shoot today (shooting for microstocks agencies is a part of my photography business).
Since it was St Patrick day coming soon, I've decided to shoot a beer.
For this shot I've used vegetable (sunflower) oil as a beer and volume styling mousse from Wella hair products. This is how we shoot a beer :-))
Ferrari Sunglasses By Mohammed Albasyouni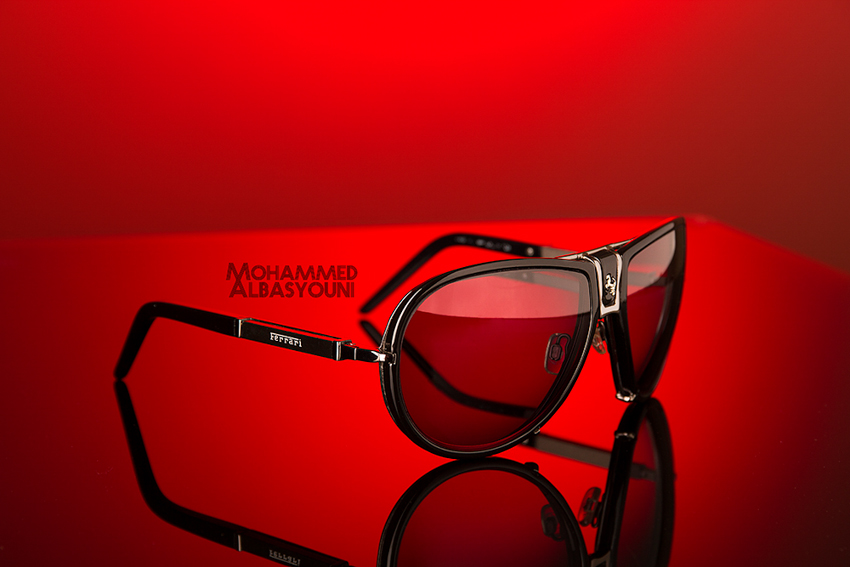 Typically the best genre of photography that I shoot is food photography, but here I wanted to change from the type of photography that I am always used to doing. I was looking for anything different to shoot and I found my sunglasses in front of me and I tried to take a nice shot with them. I hope I did it well!
If you are passionate about studio photography, open-minded and do not afraid to share your secrets and to contribute to our community, we invite you to join us: just click ion the image below and click "join button". Your request will be accepted in few minutes!

On the Professional Photography Forum we explain and discuss most complicated shots. BTS and lighting setups, retouching tips and much more posted in this forum thread: Submit your shot for a review and critique.

Photographers also take these courses