Advanced Jewelry Photography Course, level 4
This jewelry photography course is for you, if you:
Have experience working in the studio, and understand your camera and basics of studio lighting.
Have access to studio light modifiers such as soft boxes, diffusers and reflectors, have a tripod, DSLR and professional strobe or continuos lighting.
Ready to learn the most advanced techniques in commercial jewelry photography.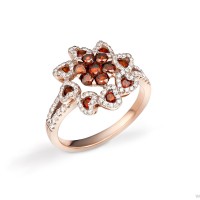 This course – Jewelry Photography Part 1 – Studio Work is an extensive course in jewelry photography made for professionals and emerging photographers. As with most of the Photigy training, it is free form and as such, you get a real-world look at how product photography is created in the studio.
The first part is an introduction and a look at the equipment that you will need to begin to create jewelry based product photography.
Part 2 is two separate workshops that were held in 2013. The first one was an online workshop with students attending online and covers shooting a single object with multiple items combined. The second was recorded with students live in the studio as well as those who attended online. It covers the shooting of a wide range of jewelry items, textures, and settings.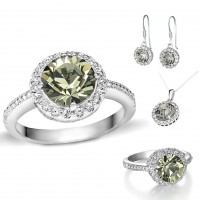 The remainder of the training tackles other areas of professional jewelry photography including working with various backgrounds and settings and shooting for catalog work which usually means you need to handle a lot of different items and get them right in the camera. This is important since to do it in post work would take too much time for too many items.
There is also training on how to make do-it-yourself (DYI) items in the studio to both save money, but sometimes you have to learn to improvise. Finally there is a session on how to work with focus stacking when you need to get the shot just perfect and it can't be done entirely in the camera.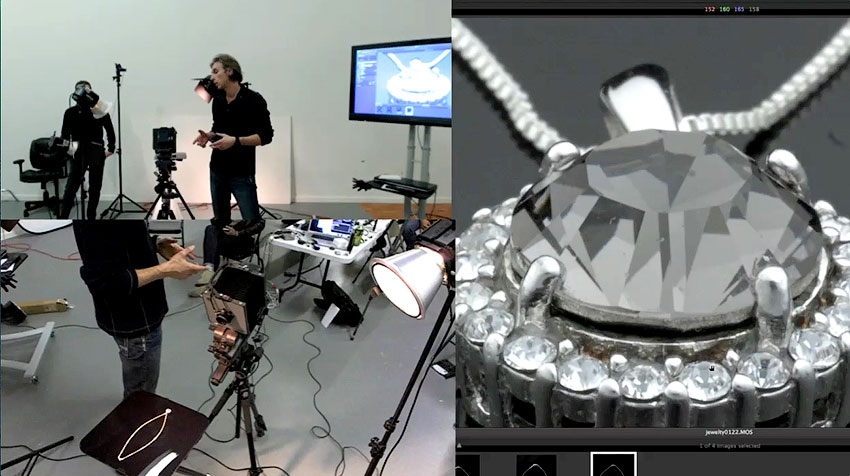 Course Breakdown:
Total Running Time: 14hr 27min
Level:  Advanced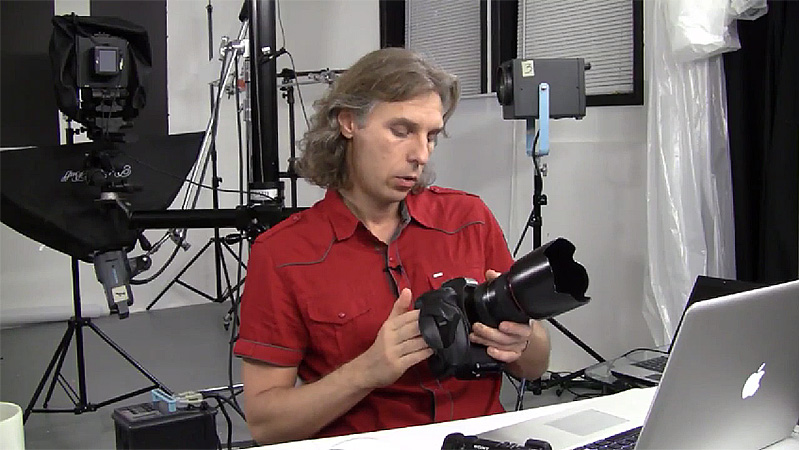 Part 1: Introduction –47 min
Introduction to Jewelry Photography Course: - 06:03 –

Alex begins by going over the course and highlighting those things that are most important to get the most from this training.

Equipment for the Jewelry Photographer: What is the Best to Begin with: - 40:58 –

Explores the kind of equipment that you should have to work with jewelry.  You will learn about cameras, why you need a macro lens to photograph jewelry, LED lights, light modifiers, and more.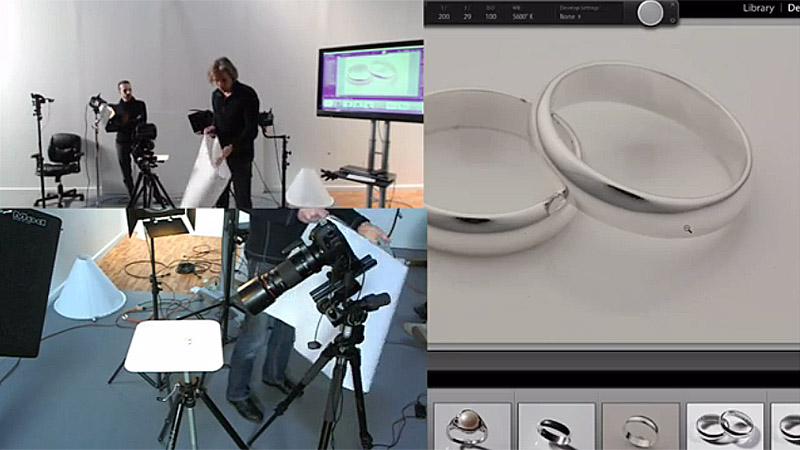 Part 2: Masterclasses: – 9 hr 25 min

Composition of a Gold Watch, Pearls, and Leather: - 148:11 –

This is a workshop that will show you how to shoot a combination shot that consists of a watch, leather strap, pearls, and a chain that is wrapped around a colorful band of wires. This is an in-depth exploration of working with multiple subjects.

Bonus – BTS: – 12:09 –  This is a behind the scenes where Alex show you how he set up the original test proof-of-concept for this workshop.

Jewelry Photography Masterclass Part 1: - 112:42 –

This is part one of a jewelry master class that was set in Atlanta Georgia during 2013 with a live audience. In this part Alex goes through the setting up and lighting of a variety of different rings.

Jewelry Photography Masterclass Part 2: - 120:49 –

Continues with the workshop working primarily with another ring – this one has a gold band, with an emerald color stone and diamond like jewels around the setting. Here you will learn to deal with different challenges that can arise during a shoot and how to diagnose and resolve problems.

Jewelry Photography Masterclass Part 3: - 157:34 –

Concludes this workshop with photographing more jewelry, working different backgrounds, working with the use of a cone diffuser, discussions on focus stacking, and more.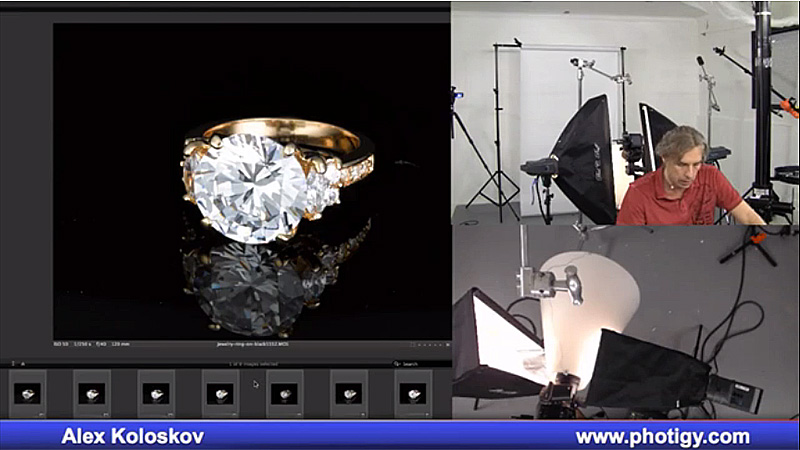 Part 3: Dark and Glossy Background: – 1hr 45min

Large Crystal Golden Ring on a Black Background: - 69:13 –

In this lesson you will work with a large gemstone and see how to bring out the faucets and make the stone 'pop'. This lesson is done without using a tilt-shift lens or focus stacking.

Pearl Necklace on a Grey Glossy Background: - 34:43 –

The trick to getting pearls to look good is to have rounded reflections. This video will show you a variety of ways to get that proper look.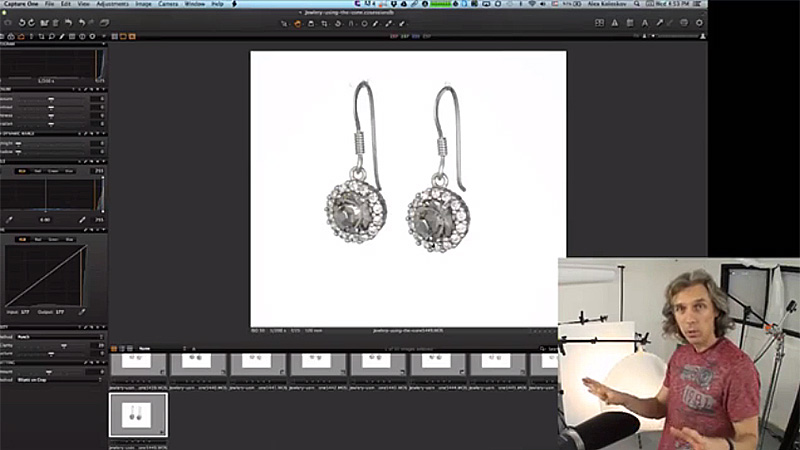 Part 4: White Background Catalog-Style: – 1hr 40 min

Crystal Earrings: Complete White Background Straight from the Camera: - 64:27 –

This lesson looks at more of a catalog style look by shooting on a white background. In this case, the goal is to get the look directly in the camera to reduce the amount of post-processing work that might need to be done otherwise.

Swarovski Crystal Necklace on a White Background: - 34:52 –

This segment shows you how to shoot a large crystal on a necklace using a cone. It is placed on a cylindrical sheet of clear plastic against a white background. You will see how to bring out the most in the faucets.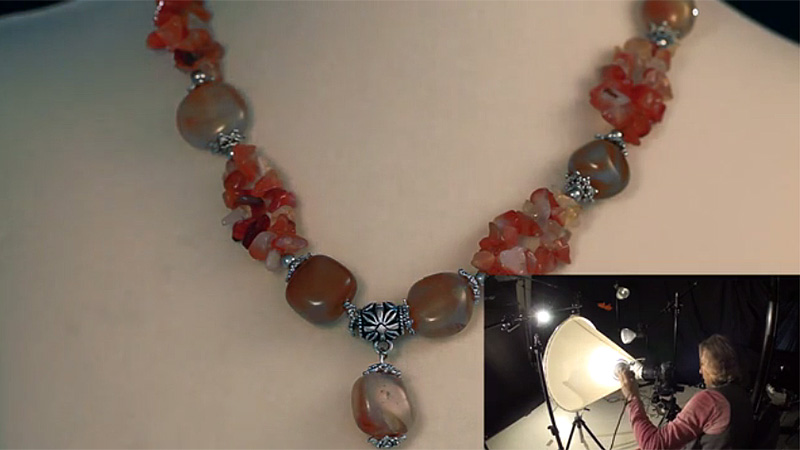 Part 5: Bonus 1: DYI Solutions for Jewelry Photographers: – 55 min

DYI Solutions for Jewelry Photography: - PDF –

This PDF contains very important information to this course including the directions on how to build a cone diffuser which is a very important part of jewelry photography.  This document also has tips for photographing, equipment along with links of where to purchase the items, and other DYI modifiers that you can create.

Introduction: - 02:49 –

is a short video that explains the cone that was built in the PDF file.

Part 1, Inexpensive Equipment for Jewelry Photography: - 15:25 –

Continues the equipment from the PDF by looking at some of the LED lights and how they work with jewelry photography.  It also looks at how to make the camera remain motionless during the shot.

Part 2, Building the Lighting Setup: - 08:28 –

Now takes a real-world set up for using the cone for jewelry set up. Then you will see how to build the lighting around the cone and the object.

Part 3, The Shooting – Behind the Scenes: - 03:57 –

Since using LED lighting is continuous lighting, you effectively have to shoot in the dark. Here Alex shows you how this all works in live mode.

Part 4, How to use a Point and Shoot Camera: - 05:01 –

Now examines just how to use a point and shoot camera, to get relatively good portfolio shots.  Keep in mind, this may not be of quality for professional results to give to a client, but can be used to build a body of work when you are just getting started.

Part 5, Post-Production in Adobe Photoshop: - 20:10 –

This lesson walks through an overview of post-production techniques that can be used to finish your jewelry product shots. The ability to have some Photoshop skills is a must for jewelry product photographers.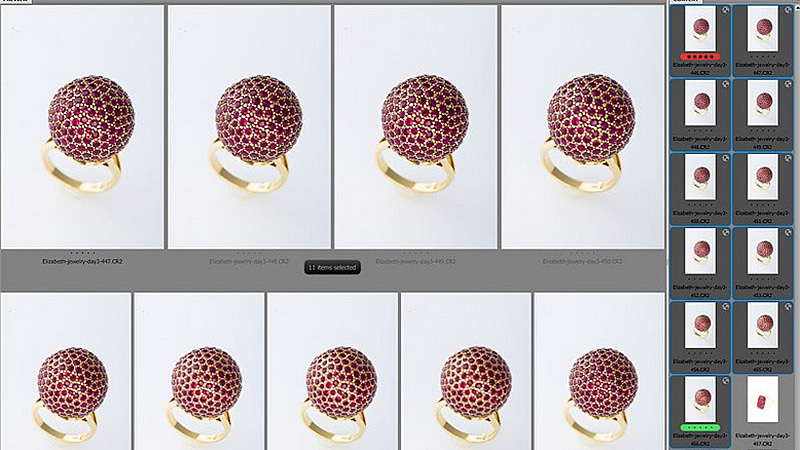 Part 6: Bonus 2: Focus Stacking – 10:min
Focus Stacking Technique in Studio Photography, Part 1:

– 10:03 – minutes of video along with a written tutorial on the use of focus stacking. This is a process that is used when the shot is critical and there is not enough depth-of-field using tilt-shift or other methods cannot produce quality results over the whole of the object.

Focus Stacking Technique in Studio Photography, Part 2: - Written Tutorial –

Now takes you through the post-production procedure using Adobe Photoshop where you will see the exact steps to complete this process.
In Jewelry Photography Part 1 – Studio Work you will receive a lot of hands on training in how to shoot and perfect your techniques when working with jewelry. With over 14 hours of video you will see Alex as he works through various objects from watches, to earrings, necklaces, rings, and more. He shows you how to handle situations from catalog work to creative ideas in such a way that after completing this series of lessons, you should be able to handle any situation you are placed in.
The next part, Jewelry Photography Part 2 – Post-Production, will take you through how to finish the some of the shots that were taken in part one. Here you will learn the fundamentals of cleaning up and making your shots look perfect for your client.
When I have a question or troubles getting a shot, can I ask the instructor for a help?

– Yes! As a course student, you will be a part of a private group and forum, where you can ask instructor any question and/or post your results for the review. We encourage you to participate in this group!
The course covers how all these jewelry photos were created:
Course Curriculum
Introduction to Jewelry Photography Course

00:06:00

Equipment for jewelry photographer: what the best to start from?

00:41:00

Masterclasses
Composition of a gold watch, peals and leather (1)

00:51:00

Composition of a gold watch, peals and leather (2)

00:35:00

Composition of a gold watch, peals and leather (3)

00:59:00

Composition of a gold watch, peals and leather – bonus

00:04:00

Jewelry Photography Masterclass, Part 1

00:59:00

Jewelry Photography Masterclass, Part 2

00:59:00

Jewelry Photography Masterclass, Part 3

00:59:00

Dark and Glossy Background
Large Crystal Golden Ring on a black background

00:59:00

Pearl Necklace on a Grey Glossy Background

00:35:00

White Background Catalog-Style
Crystal Earrings: Complete white background right from a camera

00:58:00

Swarovski Crystal necklace on a white background

00:35:00

Bonus 1: DIY Solutions for jewelry photographers
DIY solutions for jewelry photographers, Introduction

00:03:00

Part 1, Inexpensive Equipment for jewelry photograhy

00:16:00

Part 2. Building The Lighting Setup

00:09:00

Part 3. The Shooting, Behind The Scene

00:04:00

Part 4. Bonus: How to Use a Point and Shoot Camera

00:06:00

Part 5. Post-Production in Adobe Photoshop

00:20:00

Bonus 2: Focus Stacking
Focus Stacking technique in studio photography, Part 1

FREE

00:15:00

Focus Stacking technique in studio photography, Part 2

00:15:00

Q&A and review sessions
Support call (09/30/2014) Level 4 Jewelry

00:40:00

Fighting Issues getting glossy metal look on spherical shapes

00:14:00

Assessment of the course
The Final Assessment For Jewlery Course

00:10:00

00:00

00:00

00:00
Course Reviews
5 stars

3

4 stars

0

3 stars

0

2 stars

0

1 stars

0