Starting in Studio Photography is the first in a three part series of workshops that will provide the basics of studio photography. While this is primarily geared toward the beginner student, there are a lot of fundamental techniques that will also benefit those who are already working to create product photography images that may not have acquired all of the subtle techniques that can take them to the next level.
Photigy Online Workshop: Starting In Studio Photography:
Part 2, Practical Examples
Instructor: Alex Koloskov
In this course you will build on the information that you acquired from the first part of this series – Starting in Studio Photography: Understanding Studio Lighting. If you have not completed and worked through the examples from that series, it would be highly advantageous for you to do so before attempting this course.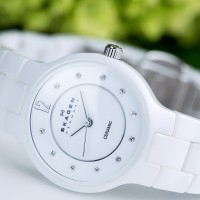 This course will take assume that you understand those techniques and will continue to build on them. Also, most of this course is very free-form. This means that viewing it will resemble a live on-line workshop. The benefit here is that not only will you get to see what works, but also the problems that occur and how to troubleshoot them on the fly.
After a brief introduction and a look at the equipment that will be used for this course, you will explore, in real-time mode, the setup and shooting of a number of different products. The first will be a cosmetics product shot which will look to photograph a cylindrical product. From there you will move on to a bottle of Bailey's Irish Crème as well as a bottle of Vodka. Both of these provide additional challenges based on container size and shape.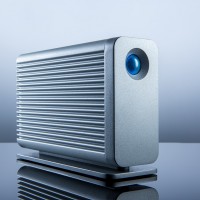 Next you will learn the basics of macro photography by shooting both a single flower as well as ladies ceramic watch. These will provide instruction on shooting up close as well as exploring depth-of-field and working with textures. You then move on to a shot of an external hard-drive for more of a high-tech look and then to a box of cereal which will show you how to take a simple item and make it bigger than life. Finally you will finish up with shooting the combination of glossy metal and glass. 
Course Completion Certificate Included:
After successfully finishing this course you will be issued with a professional certificate from Photigy Photography School.
Professional certification shows potential clients that you are committed to your profession and are well-trained.It gives them confidence in your abilities because it proves that your skills have been evaluated and approved by a well-regarded professional organization.
Course Breakdown:
Total Running Time: 4hr 8min
Level: Beginner 
Part 1: Introduction –1:57 
To start off, Alex introduces you to what you will learn from this course. This course is primarily focused on the use of lighting in the studio to create high quality product images. The core concept is that in the studio, you should be in control of everything – camera settings, lights, and environment. It is because of this, you can build your own reality in relationship to the image that you want to create.
Studio Equipment used in this Course: - 15:31

You will now see what basic equipment that you will need to work with this course.  The point here is not to have the most expensive equipment, but rather to have the equipment that can produce professional looking results. The goal for this course is the least expensive items.

The equipment includes several Speedlights including both Canon and lesser expensive Yongnuo Speedlights.  Here you will see how to set up the lighting system as well as the setting up the camera and the other items that will help get you prepared.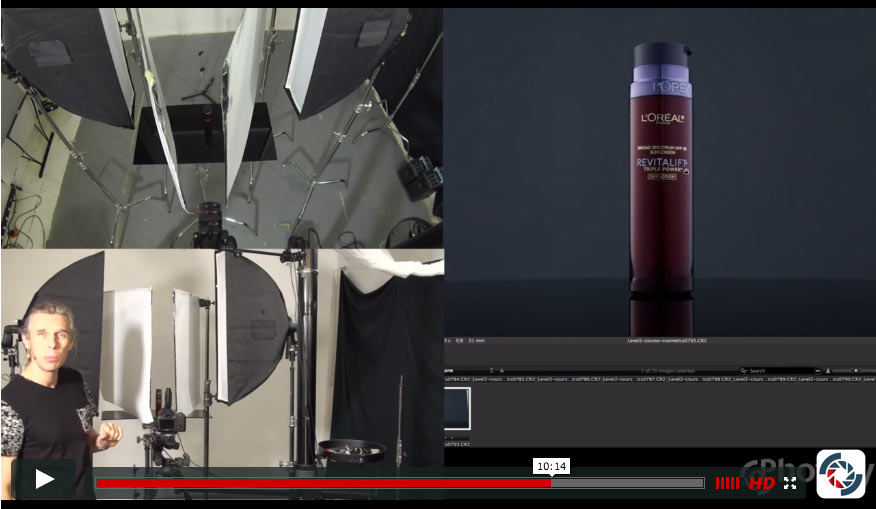 Skin Care Product Photography, Part 1: Preparation: - 06:57

The first item is a sunscreen product from L'Oréal. It is a simple cylindrical shape that will be fairly simple to light evenly. Here Alex begins by showing you how to set up for the shot by putting together the stand that the bottle will be placed as well as demonstrating how to make sure that everything is clean, level,  and ready to go. 

Next he goes into what lens he is using and the purpose for using that lens.

Skin Care Product Photography, Part 2: Building a Lighting Setup: - 10:20

Now you will see how to build the lighting one light at a time.  Here you will start with symmetrical lighting setup and work from there. Because of the way the course is shot – in freestyle mode, you will also learn some of the ways to troubleshoot issues that may come up.

Skin Care Product Photography, Part 3: Working on the Shot: - 13:39

After you have the base lighting setup you can now begin to refine the look that you want. Through trial and error you will learn to control where the light and the shadows fall on your object.  You will diagnose problem areas and see how to make adjustments to get the right look. 

Skin Care Product Photography, Part 4: Troubleshooting: - 07:19

By changing certain positions of your lighting setup, you can make significant changes in the appearance of your object.  This lesson continues to show you how to further refine your image.

Skin Care Product Photography, Part 6: Tweaking: - 03:39

Now finishes up the photography portion of the cosmetics training by a couple little adjustments. Again all of this training is free from so that you can see how product photography is done in a live environment. 
Part 4: Beverage Photography – 33:34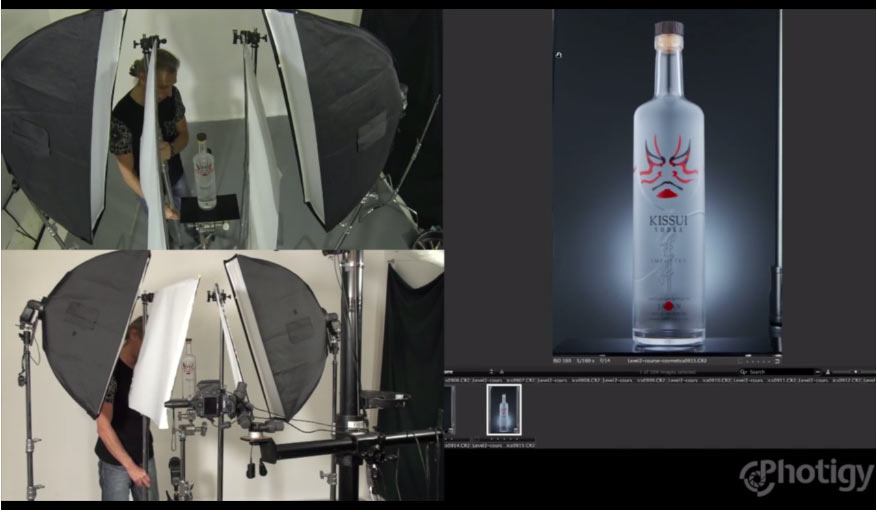 Liquor Bottle – Baileys Irish Crème: Setup, Lighting, and the Final Shot: - 04:27

Begins with the same set up as the cosmetic shot. This time the photograph is of a Baileys Irish Crème bottle. Here Alex explains how the subtle differences in the shape of a bottle can require subtle changes in lighting.

Liquor Bottle – Vodka, Part 1: Lighting Setup: - 13:50

While you will continue with the same lighting setup, you will now see how to work with a semi-transparent bottle as opposed to a reflective bottle. 

This bottle is larger than the other objects so some changes must be made.  This bottle is also semi clear and this means that there will be some differences that need to be handled to get the right shot.

Liquor Bottle – Vodka, Part 2: Tweaking: - 05:00

Next while the lighting is correct from the last lesson, more depth needs to be added to the bottle. This can be done through the use of gradients, but sometimes that doesn't always work.
That is where experimental tweaking can be done which can lead you down the path to a better shot.

Liquor Bottle – Vodka, Part 3: Setting the White Balance: - 06:40

Unless you are using a lighting system that handle constant color, there are a few rules that you will need to follow so as to not have unwanted color casts creep into your images.
Here Alex explains a couple of ways to work with white balance especially when working with Speedlights.

Liquor Bottle – Vodka, Part 4: Conclusion: - 03:37

Concludes this lesson by going reviewing the things that you learned during this part of the training.  What is most important is that for this training to be effective you have to put it into practice. 
Part 5: Macro Product Photography – 62:17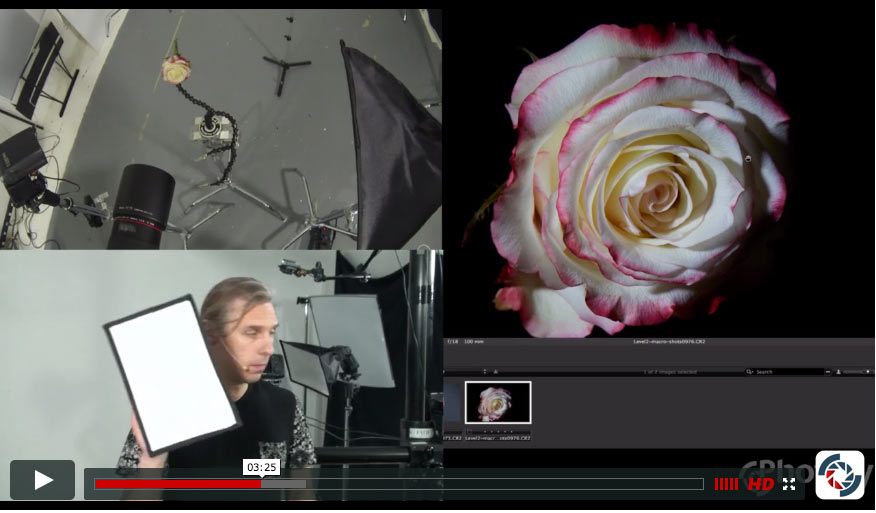 Flower Shot, Part 1: Setup: - 11:51

This shot has to do with shooting a highly textured subject – in this case a flower.  A 100mm macro lens will be used to focus in really close on the flower allowing you to pull in detail. In this video he explains all about the macro lens and what it is capable of as well as showing you the basic setup for the shot.

Flower Shot, Part 2: Working with the Camera: - 12:28

After readjusting the flower, we are ready to begin shooting. Because this is a textured subject, you will begin with no light modifiers – the reason for this was covered in "Understanding Studio Lighting".

Here you will experiment with lighting this flower by adding some modifiers and other elements to bring out the most. 

Flower Shot, Part 3: Tweaking: - 14:45

After having the basics of the shot down, you will see how you can play with the image to come up with some different looks. By adding a solution of glycerin and water, you can give it a watery look.

The glycerin lets the drops hold their form better than just water. It is from experimenting that you will see how to enhance the look.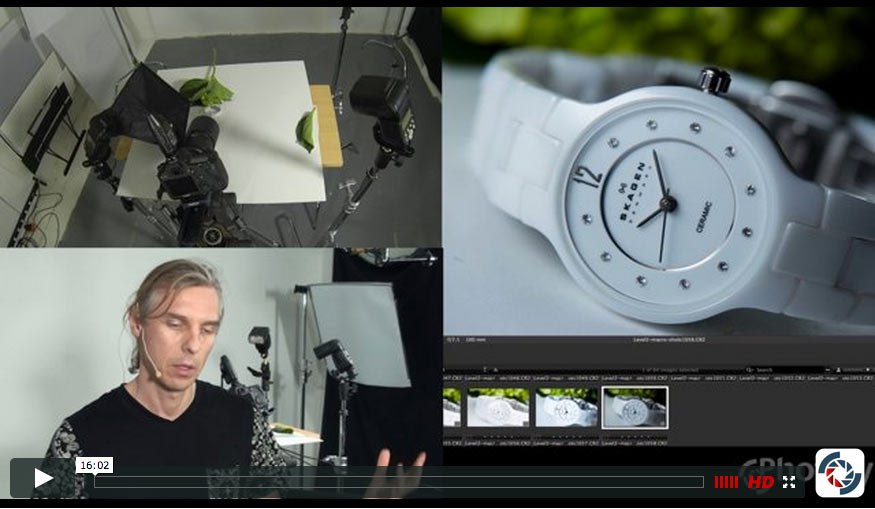 Watch Shot, Part 1: Setup and Shooting: - 16:02

 The next two videos take on the shooting of a Skagen woman's watch. Creative composition in this shot along with the lighting gives it a sexier look. Here the idea is to have the watch in focus and the background to be blurry.

The watch is ceramic and so there are glossy parts and not so glossy parts.  You will see how to work with this kind of watch to get a balanced look.  

Watch Shot, Part 2: Tweaking: - 07:11

There are various other things that can be done with the watch to enhance the shot. You will start off with trying other types of diffusers and the effects that they will have. Finally, Alex will summarize about shooting macro, working with a macro lens to get the desired magnification, working with depth of field, and working with textures. 
Part 6: Electronics Product Photography – 26:33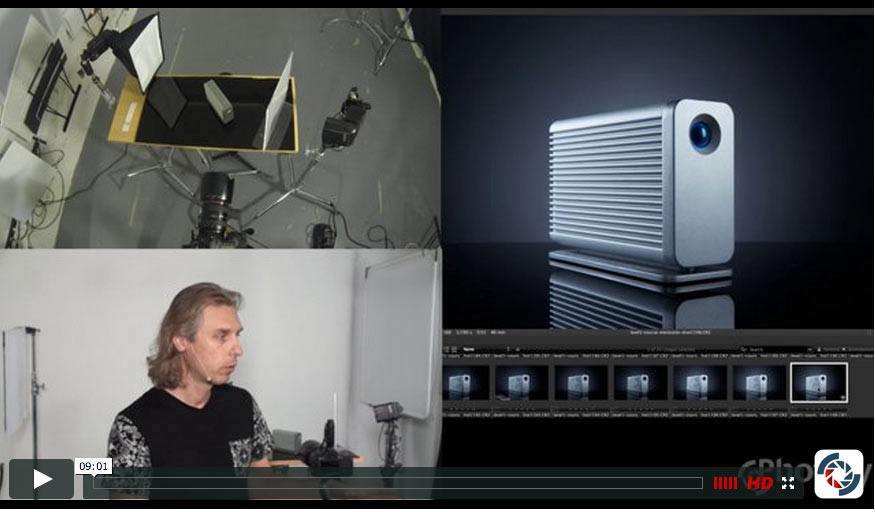 Electronics Product Shot, Part 1: Lighting Setup: - 17:32

This lesson takes on a LaCie Little Big Disk Thunderbolt hard drive. It is a simple yet interesting electronic device that can be shot as a straight product shot or could be done more as an advertising shot depending upon the composition.
Again you will build up the lighting to create the best shot.

Electronics Product Shot, Part 2: Tweaking: - 09:01

Now that you have the basic shot, you will explore other options to enhance your shot.  First you will look at adding a honeycomb grid to the shot. Then adding a foil reflector as a modifier.
Alex finishes up by changing up the background to a much larger spot instead of the honeycomb grid.
Part 7: Boxed Product Photography – 35:54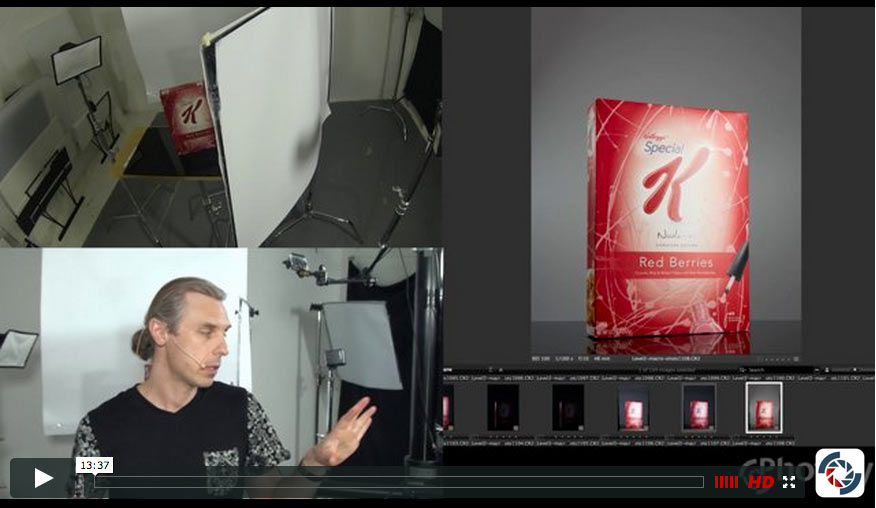 Boxed Product Shot, Part 1: Lighting Setup: - 10:09

The topic for this shoot is a boxed cereal product. The challenge here is that it is both glossy and matte.  For this shot you will use a wide angle lens so that you can make the product look larger than life.

You will see how to correct for perspective to make sure that your object looks right to the viewer as well as applying a gradient to give it some depth. 

Boxed Product Shot, Part 2: Tweaking: - 13:37

Having a good shot is nice, but there are always ways to add that little extra to make it a great shot. This lesson looks at adding more space around the box to allow more breathing room for the product.

You will also see how to fix other problems with working with a wider angle shot such as getting unwanted background items such as the ceiling.

Boxed Product Shot, Part 3: Exploring Colors: - 12:08

Takes a look at enhancing the shot by using color gels to add more color.  Here, changing colors, increasing and decreasing where the spot ends up, as well as other changes can really enhance the shot. 
Part 8: Glossy Metal and Glass Photography – 07:23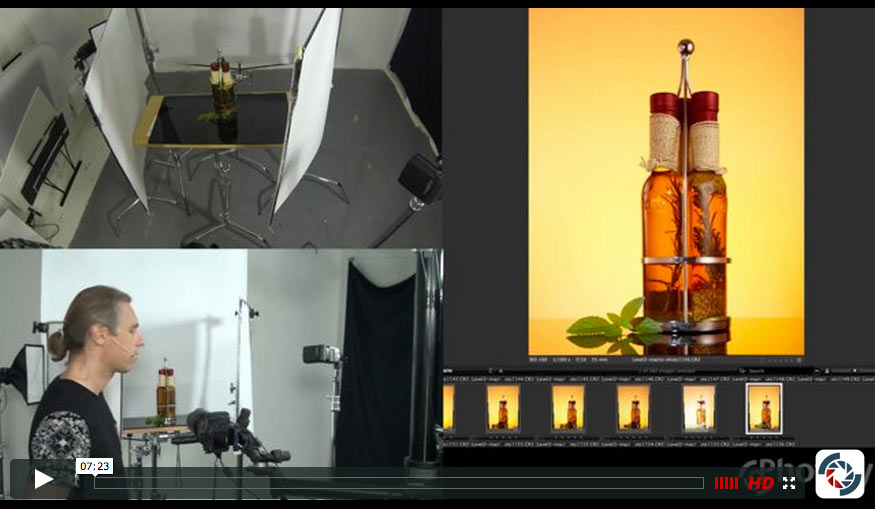 Glossy Metal and Glass: Fixing Reflections: - 07:23

This final shot takes the setup from the last shoot – the cereal box, and now attempts to make it work with three bottles that are filled with an oil type liquid and herbs.

These are placed in a shiny metal holder so that some is glossy some is semi-transparent. Add to this some mint leaves which should have texture. 
Now, once you have completed these exercises the next part in this series – Starting in Studio Photography: Part 3, Post-Production, will take these shots and show you what you can do with the images using Photoshop to finish the process. Because product photography, by its nature, is meant for some sort of publication – whether it is on the Web, in print, or on a billboard, there will always be some kind of post-production involved.
Many times this is a process that involves an outside service, but it will benefit any product photographer to have a fundamental understanding as well as some basic skills in this area to have the ability to communicate to the retoucher as well as to do some quick touch up work. 
Images from the course lessons
When I have a question or troubles getting a shot, can I ask the instructor for a help?

– Yes! As a course student, you will be a part of a private group and forum, where you can ask instructor any question and/or post your results for the review. We encourage you to participate in this group!
Course Curriculum
Introduction

00:02:00

Equipment
Studio Equipment of The Course

FREE

00:15:00

Cosmetics
Skin Care Product Photography, Part 1: Preparation

00:07:00

Skin Care Product Photography, Part 2: Building a lighting setup

FREE

00:11:00

Cosmetics in product photography, Part 3: working on the shot

00:14:00

Skin Care Product Photography, Part 4: Troubleshooting

00:14:00

Skin Care Product Photography, Part 5: Tricks and Enhancements

00:19:00

Skin Care Product Photography, Part 6: Tweaking

00:19:00

Beverage Photography
Liqueur Bottle: Setup, Lighting, And a Final Shot

00:05:00

Bottle of Vodka Shot: Lighting Setup

00:14:00

Bottle of Vodka Shot: Tweaking

00:05:00

Bottle of Vodka Shot: Setting a White Ballance

00:07:00

Bottle of Vodka Shot: Conclusion

00:04:00

Macro Product Photography
Flower Shot, Part 1: Setup

00:12:00

Flower Shot, Part 2: Working With Camera

00:13:00

Flower Shot, Part 3: Tweaking

00:15:00

Watch Shot, Part 1: Setup and Shooting

00:16:00

Watch Shot, Part 2: Tweaking

00:07:00

Electronics Photography
Electronics Product Shot Part 1: Setup and Shooting

00:18:00

Electronics Product Shot, Part 2: Tweaking

00:09:00

Boxed Product
Boxed Product Shot, Part 1: Lighting Setup

00:11:00

Boxed Product Shot, Part 2: Tweaking

00:14:00

Boxed Product Shot, Part 3: Exploring Colors

00:12:00

Glossy Metal and Glass
Glass and Glossy Dressing Bottles: Fixing reflections

00:07:00