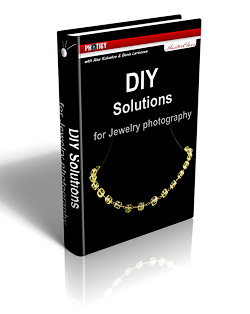 This e-book is about jewelry photography. Gemstone necklace to be specific.
It will be useful for hobbyists who need to create photos of their craft without spending much money for the lighting and camera as well as for jewelry photographers who are looking to learn new ways on how to get the job done.
Originally I've created a simple and non-expensive lighting technique for shooting DIY gemstone necklaces and bracelets for my wife and her friends. They have a hobby of crafting gemstone jewelry and need good quality images for their website.
After I found how successful and easy to use these techniques, we have decided to create this e-videobook and make it available for others who are looking for the same information.
In the book I will show how to shoot necklaces using a DIY shooting cone. However, the same technique can be used for other type of jewelry and gemstone photography. As usual in all my tutorials, I concentrate on how to use the lighting.
If you understand how each light affects the image and what role light modifier play, you could use the same approach to shoot another, different from what I've showed you in the book subjects, and get a great professional looking images.
The e-book consist from actual PDF e-book and embed and attached videos. Both are required to learn the techniques I show here.
Sample gallery of photos from this tutorial:
Who will benefit from this e-book:
Hobbyists who need to create images of their own craft themselves without hiring a professional photographer and buying expensive studio lighting.
Jewelry photographers who are looking to expand their knowledge with new ideas and techniques (i.e shooting with cone).
Curious photographers who are wondering what I have released this

time

:

-)
Experience level:
Intermediate to advanced with the camera,

beginner

with the studio lighting.
What is required:

Understanding of camera controls, camera shooting modes and exposure compensation.
Any digital camera and LED household lighting.
We use Adobe Photoshop CS5 for post-production, and you may need to have it: otherwise we do not guarantee that the same operations can be found in your particular, other

then

Photoshop editor.
Be smart.
What you will receive:
Chance to learn how to photograph gemstone necklaces and other jewelry products with household LED lighting and DIY shooting cone.
40 pages e-book in PDF format with embed 54 minutes of video.
Over 45 minutes of  

videos

, including a post-

production

in

Photoshop

.
The Bonus: Find out how to efficiently use

cheap P&S camera

to get professional-grade images for

web

.
30

day

no question asked money back guarantee.
UPDATE: Now with the ring shot included!