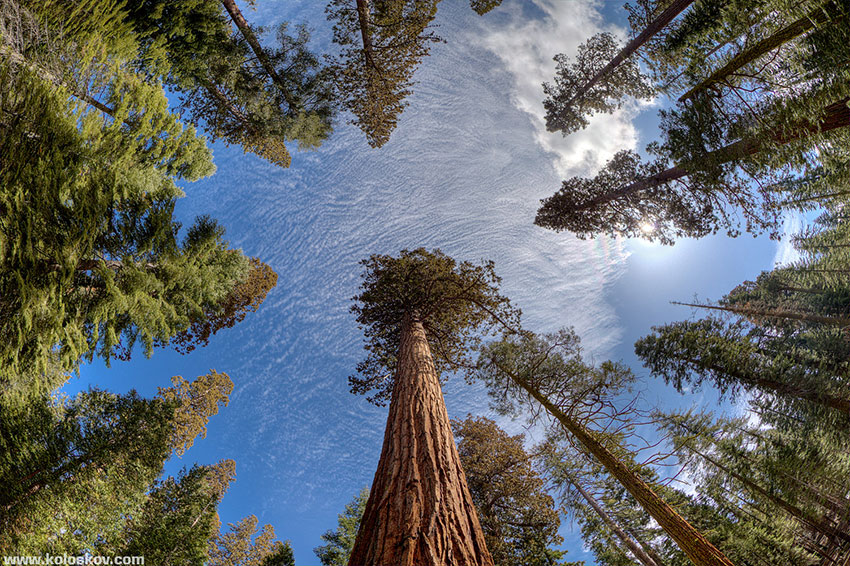 Do you like to take vivid, colorful, yet still realistic landscapes photos, but struggle to get a decent result?
Maybe you enjoy doing architecture photography, and are trying to adopt HDR technique to get images which will blow away your competitors?
Or maybe you are a curious mind with a DSLR who loves to travel and is ready to spend extra time on getting the best images from your journeys?
High Dynamic Range Photography Essentials Course will Show you How to Create Outstanding Shots using HDR technique.
We have been using HDR technique for our commercial architecture work for more than 8 years, and our clients loved it, without even thinking that they were getting HDR images.
Strict standards of commercial photography taught us to develop unique techniques on how to create realistic HDR images from multiple camera exposures, without abusing the technique.
How will this HDR Photography Essentials Course will help you?
You will learn how to avoid making blurry, ghost-filled, over-saturated HDR images

It will show you how to start creating HDR photos the right away, without spending much time to learn the chemistry behind the process
It will teach you how HDR technique can be used in commercial, architectural, and real estate photography
You will find out how to process and create high resolution images full of details ready for large prints and commercial use.
Hight Dynamic Range Photography Essentials pack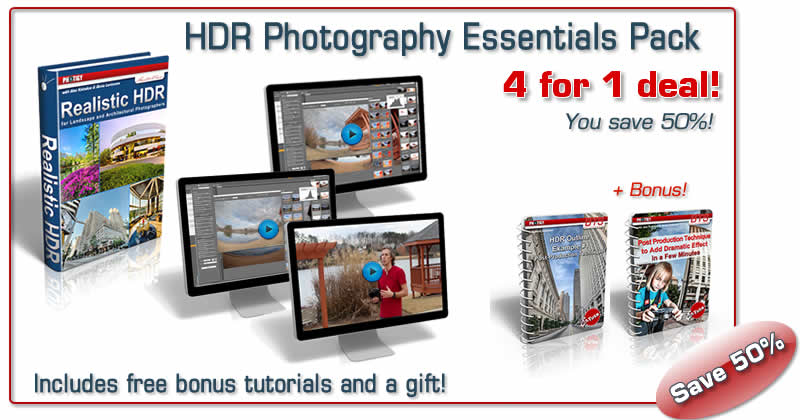 Price: $49
This Product Is Not Available for Purchase
Note: everything in this package is delivered by instant download after a purchase (there is no DVD)
Look at everything that's in the pack:
Realistic HDR for Landscape and Architectural Photographers e-book (or best seller)

We have tried to make this book as simple and effective as possible, in doing this you won't find any theoretical information about the science behind HDR processing in this book. What we will show you. however, is how we create our realistic style of HDR photography using real examples and by explaining our step by step workflow.

We were one of the first photography studios to use HDR techniques for commercial architectural photography in the Atlanta metro area, USA.

E-book includes:

84 page e-book in Adobe PDF format.
Original RAW images which were used as an examples in the book.
Layered PSD files of the processed images.
How to create perfect HDR with fisheye lens with no tripod

Our new, exclusive video tutorial about how to shoot hand-held HDR images.

In this 35 minute video Alex Koloskov explains how to shoot HDR without a tripod, and specifics of using a fisheye lens (v.s wide angle). He shows and explains why in some situations single shot is better than HDR, how to select the correct step for auto bracketing, and much more.
Post Production of HDR images

Two parts of HDR post-production video, total of 40 minutes of HDR Post-processing video tutorial from our retoucher, Genia Larionova.

It features various techniques of creating cool looking HDR shots, including a tutorial about how to process HDR images with moving subjects (this issue called ghosting in HDR).

You will learn how these two images were processed:

Note: to see in hi-res, open in full screen, right click and open image in new tab.
 Plus two bonus tutorials:
HDR Post-processing outline

You'll find a step-by-step 14 page outline-type tutorial in pictures, easy to follow and understand.

$9.95 value.
3 Minutes Effect to Make a Difference for Your Photo

Many people asked me how we created this effect (some call it "HDR-ish", but there is not much from actual HDR in it). Let me and Alex Koloskov briefly explain here how this can be achieved.
This is our comprehensive tutorial of this technique featuring step-by-step guide through the post-processing and 11 minute post-production video

Includes both, iPad and PDF versions of the tutorial.

$9.95 value
Software we used to process our HDR images:
Adobe Photoshop CS5+
Photomatix Pro 4.0+
Adobe Lightroom 4+
Take a look at examples below, with this pack you will shoot like this!
What photographers say about our HDR tutorials:
Those are the best looking HDR I have seen. Usually what I come across have a sort of Neon look to them. Great job. Let me know when the book is published.

Rob Goldstein

There are many books on HDR photography. This book succeeds in distinguishing itself by providing a unique approach to HDR photography. Many people have criticized HDR images because they are not "realistic." In this book, the authors have concentrated on providing processing techniques for landscape, urban, and commercial buildings. There are short discussions on how the shots are taken, but the majority of the book concentrates on post processing. The authors provide examples showing their HDR processing aimed at producing realistic images. I especially like the commercial real estate photos, both exterior and interior.

Danny brown

 I am very much looking forward to the release of your Realistic HDR e-book. I looked very closely at your sample images and, while the look is exactly what i am trying to achieve, your skies, in particular are very good – not overly dark as I have seen in many HDR images that attempt to achieve a realistic look.

Paul Symons
Not convinced yet? Here is the last thing for you: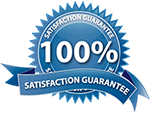 We offer 30 day money back guarantee policy, meaning you can try this Essentials pack for 30 days, without risking your money!
Our guarantee is true and is therefor the benefit of photographers who decide for one reason or another that the my lessons has not helped them to develop their photography skills.
Take this opportunity, and act now.
Invest in yourself!
Price: $49
This Product Is Not Available for Purchase
Note: everything in this package is delivered by instant download after a purchase (there is no DVD)