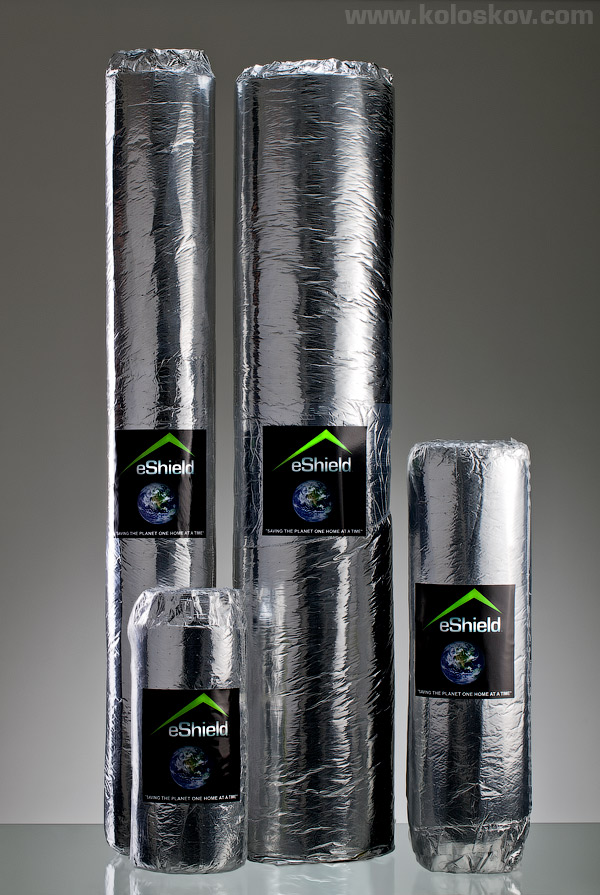 Industrial tabletop photography: We gotta be creative!
While working on a product photography field quite often we shoot a plain and not fancy products, and in many cases this is not an advertisement or magazine cover shots. Subject on a white (plain:-) background, this is what most clients want. Which is fine, this is a part of a job I love:-)
However, every time I am trying to convince my clients to go as creative as possible: I know that catalog or website dictates the simplicity of product's representation, but making something a little different may be beneficial, IMO.
So, this time I was shooting insulation materials for company called eShield. Different thickness insulation, used for.. as I understand, manly for covering home's attics and walls. It suppose to help to stay home warm and cold when needed, and engineering background tells me that it should work very well.  It was a pretty regular rolls of foil-covered insulation, different size rolls. The most important was that the client was fine with non-white background. No props, only the product itself was needed.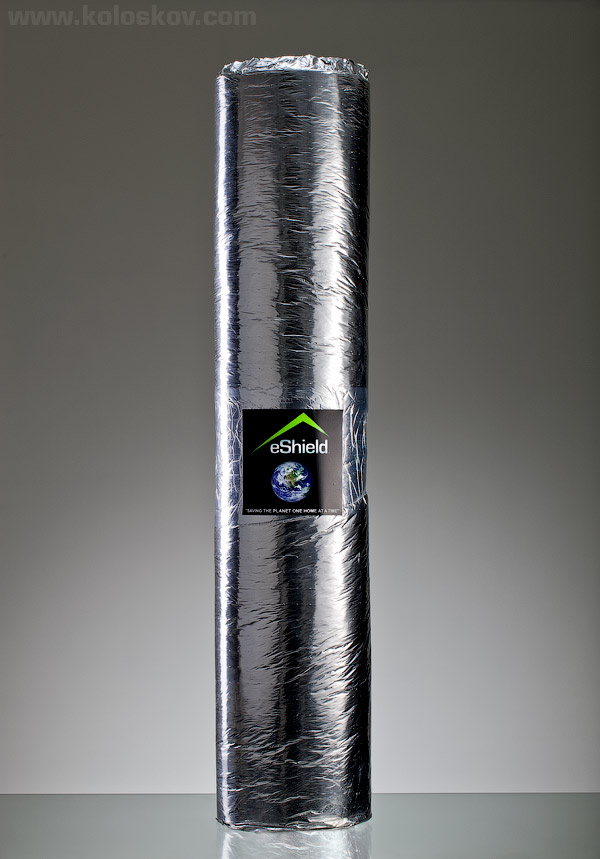 I've decided to shoot all the rolls on a glass and create a gradient halo-like lighting on a gray background. Take a look at the setup below: it is pretty basic, and reminds me another cool shot we had a while ago: a designers tabletop lamp. But that was a different story:-)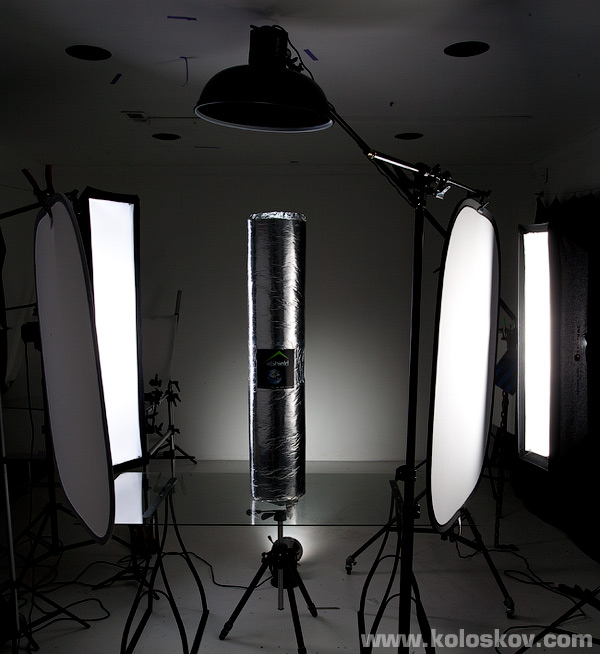 I've used  wide spot light on the background, aimed low. BTW, that thick glass was not thick enough (did not want to check its maximum strength) so I had to add a support on the middle of it, on a photo it is right on front of the background spot light. Undesired, but necessary addition for a post-production routine.
Two stripboxes on both sides of the roll(s): Right one, positioned slightly forward from a side was firing through a diffuser to create a large soft filling. The second light (on left) was a little behind on the side to create a brighter edge on the roll. A soft reflector (diffused was used instead) was added on the left on a side-front position to brighten left side, as it was not enough light there, especially on a company's label.
A beauty dish on top just to add a little bit light from the top of the roll, it was almost unneeded. If you look at the the roll, every light and reflector is clearly visible on it.
Below are some of the results from this shot: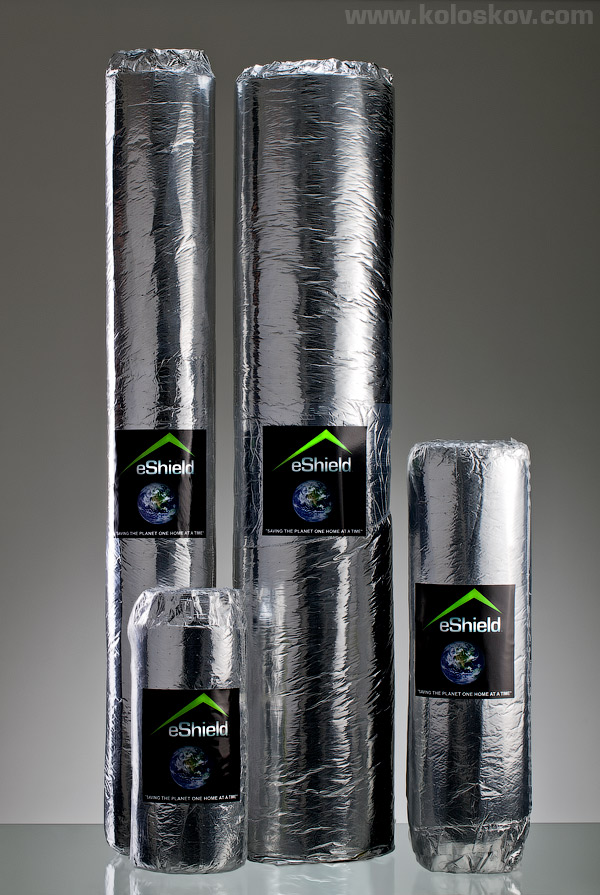 The only one trick I did here: the company's label was not looking good at the roll becasue of the wrinkles, and I have to cut a piece of sheet metal and stick label to it. Then stick bent metal to a roll. We did it for the most ugly ones. After this it looked almost photoshoped-like, unnaturally clear.
This one was showing thickness of the material, we have done each of them both ways, horizontal and vertical. We did not try to make it look perfect as it should look real: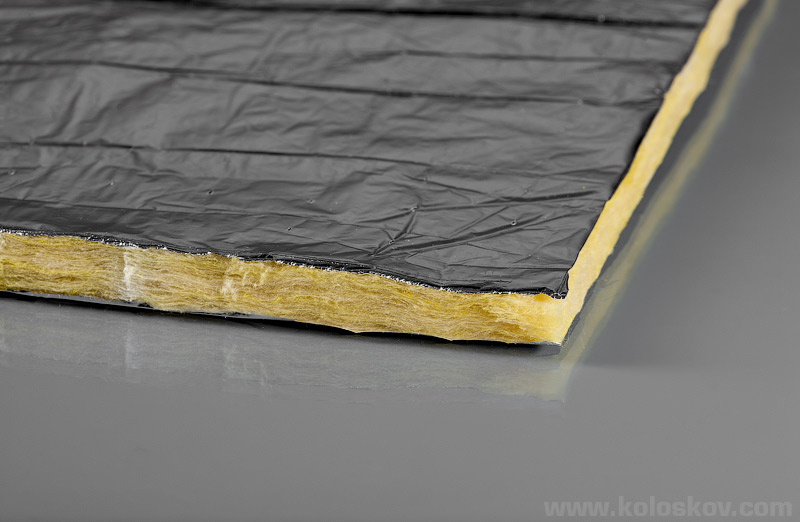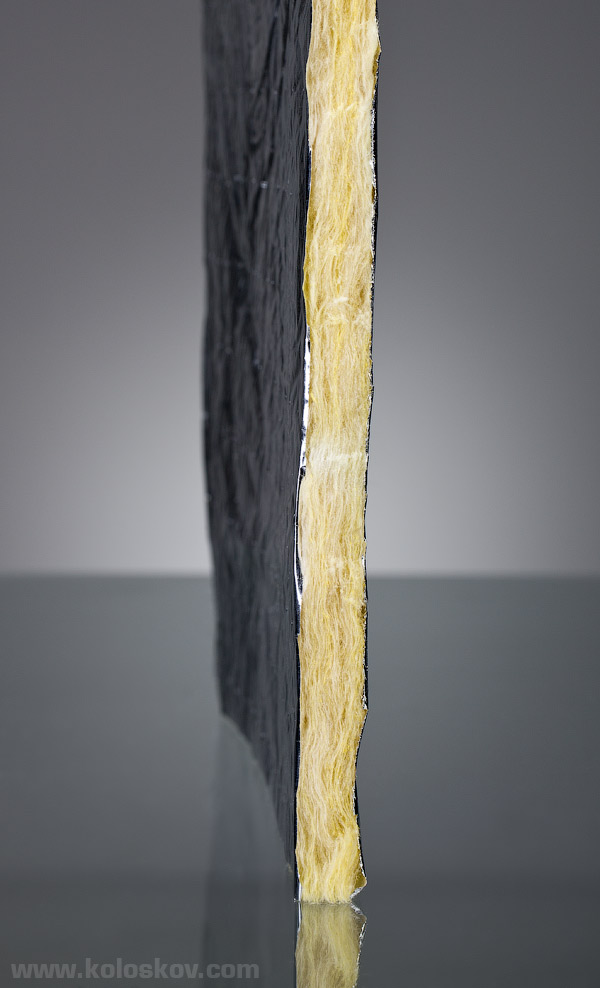 Pretty basic shot, right? However, I glad that we were able to step out from a very common "product on white" composition, and we got such images. When I can't do anything to make product look sexy, I do it for the background.
I do not shoot portraits, but usually I am fine shooting our clients when they ask me for a portrait. Below one of the shots we did for Terri, the President of eShield.
I've utilized almost the similar lighting setup as we had for a products: two striboxes behind the model as a hair lights, background was lit from a bottom with another stripbox to create an even gradient. Main light was a Beauty Dish positioned above and slightly on the left from the photographer with 30º honeycomb grid attached. Simple:-)
I also made a portrait of myself while testing setup, will post it here after Genia will add her crazy PP on it:)
---
Camera gear:
Lighting, light modifiers and accessories:
---
Exposure specification: shutter speed 1/250 sec, F18, ISO 100