Koh Sang Woo  – A 'Negative' Expressionist Visual Artist from New York
It was nice to interview Koh Sang Woo, a Korean by origin photographer that lives most of his life in U.S. He does very interesting, creative and pretty unusual forms of art and photographs it. It's not a abstract, but very real and a physical form of art that can have it's place in the art world. Below is the interview with Koh, along with his works and images at work that represent his art.
Photigy Interview With Koh Sang Woo

Welcome to Photigy,  Koh Sang Woo. Can you introduce yourself a little bit?

A visual artist based in New York City. I moved to the United States from South Korea at a young age and had to face a big culture shock which I felt the need to dive into learning a new culture and society without bias as I was so native, which I credit all the people around me who allowed me to explore and experience without any hesitation and restraint.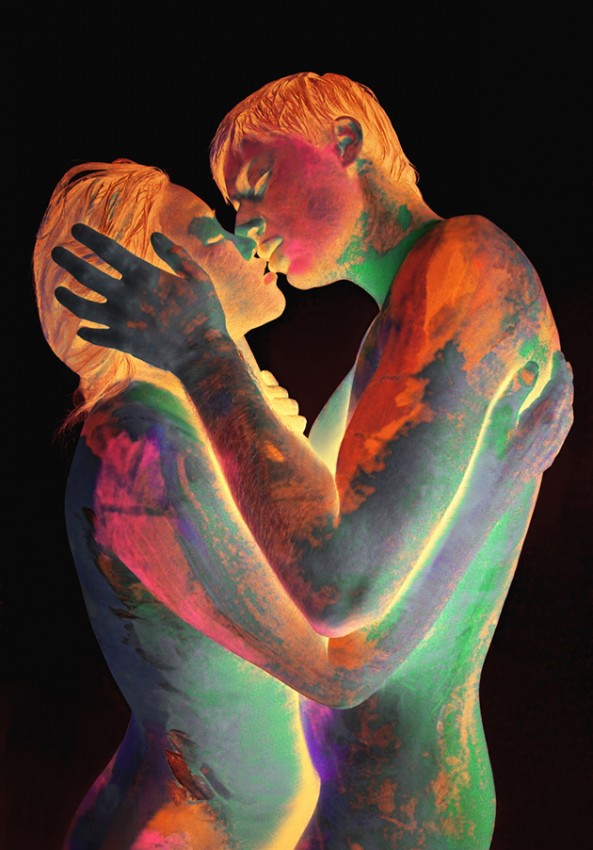 Tell us how did you get into photography? Did you work somewhere else at that time? How all that begin at the idea level and then at practical level?

I double majored in Photography and Performance Art at SAIC (The School of the Art Institute of Chicago). Working in both mediums at the time really allowed me to explore two major ideas and translations/limitations at the time. This made me think outside the box and the constant thought my head at the time was still "Frames vs Movement" "2D vs 3D".
I worked on several major performance pieces and after each performance we would review our still shots vs our actual videos which always tested my mind on how the images felt so different and documentary like. The still shots captured the movement as a still frame, but lacked the emotion vs  the video which explained the performance, but they both did not satisfy my thoughts of expressions/emotion in the right way for me as an artist. I wanted to combine the 2 mediums together to satisfy what I felt could be delivered with the most impact for the audience .
I feel that I have only begun to scratch the surface with this concept and looking/working on fine tuning my initial feeling of still combine the 2 mediums and deliver  the same message to the audience.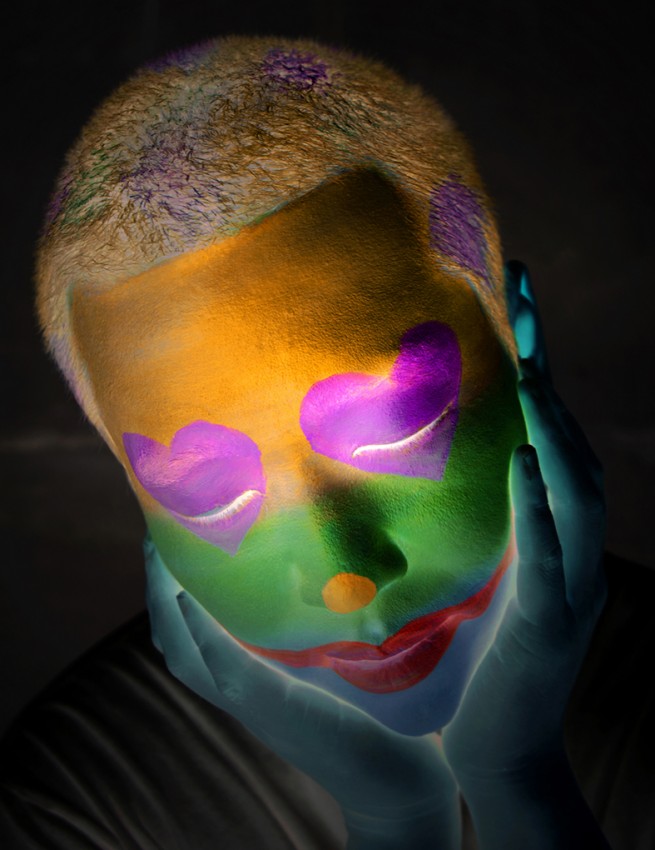 What inspiration did you get from the photography world? Do you have favorite photographers?

Man Ray, Salvador Dali and fashion photographer Lillian Bassman. Also love the early surrealist photographers who pioneered film techniques of optimal aesthetic effect. All of these artist were pushing the boundaries of what photography can do and was not restricted by the medium.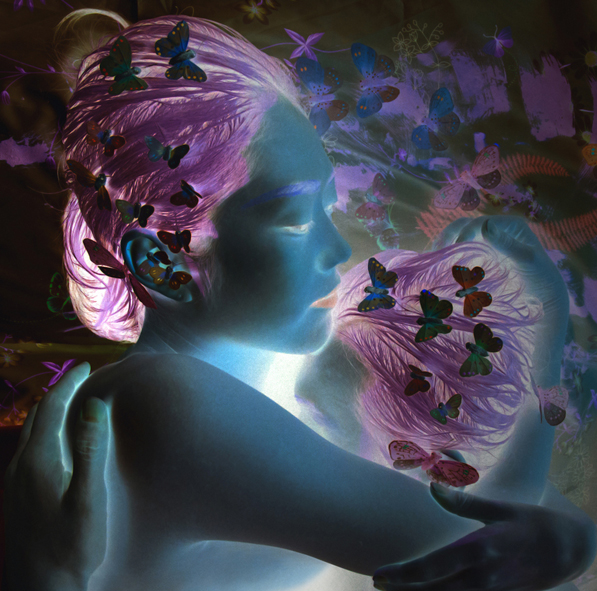 Did your style emerge at the beginning or did you start regular photography?

I studied regular photograph,y but also majoring performance art took me into different dimension of photography as mentioned before. My main mission statement through the years has been to challenge the limits of what still shots offer vs video and 3D.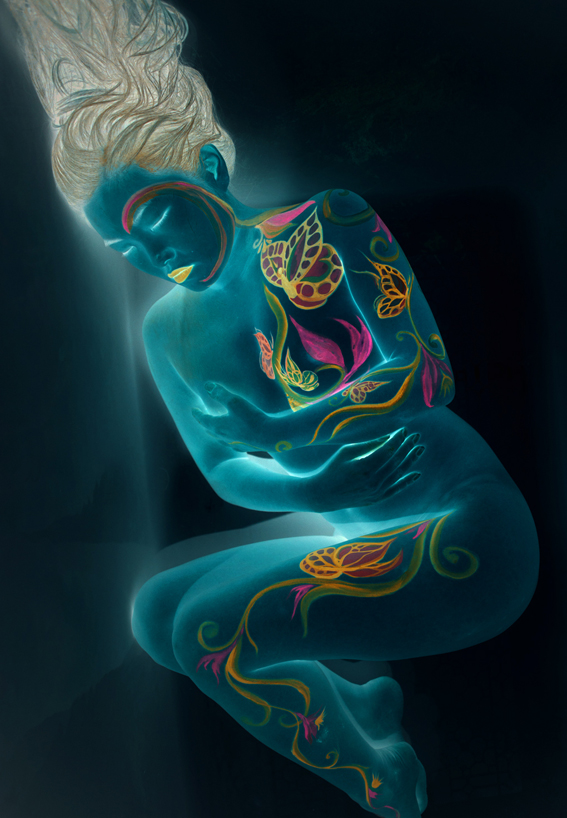 What caused you to choose your new Style you are famous of ?

I don't know if you can say famous, but I do have my own style that people can recognize; some relate the negative images of colors used and some relate me to the certain expression and emotion I translate onto photos. This fundamentally goes back to my theory and challenge of translating the movement and emotion from 3D to a 2D image.
This topic has resonated with me through the years. I keep a pulse on what want to translate to the audience and would like to challenge and engage them on multi-senses that we hold.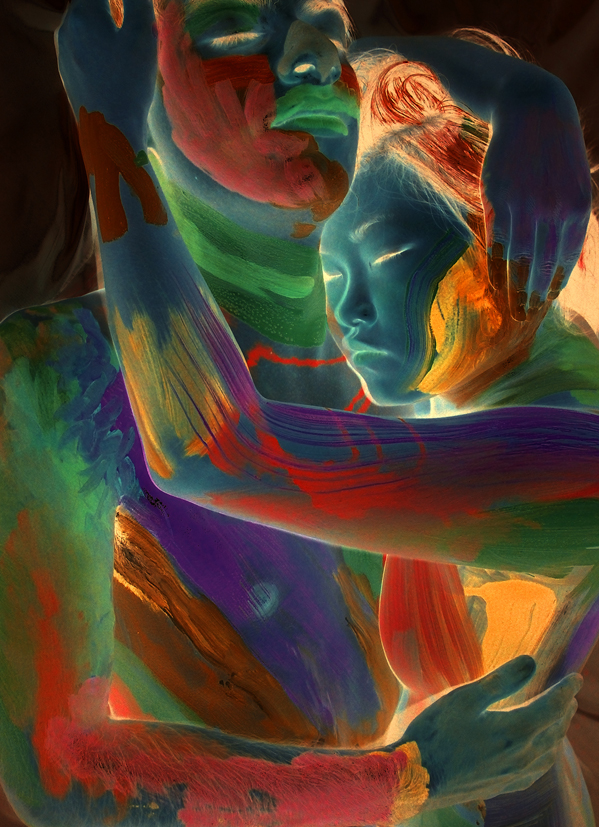 Tell us what is the idea behind your photography style?

Very basic and simple word of "connection" inspires me. My work has a fine line between reality and fiction; ordinary  relationships; fundamental human relationships find a way to spark me. We live in a global society now and you can click to find someone and feel an instant connect with them in one way or form.
This idea is novice and elementary but so complex at the same time because there are stories, emotions and connections that tie or untie us. I find it fascinating that no individual has the same experience in life.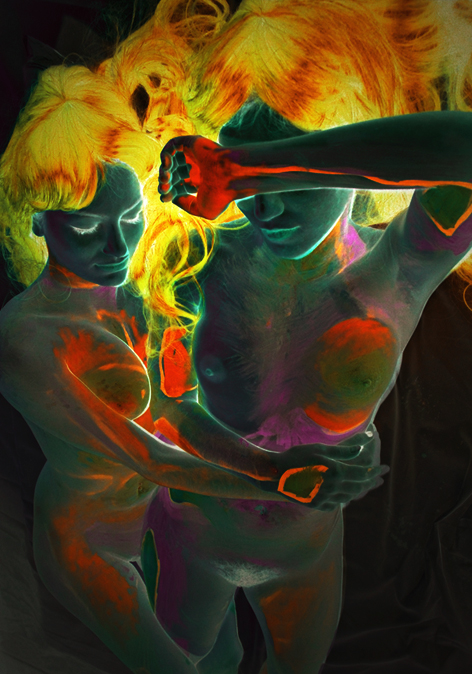 What do you feel when doing a work?

Pain. Intense emotional charge.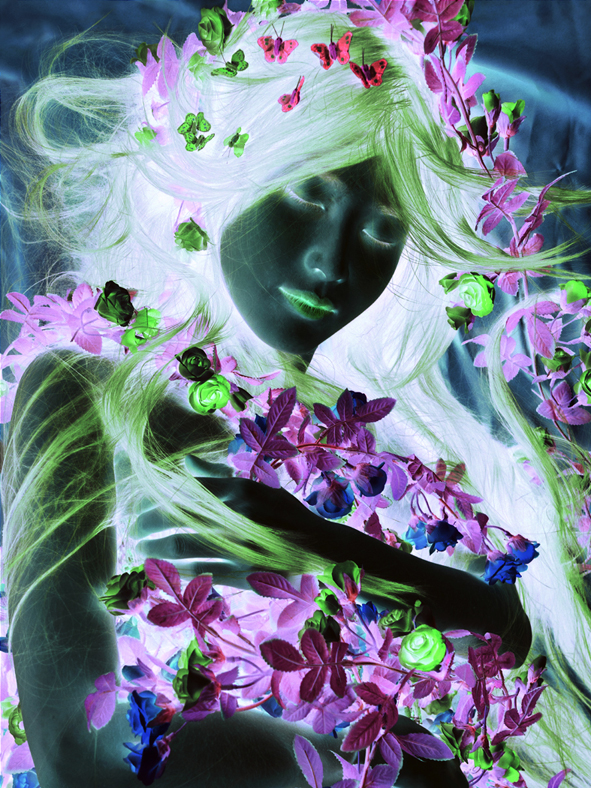 What are your visions about current and future works? What are your next plans? Will they incorporate new ideology?

My work is an on going process of challenge and combination. technology has a big impact on our daily lives (for good or the bad) and in the art work as well. I am always implementing new ideology and techniques to my work, we will see what the audience can handle and understand.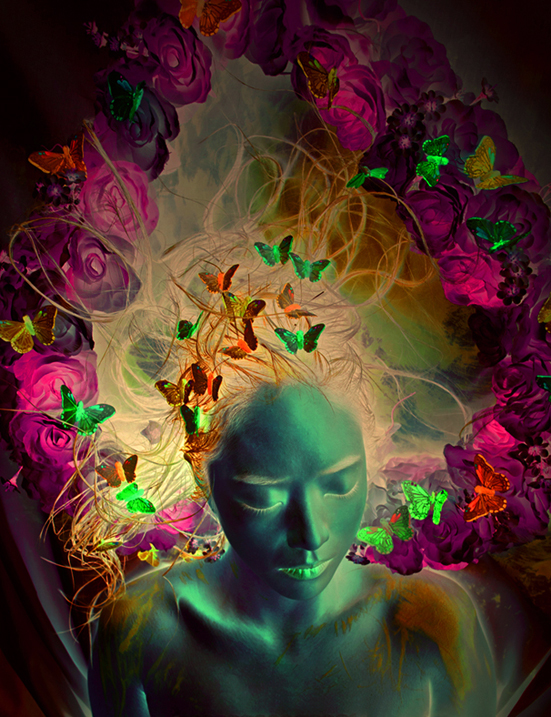 What you believe your works can change in art photography world and what you want to achieve?

Every click I make on my camera. and every brushstroke I paint to the body translates my mood and passion to each piece. Capturing the love, emotion, and life is what drives me to explore the human relationships each and every day.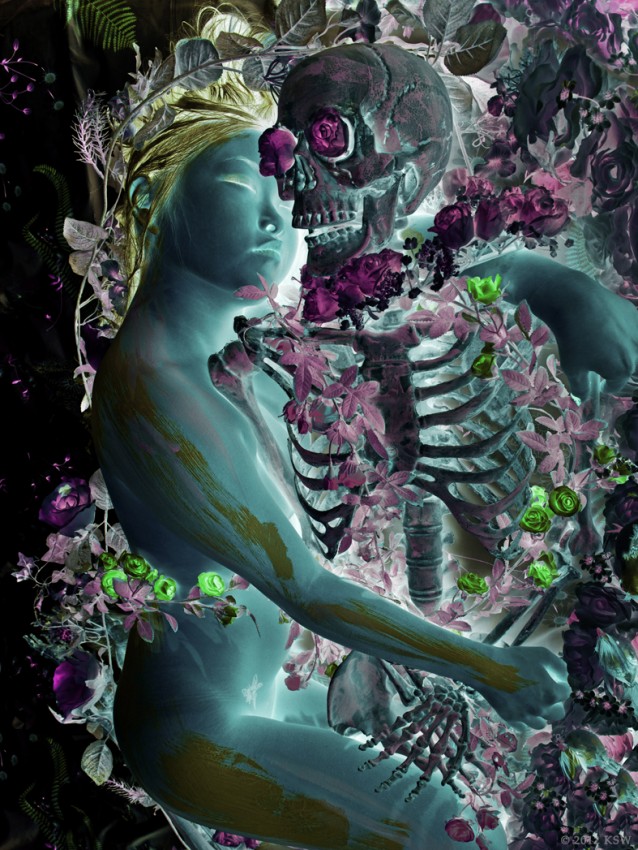 Technically speaking, what is the technique to get these photos? Does the process involve both capturing images and doing dark room or/and digital post-production?

It's a process I have fine tuned over 10 years and with new technology and changes in materials, I can re-create the same artwork with different materials and change the overall feeling of the artworks. Some people might think that my artwork is purely digital and relying on Photoshop but this is not the case.
It's about translating feelings and emotions onto a flat surface and explores the depth of human nature and emotion. I have not been able to do this just with a basic computer program. I feel a connection to the audience; their own perspective of what they think something is has changed. I usually have paint brushes in my left hand and a camera in my right hand to capture the moment and make the transformation to 2D.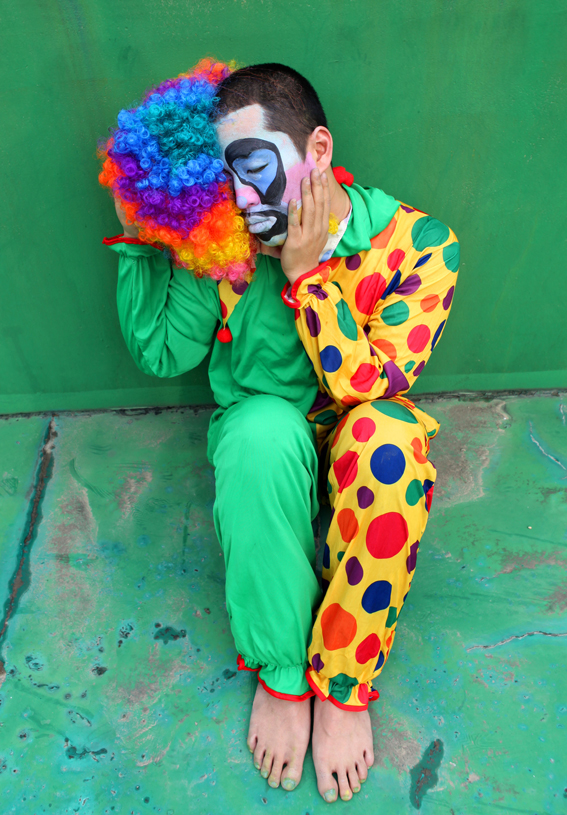 Do you selectively saturate / desaturate some areas of the image?

No. Every color is pre-calculated in negative mode.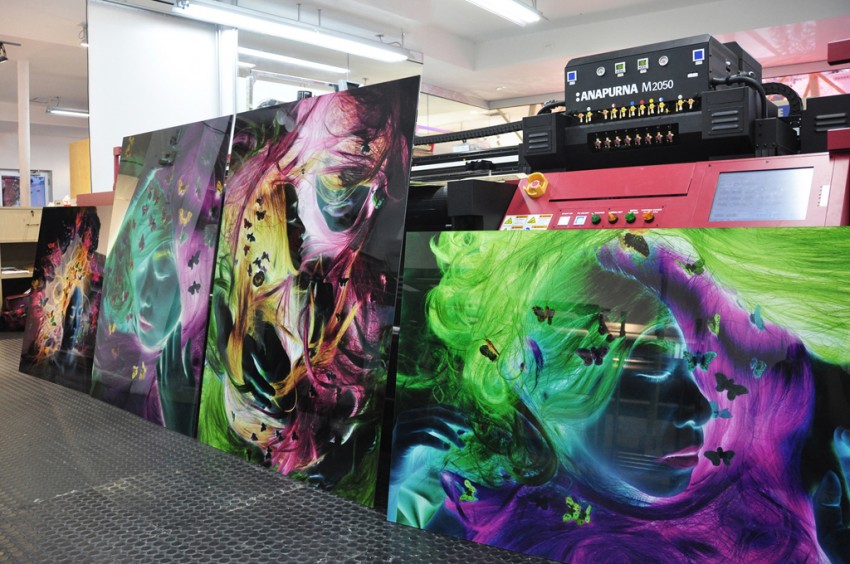 You are trying to show aspects of love in your works. Why did you choose showing it through performance + painting on the actress ?

I prefer ordinary people because they show more emotion and its more natural. I have been approached by several western models and celebrities in the past, "Can you make me look like that?" But I have always have stayed away from working with celebrities and well-known models due to the commercial factor.
However, starting this year, I am open to commission projects. If any couple is interested being models for my work I am open to this idea. I would love to travel anywhere and work with them regardless of their ethnic background.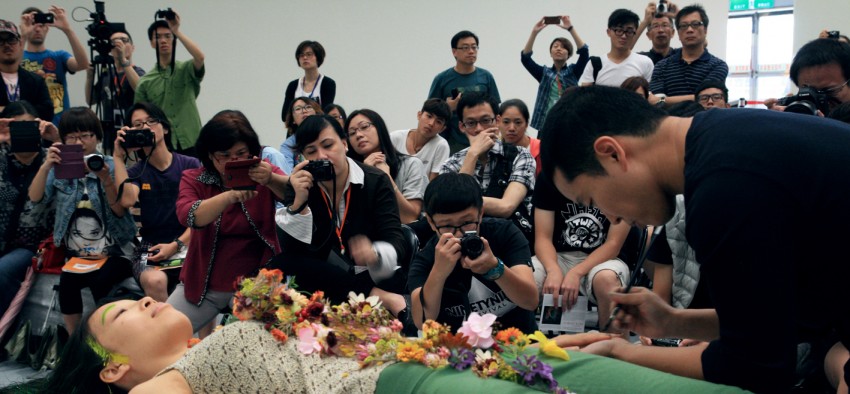 Why you decide to add flowers and butterflies to the model hair ? What values you think it adds ?

They are varying meanings; very different ideologies in different cultures and I like to open the dialogue on what icons/objects really mean for each culture. I also like the visual electricity flowers and butterflies add to my work.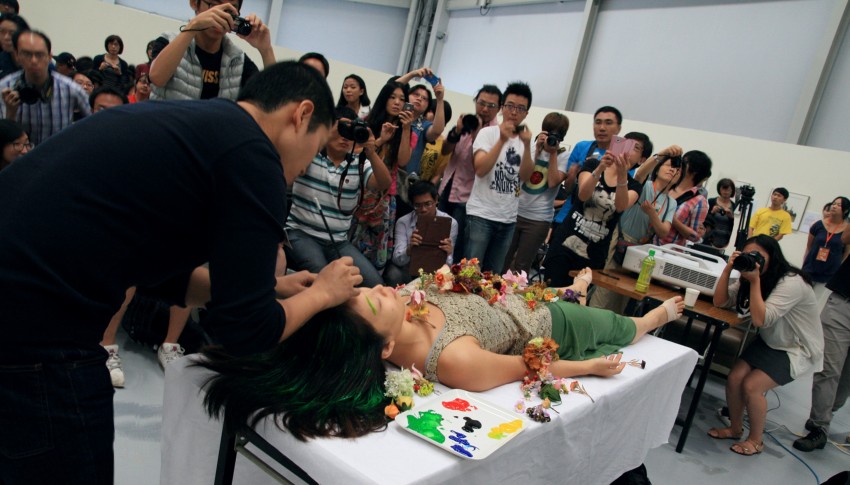 In one of your 2011 works there is a model standing on one leg. In that image, how did you get the colorful floor and background ? Was it painted or digital?

It was my only digitally manipulated piece, due to the outdoor nude shooting being illegal in NYC.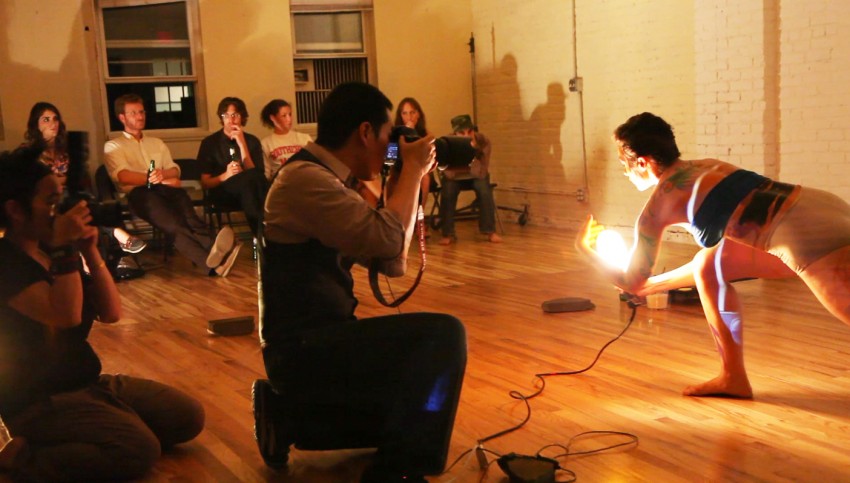 I think it will be interesting for our readers how did you get your works sold in Christies ? Do you propose them your works ? How you organize your own exhibitions ? What are the interesting aspects of the exhibition logistics you can share ?

Christie's approached one of my galleries, I did not work directly with any auction venues.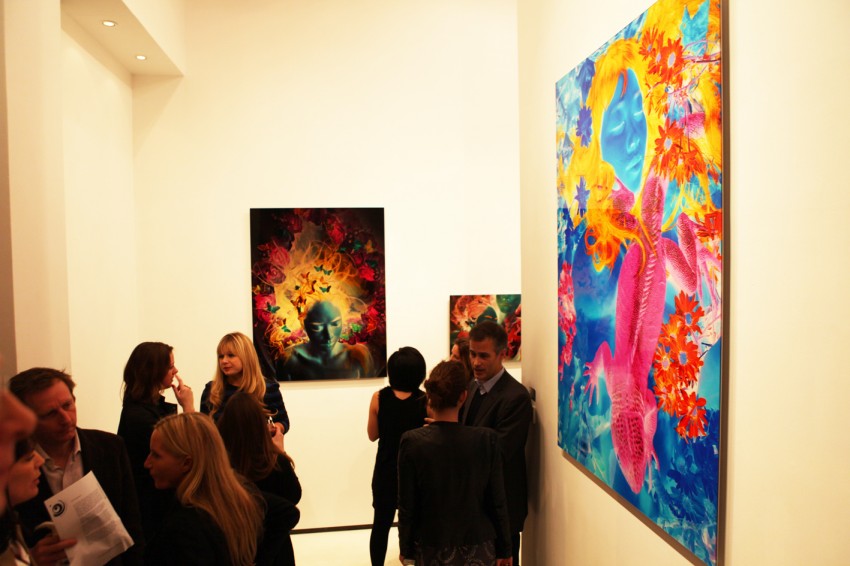 What plans you have to the future in your works?

Continue to create new departures within my practice, fully exploiting the relationships among the various components of performance, story telling, body painting, photography, and metaphorical allusion.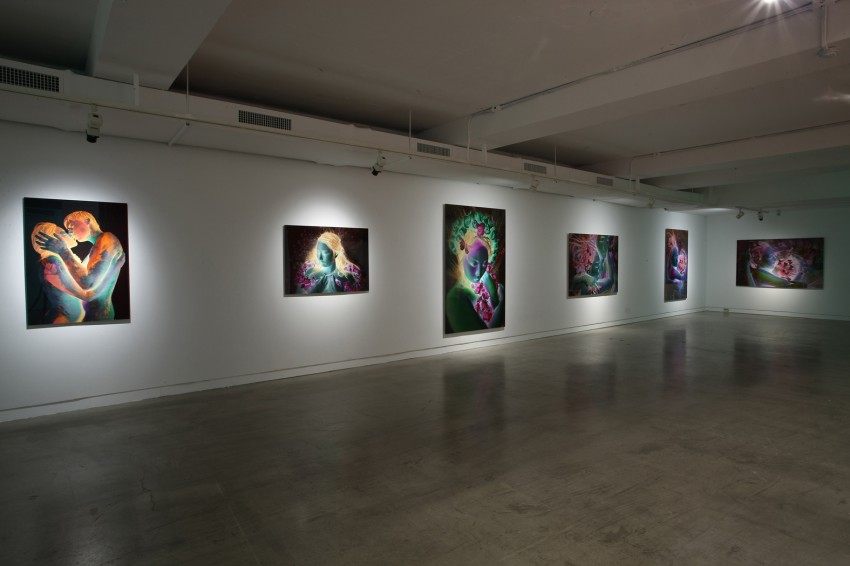 Thank you very much for the interview . What message can you leave to our readers ?

Always think outside the box and do not be afraid to challenge the norm practices. Be innovative in using new mediums and keep challenging fundamental views on beauty.
 I want to thank Koh Sang Woo for the interactive and friendly interview.  I wish more inspiration to our readers.
Photographers also take these courses