Holiday Liquor Shot: Jack Daniel's Single Barrel Whiskey

Holiday season gets more and more eventful every year for me.  With family gatherings, travel, work, gift shopping and living in a prime holiday shopping area, the holiday season can start to look pretty crazy for me starting in the middle of October.  And as I'm writing this, I know that it's far from over.  Every once in a while, it's kind of nice to sit down, take a deep breath, relax, and shoot a glass of whiskey.  And by shoot, I mean take a picture.
I was excited about writing this holiday liquor shot tutorial for a few reasons.  First, I love coming back to shooting anything in a glass bottle.  Second, I was curious to try implementing a couple of new techniques that I had picked up recently.  Lastly, I was just itching to write something new.  Hence…
Holiday Liquor Shot – Product Photography Tutorial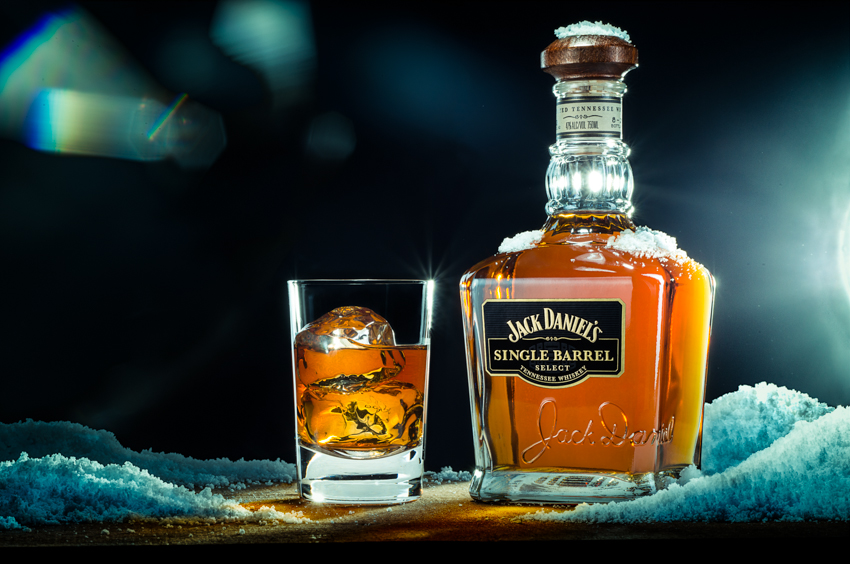 This being a Christmas / New Years holiday liquor shot, and living in the Chicago area, I knew that I wanted to incorporate snow.  Once I knew that I was shooting whiskey, I knew that I would want to play with the warmth of the whiskey color and contrast it with some atmospheric coolness.  As I continued to conceptualize, I pictured a hardwood surface that would give the image an organic feeling, and some bright back lighting.
I toyed with the idea of using bokeh filters with Christmas lights in the back (and you'll see in the BTS shots that the Christmas lights were still up), but as I continued to work, I felt like the lights were really detracting from my subject.  I couldn't make the concept work in a way that didn't draw too much attention to the lights, so I shifted direction in the middle of the shoot.
I still knew that I would need something to balance off the bright back light.  You'll see what I opted to do, but first…
In the Gearbox


Camera:

Studio Strobe Lighting:

Light Modifiers:

Other Essential Accessories: