The first one is about commercial splash and liquid photography and I created it for Udemy.com. You will learn how to create stunning splash images and how to utilize these techniques in commercial product and advertisement photography.
You will understand what camera and what lighting can be used for hi-speed action photography, and why some of the strobes on the market are better than others for this task. I'll show you the behind the scenes from some of our commercial shoots, and you will see all the steps taken to get the shot right.
To build the course, I've used a few of my existing liquid splash e-tuts and added three completely new lectures aimed to new to hi-speed liquid photography students. They will help them to understand (and see on the examples) why and how we work with liquids.
You'll get over 2 hours of  video lectures, behind-the-scene videos, and post-production. We also included PSD source files of two images for you.
The course costs $65, and if you sign up to Photigy.com's exclusive (no spam!) newsletter, you will get a discount code which will take 25% off  from the course price, bringing it down to $49!

Use the form on the right sidebar to sign in and I'll send you a 25% discount code.
Hurry, there are only 50 discounts available!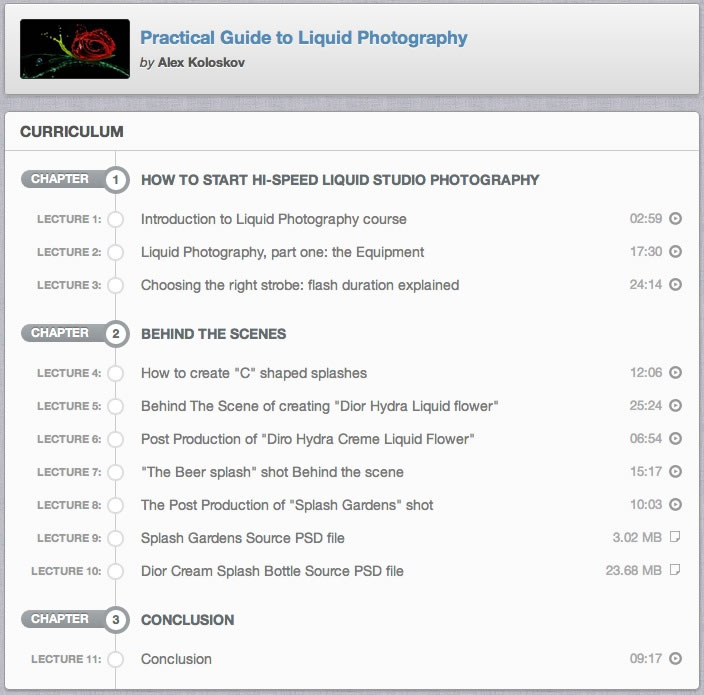 Another piece of good news is that we have released the recorded version of our recent online course, "How to Start in Studio Photography online course: The Equipment".
Now you can buy an individual part you might be interested in or save some $$ and get the full 3:30 hour course. Do not forget about exclusive discounts if you sign up for our newsletter (see sidebar).
We still have a few spots for curious students who want to to attend to this course. Most likely we'll be fully packed by the end of this week (09/9), jump in if you are interested.
This is a rare opportunity to get an exclusive and expensive studio photography training for free.
Update:
Course is filled up, starting soon!