Some time ago we met online Alla Koval, an amazing knitwear and crochet designer. My wife was thrilled by the models she has seen on Alla's blog and quickly become a big fan of her work (check out her blog: www.mylittlecitygirl.com). After they found each other, very soon we got this idea to do a collaborate project: Alla's knitwear and our little cuties as models, styled and  photographed by us. Photography will be used on her future pattern book.
Now I am glad to show you, my friends, the result.
We did two photo-sets, one in our studio and the second one on the lake: ideally it should be a ocean or a sea, as the whole designer's line called  "Ocean friends", but having a lake near the studio made our choice.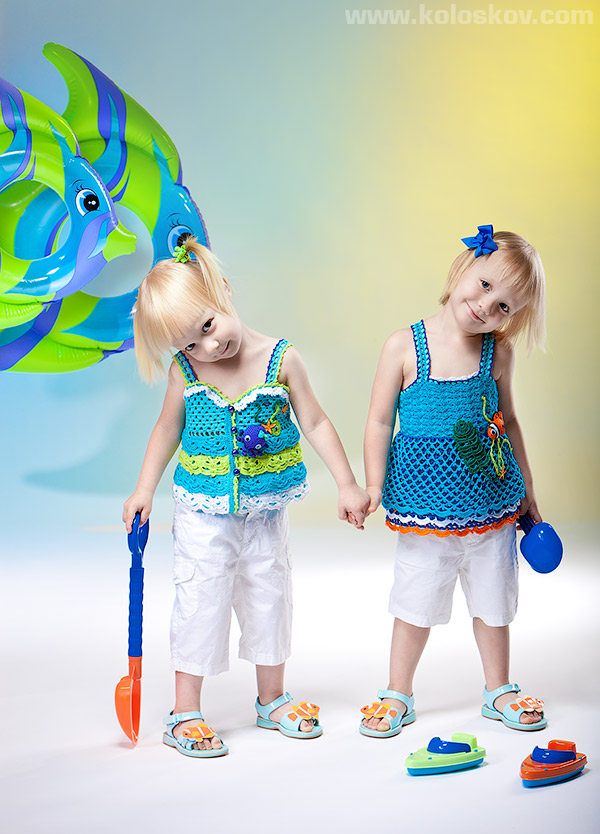 Here I would like to show you a studio photo-shoot, as a most interesting for me and  (I hope)  for you.
It was one of the most existing and most hard-to-get-what-you-want shoots we had for a year:
I was so glad to see how our daughters grown up since the last in-studio staged photo-shoot, but this time it was tough work fro them: we did not shot just girls, but a kids wear. The requirement from a model gets much higher;-)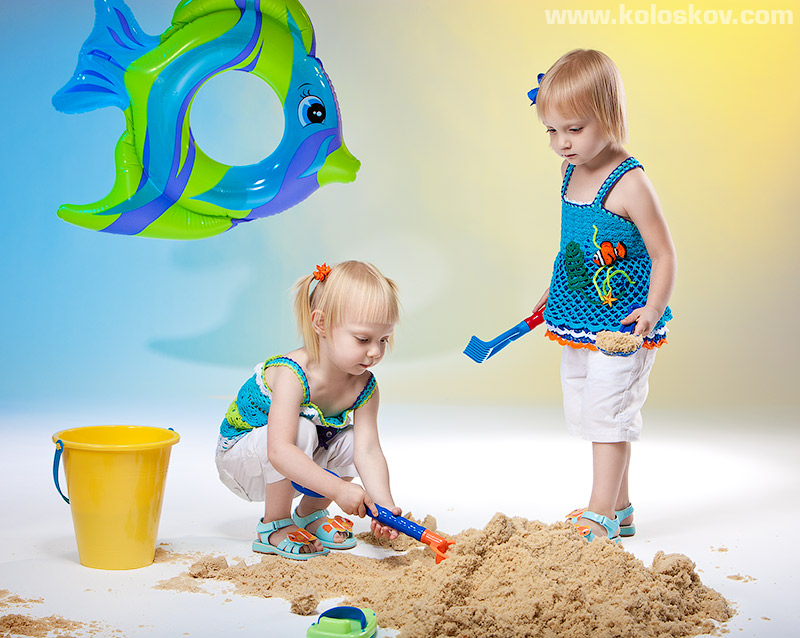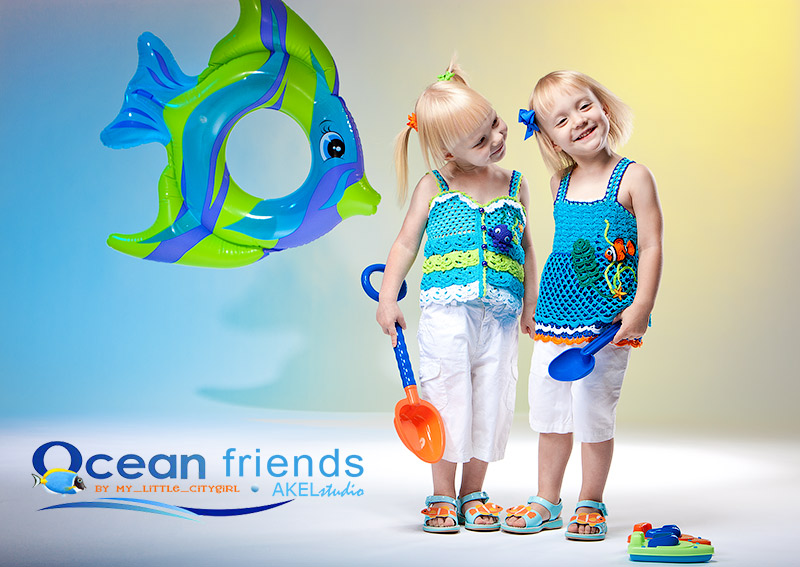 Much more photos from this photo-session are on our post-production blog: Children Fashion Photography: on location and out.
Now, my favorite: a technical part of the shoot.
Total 7 strobes were used, only 3 of them was on the models. The rest 4 was making color spots on a background via attached gels.
This time I've used Paul Buff parabolic 64″ umbrella and beauty dish as a fill or main light, depends on a power ratio between them.
The third strobe (through stripbox) was a hair light.
Lighting setup for kids wear photography: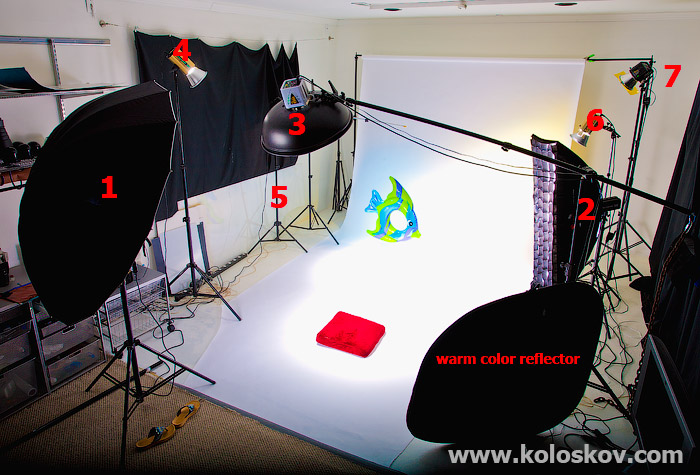 WL parabolic 64" umbrella (WLX1600 inside):  not much use from it for a product photography (I prefer softboxes because of the shape and even light distribution), but it is amazingly good for fashion and portraits. When properly used, it gives that nice "volumizing" light on model's hand and face.
Large stripbox with the grid attached (WLX1600 inside): I would usually use narrower light beam, but because I have to cover wide area such big stripbox was selected.
WL Beauty dish (AB 800 inside): usual attachment for all my people photography. I've adjusted the angle later making it about 45° angle, just in the middle between front and top position.
Lights 4, 5, 6, 7 : was used to make spots on a background: number four and six was white 30° honeycomb grids to eliminate gray areas (or add a color) behind the models.
Number five and seven was blue and yellow gels through 20° honeycombs.
Must say how cool was to use Paul C. Buff Cyber Commander: all wireless adjustments, correct power for modeling light for a different units (think about AB400 at full poser and X1600 at half: modeling light will show you just the opposite), even individual metering for each light can be done (although I did not use it). No more wires from the old LX4 unit (time to sell it?), up to 16 lights can be controlled through separate channels, 16 memory slots to store every important setup. Great unit, great helper in and out the studio!
To make it work with WhiteLightning and AlienBees I have to use CSR+ & CSRB+ Receivers with the commander. The old receivers (CSR & CSRB) will work to trigger the lights, but no flash power can be controlled.
Below is a few images from the lake: First I was  thinking to take my studio lights with a powerpack I've made recently, but soon we realized that it might be to much for us: no assistant at this time, only two of us against two kids surrounded by water and few dozens Canadian gooses swinging around. Ended up using 2 Canon 580 EX hand-held speedlights: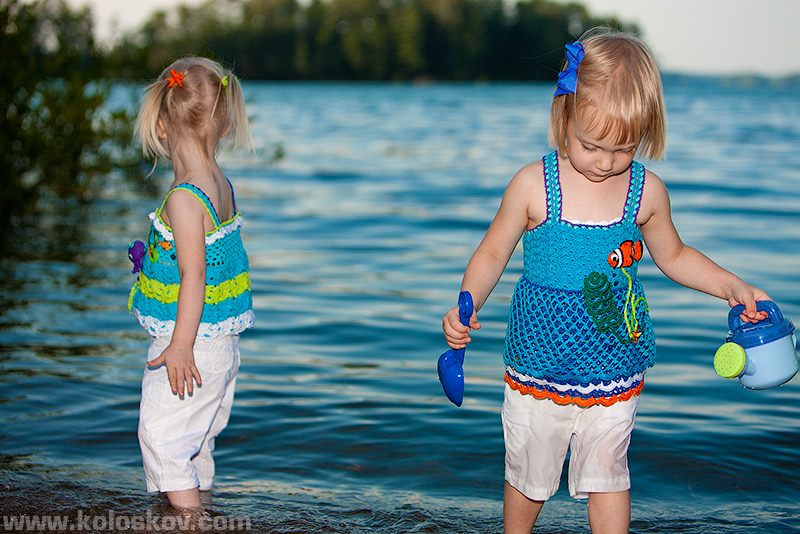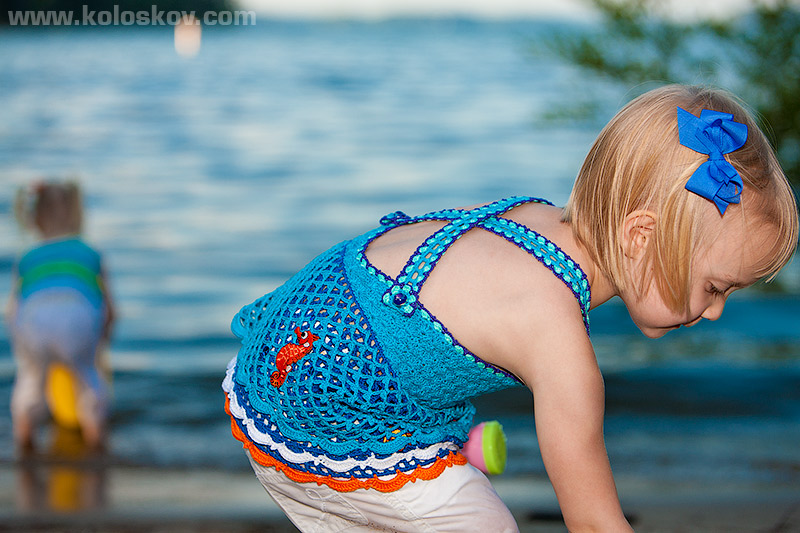 Equipment and shooting spec:
---
Camera gear:
Lighting, light modifiers and accessories:
All shots were done with: shutter speed 1/250 sec, F10, ISO 100, Custom WB 6700K
---
Enjoy it, or be ready to tell me why you don't :-)