Photigy Live: How to Shoot Silverware, weekly photography assignment
How to shoot silverware, a studio photography bi-weekly assignment.
Thank you Nikolas-Adam Manaios,Curtis Hustace, Mikael Magnusson, Pawel Pie, Barry MacKenzie and Ina G for contributing your image for this assignment. As usual, you did a very creative and inspiring job. I enjoyed reviewing your shots.
Here is the video with photo critique and fee demo shots (online broadcast was 11/29/2012):
As usual, it is a good idea to check google images to see how people photograph the subject: Silverware.
Live demo breakdown:
I did a quick demonstration of how to approach this type of shots, did it using only one light and one diffuser panel. The lighting setup I've used: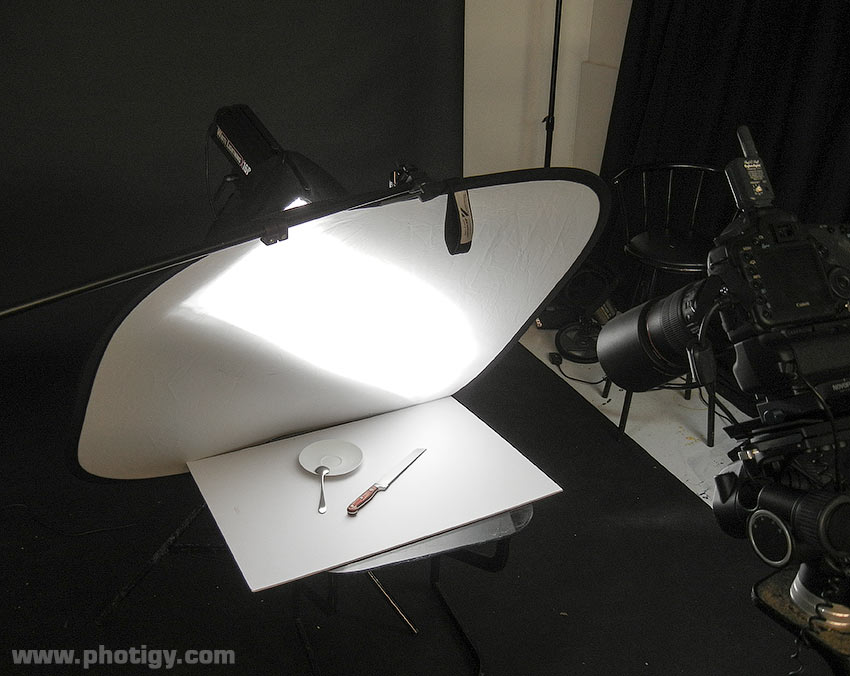 In this particular one I've adjusted the light to create sharp gradient and reflections. Did it by moving light source closer to the diffuser. Watch the video photography tutorial for a full explanation.
Few examples of silverware photos from the shots I did during this episode:
The difference in each shot was only in the position of the stripbox behind the diffuser. The main idea of this demo was to show how important to create a gradient not only on spherical surfaces like spoons and forks, but on a flat knife blades.
It was missed by several photo assignment participants.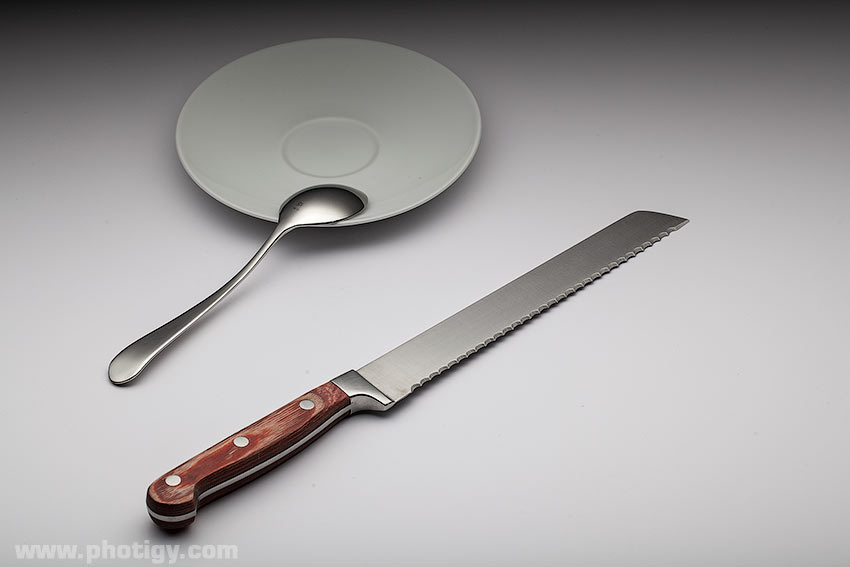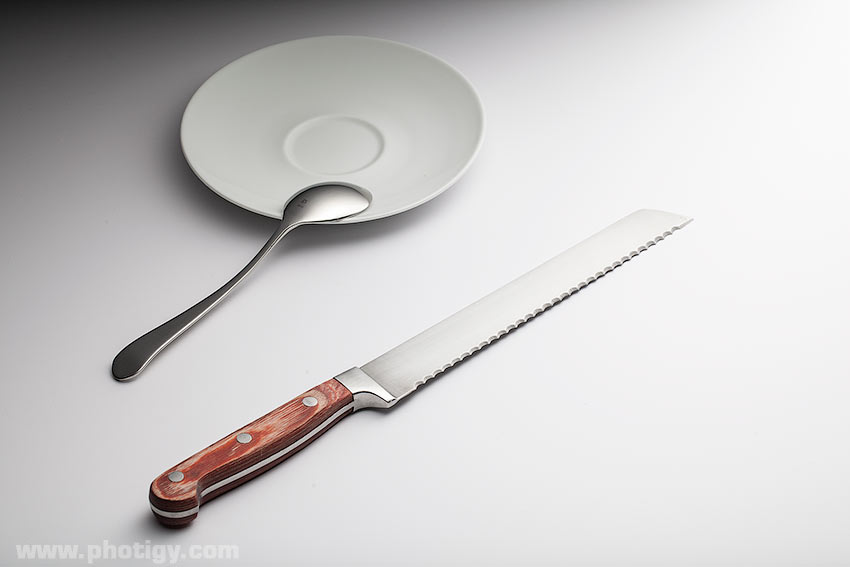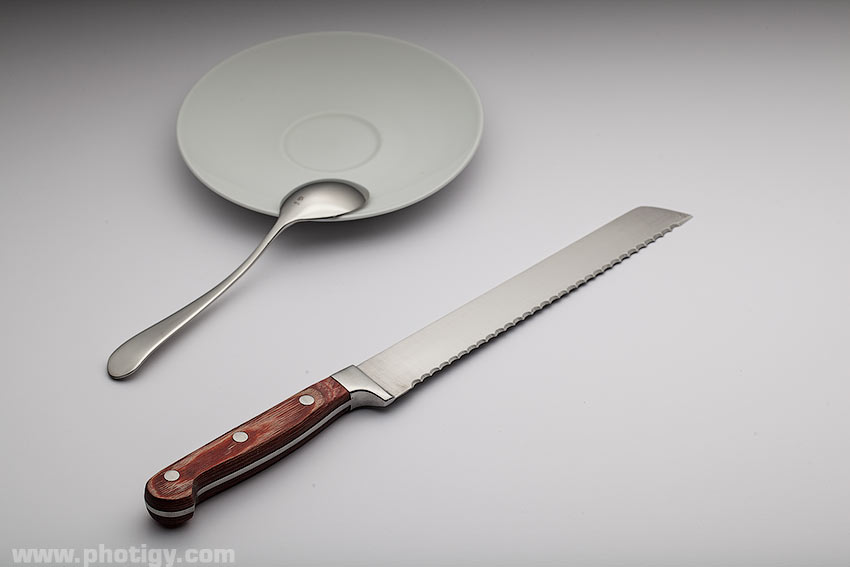 The Winner of this assignment: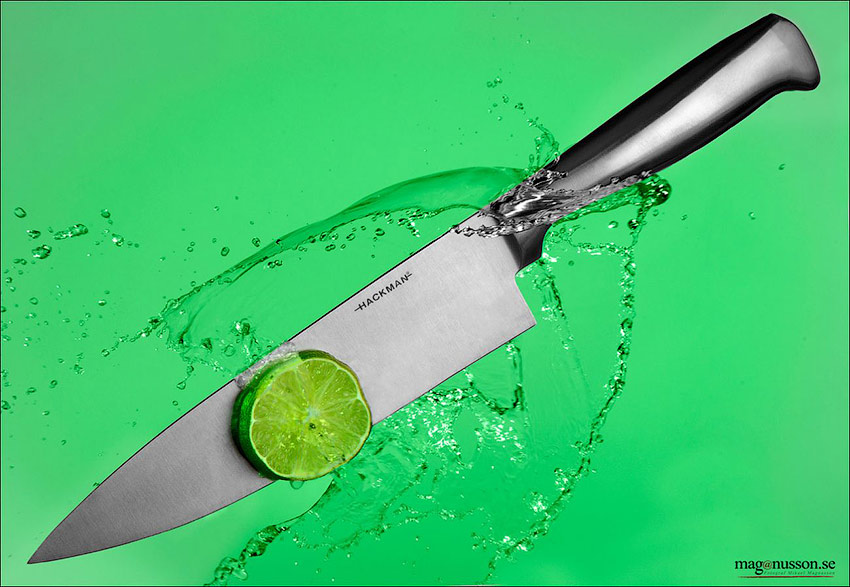 Congratulations, Mikael! You won a private consultation with me, I'll get back to you with the details soon. 
The Next Assignment (deadline 12/13/2012):
Textured subject like a bag or purse . Lets shoot a purse, fine women's purse. Make sure to show the texture as good as possible, so the viewer will feel it, alost like when touching. Go creative, but think more about the product, approach it like an art director of an advertisement  project.
Submit on the forum (topic to be created)
All the best!
The Video on Youtube How to shoot silverware in studio product photography
P.S if you want to speed-up  your learning curve of studio tabletop photography, check my other photography tutorials here and take a look at this "Essentials" pack below. 
[tabletopBanner]