Recently we've finished shooting  a line of hand made pens for PenzByDesign.com and I would like to share the lighting setup and few tips on how we did this project.
So, the pen:  Relatively simple object to photograph, right?  I've used narrow softbox on top to make that line-like reflection on a pen. However, one light source placed on top did not highlight a shines of a pen's acrylic or wood trim.  This is why I've added two spot lights on each side of the pen.

Lighting schema: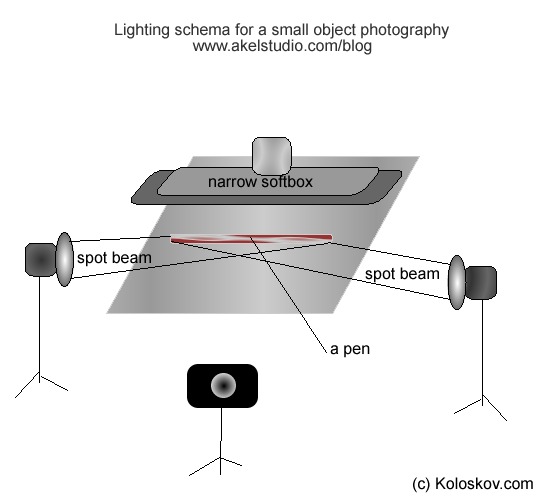 Update: For all shoots I've used Canon EF 180mm f3.5L Macro Lens
, aperture was around F14, shutter speed 1/250, max X-Sync for my canon.
As you can see on the image, these spot lights from a both sides highlighted  acrylic very well:
I've used a piece of glass painted to match customer's web site colors, plus, it will be easier to apply a digital background for some of the photos.  Below are few more examples, on a painted glass background,  just to show how it worked with a different pen's colors:


You can clearly see the long reflection line from a top soft box. The spot lighting from sides is not visible, as they  hit pen with a very sharp angle, only highlight a acrylic plastic.

Here is a few more images from the same photo session, a little more sophisticated setup: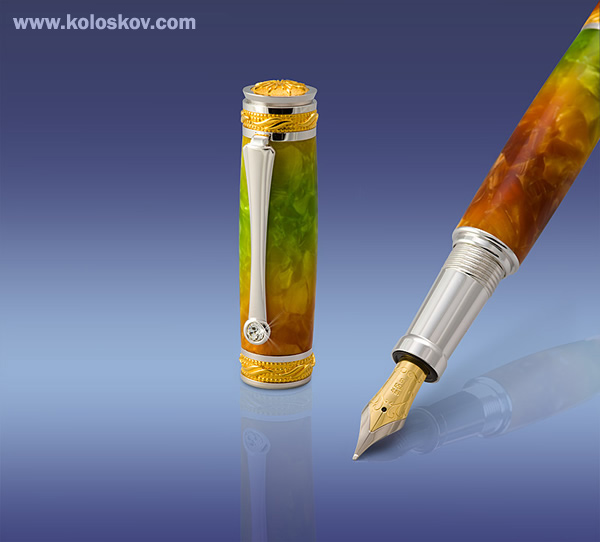 The cap and pen were shot separately,  on a solid white  background, then a gradient digital background and reflection were added to a photo. Client's  requirement was to have a few gradient backgrounds for a selection for these photos, so digital one was the easiest to get, despite all the steps required.  I did not use spot light sources here, but a few little softboxes on both sides, plus one on top.
Here is the actual "raw" source  images used  for the image above.  I'd use white background, as it made pen look more shiny: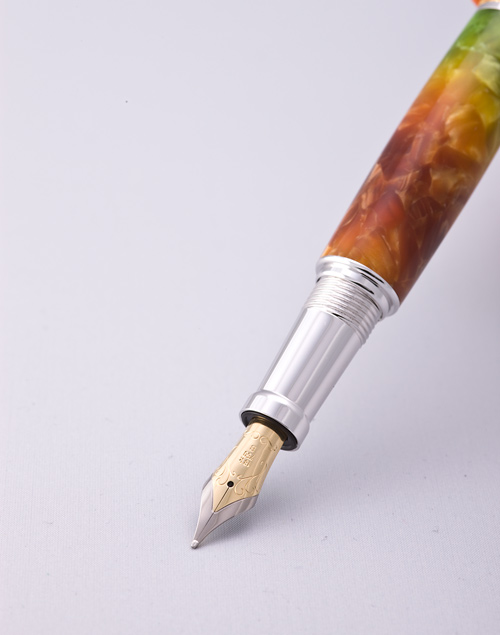 Also, I've shoot a separate image for a reflection, as pen looks different from below, so you can't just copy the original image to make a reflection: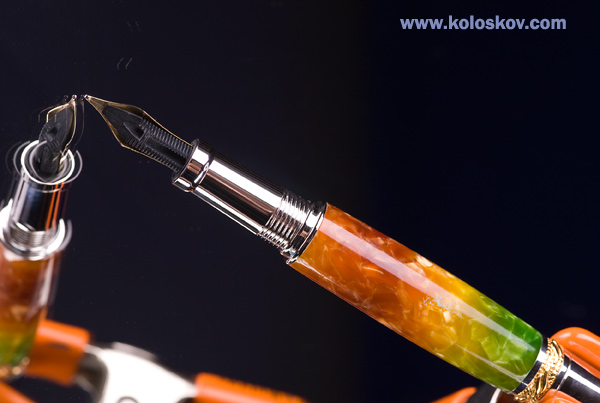 One more, angle shoot , same setup as above, on a digital background: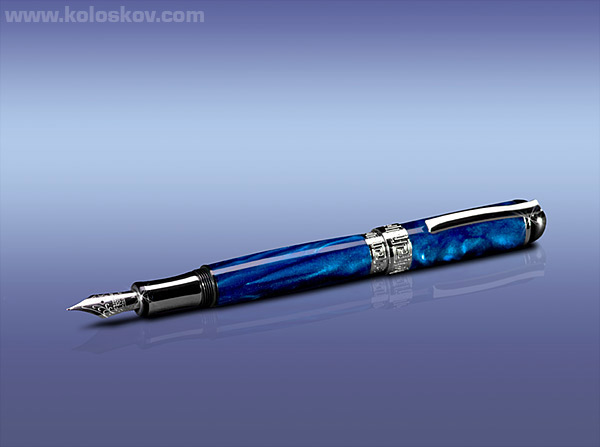 Spot strobes were used here, you can see the highlights on a pen's trim from them.
As always, I would appreciate reader's input. Please do not hesitate to ask questions or give me a comment. Thank you and enjoy!