Radiant Light A New Light Painting Series By Patrick Rochon
I've been fascinated by the invisible, what's behind the curtain of our seen reality. Now I integrated this knowledge into my consciousness and my artwork.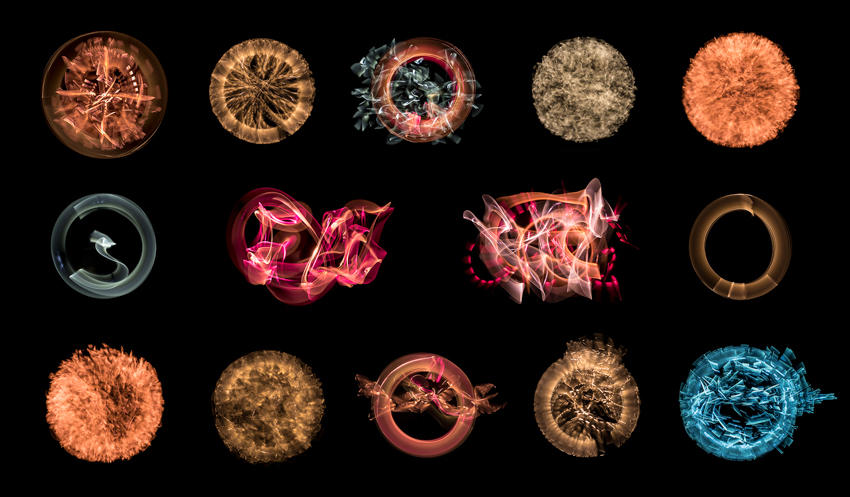 Patrick Rochon's newest project was hosted last week at the Endeavour Arts Gallery in Calgary, AB.  The series, called "Radiant Light", shows beautiful long exposure images that evoke emotion and depth. What is even more amazing is that these images were all shot with a single exposure with no post production. When we last spoke to Patrick back in February of 2013, he mentioned "I want to create images that blow my own mind and touch people on a deeper level. Also I want to work on new custom made light tools".
Well it seems both has happened since the time we last spoke and in little of the year Patrick has managed to create a new body of work as well as creating his own light tools (more information below in the interview).
If you have not already read the first interview with Patrick, visit the article here: Meet Patrick Rochon: Photographer, Master Light Painter Patrick took some time from his busy schedule and was kind enough to answer some questions we had about this new exhibition. We definitely appreciate his inspirational insights and hope you will too.
Most of what shapes reality is invisible
I've been fascinated by what we can't see. Like the shape of sounds, energy, vibrations, feelings, the photons our bodies emits.
Light is invisible until it touches something. Vibrations made by our voices have the most intricate shapes as we can see with cymatics. The work of Dr. Masaru Emoto shows us that we are directly influencing and shaping our surrounding through our intentions.
The planets in relationship to one another move in beautiful patterns similar to sacred geometry.
If you look at a mandala, at sacred geometry, at fractals, at patterns used in art or observed in nature such as the Golden Ratio spiral you see a connection that links it all.
I play with light in the dark, it's called light painting. I imagine all the beauty that hides beyond what we see with our eyes and the key it holds to evolve into a conscious and connected life.
My intuition, my feelings, my instincts are at the base of my work. I use music to influence my own physical vibration and I then let this influence create new images with light painting.
Here is the exhibition Radiant Light. A part of my imagination influenced by and connected to you.
~Patrick Rochon

You mentioned the Golden Ratio, Fractals, and sacred geometry in your article about your work. How do these mathematical principles shape your art and influence you?

Actually it's an exercise of consciousness. An integration of this knowledge beyond the mind. All this time I've been light painting I've been fascinated by the invisible, what's behind the curtain of our seen reality.

Now I integrated this knowledge into my consciousness and my artwork. So I'm expressing this with Radiant Light. The idea is to pass it on and perhaps inspire other to look this way, at a broader range of reality.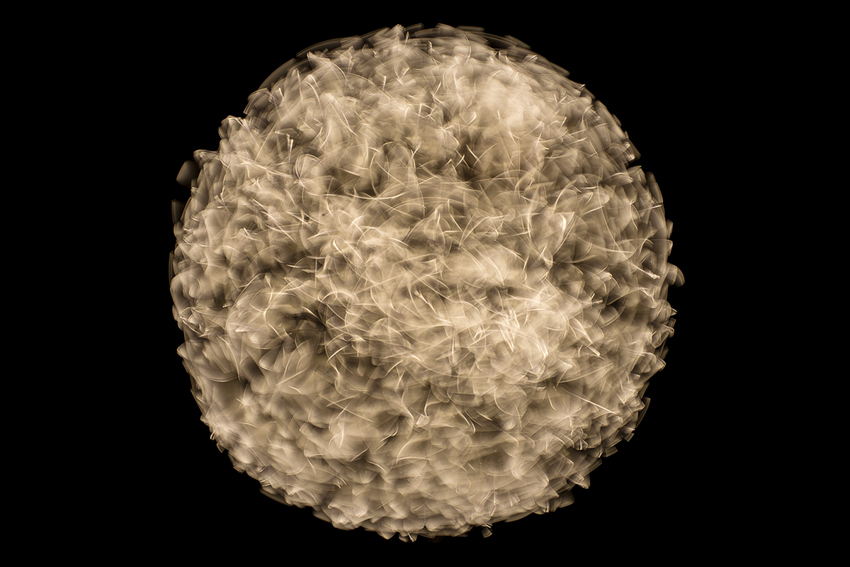 Patrick it is amazing that you created all of these images with a single exposure. Could you tell us how many attempts it would typically take to create that single exposure? About how long did this project overall, take to complete?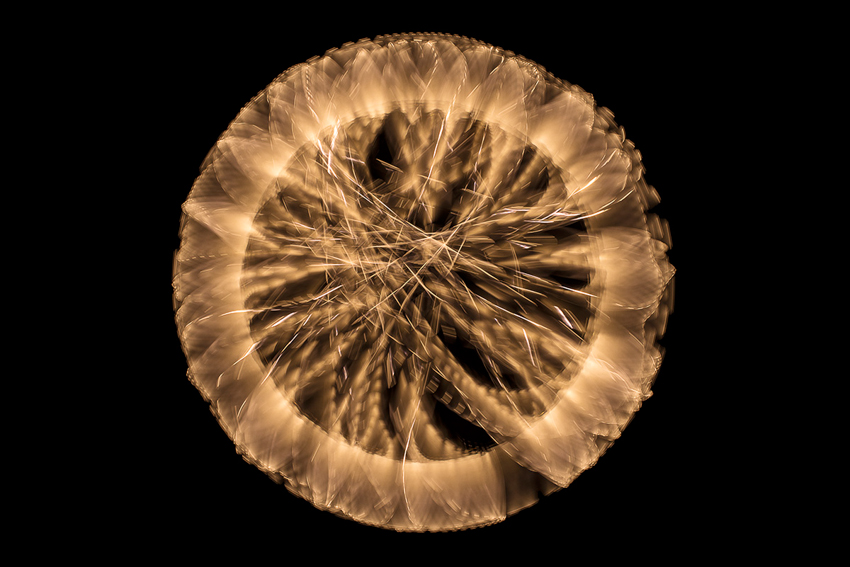 Thank you, this project opens a new door for me. I think my method or process has improved a lot so the results are completely different. At the end of 2013, Maria from the Endeavour Gallery in Calgary offered me to collaborate for the new exhibit. At the beginning of 2014, I realized that I had to create new updated work for this. First thing that came to mind was to somehow integrate my passion for the unseen, the science, the energy that surrounds us, that makes us who we are.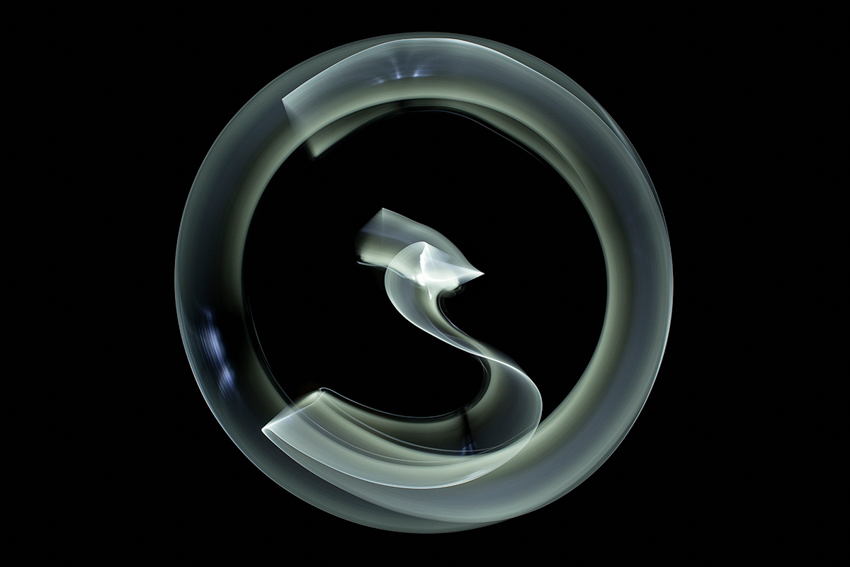 So I did lot's of mental preparation, got some new gear together to improve the studio and started light painting from the fifth to the twelfth of February non stop. So a week of work, light painting, light painting, light painting…. It took a lot of work to get the gems.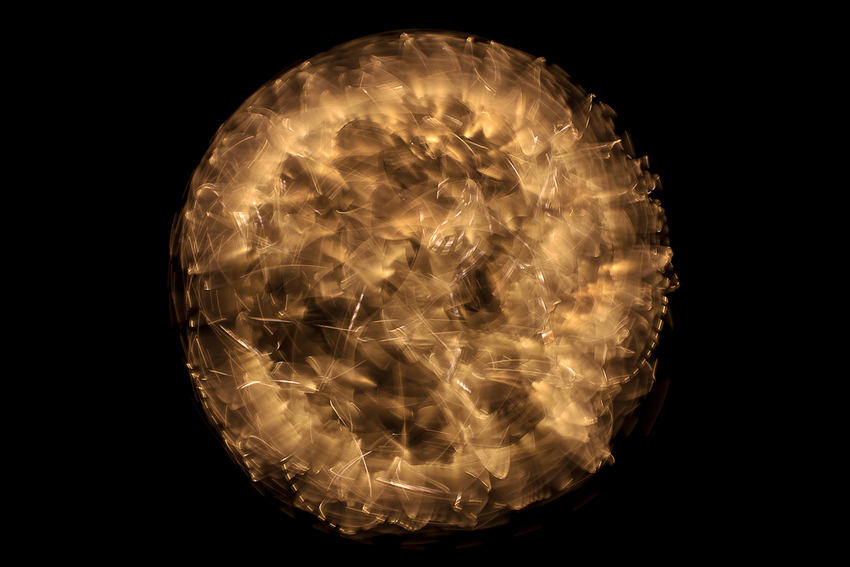 Many images are testing ideas, mistakes, experiments. On the first day, just to give you an idea, I started to shoot a three in the afternoon and got the first good piece at one thirty in the morning.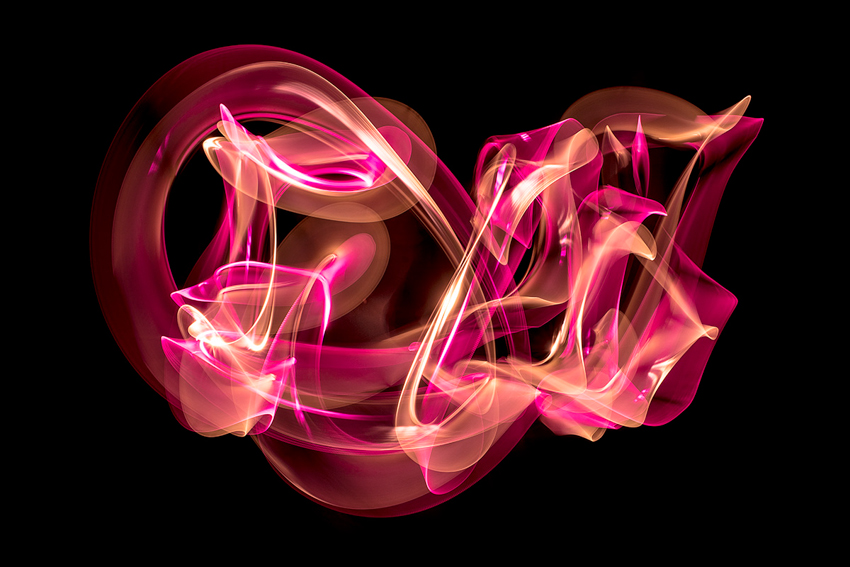 Music seems to be a great influence on your art. What type of music or types of music do you listen to, and how does that music help shape your art?

It is, my first idea was to take the famous piece Tubular Bells by Mike Oldfield and do an image influenced by and representing each piece of his composition. When I realized it was limiting me in my flow I decided to let go of the idea and just let the feeling guide me.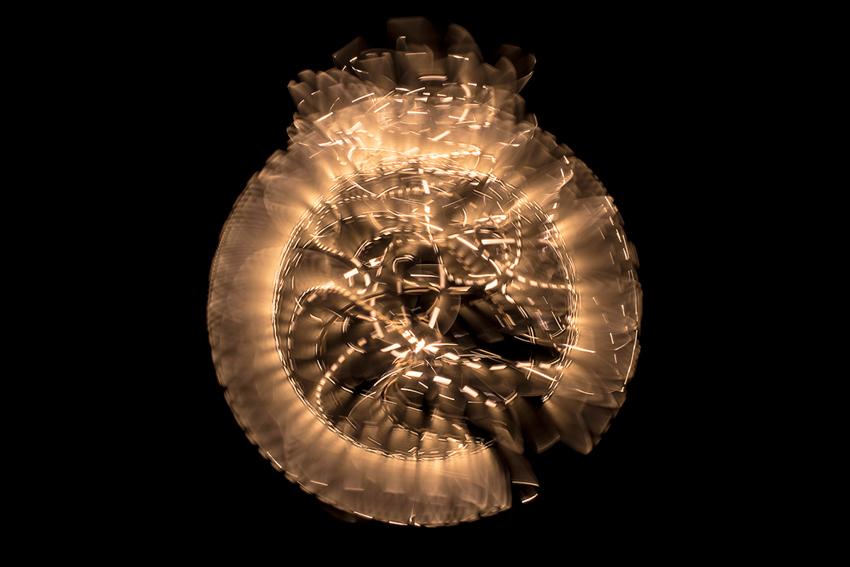 So I collect all kinds of musics like lots of people do since we have such great access now and go from world music to techno-dance to rock music. The important thing is to have descent speakers so the vibration of the music influences all your body because music is felt through out your entire body not just the ears.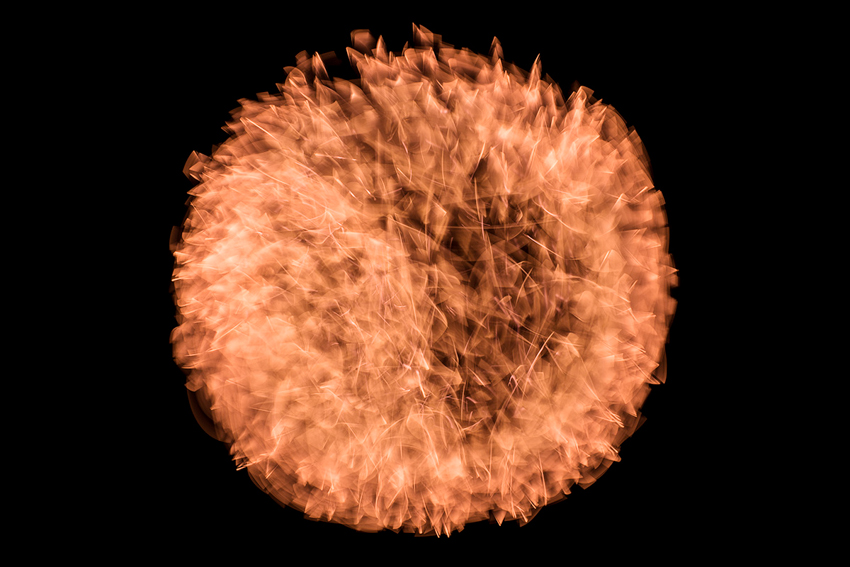 Did you see the shapes of sound and how amazing it is? Check out Cymascope: http://cymascope.com/cyma_research/musicology.html . Well imagine and visualize that those shapes are touching you when you listen to music.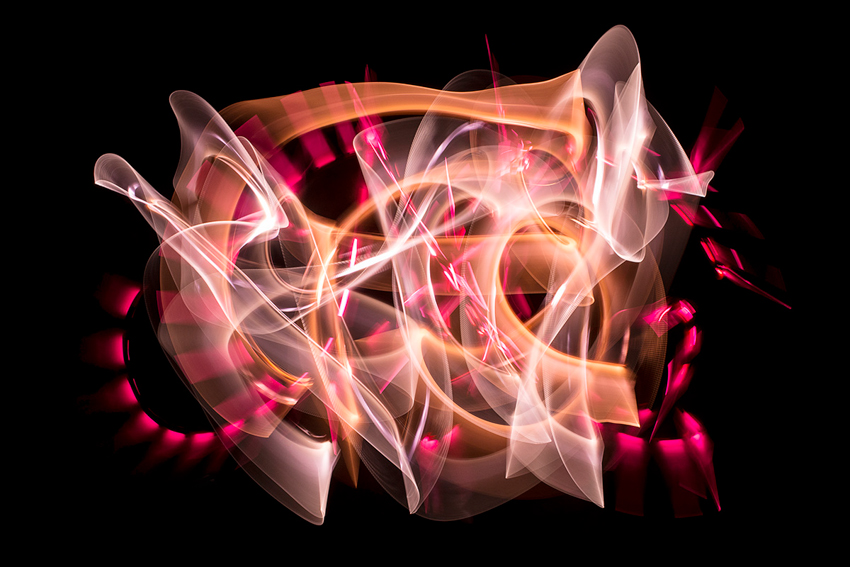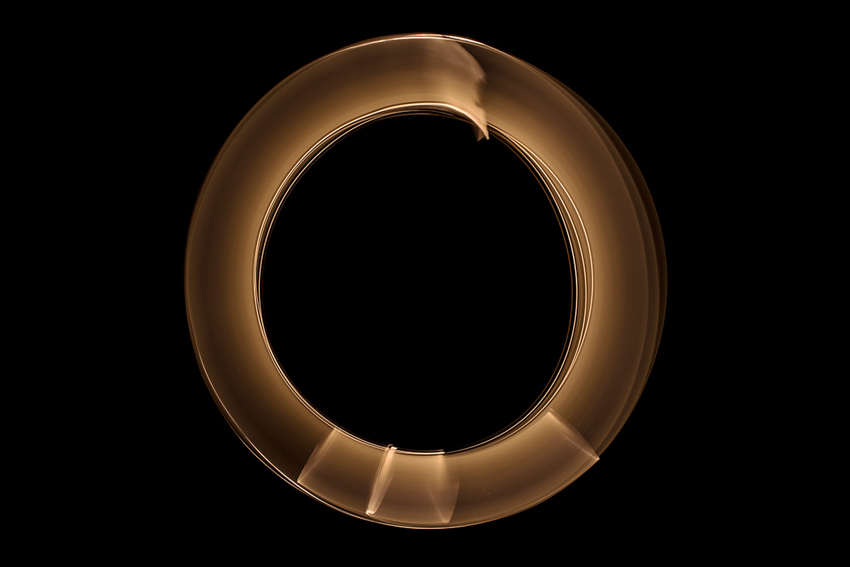 Please tell us a little more about the tools that you used to create these images. I understand that you used your own custom created tools called Liteblades to create these masterpieces, what can you tell us about them and are the available to the public?

Yes this is the first project that I only use the Liteblades. They are mounted on Klarus RS11 and XT11 light with Lee filters for the colours. After developing and using the Liteblades for two years, I decided it was time to share these amazing light tools with other artists. They are available at the light painting shop: http://thelightpaintingshop.com/15-liteblades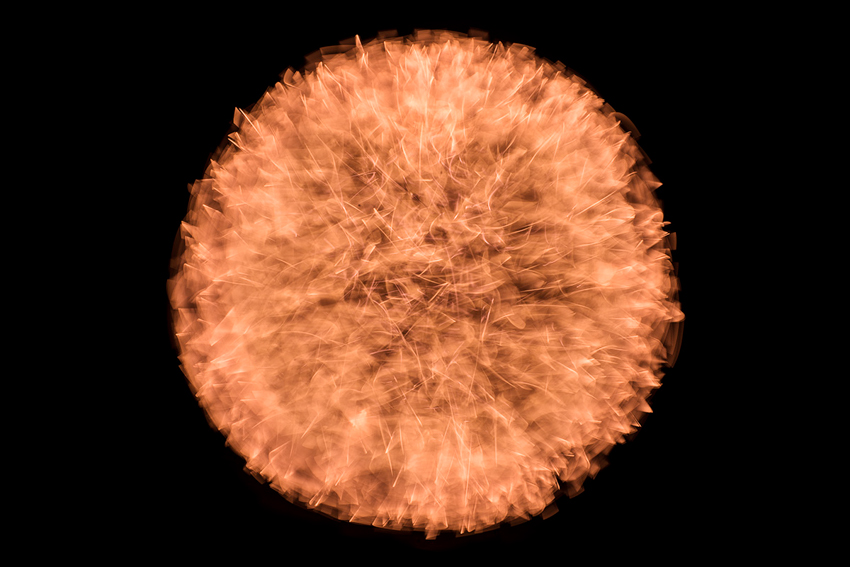 What is the overall goal of this project and what message would you like to send to viewers?

Feed consciousness, redirect the attention to how amazing our lives and the universe is. See the magic we live in and the power we have as creators here in this world and place we call reality.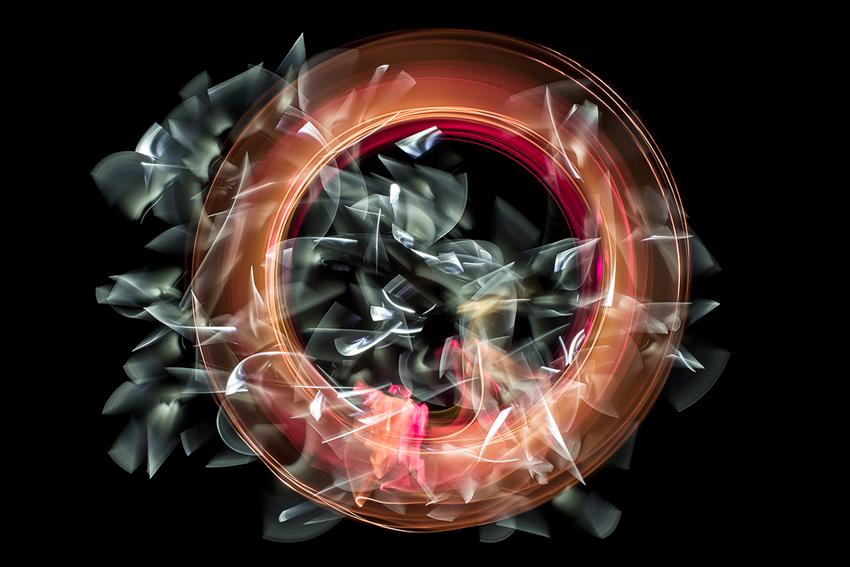 Thank you Patrick for giving us behind the scenes insights to his newest work and exhibit. Your openness about how you create this art is very much appreciated and will be an inspiration to many including others on their own artistic journey.    
Where to Find Patrick: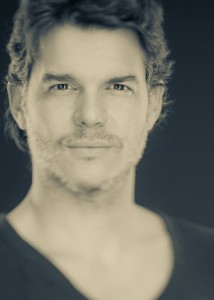 Websites:
Other Links:
Photographers also take these courses