Art Photographer Rob Woodcox
We had the privileged of interviewing surreal art photographer Rob Woodcox and to dive into his amazing photographic journey. Rob reveals the passion behind his inspiration, how he got started, and his future projects.
My Name is Rob Woodcox: Art Photographer
Each of us has the power to change the world.  It begins with the choices we make on a daily basis.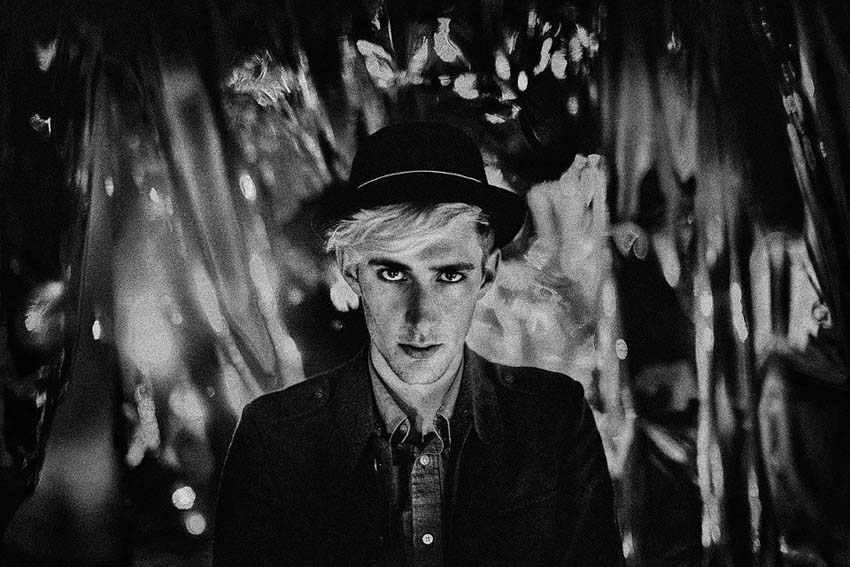 Rob Woodcox hails from Texas, raised in Michigan (U.S.A.) and his love for nature, change and creativity led him to meet art photography. In the summer of 2009 he started his photographic journey and through the love and guidance from various people he honed his talents to create beautiful works of art.
Along side with photography, his most recent project "Stories Worth Telling" is a philanthropic venture that will enable foster children to attend a summer camp. At the camp the children will be enriched, mentored, and encouraged by counselors. Find out more and support Rob's collaborative venture at the Stories Worth Telling link at the bottom of this article (hurry there are only 13 Days Left at the publication of this article).
Rob's photographic talent and insights are sure to capture the essence of what it means to be an artist.
Photigy Interview with Art Photographer: Rob Woodcox

How was your interest in photography sparked? Can you name a moment in time when it clicked in your mind and you realized that photography was more than a hobby, but a passion?

To be honest, photography kind of took me by surprise!  In college I had no idea what I wanted to do, and past interest in documenting my travels (in a basic point and shoot way) made me think I might like to try photography.  Very quickly, my obsession with creating a story in an image and trying to find cool ways to manipulate light became a passion. I started photo courses just over 3 years ago and graduated in December!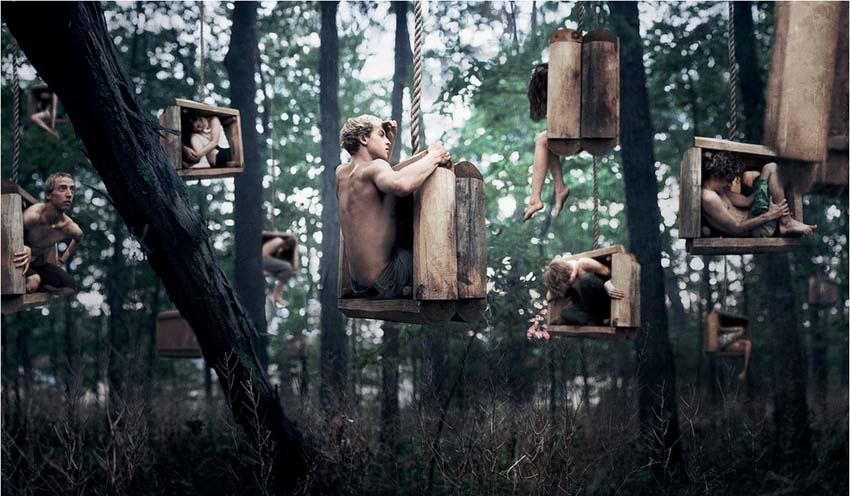 Rob your conceptual art is particularly amazing. Can you describe to us your creative process behind these photographs? Do you plan each photo out or are they created more organically?

Thank you!  For the majority of my photographs I really plan out my ideas, even when I'm shooting on the fly.  I'm always getting crazy visions in my head, and once that happens I'm only satisfied once I've made them come to life.  Even when I go out shooting for fun with other photographers, I usually have to scan a location for a good hour and plan my approach at using the space.  I tend to scout locations, figure out how I want to use them, and then go back on a separate day or later that day to actually shoot.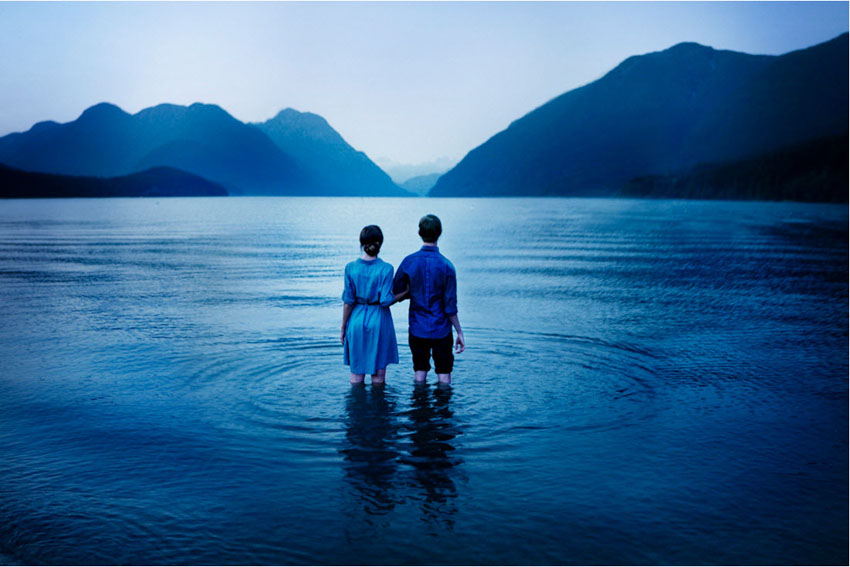 During your course of becoming a professional photographer, what is something you didn't expect out of the journey?

When I initially started as a photographer I thought it'd just be a lot of fun taking pictures and getting easy money once I built up a client base.  The world of business, however, has been a sobering dose of reality that I've come to accept; but I'm excited to learn all I can and become a great businessperson as well.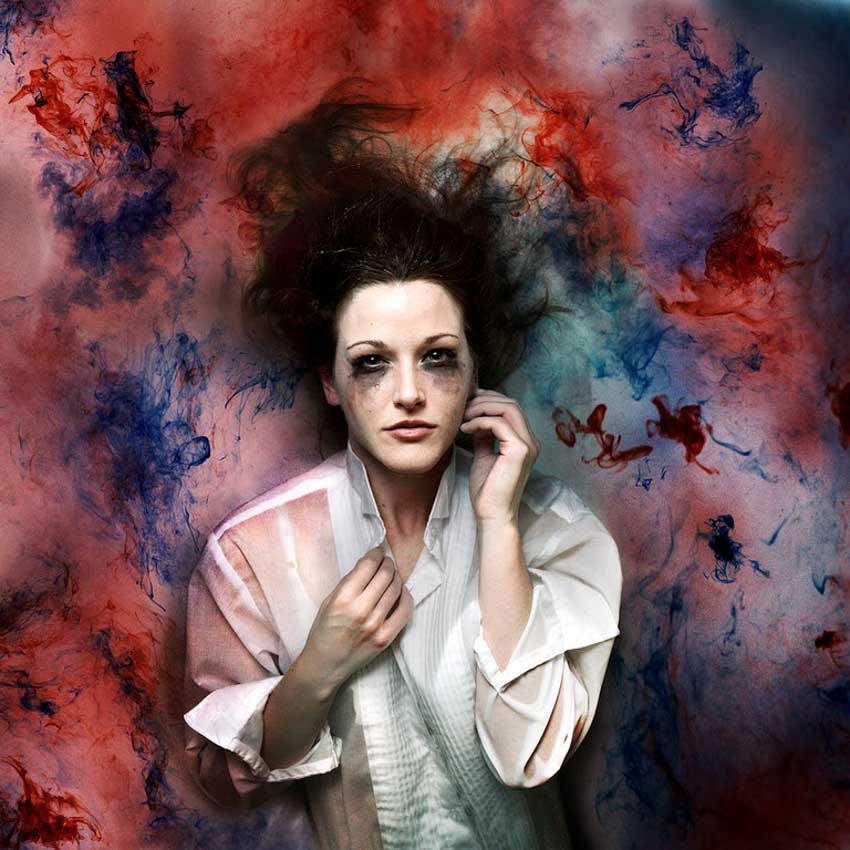 What influences your art? Do you look to other photographers for inspiration, or does your inspiration come from other sources?

Nature, dreams, and other artists inspire me; I appreciate many other art forms, my favorites being music, painting and illustration, and dance.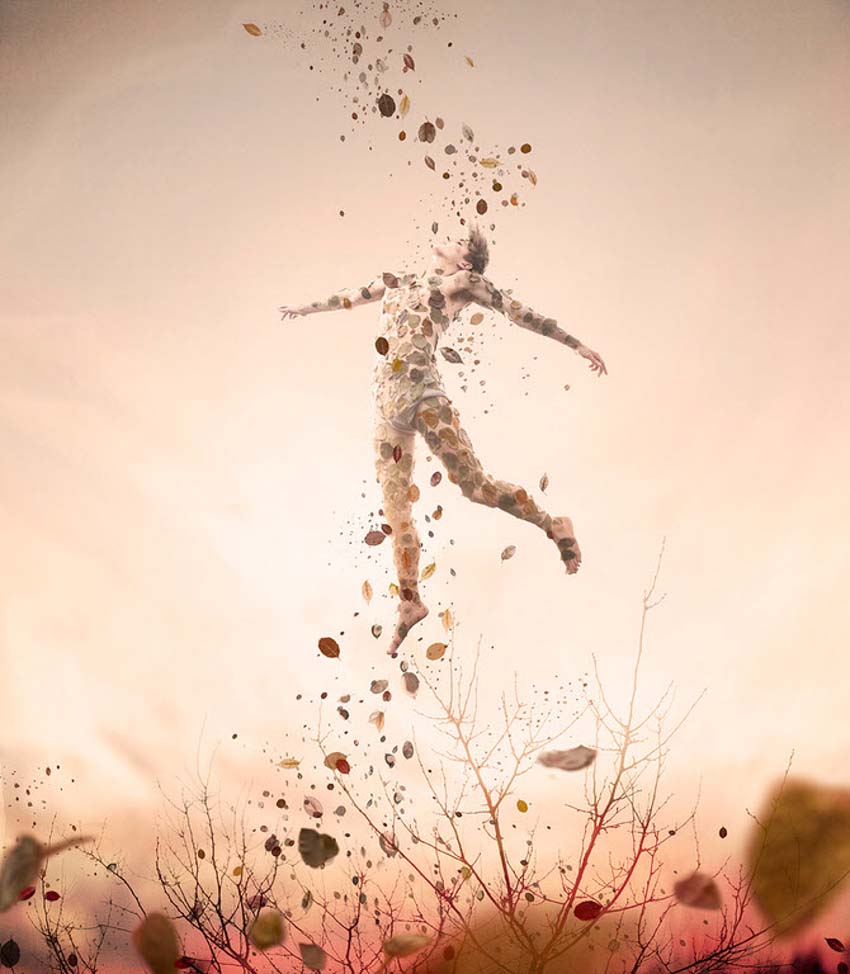 When you create your art are their specific emotions you are trying to achieve? Can you explain some of the feelings you are trying to achieve in your photographs?

As I mentioned before, I love telling stories with photographs. The emotions are very important and vary depending on the story or message I am trying to convey in each image. I find it important to express sadness, pain, and lost emotions, but within any image I also make a point to include hope.   I want people to examine their own emotions when viewing my images and know that it is ok to feel the emotions that we as humans feel.  But no matter the circumstance, there is always hope for something better, which lies within each person.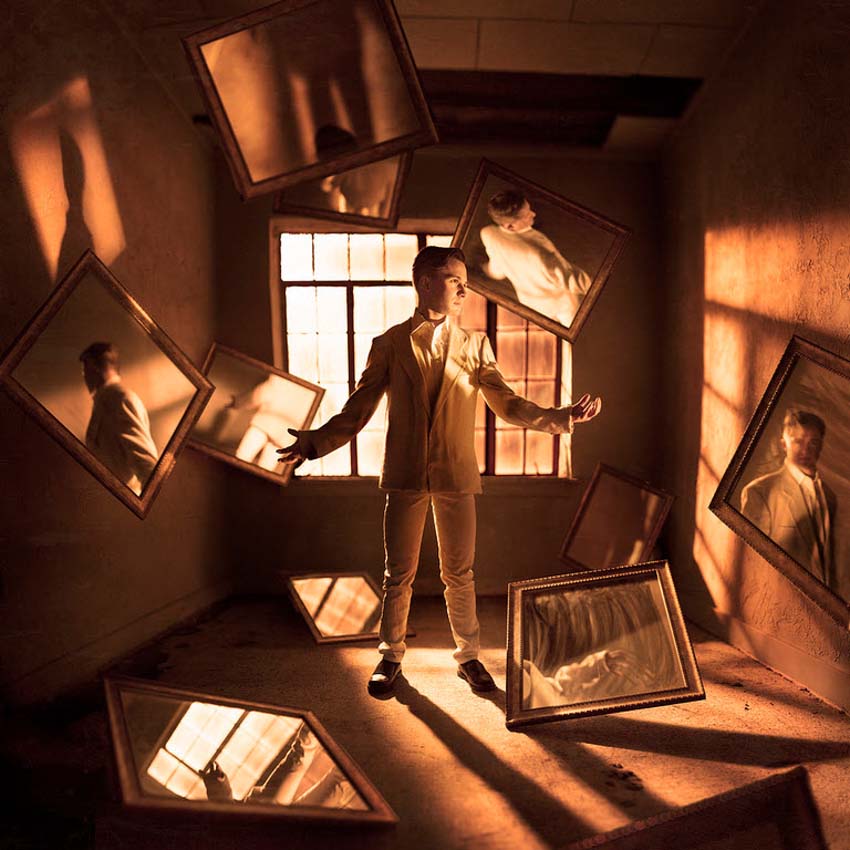 Can you name a collection or single work that you have created that has resonated with you the most emotionally? Why is this collection or single work significant to you?

One of the most emotionally driven pieces I have created is titled "All In Our Boxes", and that is for various reasons.  Mainly, this piece resonates because it was the first image I created with a pre-conceived vision that turned out exactly as I had imagined, which is rare.  I had been sitting in my living room thinking about how thousands of other people were sitting in their living rooms at the same time, in their own "boxes", many not ever taking the chance to venture out into the world and experience it for all that it is.  When I created this image, it was amongst meeting a ton of other artists for the first time that I had known online for years but never met in person.  For me, it was a life changing experience that got me outside of my own box, and one that has changed the course of my life forever!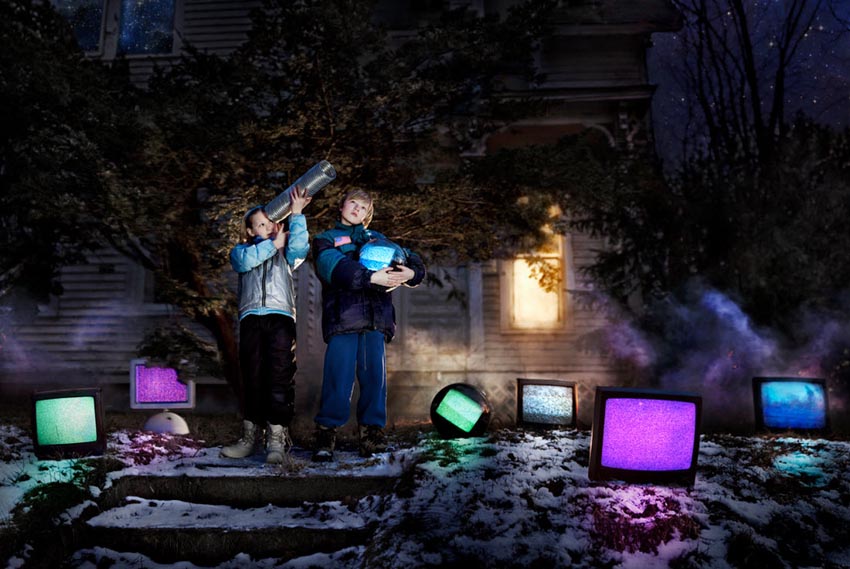 Could you describe a typical set-up of one of your conceptual shoots? Do you do on-location shooting?

I touched on this a bit before, but yes, I do almost all on-location shooting.  The adventure in photography for me lies in getting out in the world and experiencing what it has to offer.  I know for many artists working in a studio provides a lot of its own conveniences and freedoms, but for me I crave the open air and canvas of the world to work with.  For shoots I start with location scouting and prop scouting if needed, unless I already know of a place that I've previously discovered.  Once those missions are underway, I line up schedules for makeup, hair, wardrobe, etc. depending on the shoot, and then I proceed to the shoot day when all is in order.  Shoots last anywhere from 2-10 hours depending on the scale!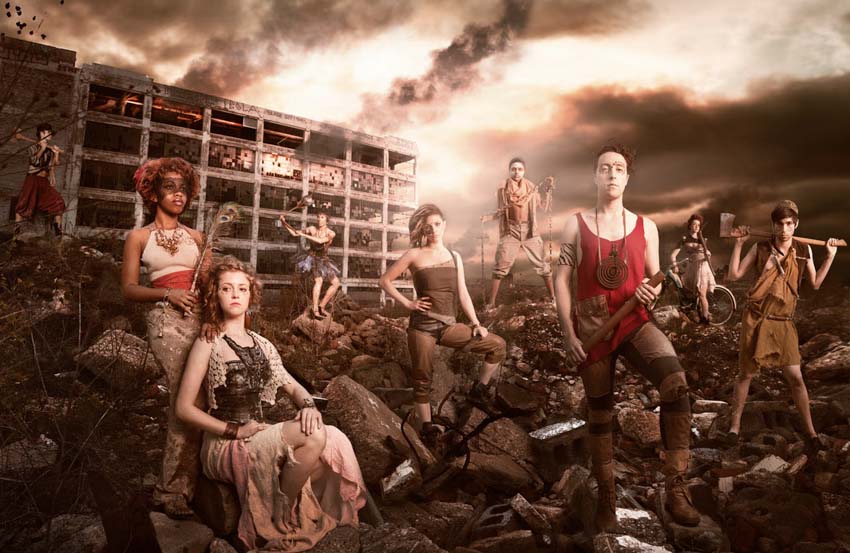 Can you please give us insight to the equipment you use in regards to the types of cameras and lights you use?

My setup is pretty simple to make traveling easy.  I use a 5D mk II, typically with a 50mm 1.4 or 24-70 2.8.  For light I either use natural light with a reflector, a small portable flash or when a shoot calls for it, I rent or borrow profoto equivalent soft boxes and power packs.

How important is collaboration regarding your artistic projects? Do you typically work with a team or run solo, could you explain the process?

Teamwork makes life possible!  But seriously, none of my photos would be a success without a team.  Of course I sometimes go solo for fun, but most shoots I involve an assistant, hair, makeup, wardrobe, and videographers to cover the behind the scenes.  I also like to get critiques on all of my work before sharing it publicly.  In all these aspects, I know I am covered and creating to the best of my ability by relying on others that are experts in their field.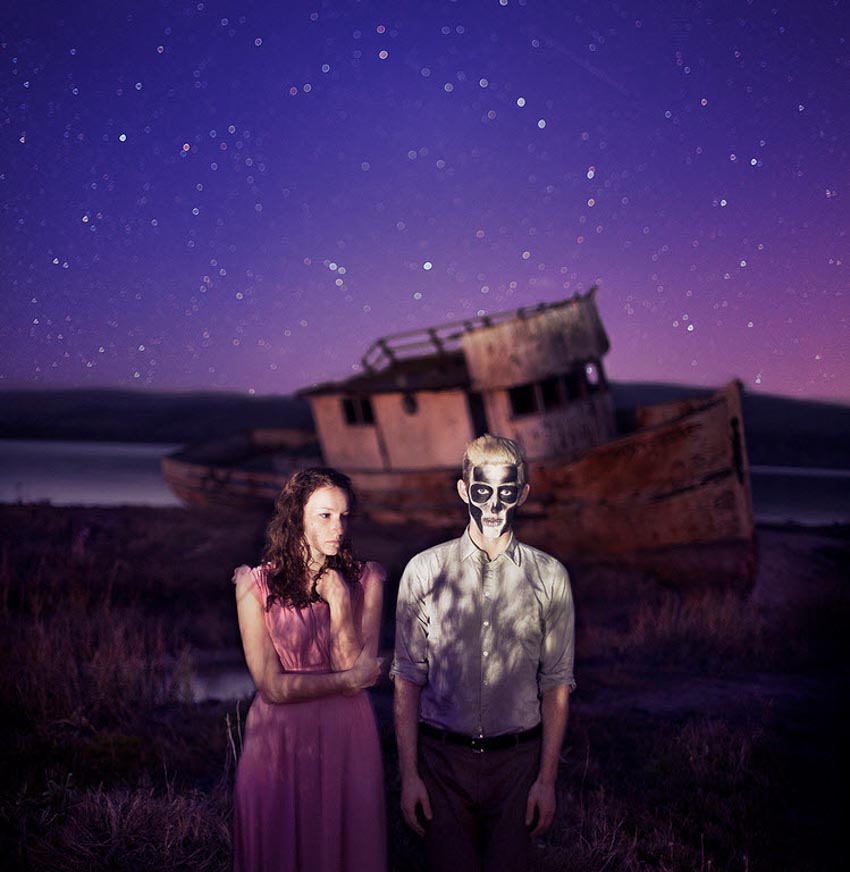 If you were to only have the option of working with single camera body and a single lens, what equipment would you choose?

I haven't had the opportunity to experience any higher level cameras than my mk II, and I love my baby, so I'd probably be ok getting stuck with my mk II and 50mm 1.4 lens.  I can always expand my image if I'm "too close" to the subject! (for those who don't know, expanding is taking multiple images of the scene/subject and merging them together later to make one larger image, great when you have a fixed focal length in a tight space, or want to make dramatic depth of field)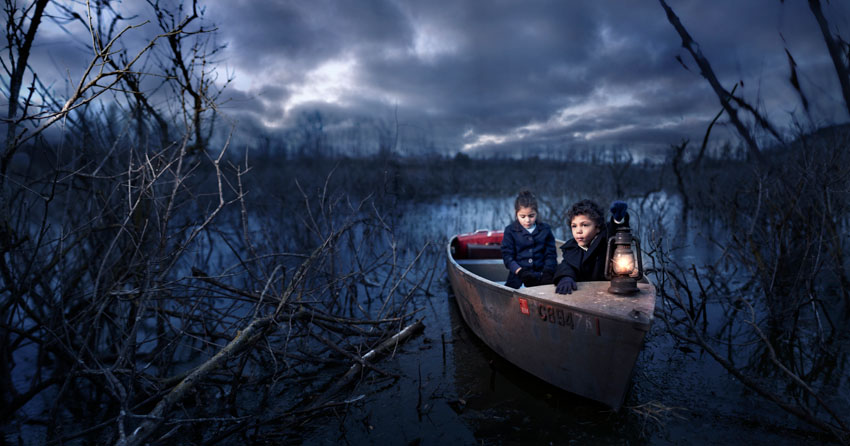 How essential is post processing to your works. Is there a balance between the in-camera shot and the post processing or is one play more of an importance than the other?

When it comes to post processing and getting shots in camera, my work is a delicate balance between the two.  Many of the things I create can't entirely be done in real life, but when I shoot I am very careful to create as much in camera as I can to lighten the load of editing later and make for a more realistic image.  Its funny what starts to run through your head once you begin levitating people and covering them in paint and mud and things like that.  You start thinking things like "can I hide this string behind vines?" or "if I glue this to their face will it look natural?" or "Can a girl flipping her hair too many times be dangerous?".  All the extra effort whether in pre-production or post is always worth it in the end.

In regards to photography or personal projects what do you hope to accomplish in 2013?

I am currently involved in a large project actually, and am hoping for it to be a huge success.  My creative team and I are using photography to tell the stories of foster children that have been abandoned and abused.  Through these stories we are going to reach audiences and raise $30,000 or more to send these kids to a week long summer camp and year round mentoring, giving them a new opportunity for hope.  I am passionate about helping people that are in need and am driven to continue improving the condition of this world as I continue in photography.  To find out more about this project and give support, please visit: Indiegogo.com/projects/Stories-Worth-Telling. 

What would be your words of inspiration and wisdom for those who are just starting, those that are finding their passion, and those seeking their style? 

The best advice I could give for anyone starting out in photography is to continue doing it in exactly the way you love.  If you are creating art and it makes you excited to get up in the morning, it makes you smile as you're creating it, and you cannot wait to do it again, that is how you know you're doing it right.  I have been in many circumstances with little to no money, but I am completely happy knowing I am taking ownership of my life and doing what I love.  The moment you start creating art solely for others and for money, you will lose some, if not all of that original passion.  Of course you have to start working jobs and getting income, but find a balance between working, and enjoying the process.  I find that doing what I love leaves me feeling like I don't work a day at all, and people are going to want your work when they see that passion behind it.
And the same goes for finding your style; just continue doing what you like and a style will evolve from that.  I started with examining photographers I liked, and then trying anything and everything to make my photos different from theirs, but just as powerful.  Eventually I ended up where I am, and I continue to grow and change every day!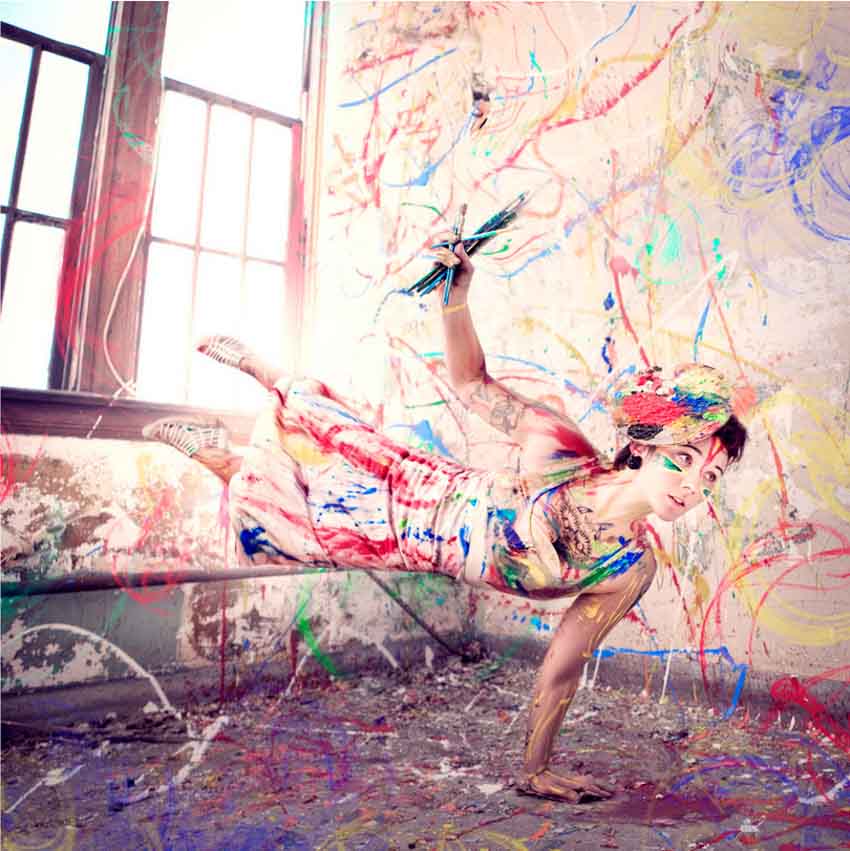 What is the most important thing you have learned that you want to share with the world?

Each of us has the power to change the world.  It begins with the choices we make on a daily basis.  First we might make one person smile.  As our confidence grows and we meet more people, soon ten, maybe twenty people have lifted their spirits because of our small, humble actions.  Soon, thousands of people will be impacted from our actions inspiring other's actions.  We all have a choice to make when we look upon the troubles of this world; we can sit and do nothing, or start by doing what we can.  Examine your life, and see where your opportunities lie.
The Photigy Team would like to thank Rob for his time and his insights and we look forward to his future projects. Find more of Rob's works here:
Where to find Rob Woodcox:
Photographers also take these courses