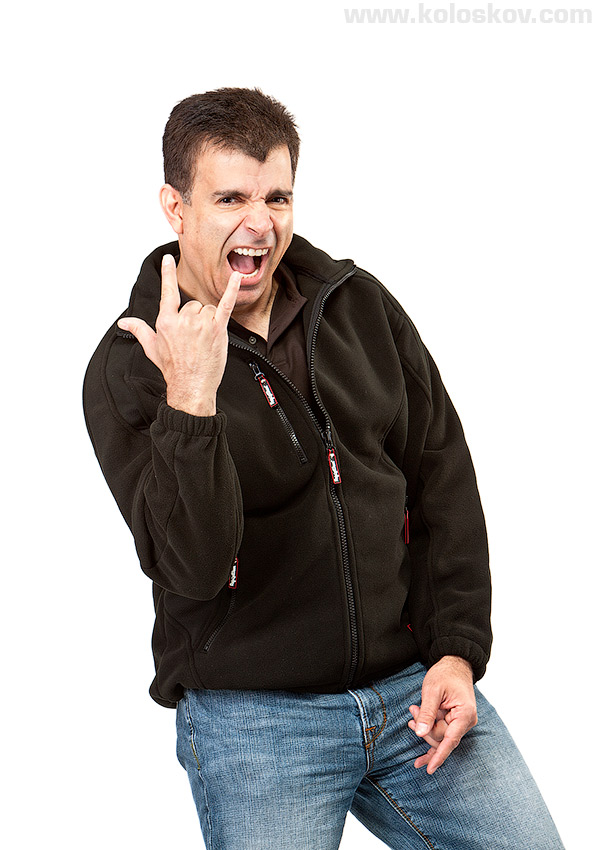 Studio lighting setup for a uniform catalog: Refrigiwear photo-shoot
After we have successfully done a boots catalog photography for Refrigiwear, they decided to go with us on the rest of their 2010 catalog. This time we had a uniform 7+ hours photo-shoot with 4 models,  about 30-40 outfits and four people (not counting  photographer  helping  in a studio.
It was fun: Four ladies from Refrigiwear was helping  Elite models to get dressed on heavy fireproof jackets, Mylène Farmer with her sexy music videos on a TV, humor, laugh and funny model's faces at the end of each set.
The uniform we were shooting are made for work in a refrigerators and freezers,  with temperature down to zero Fahrenheit. I was trying to keep studio cold, but guys still had a tough time wearing them.  Modeling light was off for the most of the flashes, helping to minimize a heat in a studio. Several thousand watt-seconds of strobe flash every second or two did not help to stay models cool either:-)
At the and of the day we've got over 1100 images for a proofs gallery, I was tired and happy: I love this feeling after tough, but well done job.
Ok, now the studio lighting setup:
I was using excessive amount of strobes, this is what I always like to do: more lights gives me better control over the whole scene.
For example,  I prefer to have a shoot-through light instead of only reflector, when possible: it works like a reflector on low power, but easily can go beyond that, when needed.
Studio lighting setup: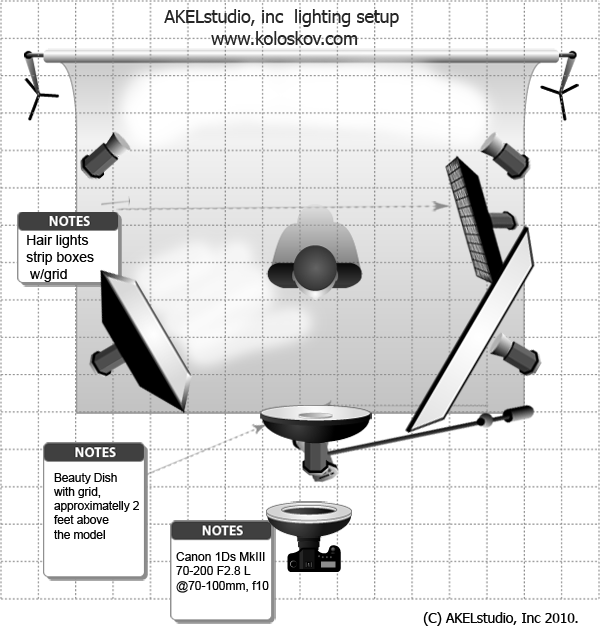 Total of seven strobes used: two  for a white paper backdrop,  one main light on the left, assisted by a Beauty Dish from a front-top, translucent reflector on the right, hair light on the right behind. The last light was around a camera lens, Alienbees Ringflash, used as a fill light for some of the shoots. Why not for all?  I have to turn it off when jacket has a reflective paint, same as used on a road signs; it reflects a lot of lite, make it extremely reflective under direct light.
Real life setup look: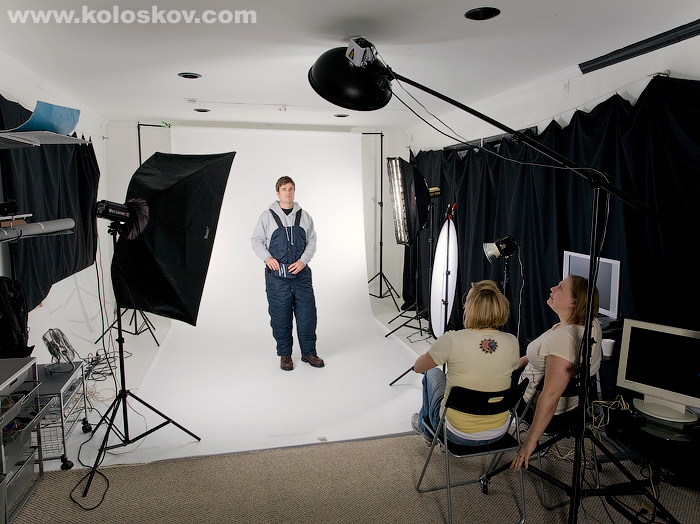 So, why to use that many lights? If you look at the photo below, you'll see why: this is how I get nice, non-flat look for the face, but still almost shadowless and a good textured jacket. Like I said before, I better dim light rather to take it our from the scene.
The setup works very well when you know how to balance lights: add little bit ore form a top while reducing main light (left)  and you get sharper, more dramatic look.  Add more from the left, little bit more from the right, reduce top light, softer, more plain look is what you'll get.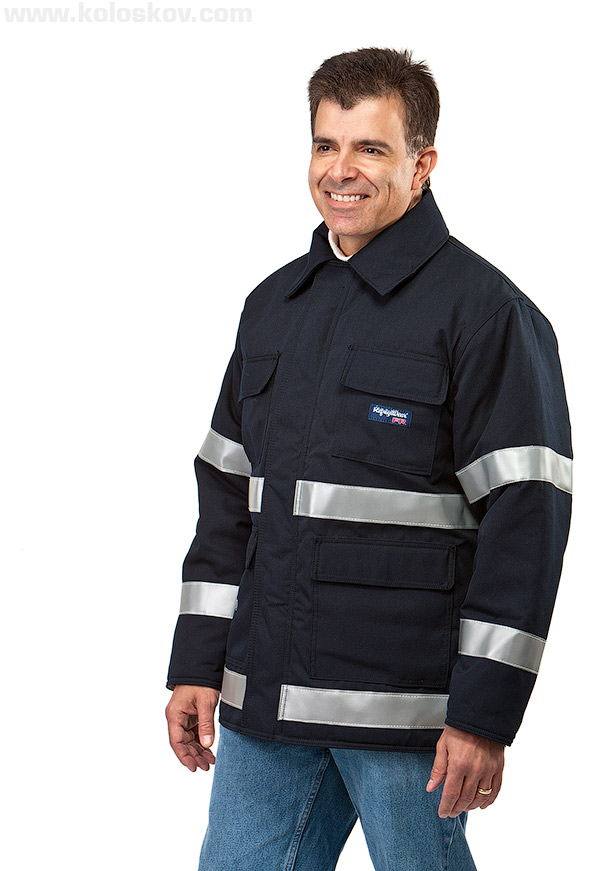 To make he shoot easier and more entertaining , I always encourage models to play little wild :-) by shooting them when they just getting prepared or dressing:-) As you see on the photo below, Mike got the idea  and we were getting funny poses from him at the end of every set.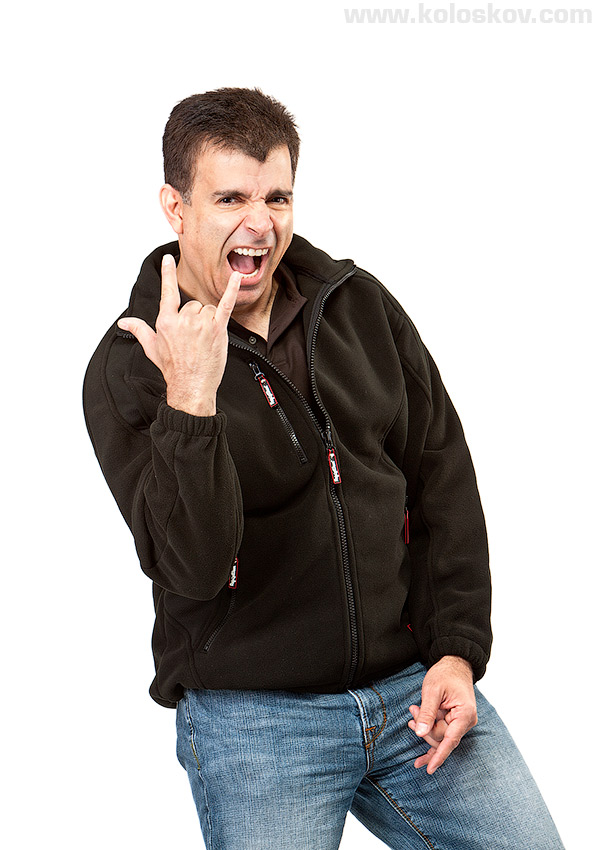 Again, about the lighting: look at the model's face on the photo below. Do you see the shadow form his nose and eye socket on the right?  It it visible, face has very detail non-flat look, but there is no shadow from a nose, despite the fact he turned face front. This is what was a BeautyDish for, it worked mostly on the model's face, leaving outfit lighting almost unchanged.
A little accent form the hair light on right gives more volume to the whole thing. And remember, this images was not touched in post production: I have to shoot them right, there is no budget for fixing several hundred final photos later in a darkroom.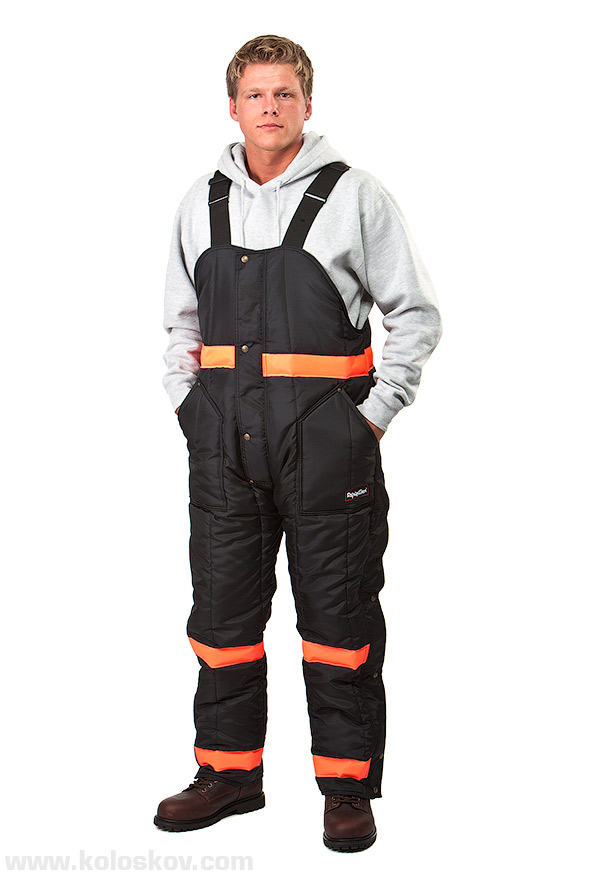 Equipment and shooting spec:
---
Camera gear:
No tripod, camera was mounted on a Alien Bee ring flash on a noname light stand
Lighting, light modifiers and accessories:
All shots were done with: shutter speed 1/250 sec, F10, ISO 100, Custom WB 6100K
---
You might be interested to take a look at this course we have: