This is out #10 hangout, enjoy:
Studio Photography Insights:  shooting a beer
Update: This is second part of the hangout, Thursday at12:20PM ET for Europe:
[box type=attention size=full color=yellow]So, the next Weekly Assignment is a free project for yourself:
Let's shoot anything you are passion about, anythign which you would love to shot.
Dig in yourself, find what you want to be best as a photographer and shoot it.
Here is the thread for the new assignment: Free shot, 3/27 deadline[/box]
As usual, all the submissions in a gallery/slideshow below:
[scrollGallery id=4]
To see BTS for the most of the shots, check out the forum: The Beer shot
Now I'd like to tell you about the changes on our weekly assignments:
Instead of posting your results as a reply under topic, we'll be submitting our work by posting a new topic to a corresponded sub-forum. (I'll make sure sub-forum is be created for each new assignment). This way it will be much easier to discuss each submission in a separate topics, by posting replies to it.  Thank you Ron Gibbs and others for the suggestion!
Every Wednesday evening, before the hangout I'll be posting all submissions to our brand new "Studio Photography Insights" G+ page (just created it, still empty and naked, will fix it tonight). This way everyone can share it, plus, it won't be posted in my personal albums. I still can expose each album to fellow Pluskins by sharing it in my stream.
Because we'll be posting our images on G+ in one album, I suggest you to ALWAYS add a watermark with your name to your image. Something little in the corner, make it visible but not distracting . This will help to get additional exposure to everyone's work, and I am sure we all need it:-) Thank you Mike Broderick for the idea.
This one is  VERY IMPORTANT: Make sure to post lighting setup/diagram with little explanation on how your assignment was done. We will review (during hangout) only images with lighting setups. I will pull both, the setup and outcome and we'll talk about how it can be improved using given gear. This way it will be more targeted towards understanding how to use stuff you already have more effective.
You still can submit assignments without BTS info, but it won't be reviewed during hangout. In this case you will benefit from a forum feedback only :-)
BTW, look how  Noah Katz does his BTS posts, pretty impressive: http://maugiart.wordpress.com
Update: Have posted detailed walkthrough of the beer shot: Creating a beer splash shot tutorial. it is open for Splash Masters, or you can get it for $19.95 here: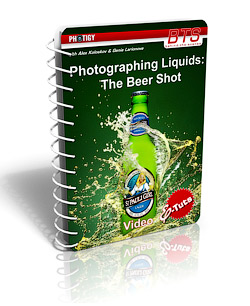 Liquid Tutorial: The beer shot
This video is a behind the scene of the beer shot (more info about
the shot is
here
). In this 15 minutes video I explain all the
details of the shot, showing how the lighting setup was built and what
was done wrong and what was right, showing results of each iteration on
the actual photos.
Video length: 15min, file size: 228Mb
This Product Is Not Available for Purchase
Thank you everyone who is joining us! What we do is so exiting, and who knows, we may grow into a studio photography school and some of you will be instructors. I see how much progress we had only in a few assignments. Well done!
---