I was always looking on the tablet devices, and the only thing was stopping me from buying one is that I could not find a use for it: -)
Web browsing, ebook reading, occasional video, emails, Skype and similar activities I happy to perform on my DroidX2 phone. Larger screen alone was never a deal breaker for me: I still have a good eyes: ) What I really wanted is to have extremely portable PC, where I can covert camera RAWs and prepare photos for blog, create and edit PDF: do everything (except video editing) what I currently do on my Lenovo W700.
When I've looked at  Windows-based tablets, many people suggested that they will be too weak for "real PC" job. I've decided to give it a try:-) So, I've bought Acer W500 for $500 here.
 Acer W500 tablet running Adobe Lightroom 3.3
Sound is chopped, I did my best to recover it: for some reason lav mic was sending too strong signal to camcorder, and audio got clipped very bad… There was no second chance to re-shoot the video:-)
 Product Highlights
AMD 1GHz C-Series Processor C-50
HD CrystalBrite 10.1″ TFT LCD Display
LED Backlight & 1280 x 800 Resolution
DDR3 2GB Memory & mSATA SSD 32GB Storage
Genuine Windows 7 Home Premium 32-bit OS
Wi-Fi 802.11 b/g/n & Bluetooth Enabled
HDMI, RJ-45 LAN & Dual USB 2.0 Ports
Dual Acer Crystal Eye WebCams
AMD Radeon HD 6250 Graphics
Integrated Bottom US Keyboard Dock
The photo of the device I've snapped in a studio: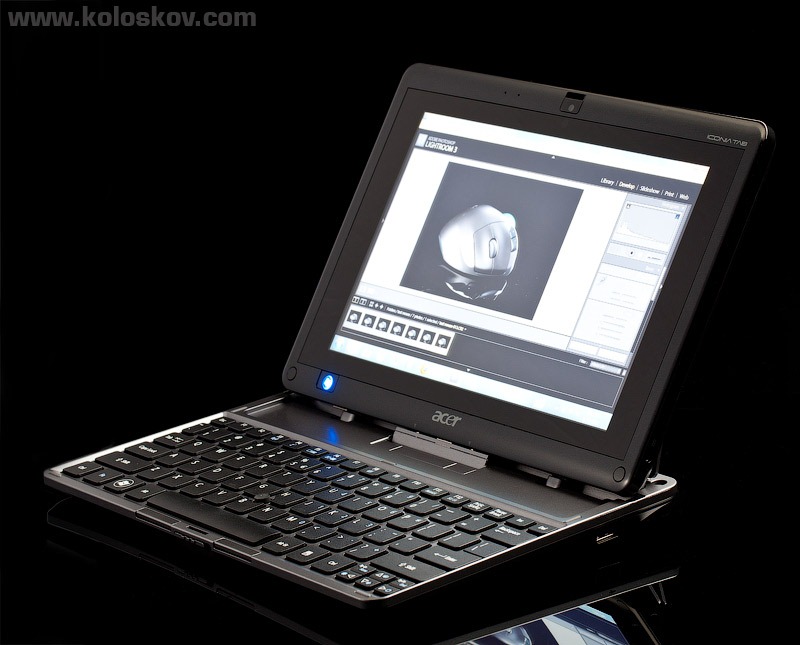 Tell me what do you have as your "tablet" solution? My guess would be 90% of Apple iPad (great device, not arguing this:-), but how many of you have Android?
In general, how do you use your tablet?  Let me know, I am still curious about other people experience;-)
Yours,
Alex
PS. There is an interesting discussion on G+ on the same topic I had prior the purchase: Windows 7 Tablet, is it real?