This topic contains 19 replies, has 12 voices, and was last updated by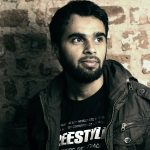 Asif 11 months, 3 weeks ago.
Please post your work here for the April 2017 review. One topic for all, 1 post per user. Please include the lighting setup. The review will take a place at Photigy LIVE on April 27th 1 PM PST

These images and BTS photos are for Assignment 45. I recently joined Pro Club and wanted to try this assignment first.

Image 1 has olive oil drops on water with a little dishwashing soap added to make the drops hold their shape better.
Image 2 and Image 3 have paper with different printed textures placed on the surface below the dish to add a little more interest in the drops and background.
For Image 4 I switched to dish soap bubbles.
All the images were processed to varying degrees in Photoshop, mainly to remove dust and distracting drops.

The two BTS shots show the general setup and a jerry-rigged lighting modifier. I did not have any full size gels, so I used different pairs of Rosco gel swatches taped to cinefoil with a circle cut out, which was placed over the reflector on the Einstein strobe. Not pictured in the BTS shots is a second strobe used on Image 2 to add highlights to the drops/bubbles. I was standing beside it to take the general setup photo. The drops and bubbles were moved around with either a toothpick or a straw.

Camera – Nikon D610, Lens – Nikon 105MM macro

Submission for Assignment #41 using mirror as a background

Hello all! I used a broken mirror glued to a black board for this shot.
Composite image of subject and background.
40mm macro lens on a Nikon D7200
Iso 100, 1/250, F20

Thanks in advance for the feedback!

Submission for assignment #36 Shampoo and bubbles.

I didn't have time to shoot my own bubbles so i took them from my image bank suscription. I took off the back label to be able to light my subject from the back, and i realize it was a mistake due to the thin letters in the front label.

Submission for assignment #43 In-Camera creative effects

I did this assignment without intending to submit it, so i didn't take any set up photos, i hope you can excuse me only for this time.

Submission for Assignment #35 Cosmetic Powder Explosion
Hi guys,

My gear:
Nikon D810 with nikon 105 macro lens
3x einstein strobes for the powder case with standard reflectors and honeycomb grids
2x einstein strobes for the powder explosion with standard reflectors and honeycomb grids
3 DIY savage diffusers

The lighting setup is shown in the BTS pictures below

Thanks

Hello Alex, and everyone!

This is a submission for assignment #20, Lipstick Shot. I did it before I knew I could submit past assignments, so I took just one BTS shot for myself.
It was a composite shot, as the unusual shape of the Christian Louboutin Lipstick – required its own lighting setup. I used two strip boxes and two diffusers for all parts of the composite.

Thank you for your review!

Orly

Hi guys! I did assignment #43, doing in-camera effects. I tried several different things to create some different bokeh effects but really liked how this one came out. I used a combination of white and mirrored strands of decorative stars. the white stars I found gave a soft blur while the mirrored strands gave some specular glimmers. I held it in different ways in front of the camera and combined a few of my favorite exposures to fill the surrounding frame to my liking. I also used some other materials before I came to this that I'll post separately so you can see how those looked. Looking forward to the review later, see you all then!!

-Mike

Setup shots didn't attach right to the original post, I've attached them here…

-Mike

Here's some other shots, straight out of the camera, with some different materials to vary the bokeh effect. One was with a wide sheer gold ribbon, one with a sparkly silver ribbon, one with the star strands I used for my main shot before I gelled my light blue, and one with some bubbles that I blew into the scene. The bubbles would have required high speed lighting since you can see a little bit of motion in the shot. I was also on clear glass through these but once I got the look I liked I switched out to black glass since you don't get the multiple reflections and the back edge is much less noticeable and less work in post to remove. It was really interesting to see the different bokeh effects these items produced and pretty cool that it's all in-camera.

-Mike

Assignment 29# – Creative coffee shot.
I took this photo 3 months back but was not finding time to do the editing. Finally I was able to do it but the BTS shots that I have taken are missing.
Sorry for that. I tried to draw the BTS via mspaint. Attaching the same.

Technical details:
Camera Canon 600d with 55-250 lens I guess.
Backdrop: I used dark brown color with red shade to it. Highlighted the background with horizontal strip light from bottom. Used Yellow gel to get the fire effect.
Light: Canon 430 EX ii for background
Yongnuo yn560 iv with softbox from left sid to highlight cup and coffee beans.
One reflector on right side of cup
Actual background for the shot was slightly different hence used another image and created a composite shot for the same.

Hi Alex, Thanks for the critique. I realized that while editing the image I forgot to mask the gaussian blur I used to clear some of the spots due to which all beans were looking out of focus. Here is the other image. I will take another image using your suggestions.

Hi Alex, hi everyone!

Hope I'm still on time for the review! I've decided to do assignement #35. It was very messy, but it was very fun! :)

As usual, I used all DIY light modifiers, canon 1300D with 18-55 mm and Yongnuo 560-IV speedlights.
Composite shot and a lot of Photoshop. Hope you like it.
You must be logged in to reply to this topic.