Viktor & Rolf Spicebomb: A product photography tutorial

Approaching the Spicebomb – Product Photography Tutorial

Approaching this product photography tutorial, I knew that I wanted to create a perfectly clean white background. I knew how I wanted the highlights to appear on either side of the atomizer. I also knew that I wanted a billowing cloud of ink rising out of the bottle. I had a pretty clear vision of what I wanted before even getting the product in the mail. Planning is an essential part of my work flow that allows me to test my understanding of photo lighting, to sharpen my skills in reading subjects before putting them in front of a camera, and to save a whole lot of time once I actually get into the studio. I will admit, this part of the process literally keeps me up at night, but sometimes I think it's worth it.
Before I shoot a subject, I do a lot of research to see how other professional photographers have done similar products. I look for things that specifically have similar materials, shapes and colors to make sure that I'm not going in with some ridiculous idea that isn't going to work in the end. Even if its a portfolio building shoot, I try to be conscious of the branding of the product. In this way, I try to keep in tune with the needs that a client might have.
When the product came in the mail, I took a good hard look at it to make sure that everything I had planned would work. I didn't see anything that would create any issues, so I moved ahead with putting my equipment together the way I had planned. Out of this planning process came…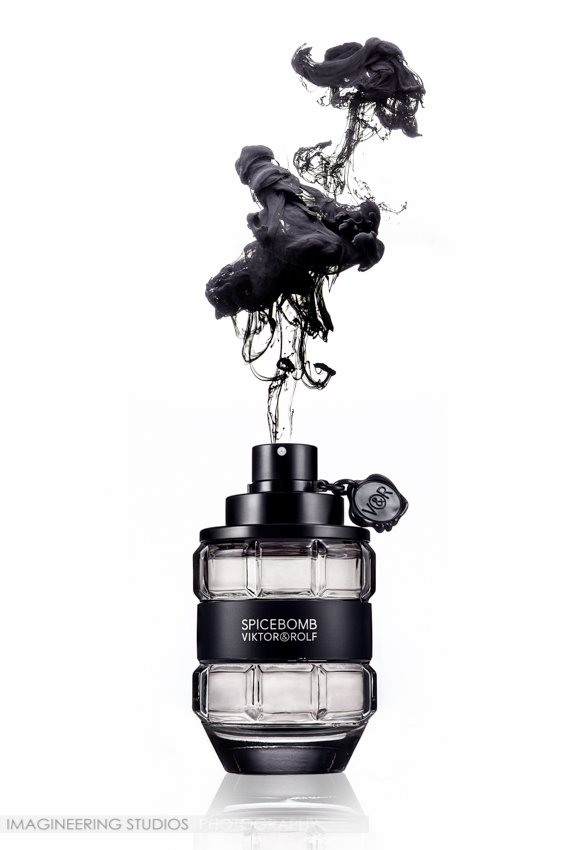 The Lighting Setup
Let's take a look at some setup images, and I'll describe what's going on.
In the Gearbox


Camera:

Nikon D800
Nikon AF-S VR Micro-Nikkor 105mm f/2.8G IF-ED (turn off the VR)

Photo Lighting:

Elinchrom 400 BX (x2)
Travelite 750R (x2)

Light Modifiers:

Calumet 42×78 Diffusion Panel
Cellfoam panels
White Foam core Board
Strip Box (12×56)
Barndoor sets (2)
Snoot
Black Fabric Sheets

Other Shot Essentials:

White Plexiglass Panel
5 gallon Aquarium
Stands, clamps, etc.
Black Ink