The Photigy Certification Program
The Complete Guide To
Product Photography
Learn the techniques that open doors to a successful career as a commercial product photographer.
6 Month course's program
40+ hours of on-demand video
11 Assignments
Personalized feedback - your work reviewed by our instructors
Online webinars
Weekly video sessions with your instructors
At the end
Certificate and listing in the Photigy Marketplace
This program is
perfect for:
 ✔ Wedding and/or portrait photographers
Need an additional revenue source for your off seasons?  Product photography can be the perfect compliment to your business, and many of the skills, techniques, and tools are applicable to both types of photography.
 ✔ Product Photographers
Are you looking for new clientele among larger ad agencies and brands?  We can show you techniques to bring your work to the next level, and we can provide processes which will save you time and give you the bandwidth to do a larger volume of work.
 ✔ Retail Business Owners
Do you need better images of your products to increase your sales?  We can show you how to set up a mini-studio on-site at your location and learn photography well enough to take professional, beautiful images of your products that will entice your customers.
 ✔ Amateur photographers
Want to round out your photography skills and be a better all-around photographer?  Product photography is not only interesting and fun, but will give you the opportunity to dive into areas you may not have explored, such as specialized lighting techniques, special effects, and more!
What skills will you get?
1
Lighting: you will know how to use professional lighting in a studio. You will know how to set up a studio for different types of products and compositions.
2
Image quality: you will be able to create stunning images which will be marketable to any client, from local restaurants to the largest agencies and brands..
3
Special effects: you will know the secret to creating mind-blowing splashes and other special effects that can be used for creating well-paid projects, or just for fun!
4
Gear: you will have comprehensive knowledge commercial photography gear, including cameras and lenses, lighting, filters, and more..
5
Props: you will know how to use props and decoration to create compositions that sell for cosmetics, food, and electronics.
6
Making money: you will know the ins and outs of setting up a product photography business and how product photography can generate passive income through licensing.
The Certification Program includes interactive, personalized feedback to help you understand course materials faster and to give you practical knowledge in commercial studio photography.
Assignments: your work will be reviewed by our instructors, and you will receive personal critiques and suggestions for improvements for every submitted photo.
Bi-weekly, online webinars with your instructor will help you to get answers to any questions you might have during the course.
Private, members-only forum for all course students creates a great environment where you can share your experiences, ask questions, and see how other students are doing using the course.
Sample photos from the program's video lessons that you will learn from and also shoot yourself for course assignments.
Course Curriculum
Starting In Studio Photography: Part 1, Understand the Lighting
Introduction

00:31:00

Gear for Studio Photographers

00:22:19

Backgrounds

00:53:00

Gradients

00:45:00

Reflections

00:37:00

Textures

00:30:00

Refractions

00:46:00

Starting In Studio Photography: Part 2, Practical Examples
Introduction

00:17:00

Cosmetics

01:24:00

Beverage Photography

00:35:00

Macro Photography

01:03:00

Electronics Photography

00:27:00

Boxed Product

00:37:00

Glossy Metal and Glass

00:07:00

Starting In Studio Photography: Part 3, Post-Production
Post-production Lessons

02:22:00

DIY Starter's Guide To Product Photography
DIY Starter's Guide To Product Photography, Part 1 - Part 8

01:43:00

Bonus Videos

00:45:00

Studio Product Photography Essentials
White Subject on White Background

01:26:00

Textured Subject

01:33:00

Clear Glass

01:55:00

Dark Glass: Bottle of wine

01:41:00

Food Photography for Beginners
Shooting

02:10:00

Post-production

01:28:00

Liquid and Splash Hi-Speed Photography with Speedlites
Introduction

01:27:00

Practical Work In Studio

02:20:00

Mastering Splash Masterclass

03:25:00

Post-Production

01:17:00

Bonuses

00:30:00

Commercial Photography Assignment, The Case Study
Gear and Props

01:46:00

Shooting, Part 1: Catalog Style

00:27:00

Shooting, Part 2: Creative work

02:18:00

Shooting, Part 3: Splashes and Crashes

01:06:00

Post-production

03:06:00
Upon successful completion of the program, we help you get your first clients.
Professional Certificate
Professional certification shows potential clients that you are committed to your profession and are well-trained. It gives them confidence in your abilities because it proves that your skills have been evaluated and approved by a well-regarded, professional organization.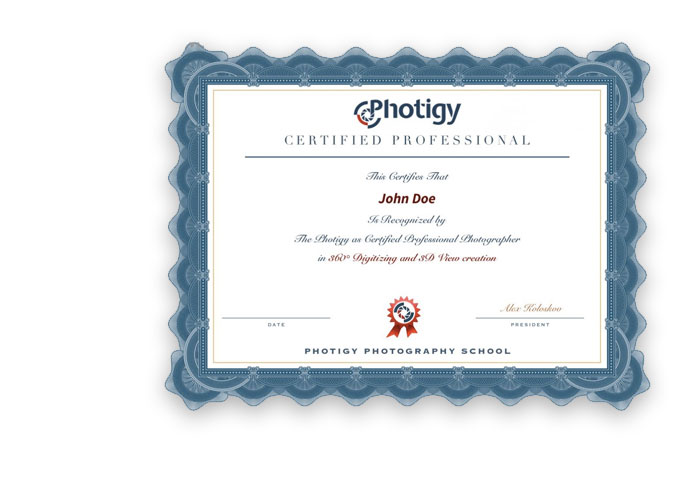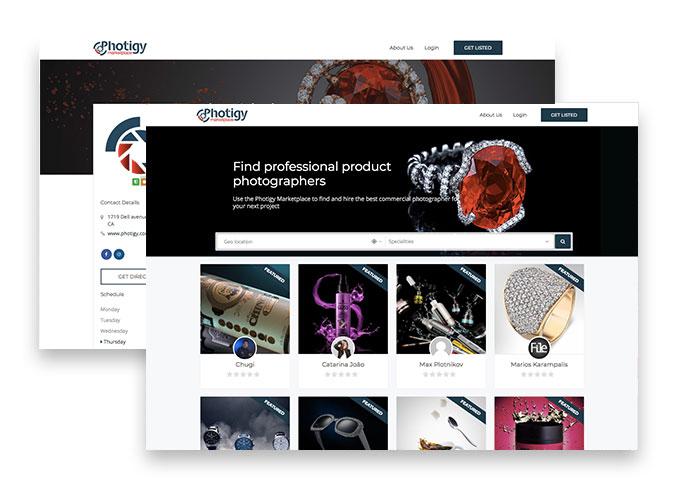 We Help You Get Your First Clients
All students who successfully complete this certification program will be listed as featured certified, professional photographers at Photigy Marketplace for free.
Alex Koloskov
Author of the program, entrepreneur, and expert in commercial photography.
- Founder of Photigy School Of Photography
- Over 20,000 graduated students
- One of the world's best commercial advertising photographers
- Instructor at KelbyOne.com, Udemy.com.
- 10 years experience in commercial product photography and teaching

I have come to this course sort of influenced by some tutorials from Alex I saw elsewhere. In all honesty, my expectations were mitigated but the Thanksgiving sale influenced my decision. From the first lesson of the first unit, it was obvious I made the right choice.
Since then, I went thru 4 Units in less than a month. It is amazing how much I did NOT know. I am learning so frigging much and I'm only at half the course.
I will never thank Alex enough for all the light (no pun) he has shed on so many things I thought I knew or didn't even know existed.
I am glad I paid half-price thanks to the sales, but knowing what's in that course now, I would pay the full price with no hesitation at all. It is worth it.
Finally, I think I will finish the course ahead of time and whether I get certified or not, I will take the whole course again because there is no way anyone can retain everything from just one viewing, there is just too much information, all of it worthy.
One day perhaps, our paths will cross and I will thank you Alex in person.
~ Marc Serhan
We reached a point in our photography were we felt like we had hit a dead end and didn't know how to improve our technique. That's when we came across Photigy. Alex and his team not only showed us new ideas but gave us encouragement to explore new possibilities though improvisation. This opened up a whole new world for us and for that we cannot thank Alex and his team enough.
~  James Shannon
I fell into product photography by chance after doing tertiary studies in photo imaging. I felt your courses were at a premium price but I am shocked at how much I learn from each and every course. This is unaccountably the best place to be if you want to specialize in product photography. Your lessons are amazing and inspiring. Thank you so much.
~ Terry McGuire