Certification Program For Studio Photographers
The Complete Guide To Product Photography
This program is perfect for:
Product Photographers
Are you looking for new clientele among larger ad agencies and brands? We can show you techniques to bring your work to the next level, and we can provide processes which will save you time and give you the bandwidth to do a larger volume of work.
Wedding and/or portrait photographers
Need an additional revenue source for your off seasons? Product photography can be the perfect compliment to your business, and many of the skills, techniques, and tools are applicable to both types of photography.
Amateur photographers
Do you need better images of your products to increase your sales? We can show you how to set up a mini-studio on-site at your location and learn photography well enough to take professional, beautiful images of your products that will entice your customers.
12 MONTH COURSE'S PROGRAM
56+ hours of on-demand video
18 ASSIGNMENTS
Personalized feedback for your homework
ONLINE WEBINARS
Q&A webinars with your instructors
LIFE-LONG ACCESS TO ALL PROGRAM MATERIALS
Students of the program have access to everything forever, 24/7 even after 12 months period.
AT THE END
Professional certificate and listing in the Photigy Marketplace
Images from the program's lessons
Sample photos from the program's video lessons that you will learn from and also shoot yourself for course assignments.
What skills will you get?
Lighting
You will know how to use professional lighting in a studio. You will know how to set up a studio for different types of products and compositions.
Image quality
You will be able to create stunning images which will be marketable to any client, from local restaurants to the largest agencies and brands.
Special effects
You will know the secret to creating mind-blowing splashes and other special effects that can be used for creating well-paid projects, or just for fun!
Gear
You will learn what's important when it comes to choosing and using commercial photography gear, including cameras and lenses, lighting, filters, and more.
Props
You will know how to use props and decoration to create compositions that sell for cosmetics, food, and electronics.
The secrets
Using the right software for post-production is one of the key elements of creating breathtaking images. We'll walk you through the best and most effective techniques in Adobe Photoshop.
What gear is needed to start with this program?
On this video, you will find what you may need to start learning and practicing with this training program for product photographers. To find out where to buy cameras, lenses, lighting, light modifiers and other equipment Alex is talking about, please check our Photigy recommended gear page:
Course includes 11 modules and 56 video lessons
Part 1: Understand the Lighting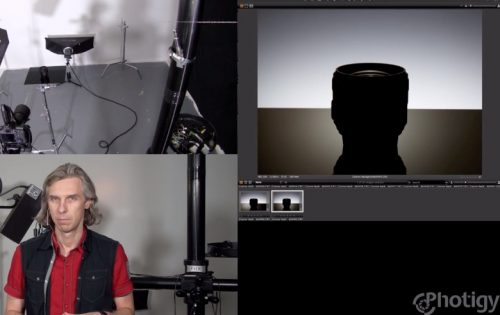 This module breaks down the fundamentals of studio photography and helps to build a strong foundation of basic photography skills. You will start by looking at the essential gear that you need to begin your professional career in photography.
Keep in mind that it's not about the brand of the gear, but rather about having equipment that is good enough to get the job done.
Product and studio photography have more to do with the directing light than with fancy features of the camera or lenses. Light and the ability to control it is what will make the difference in your images.
Part 2: Starting In Studio Photography: Practical Examples
This module will take to assume that you understand those techniques and will continue to build on them. Also, most of this course is very free-form. This means that viewing it will resemble a live online workshop. The benefit here is that not only will you get to see what works, but also the problems that occur and how to troubleshoot them on the fly.
After a brief introduction and a look at the equipment that will be used for this course, you will explore, in real-time mode, the setup and shooting of a number of different products. The first will be a cosmetics product shot which will look to photograph a cylindrical product.
From there you will move on to a bottle of Bailey's Irish Crème as well as a bottle of Vodka. Both of these provide additional challenges based on container size and shape. 
Part 3: Post-Production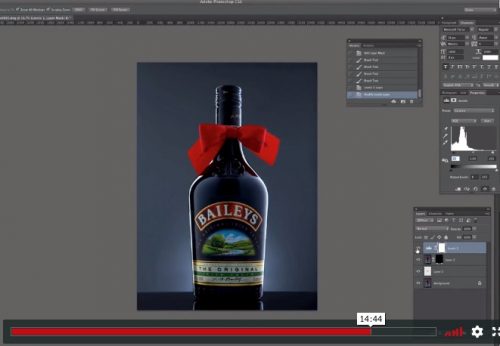 Now that you have taken the shots and completed the photographic work all that is left to do is the post-production. You might think that if you get it right in the camera, there should not be much to do in post-production. For many other photographic disciplines, this may be the case, but not for professional product photography.
By its very nature, product photography is created to sell products. This means that the output must be exactly as the client envisions it. This could lead to extensive work in post-production.
In many real-world situations, this would call for the outside help of professional retoucher to complete the task. You, as a professional, should have some fundamental skills for working in post-production. The goal here is to have the ability to prepare a quality image for the client to review in as quickly as possible.
Part 4: DIY Starter's Guide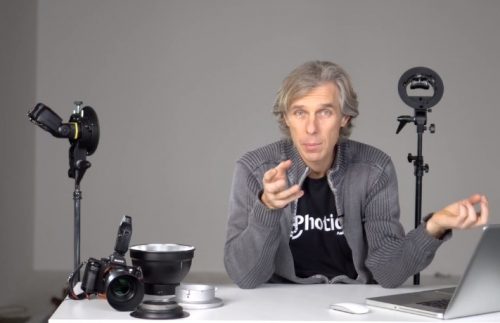 In this module, you will learn how to build various DIY light modifiers, camera support, diffusers, and other gear to save thousands of dollars from buying all this equipment in stores. It is not always necessary to have a big budget to stat in production photography!
Part 5: Catalog work. Essentials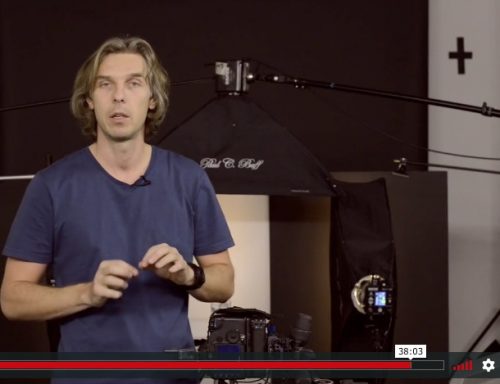 Catalog Product Photography module is a series of videos that will take you through various real-world situations of photographing products in the studio.
By working through four main scenarios you will gain a fundamental grasp of working with different lighting situations as they present themselves. These are step-by-step demonstrations that are shown in free-form mode.
This means that you will see how the process works in real life where you diagnose the problems and learn how to solve them.
You will begin with a through look at studio lighting, cameras, lenses, support, and all of the other items that will come in handy when working in the studio.
At this point, you are not required to have all of this gear, but by gaining an understanding of what is available, you will be in a better position to know what you may need for a particular shot.
Part 6: Food Photography for Beginners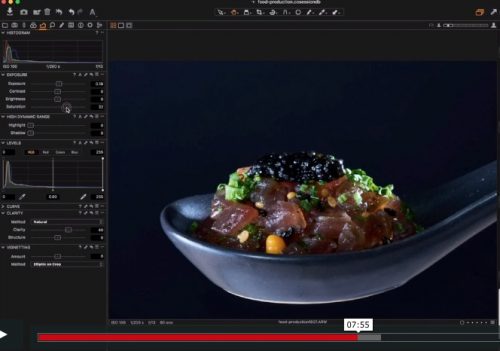 In this food photography module, you will learn:
How to use minimal equipment to get a job done
Only 3 speedlites, a few foam-core boards, few mini-stands, camera and a lens is all you need to start taking great images of your favorite food
Easy to follow photography scenarios
Learn how to work with different types of food to make it juicy and  create the most interesting images for each dish you shoot
Part 7: Liquid and Splash Hi-Speed Photography with Speedlites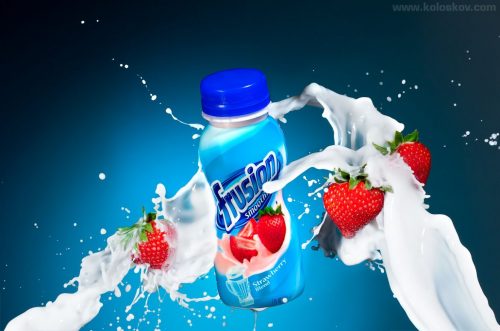 In this module you will learn:
Discover what equipment is good for hi-speed liquid photography: which lighting systems are good and which are not, and why. Speedlites, Monolights and expensive power packs are compared.
How to shoot different types of liquid: clear, colored, and completely non-transparent, and what the difference is in how to highlight them.
How to shape unique splashes, and how to catch the right moment
Find out how to simulate different types of liquids: milk, chocolate, etc
How to create a composite shot, how to combine separate photos into one mind-blowing composition
Photoshop techniques on how to manipulate with shots of liquid
Part 8: Commercial Photography Assignment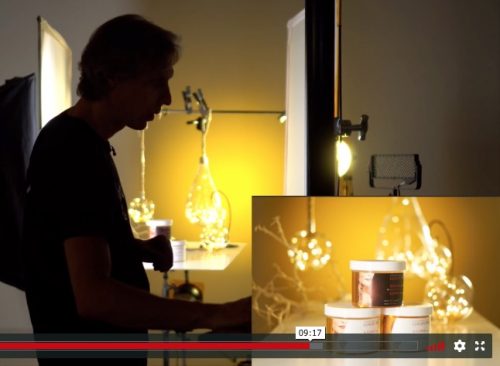 In the First Part photographer will learn how to approach a client that interested in working with a studio. Understanding requirements, creating an estimate, preparing for the shot, etc
In the Second Part photographer will learn how to take catalog-style pictures of bottles and jars.
In a Third Part we cover a creative part of the project, working with interesting lighting techniques and cameras.
Fourth Part showcasing high-speed photography, creating splashes and motion.
Fifth Part of the course concentrates on post-production techniques of making the composite images. How to blend layers together, how to modify and match colors and shapes.
Part 9: Advanced Product Photography Workshop - 8 shots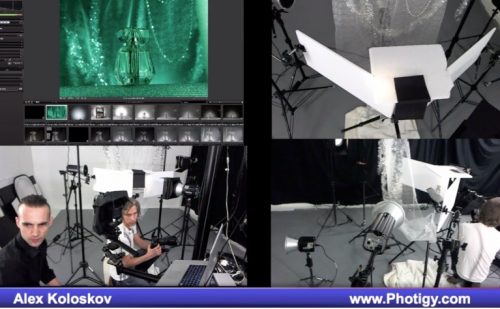 This module is divided into two main areas – the first is practical work that was done in the studio. This includes a perfume bottle, a microphone, an iPhone, and a woman's watch.
The second part consists of in-depth workshops that were used to create detailed images that will show you how to work through a lot of complex situations.
After completing this set of training you should have a good grasp of what it takes to build up and execute a creative advertising shot from start to finish. If you take on the challenge to replicate these images or create new ones based on what you have learned here, you will have created as many as 15 portfolio pieces that can showcase your work.
Part 10: Advanced product photography, post-production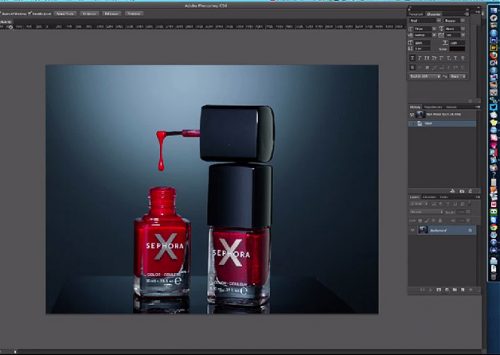 This module, Advertising Product Photography Part 2 – Post-Production, takes on some of the images that were created in Advertising Product Photography Part 1 – Studio Work and now shows you how to prepare them for final display.
As a professional product photographer, your work is not done yet. Even the best of shots in the studio will still need work done after the shooting is done.
Part 11: Starting your photography business
In this module, you'll be building your photography business. You'll get a personalized business plan: we'll help you to find your client's avatar, build a standout portfolio, create a marketing plan and  start reaching your potential clients.
You will have several assignments to be completed and reviewed by your course instructor. 
Part 12: The Final Assignment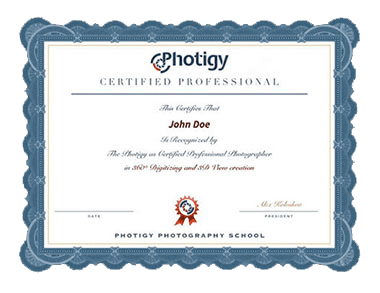 In this module, you'll be given a chance to do your best work and get the final review and words of wisdom from your instructor. After a successful completion, you will receive a professional certificate.
 Time to receive congratulations and drink champaign with friends!
What is the learning experience looks like?
At the end of each learning module, you will receive an assignment (homework) to do and submit to the course instructor. Your instructor will provide you with a video feedback for your homework within 7 days of the assignment submission.
24/7 access to learning materials
Watch your lesson at your convenience, from any device including tablets and smartphones.
Photography Assignments
You have to complete homework (practical photography) for every module on this program. Total 16 assignments.
Video feedback from your instructor
You'll be getting a recorded video feedback for every shot you'll submit for the review. Also, everything can be discussed on a private forum with the instructor and course students.
Next module of the course
Once finished the module and got your homework reviewed by your instructor, you'll advance to a next one

Interactive learning
Personalized feedback to help you understand course materials faster and to give you practical knowledge in commercial studio photography.

We help you get your first clients
All students who successfully complete this certification program will be listed as certified professional photographers at Photigy Marketplace for free.

Full year to get through this course
You will have 12 months to complete this course. We believe it's more than enough, however, the course's time can be extended if necessary.

Enhanced privacy
Your student's profile is completely hidden from the public, and nobody will know that you are taking classes at Photigy school. You can choose to collaborate with other students on a private forum, but only course instructor will see your homework, and only you will receive instructor feedback.
Professional Certificate
Professional certification shows potential clients that you are committed to your profession and are well-trained. It gives them confidence in your abilities because it proves that your skills have been evaluated and approved by a well-regarded, professional organization.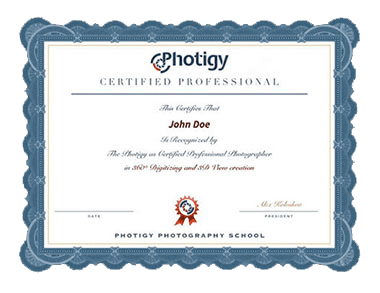 Examples of our student's homework
REVIEWS
See what other people have to say about their learning experience.