Advanced Product Photography Course, part1: studio work (shooting).
Difficulty: Level 4
Photigy Online Workshop: Advertising Product Photography, Part 1 – Studio Work
Instructor: Alex Koloskov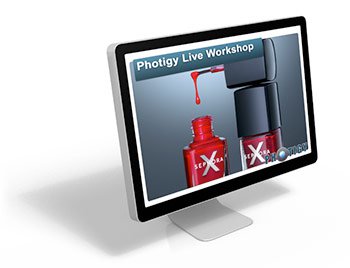 This course – Advertising Product Photography Part 1 – Studio Work is a professional product photography course that is based on creating images for use in the advertising world. This type of work is different than just catalog or basic product photography. Here the goal is to create an image that will be used to sell the product.
Most of the time the client will come to you with a concept and you as the photographer must then implement this idea. This means that you will have be well versed on many techniques so as to make this concept into reality.
This course is divided into two main areas – the first is practical work that was done in the studio. This includes a perfume bottle, a microphone, an iPhone, and a woman's watch. The second part consists of in-depth workshops that were used to create detailed images that will show you how to work through a lot of complex situations.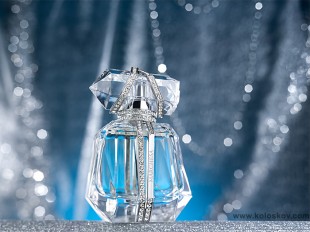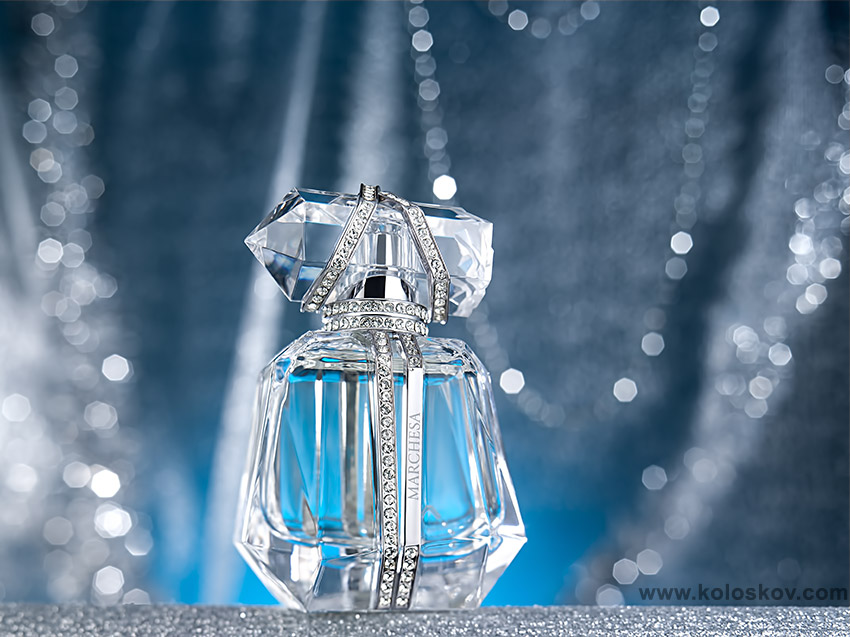 After completing this set of training you should have a good grasp of what it takes to build up and execute a creative advertising shot from start to finish. If you take on the challenge to replicate these images or create new ones based on what you have learned here, you will have created as many as 15 portfolio pieces that can showcase your work.
This course is only available for Premium S

ubscribers
Course Breakdown:
Total Running Time: 9hr 46min
Level: Advanced
Part 1: Practical Work in the Studio: – 2hr 42min –
Chanel Bleu Perfume Shot – Working with Large Format Camera: - 50:51

This image is shot using a Cambo Ultima D camera and a wide angle lens giving the bottle a much more interesting look than if it had been shot using a macro lens. A glossy black base with a black background is use along with liquid drops on the base. The goal of this shot is to get a 'hero' or larger than life look of the perfume bottle.

Blue Yeti Microphone Shot: - 31:27

This video takes you to a behind the scenes look at the shooting of a Blue Yeti microphone. The goal of this shot is to create a halo effect behind the head of the microphone to give it a unique look. In doing so you also have to bring out the texture of the mic while keeping the glossy parts glossy.

White Subject on White Background with View Camera - iPhone: - 47:55

This shot tries to replicate an Apple style shot of a white iPhone on a white background. This uses the Cambo Ultima D using the tilt-shift capabilities of the camera to make sure the whole image is in focus. Here you will see how tilt-shift works and how it can affect your shots.

Women's Watch Shot: - 31:40

Now you will see how to shoot a ladies Citizen watch. This shot explores how to capture a jewelry style image using a cone to create the gradient on the watch band. This shot uses five lights to get the balanced look using honeycomb grids and snoot. Here you will see how to balance the band, the gems, and the watch face.
Part 2: Workshops and Master Classes: – 7hr 05min
Advertising Product Photography Workshop: Perfume Bottle: - 1hr 20min

This shoot is a very detailed workshop that was held live and takes you from start to finish on shooing a Marchesa perfume bottle set against a bokeh sparkly background to give it a glamorous look and feel.

Creative Product Photography Workshop: Nail Polish: - 1hr 17min

Cosmetic Photography Workshop: - 1hr 40min – Part 1

Next you will work with Kate Somerville complexion cosmetics. These are a pair of products that have an overall silver look to them – some parts are glossy and some have a matte finish.

They are shot on a white background and base. This is a complex shot because of trying to expose for the wording on the bottle as well as the cap which is glossy, but still maintaining a gradient on the matte finish of the rest of the bottle.

Cosmetic Photography Workshop: Bonus: - 16min – Part 2

This video creates a little different look for the Kate Somerville product in that instead of highlighting the outside of the bottle, the highlight is toward the center of the bottle creating a different look.
Part 3: Bonus: Table Top Product Photography: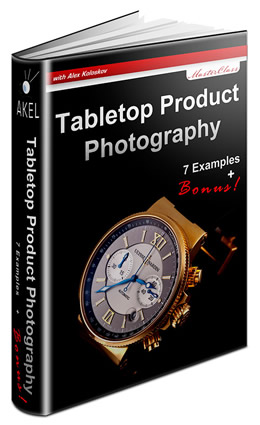 Table Top Product Photography: – PDF

It is a 48 page book that will take you through seven separate product shots. The first is a saxophone which is very glossy, a spherical perfume bottle, a ring, a men's watch, a clear liquor bottle, a dark glass liquor bottle, and a creamy odd shaped liquor bottle.  Each of these will provide additional challenges that you should be able to work through after completing the prior parts of this course.

This e-book includes BTS from creating of these images:
Will I be able to download videos from this course and watch them offline?

– No, this course is made only for online viewing. Only Pro Club members can watch the videos in this course (it is a part of a package) 

When I have a question or troubles getting a shot, can I ask the instructor for a help?

– Yes! As a course student, you will be a part of a private group and forum, where you can ask instructor any question and/or post your results for the review. We encourage you to participate in this group!
Course includes a detailed tutorial and  behind the scene for each of these shots:
In Advertising Product Photography Part 1 – Studio Work you will learn the technical skills to shoot many complex subjects that will provide challenges for even seasoned pros. It is these kinds of skills that can take you to the next level in your product photography. When you add in the recorded live workshops that are included in this coursework, you will be better prepared to tackle challenges that come up during the shoot.
The next part, Advertising Product Photography Part 2 – Post-Production, will take you through how to finish the some of the shots that were taken in part one. Here you will learn the fundamentals of cleaning up and making your shots look perfect for your client.
Course Curriculum
Practical work in the studio
Chanel Bleu Perfume Shot. Working with a Large Format Camera

00:51:00

Blue Yeti Microphone Shot – Behind the Scenes

00:32:00

White Subject on a white background with view camera: iPhone shot. In-studio work

00:48:00

Women's Watch Shot: BTS, in-studio work

00:31:00

Advertising Product Photography Workshop
Advertising Product Photography Workshop (Perfume shot). In-studio work

02:20:00

Creative Nail Polish Shot Workshop
Creative Nail Polish Shot Workshop. In-studio work, part 1

00:27:00

Creative Nail Polish Shot Workshop. In-studio work, part 2

00:53:00

Creative Nail Polish Shot Workshop. In-studio work, part 3

00:41:00

Creative Nail Polish Shot Workshop. In-studio work, part 4

00:17:00

Cosmetic Photography Workshop
Cosmetic Photography Workshop. In-studio work

01:53:00

Cosmetic Photography Workshop. The Bonus

03:00:00

Bonus
Tabletop Product Photography in examples, part1(E-book)

00:20:00

Q&A and review sessions
Support call (09/30/2014) Level 4 Product

00:54:00
Course Reviews
5 stars

1

4 stars

0

3 stars

0

2 stars

0

1 stars

0