Start creating amazing splash photography images with your speedlights and any DSLR camera!
Instructor: Alex Koloskov & Genia Larinova
This course is for you, if you:
Have never tried High-Speed splash photography before or have a very little experience in commercial splash photography.
Do not have expensive hight speed, action-freezeeng studio strobe lighting, but have one or more speedlites and DSLR camera
Do not have a large studio, but a huge desire to create a mind-blowing splash photography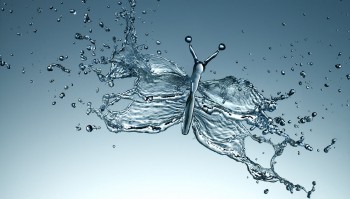 This course – Advanced Techniques in Liquid and Splash Hi-Speed Photography is a photography course that will show you how to effectively use liquid and splash elements in your photography to create compelling and more visually noticeable product images.
This course is divided into two workshops – the first was done as a live, on-air webinar in which Alex takes you through step-by-step the fundamentals of what it takes to create and capture hi-speed splash photography. This includes everything from understanding hi-speed capture, to creating image shots all the way through post-production.
The second part consists of an in-house workshop that was that was filmed in his studio. This is a bit more informal, but it will take you through the shooting of two product shots. The first is of a bottle of perfume and the second of yogurt and strawberries using a milk style splash.
The information that you will learn in this set of videos has the ability to set you apart from the crowd. To create high quality splash and liquid work, takes technique, practice, and some imagination. If you want to get your work noticed, then this is one sure way to start.
What you will learn from this course:

Discover what equipment is good for hi-speed liquid photography: which lighting systems are good and which are not, and why. Speedlites, Monolights and expensive power packs are compared.
How to shoot different types of liquid: clear, colored, and completely non-transparent, and what the difference is in how to highlight them.
How to shape unique splashes, and how to catch the right moment
Find out how to simulate different types of liquids: milk, chocolate, etc
How to create a composite shot, how to combine separate photos into one mind-blowing composition
Photoshop techniques on how to manipulate with shots of liquid
You'll be able to reproduce any of these images by yourself:
Course Breakdown:
Total Running Time: 9hr 15min 
Level: Advanced
Part 1: Introduction & Theory: – 1hr 17min 
Introduction to Liquid & Splash Photography: - 06:06

is a brief introduction to the webinar which was shot live. Here the basics of the kind of equipment that you will need to shoot liquid and splash photography.

The Theory of Lighting: - 20:36

Now looks at how you can use hi-speed lighting to capture liquid splash photography. You will see what kind of lights work best based on their short flash duration which is what is needed to capture the high speed motion that you get with moving liquid.

X-Sync Shutter Speed and its Relation to Hi-Speed Photography: - 07:30

X-Sync is the fastest speed in which the shutter of a camera can open fully and remain open to capture an image. Any faster and the curtain is in the frame. This video demonstrates this issue.

Hyper (Hi-Speed) Sync Explained: - 12:23

Here looks at triggers that use hyper sync to imitate the triggering of the strobe unit. Here you will see the benefits and limitations of these units.

Different Types of Flash (Strobe) Studio Lighting: - 30:22

Examines other types of lighting solutions that you can use for capturing splash photography. Speed lights are not covered here since they will be used during the remainder of this webinar.
Part 2: Practical Work in Studio: – 2hr 24min
Creating Waves: - 24:50

Will show you how to use a fish tank to create liquid effects. Here you will learn how to work with waves, light, and the capturing of moving water.

Troubleshooting – and More Waves: - 05:12

Answers some lighting questions on working with waves as seen in the prior video.

Using Colored Liquid in Product Photography: - 17:46

Now places a product into the aquarium shot along with adding color to enhance the look. You will see how to secure the object placement as well as getting water movement to complete the look.

Creating Underwater Product Images: - 20:30

Continues the lesson in producing a wave based images. Here you will see how to shoot fruit or vegetables underwater as well as shooting a flower underwater to get the small bubbles on the petals.

Creating and Shaping Splashes: - 22:04

Now gets into creating splashes in the studio. Here you will see about setup and protection of equipment as well as the rest of your environment.  You will see about the use of a trigger system, the basics of creating simple splashes, and the use of different containers to .

Milk Splash Product Shot: - 29:17

Here you will learn that if you want to get a quality milk splash shot you will need to use a diluted glue mixture. While you can learn more about this in the course materials, this is done mostly for the consistency that using a glue base can give. In this lesson you will see how to create milk styled shot on a bottle.

Advanced Techniques of Shaping a Splash: - 13:56

Explores additional techniques for creating splashes.  By using different containers and colors you will see how to produce different looks.

Bonus: Tips and Tricks for Creating Awesome Splashes: - 04:08

Gives some additional ideas for creating splash work.

Final Words and Conclusion: - 06:07

Finishes up the webinar portion of this training.
Part 3: Mastering Splash Masterclass: – 3hr 27min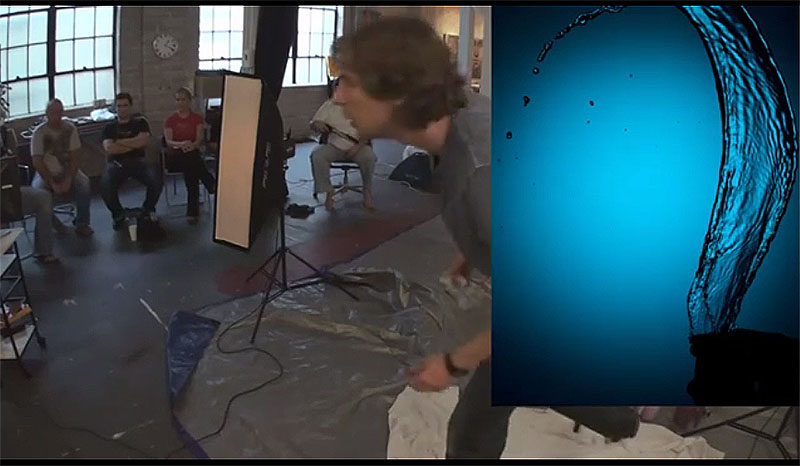 Splash Photography Masterclass – Part 1: - 43:04

Covers the technical aspects of splash photography including the basics of what it takes to stop action in mid motion to get clear looking shots.

Splash Photography Masterclass – Part 2: - 43:04

Now looks at the different techniques for creating splash images.

Splash Photography Masterclass – Part 3: - 59:16

Examines how to shoot a product using splash techniques. In this case a bottle of perfume using a green background.

Splash Photography Masterclass – Part 4: - 60:28

Finishes up this master class by creating a splash image of yogurt and strawberries with a milky splash technique using a diluted glue mixture.
Part 4: Post-Production: – 1hr:18min – with Genia Larionova
Shaping and Modifying Splashes in Photoshop: Snail Image: - 16:22

Here you will see how an image of a snail was constructed from splashes that were created in the webinar. These are manipulated and put together inside of Adobe Photoshop.

Liquid Wave: Cleaning a Liquid Image in Photoshop: - 18:46

Now shows how to clean up and make ready a liquid wave shot that was created in the webinar.

Compositing Product Image: Milk and a Bottle of Shampoo: - 42:35

This video now shows you how to create the shot that was created during the webinar using the glue based liquid as milk.
Part 5: Bonuses: – with Genia Larionova
The Making of Godiva Milk & Chocolate Image: - 07:19

Here you will see both the setup of the Godiva bottle as well as the lighting setup. A second video shows the making of the splashes using two mixtures – one of glue and one with brown latex paint added in.

Liquid Masterclass Post-Production and E-Book: -12 min

This video covers the post production of the masterclass perfume bottle and attached PDF explains the techniques used to create both final images from this masterclass: perfume and yogurt with strawberries.

The Making of ``Splash Gardens`` image: - 10 min

This video explains how the "Splash Gardens" image was created. Lesson includes 10 minutes of post-production video and lighting setup along with instructor's explanations.
When I have a question or troubles getting a shot, can I ask the instructor for a help?

– Yes! As a course student, you will be a part of a private group and forum, where you can ask instructor any question and/or post your results for the review. We encourage you to participate in this group!

Is there any limitation on how long I can go thought the course once i started it? When it expires?

– It does not expire! You can go back, re-watch any lesson at any time you want, the course will be always available for you. It is yours  – forever! (As long as you keep Photigy membership:-)
Course Curriculum
Introduction & Theory
Introduction to a Liquid & Splash Photography

00:06:00

The Theory of Lighting (part 1)

00:20:00

X-Sync Shutter Speed and it's relation to hi-speed photography

00:08:00

Hyper (hi-speed) Sync Explained

00:23:00

Different Types of Flash (strobe) Studio Lighting

00:30:00

Practical Work In Studio
Creating Waves

00:25:00

Troubleshooting – And More Waves

00:05:00

Using Colored Liquid in Product Photography

00:18:00

Creating Underwater Product Images

00:20:00

Creating and Shaping Splashes

00:22:00

Milk Splash Product Shot

00:26:00

Advanced Techniques of Shaping a Splash

00:14:00

Bonus: Tips and Tricks for Creating Awesome Splashes

FREE

00:04:00

Final Words and Conclusion

00:06:00

Mastering Splash Masterclass
Splash Photography Masterclass, part 1

00:44:00

Splash Photography Masterclass, Part 2

00:43:00

Splash Photography Masterclass, Part 3

00:59:00

Splash Photography Masterclass, Part 4

00:59:00

Post-Production
Shaping and modifying splashes in Photoshop: Snail Image

00:16:00

Liquid Wave: Cleaning a Liquid Image in Photoshop

00:19:00

Composite Product Image: Milk and a Bottle of Shampoo

00:42:00

Bonuses
The Making of Godiva Milk & Chocolate Image

00:08:00

Liquid Masterclass post-production and e-book

00:12:00

The making of "Splash Gardens"

00:10:00
Course Reviews
5 stars

4

4 stars

2

3 stars

0

2 stars

0

1 stars

0