Photography Tips & Tricks from Matt Reed,
a commercial photographer from Australia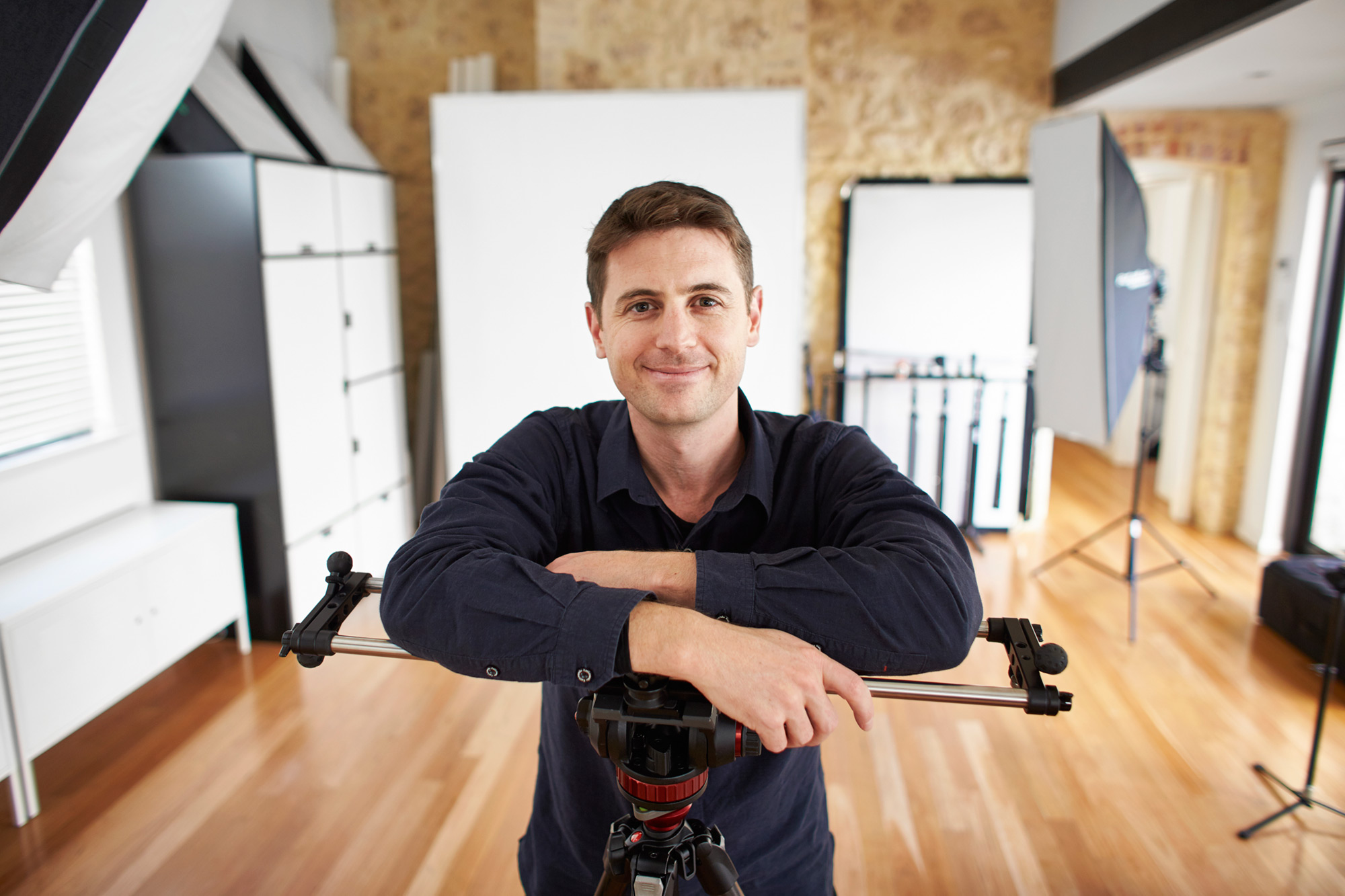 Matt Reed is a talented and successful professional commercial photographer from Australia. With his team in his beautiful studio Matt creates all types of studio product images: jewelry, food, wine bottles, clothing and fashion, industrial photography just to name a few.
As a former e-commerce business owner he has a rather unique perspective at product photography being able to look at the problem from his clients' point of view.
Now after more than ten years in the product photography business Matt continuously keeps experimenting with new gear, testing new technologies and developing new lighting techniques for the purpose of creating the strongest product photographs possible.
We are very excited to announce that Matt will be one of our instructors on photigy.com.
Please, welcome Matt Reed!
Want to know more about Matt? Here is a link our interview with Matt.
A big hello Photigy community! I'm really excited to be an instructor here at Photigy… it's an honor and a pleasure.
I'm incredibly grateful to the many people who have taught me valuable things over the years. What I'm most excited about is the opportunity to be able to pass on my learning and discoveries to help you with yours.
I find there are generally 2 types of learning.
The first is learning a new technique. For example, setup the lights in this way and it will create this effect. Use an acrylic surface and it will create a reflection. That sort of thing.
The second type of learning upgrades your way of thinking or seeing. These can help shape and improve every photo you take from that point on.
Both are important.
In this video I share with you one of the most valuable ways of working that we live by. In fact we follow this process for every single photo we take.
Try it, see how you go, would love to hear your thoughts.
When you're stuck for a photo idea or need some creative inspiration, here is one of the most effortless ways to keep you flowing.
It's called "take the opposite photo".
This technique was taught to me in a workshop with the incredible portrait photographer Gregory Heisler. I can honestly tell you it has been insanely valuable in all sorts of photography situations and has got me out of a jam plenty of times.
I want to share it with you, give it a go and let me know how you go.
Take The Opposite Photo
Tripods – the blessing and curse for photographers.
Here's my take on how to work with your tripod in the photo finding process, so your creativity isn't suffocated.
Give this technique a go… you will be surprised at the new and interesting angles you will find.
Tripod Tips
The power of using the wrong lighting setups.
As we get more competent as photographers and get more comfortable lighting different types of situations, our sense of "how the lighting should be" gets stronger.
That is excellent and allows you to get to a great photo quicker.
The danger is that you experiment less and your growth may plateau.
I love this technique as it takes no effort to upgrade your lighting skills and gives you results you never would have achieved.
I'm keen to hear how you go, let me know.
Using Wrong Lighting Setup
So it's all very nice creating new photography courses to help you with your photography journey. The important first step though, is to know what you need to learn next.
So instead of creating new courses on what I feel are interesting, valuable and exciting topics, I need your help.
Tell me what you need to learn next… where the gaps and struggles are. That's the best place for me to start.
New Photography Courses
What courses would you like Matt to create for you? Please post your suggestions in a comment section below.