Ricoh GXR interchangeable unit camera:
Point and shoot for a pro?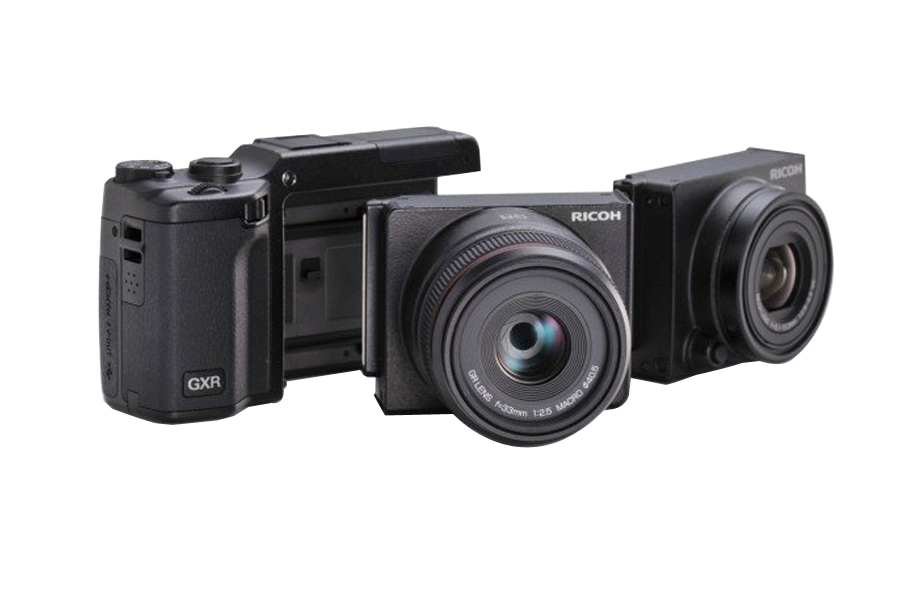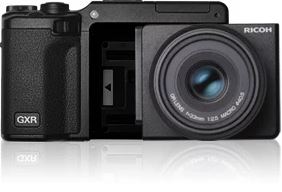 Ricoh GXR camera
Eventually Ricoh has unveiled its first digital system camera: GRX. This is a quite unusual camera, without shutter and sensor in a camera body . You ask me how?
Ricoh decide to integrated everything into the lens! What the idea! 🙂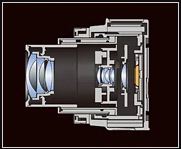 Ricoh Lens inside
Think about this:  you can have several lenses each with a different sensor size, with and without low pass filter, different dynamic range, etc.. Sounds very promising, especially if you have enough money to buy such lenses.
Here is the info from Ricoh:
Items
Specifications
Flash
Mode
Auto (flash fires when lighting is poor or subject is backlit), red-eye, on, slow sync, manual, off
Range (built-in flash)
Refer to camera unit specifications.
Flash compensation
±2.0 EV in increments of 1/2EV or 1/3EV
Manual flash amount
FULL, 1/1.4, 1/2, 1/2.8, 1/4, 1/5.6, 1/8, 1/11, 1/16, 1/22, 1/32, 1/64
Picture display
3.0" transparent LCD; approx. 920,000 pixels
Shooting mode
Auto, program shift, aperture priority, shutter priority, manual, scene (movie, portrait, sports, landscape, nightscape, skew correction), " My Settings"
Picture quality
Fine, Normal, RAW (DNG) *1
Storage
SD/SDHC memory card, internal memory (approx. 86 MB)
File size
Refer to camera unit specifications.
File format
Photographs
JPEG (Exif Ver. 2.21)*2, RAW (DNG)
Movies
AVI*3(Open DML Motion JPEG compliant)
Compression
JPEG baseline compliant (photographs and movies)
Other shooting options
Continuous shooting (continuous, M-Cont Plus); self-timer (shutter release delay of approx. 10 s or 2 s, or custom setting); interval timer (intervals of 5 s to 1 hour in increments of 5 s)*4 color bracketing; B&W (TE); color space selection; noise reduction; histogram display; framing grid; depth-of-field indicator; tilt indicator; hot shoe
Other playback options
Auto image rotation (when camera unit attached); multi-frame playback; playback zoom (up to 16x); resize
Interface
USB 2.0 (High-Speed) Mini-B connector; Mass Storage*5; AV output (NTSC), HDMI connector (Mini HDMI Type C)
Video signal format
NTSC, PAL
Power source
DB-90 rechargeable battery (3.6V)
Battery life
Refer to camera unit specifications.
Dimensions (W x H x D)
113.9 mm x 70.2 mm x 28.9 mm (excluding projections)
Weight
Camera body (excluding battery, memory card, neck strap, and connector cap): 160 g Battery, neck strap, and connector cap: 66 g
Tripod screw hole
1/4-20UNC
Operating temperature
0 °C to 40 °C
Date storage time
Approx. 1 week
Operating humidity
85% or less
Storage temperature
-20 °C to 60 °C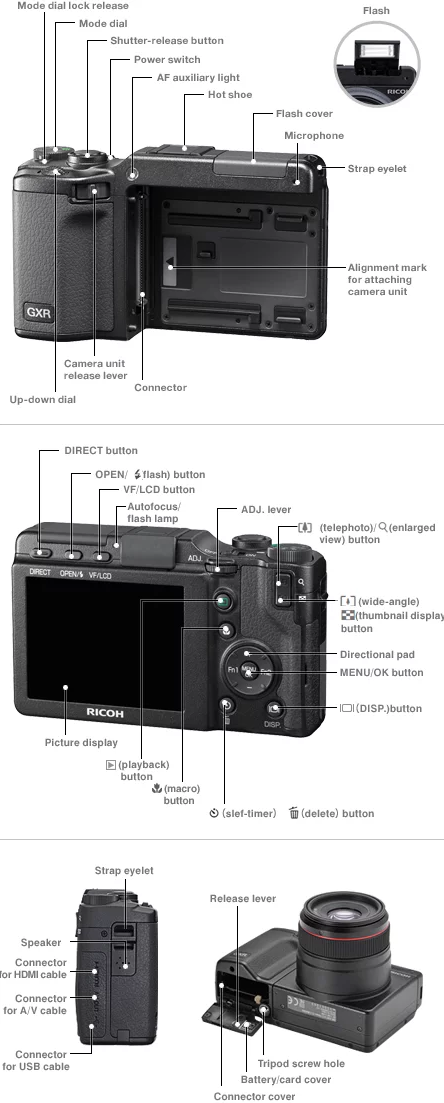 Ricoh GXR camera externals and parts
All images was borrowed from Ricoh website.
More about this camera: