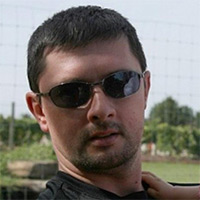 First I would like to say that it means a lot to me to have my shot featured on Photigy and be able to share with you how this shot came to life!
This is my first début on Photigy as a photographer and not many people know me. I would like to use this opportunity and introduce myself.
My name is Maxim (Max) Sivyi. Born in Ukraine now living in America since 1994.
Photography was my hobby for many years but studio photography was totally new world to me and I had no idea what's involved in producing this type of images.
One day I came across Alex's pictures on the internet and was stunned. So I got curious and this is how I found Photigy.
I've been a member on Photigy for over a year now but didn't really try to take it to the next level. Shooting with LED bulbs was making it very challenging to achieve decent results. Also shooting in my detached garage, where it gets damn cold in the winter and very hot in the summer, was killing my desire to be more dedicated UNTIL I finally got much better equipment. Now I even have a window Air Conditioner unit and a heater in the garage :)