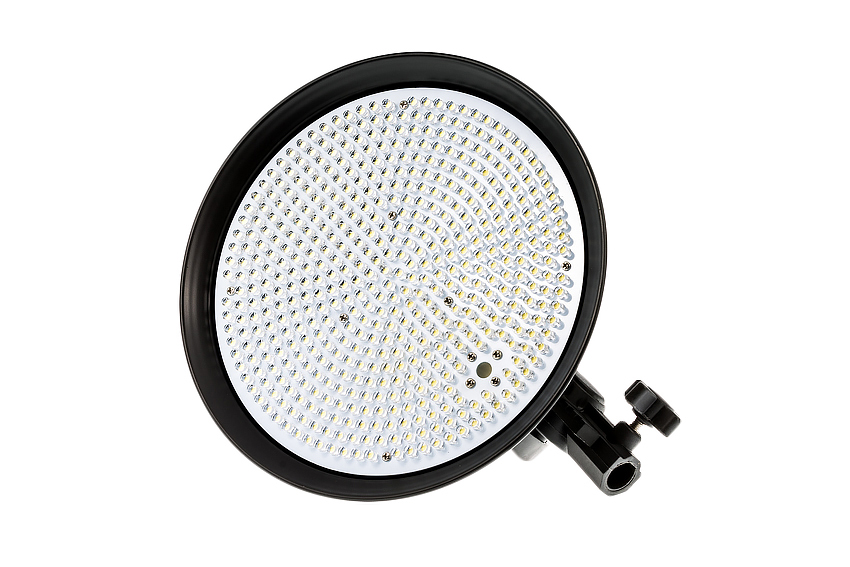 Welcome to a new segment on Photigy where we will be providing in-depth reviews on affordable studio photography equipment. We've partnered with B&H Photo to give our readers a hands on look at various different lights, modifiers, and other studio gear.
In our second review we take a look at some continuous lighting with the Genaray SpectroLed-9 Light. Will this light meet our needs? Is it useful for product photography? Watch the video and read more below to find out.
Studio LED Lighting Review Video
 (The SpectroLED-9 is the main video light)
Overview of the SpectroLED-9 studio LED light
The Genaray SpectroLED-9 Light is a 500 LED output continuous light that has a dimming feature. At a price of $199.00 this is a budget friendly continuous dimmable LED light (when compared to other LED lights which can cost upwards to a $1000 or more).
This light comes with power supply/adapter, a cigarette light attachment, a diffusion sock, a socket for an umbrella, and a port for a remote. It's pretty light weight and the build quality is quite nice from what I've seen so far.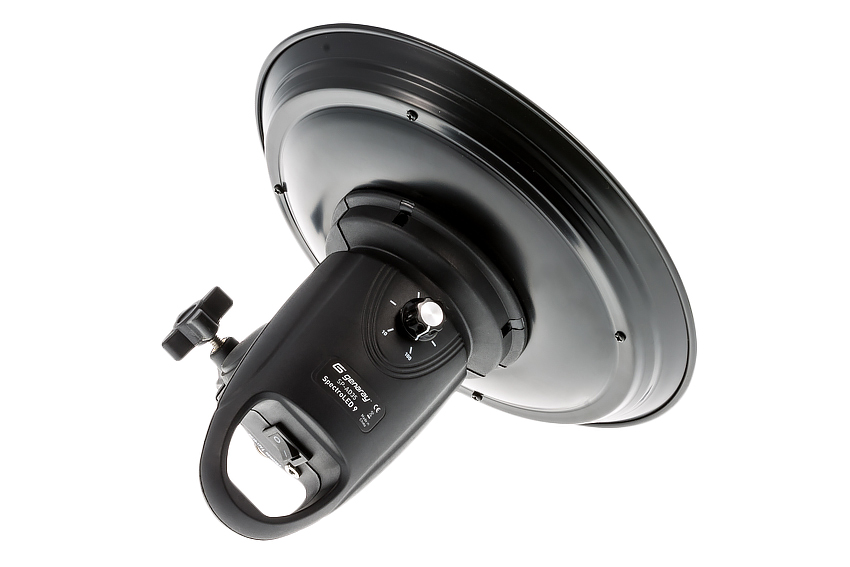 Technical Specs and Features
Light Intensity – 3,600 Lux @3. 3′ (1.0m)
Rating – 35 Watt
Color Temperature – 5,600K +/- 200K
Beam Angle – 60° Flood
Operation Voltage – 120VAC
Receptacles – Built in Umbrella Socket
Mount Type – 5/8 Stand Mount
Dimming – 10 – 100% on control panel – wired remote option available with SpectroLED Remote Dimmer
Dimensions – Array Diamter 8.25" (21cm) Depth 7" (17.8cm) Fixture Diameter with reflector 9.5" (24cm)
Weight – 2.0lbs (.90kg)
Continuous LED Lighting for Studio Photographers Review: Look and Feel
Top of the Unit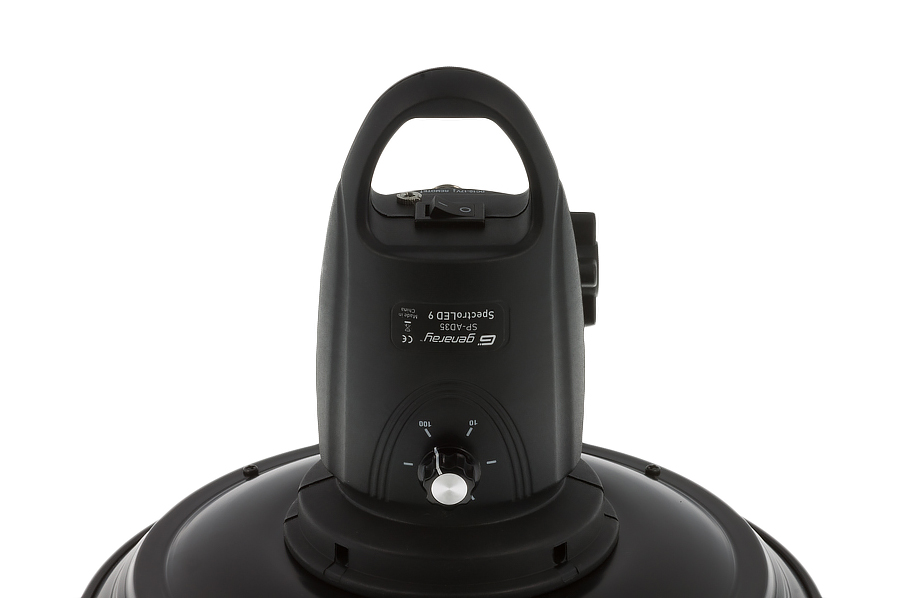 Close Up of Dimmer Dial

Rear of the Unit with Remote and Power Ports 

Side of the Unit Showing White Umbrella Socket
3/4 Stop Diffusion Sock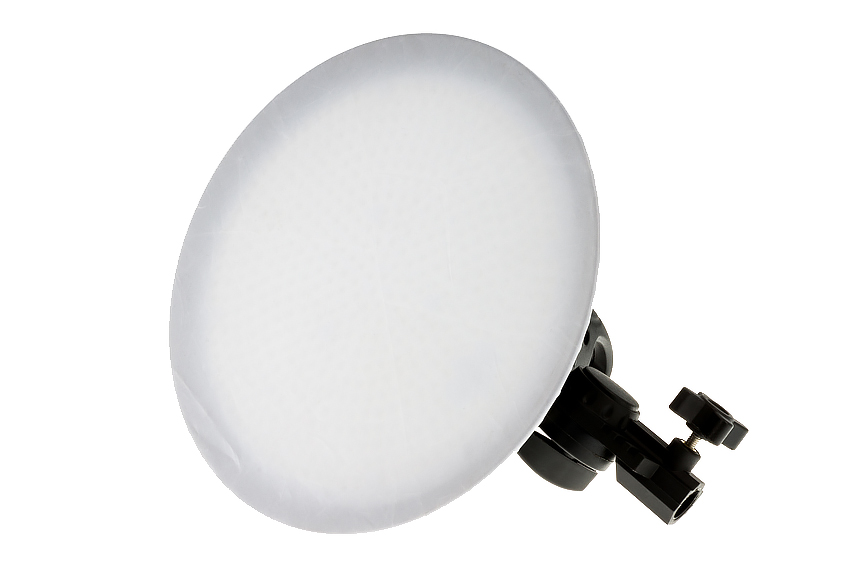 Color Cast and Haloing Around The Edges
Spot Without Diffuser (White Balance Set to 5600K)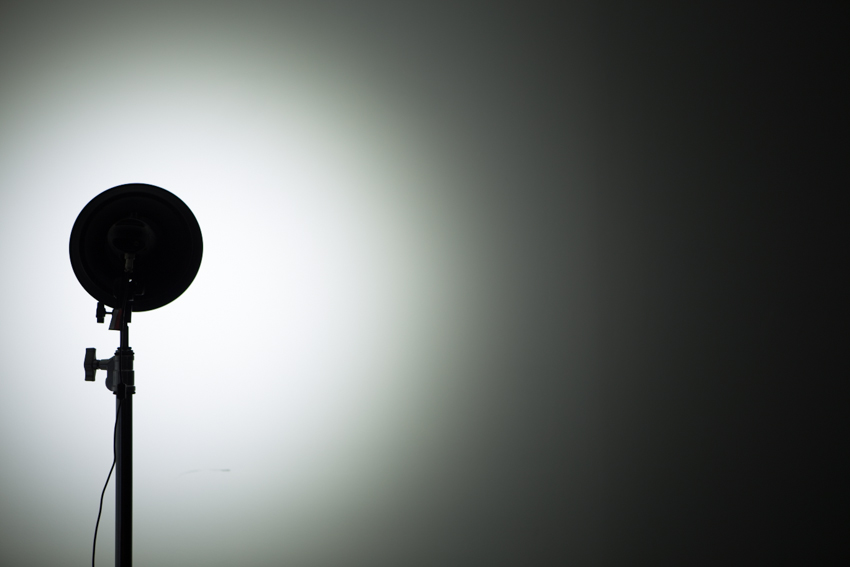 As you can see there is a slight greenish cast on the edge of the light. The middle of the spot seems to be at a good color temperature, but there's a lot of shifting in color at the edges of this light. I think the color variation is coming from the edge of the fixture (which is painted black) instead of white. I believe if the rim of the LED fixture were painted white, there would be less color variation.
Spot With Diffuser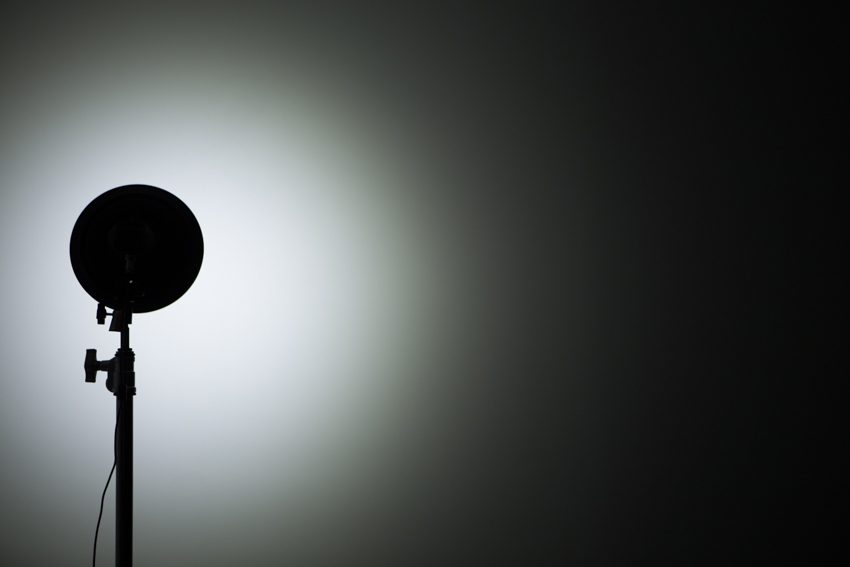 With the 3/4 stop diffusion sock on the light, you can see there is less color variation at the edge of this light, but you do indeed lose some light from sock.
Our Test Shots
Portrait taken (no editing other than size adjustment)
Camera Settings: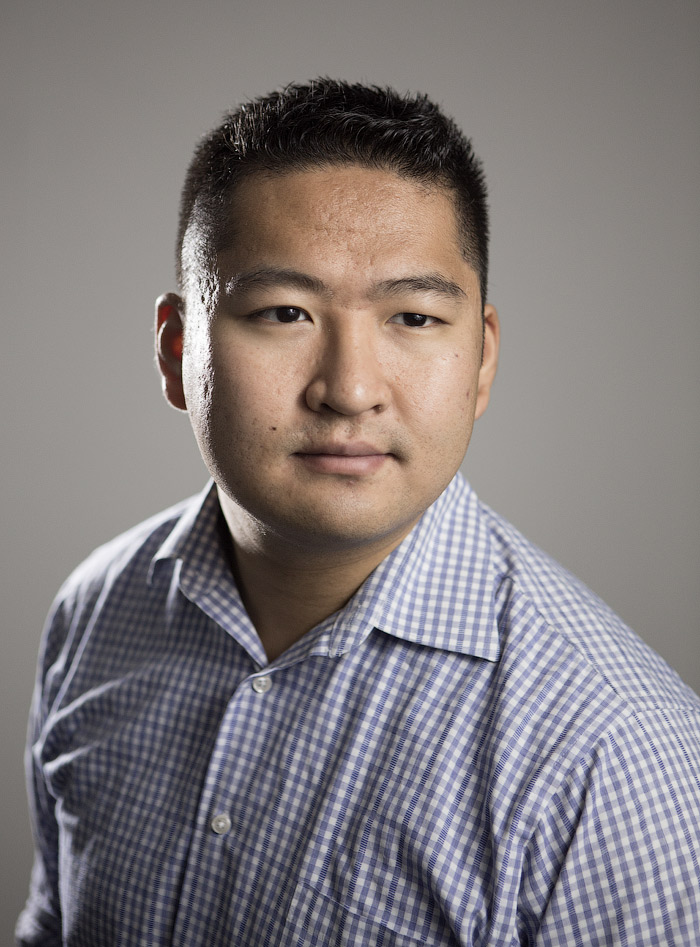 We used a simple set up to take this portrait. To the left of the camera there is a SpectroLED-9 unit with a 60′ umbrella and behind to the left of the subject (me) is another SpectroLED-9 unit as a fill. Not the best example (especially the model), but shows what you can do with these lights. All ambient light was turned off during this shot. Unfortunately the light was just not strong enough to shoot at lower ISOs. We had to crank the Canon 6D up to ISO 800 in order to get a decent hand held shot. If you are going to use this light for portraiture, you'll have to shoot at higher ISOs and slower shutter speeds. You may be better off with speedlights or a small strobe like the SF ABRL-160.
Food Photography with LED studio lighting
Camera Settings:
 

 

 2 Lights (Main Light with Umbrella, second light to the rear left of subject – photo not edited)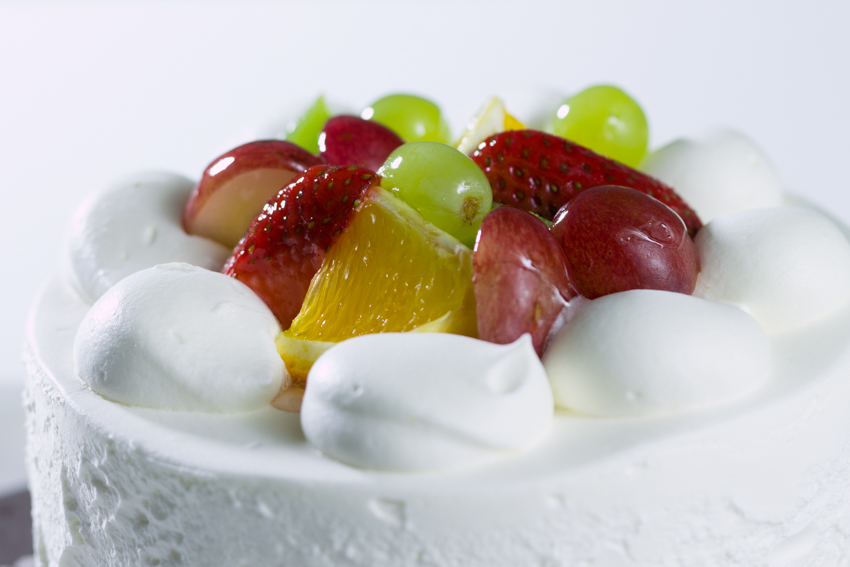 Image with Added Reflector (

photo not edited)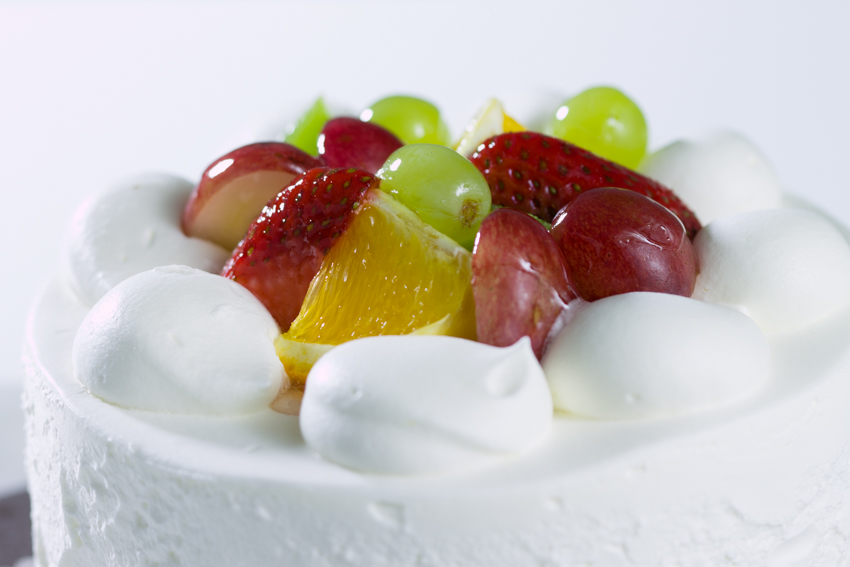 Image with Added Reflector and Closer Fill Light (photo not edited)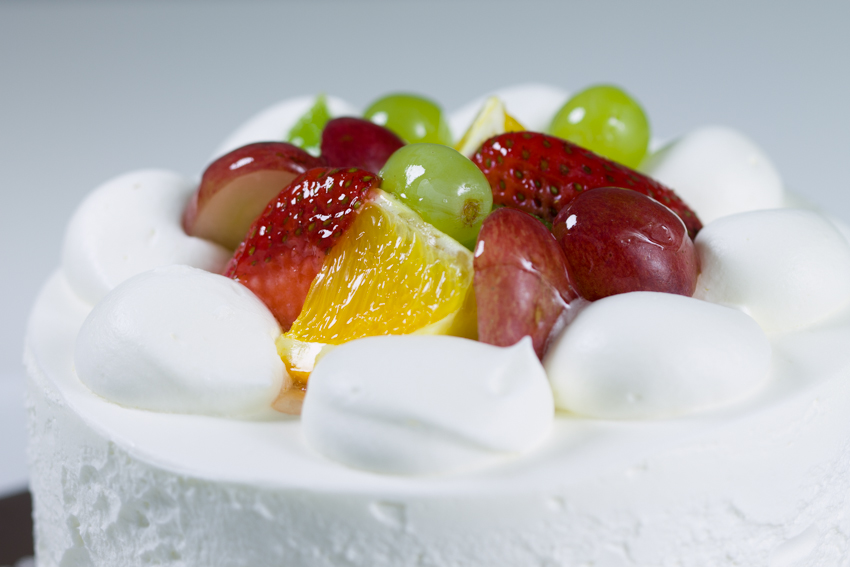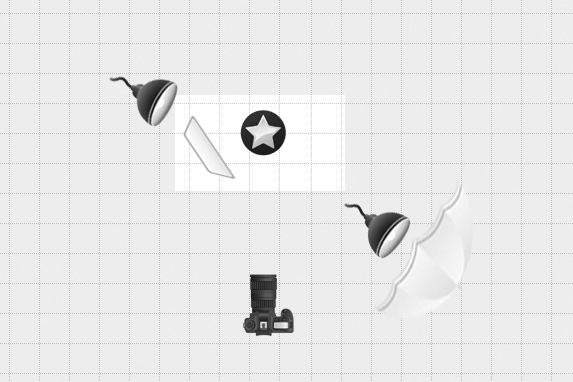 As it turns out I forgot to take a picture of the lighting set up. If you watch the video though, you can pretty clearly see how we set this shot up, step by step.
Basically we had a SpectroLED light with a reflective umbrella on the highest power setting as the main light – off camera to the right. A second light is placed behind the subject toward the left. This was our basic lighting set up (the first shot above). Then we added a small DIY reflector (second shot above) to fill in some of the shadow in the front part of the image.  We still weren't happy with the results, so we moved the fill light closer to the cake, to accentuate the glossy fruit.
As you can see the light lacked some power that we would have liked to have. We had to shoot at a very open aperture with a slow shutter speed. I would say this shot would have been impossible to take hand held. But as Studio Photographers, we should have access to a sturdy tripod that can help create images like this.
The Final Image (color correction + sharpening)
My recommendation is that this light isn't for everyone. While in my previous review, I raved about the SF-ABRL 160, for this review unfortunately, this light just fell a little short.
There is a brighter model of this light which may address any issues I had with the SpectroLED-9 called the SpectroLED-14 light which uses 1144 LEDs instead of 500, but the price is also a lot higher at $389.00. For special applications, this can be a very nice light, for example Jewelry as it can illuminate and create sparkles on large gem stones.
This SpectroLED-9 is also great for food and other simple still life, however, for models or other moving objects you may be better off with a small flash unit.
One thing I didn't mention so much in this review is the video application. I absolutely loved this light for video, it was quite soft and nice when paired with an umbrella. So if you are looking for a little bit of versatility that a flash can't provide, this light is for you. This light is also very lightweight at 2lbs and pretty durable from what I can tell so far. And with these LEDs rated to last 50,000 hours, you won't have to worry about maintenance as much.
My bottom line recommendation is get one if you need a inexpensive dimmable light for video and want to shoot jewelry or food. Because of the lack of light modifiers, this won't be as useful for other types of product photography such as glossy subjects and is just not bright enough for liquid. If you do get this light, make sure to turn off all other ambient light as it may affect your color temperature and hinder the control of your lighting.
You can purchase this unit here on B&H Photo's website.
Was this review helpful? Please let us know how to improve or if you have any questions by commenting on this article or emailing [email protected] 
Buy the Strobe directly from B&H as well as these other great accessories, mentioned in this product review here:
Also, check out other deals form our sponsor: Deals on professional photography gear.
A Huge Thanks to our Partner B&H Photo for providing us with the gear to review!
Watch our previous review on the Photigy youtube channel: Studio Strobe Light Review: SF-ABRL 160 Stand Mount Flash with LED Modeling Light
Watch on youtube: Continuous LED Lighting for Studio Photographers: Genaray SpectroLED-9 Light review