I had an opportunity to test the Elinchrom RX series strobe lighting in a studio environment.  I've got one of the most interesting Elinchrom's  to work with, the top of the line Style RX 600 Pro monolight and Digital RX 1200 Pro Power Pack with A3000N speed flash head.
Below are my Elinchrom RX review and personal thoughts and conclusions about these strobes.
 Build quality:
Being a long term Paul C Buff customer, I was thrilled by the Elinchrom build quality. Everything from the packaging to the assembly and the product itself are built exceptionally well.
Everything fits perfectly. All of the parts look nice and give you that "polished" feeling, similar to what you find with luxury cars. I've got two softboxes with the kit, a large stripbox and a square medium softbox. Both were very easy to assemble.  I figured out how to get it right in just a minute, without needing to look in the manual. (the manual is this is the last thing I usually check ;-)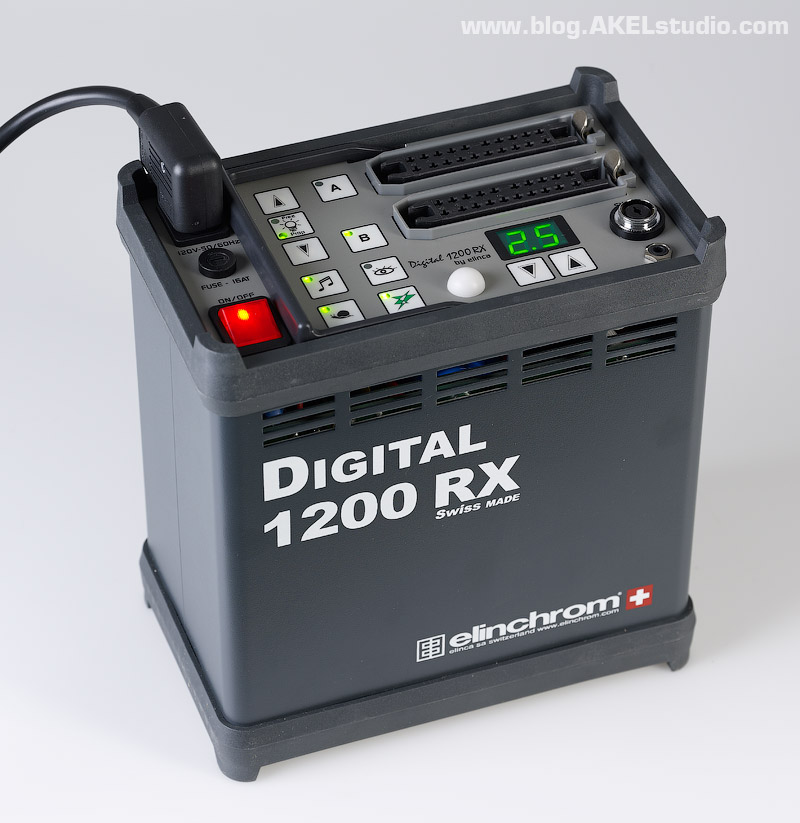 The light modifiers are very light, especially when compared to the Paul C. Buff softboxes. The speedring connection is secure, seemingly there is no way the softbox can fall off; even if you accidentally hit it, as it happens sometime with PCB stuff.
The way  the softbox attaches to the unit was slightly more confusing for me. I had to open the softbox and hold the speed ring from inside the box to be able to push it in to a socket. There was no way for me to connect it by holding the fully assembled softbox having the flash unit on a stand. I guess I could have placed the softbox on the floor and screw-in a flashhead in it… but still, it was cumbersome :-)
 But like I said, once attached it holds very securely.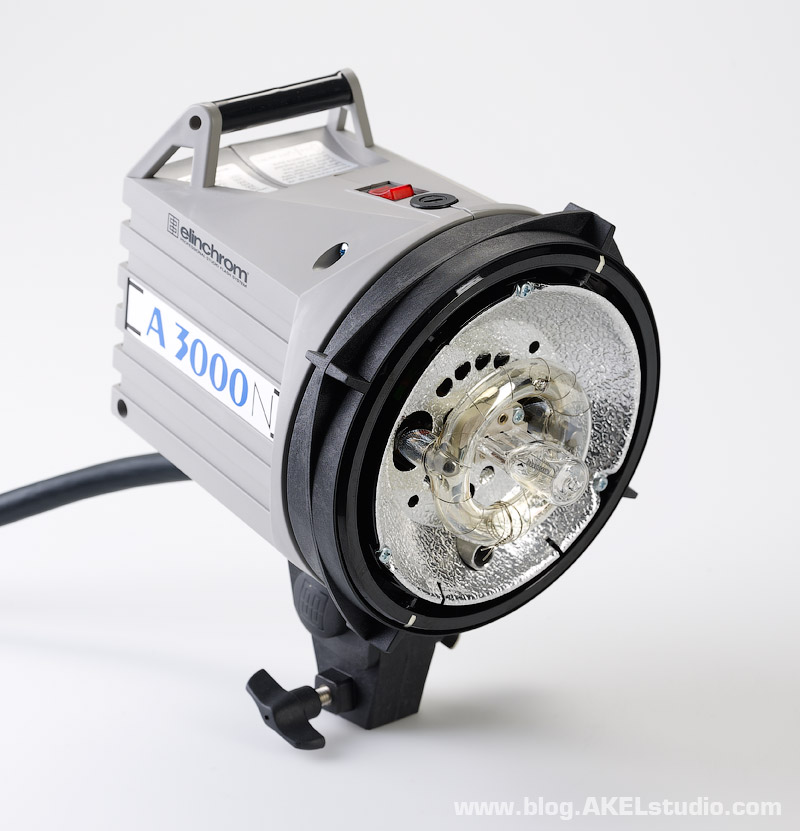 What I also found  great is that the flash head and mono-light stays cool during the whole photo shoot.  Quiet fans suck air from the back of the unit, exhaling the hot air inside the softbox. It even created an inflating effect, as the speed-ring attaches very securely to a light, leaving almost no escape for the air, making the flat front surface of the softbox to look like a pillow:-)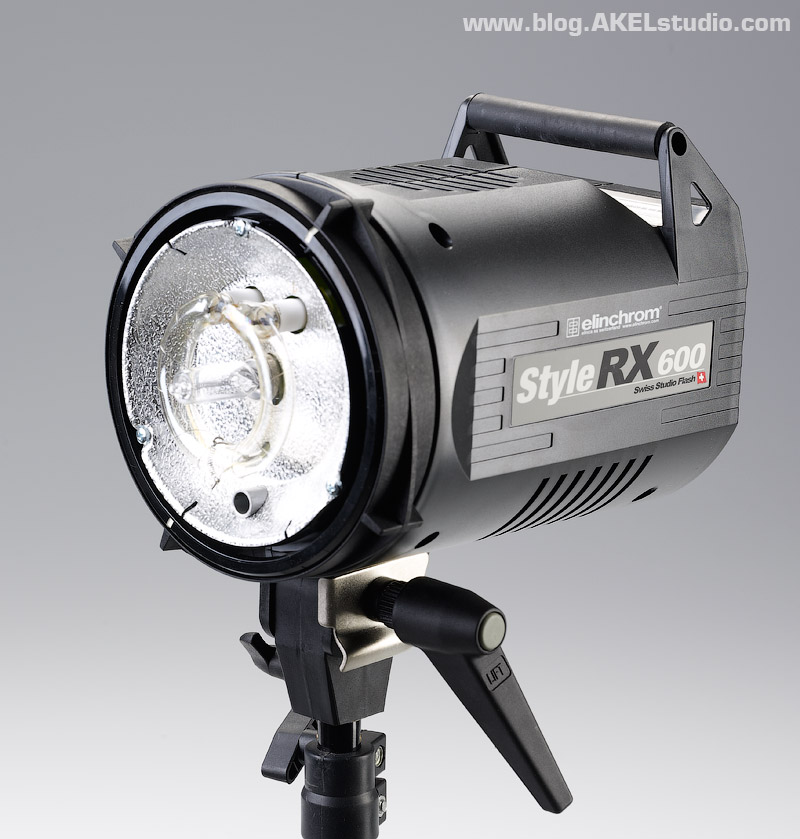 Controls and ease of use
On-unit Controls are straight forward and have completely self-explainable labels.  Again, no manual was needed to start working with Elinchroms :-) Take a look yourself, can you guess the purpose for each of the buttons?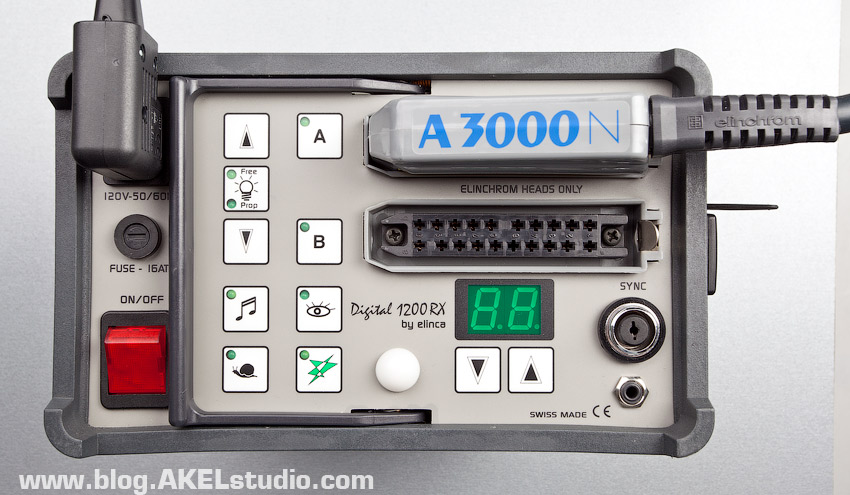 For me, the hardest guess was the snail button. I wasn't exactly sure what it did, but my second guess was for a slow charging mode (for weak power sources like battery powered ones), and I was right.
You can check your answers right on a product page.
Almost identical controls can be found on the mono-light unit.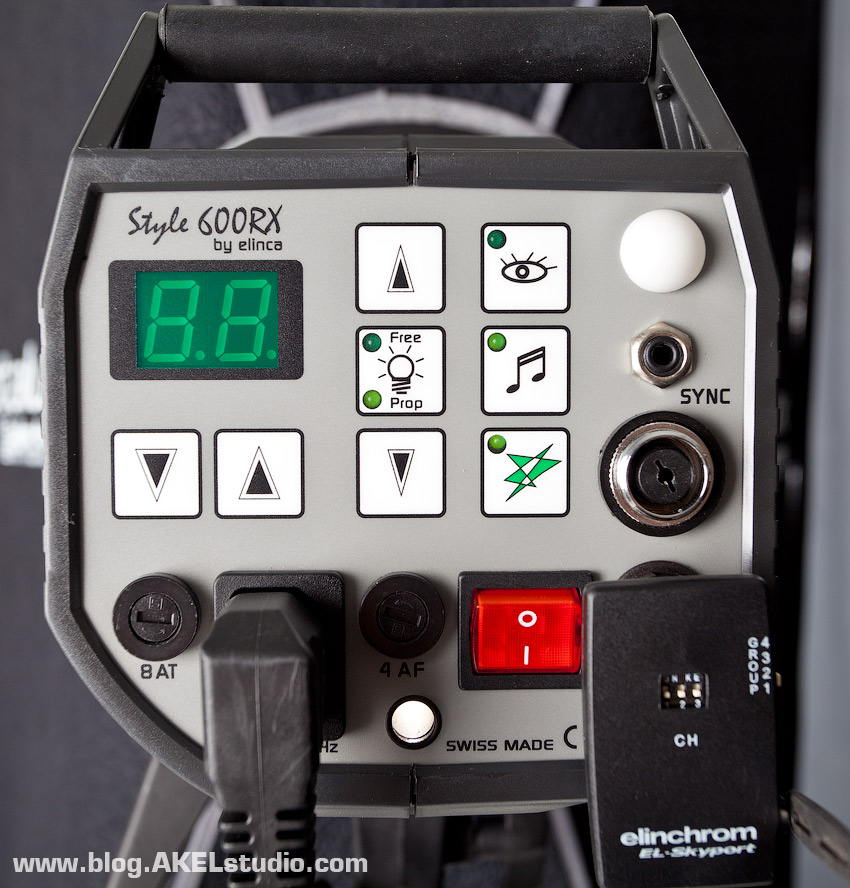 Product page of Elinchrome Style RX 600
Specification and features
Elinchrome Style RX 600:
Interface for Mac and Windows workstations. Control 1, 2, 3 or 4 studios each with 16 units, with EL-Skyport.
EL-Skyport, wireless control and triggering! Set flash power and switch on/off the modelling lamp with the Transmitter, or control and set all features with Mac™ or Win™ computer.
Low 5 V sync voltage protects digital camera systems.
Ultra consistent performance for every digital application. (QuickTime VR, multi and single shot digital imaging).
Rapid re-cycling times, maintaining stability.
Action freezing flash durations at full power Style RX 300-1/2850 s; RX 600-1/2050 s; RX 1200-1/1450 s / t=0.5
Optional remote control with large digital LED feedback display of all functions!
New dark grey, fire retardant, robust body shell encasing the die cast alloy chassis.
Lightweight elegance for easy "out of studio use".
Integral reflector, designed to maximise power efficiency combined with our plug-in omega flashtube precisely positioned avoids the inherent uneven illumination produced by non–concentric or U-shaped flash tubes.
Digital RX 1200 Power Pack
Ultra stable circuitry for absolutely consistent flash power.
Unique dedicated Digital S flashheads for QTVR and 4-shot durability and stability.
Budget priced Digital SE, SEE flashheads for single shot use.
High Speed A – and regular S heads available for fashion and general purpose photography.
Precise digital power display to complement advanced technology.
Digital power values compatible with the Elinchrom system.
Modelling lamps proportional or independent, with display.
Fast recycling consistent with precision and stability.
Remote control (optional), 2-way with read out. Extension cables available for tracking / wall installations
Surge resistant circuits, Auto Dump Function, twin sync sockets, ready beep, sensitive photocell, anti shock edgings, fan cooled.
Price / performance / quality – Elinchrom
value, just buy the best!!
EL-Skyport, wireless control and triggering! Set flash power and switch on/off the modelling lamp with the Transmitter, or control and set all features with Mac™ or Win™ computer.
Everything looks nice here, except flash duration. They call thse strobes "Action Freezing", but 1/2000 t.5 is not what I personally can call action freezing. From my experience with Einsteins, I can tell that 1/4000 sec t.1 (BTW, t.1 vs t.5 is a serious difference) or shorter will give you confidence that no motion blur will be presented on a splash shot. I have no idea why many photographers are thinking about Elinchroms as action freezing strobes.
Remote controls/triggering
I had the EL-Skyport RX Computer Remote / Trigger Set: trigger for a camera, 2 receivers for strobes and EL Skyport USB trigger/remote for PC/Mac. Very small and efficient devices: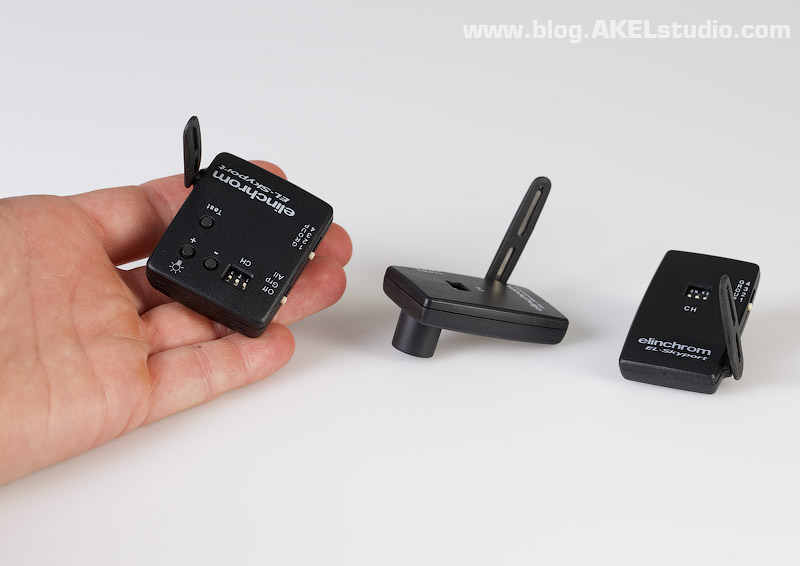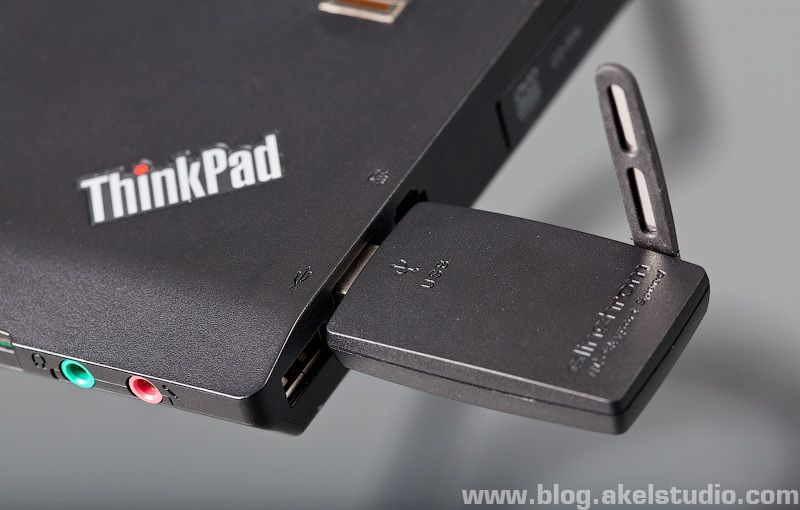 Software
One of the most interesting things for me was a remote triggering functionality provided by EL-Skyport Software.  There was no CD in the package, but they had a link to free download listed in manual. Too bad that it wasn't clickable:-).
Install was a breeze and everything started to work right after I've plugged in USB wireless remote unit called Skyport. Application control screens matched the controls on the units, while configuration and advanced settings let photographer to adjust many hidden settings.
Cool feature I found was a delayed flash you can set a group of flashes to fire one after another, up to precisely 1 millisecond.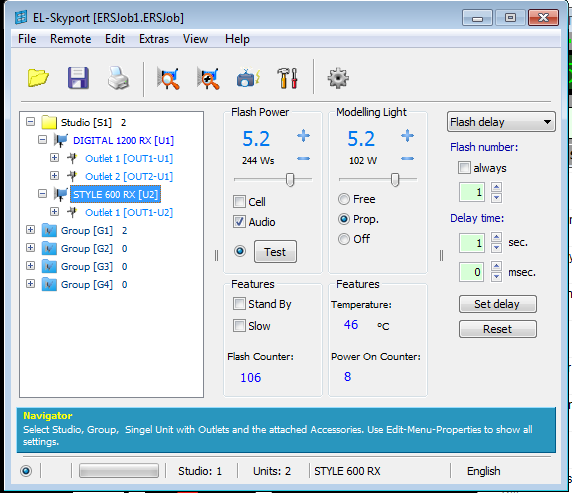 Price, Power and Flash Duration
As the model name suggests, I've got 600Ws mono-light and 1200Ws powers pack, which can fire one or two two flash heads. Nothing extraordinary with this power, and few 600 Ws mono-lights will suit many studio photographer needs. Set of two Rx 600 monolights with remote triggers will cost you about $1600.
Power pack is more expensive ($1500 alone), and paired with 2 flash heads it will cost about $3000 for a set. This is a good price for such a well built device flu of features.
I've read where many people were naming Elichchroms as a good action-stopping strobe. In fact, this was one of the reasons why I chose Elinchrom for the test.  I've been working with PCB Einstein mono-lights, priced lower than Elichrome Rx 600 ($500 vs $800) and delivering slightly more power (640Ws v.s 600ws), I was curious to compare their ability to freeze action.
What a disappointment!
While being well built and better engineered, Elinchromes simply can't compete with Einsteins when it comes to action stopping photography, like moving liquids and splash, for example.
I know that Ranger Quadra RX can fire up to 1/6000 sec short flash impulse through "hi-speed" outlet (B) but I never considered battery power pack to be a good choice for a studio photographer, and max power of  400Ws does not seems to be enough even for one head. Also, considering the price of RS Quadra with two A flash heads (with only one hi-speed) of  2,109.95 at BHPhotovideo, it seems slightly unbalanced to me.  Not saying that this is not a good product, just pointing to the fact that it can't compete with less expensive and more powerful Einsteins when it comes to freezing the action.
Below are the tests in different power levels of the Elinchrom RX 1200 unit with A3000N haed , using exactly the same spinning disk I had for Einstein tests.
 Elinchrom Digital 1200RX at minimum power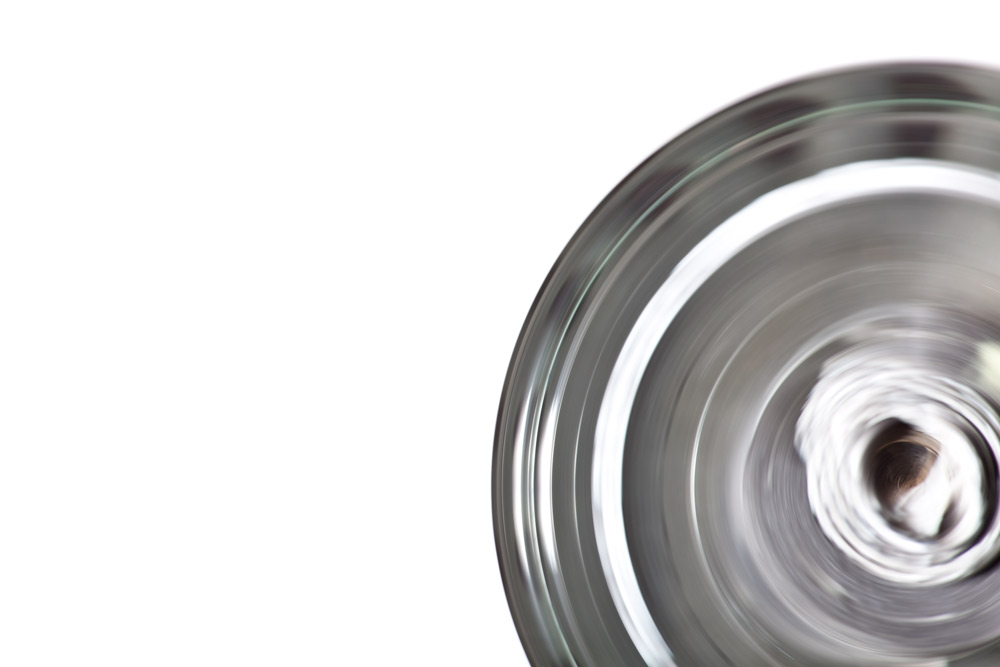 Elinchrome Digital 1200RX at medium power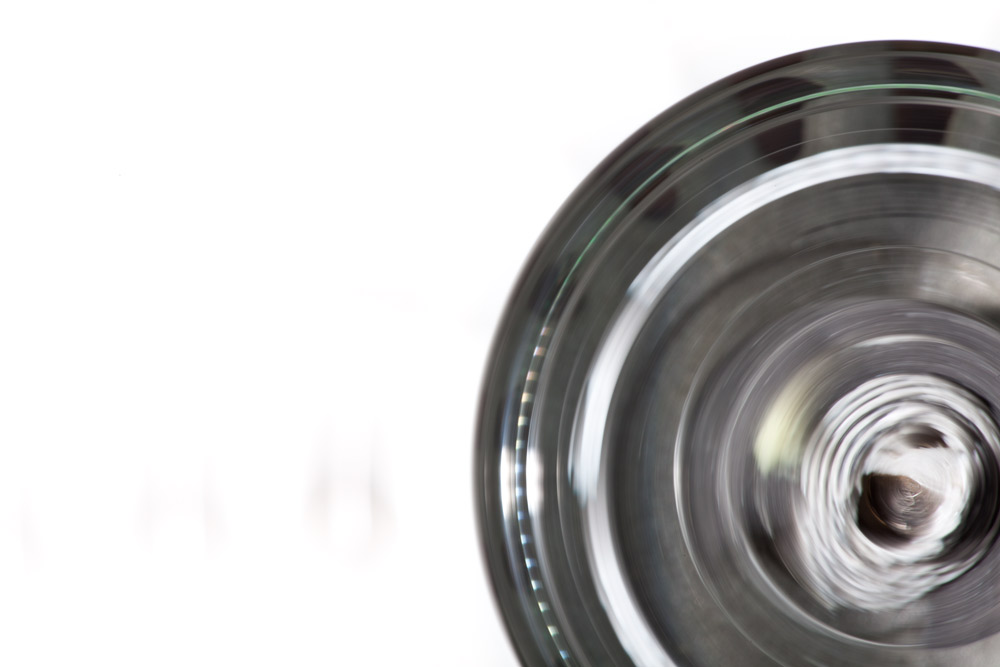 Elinchrome Digital 1200RX at maximum power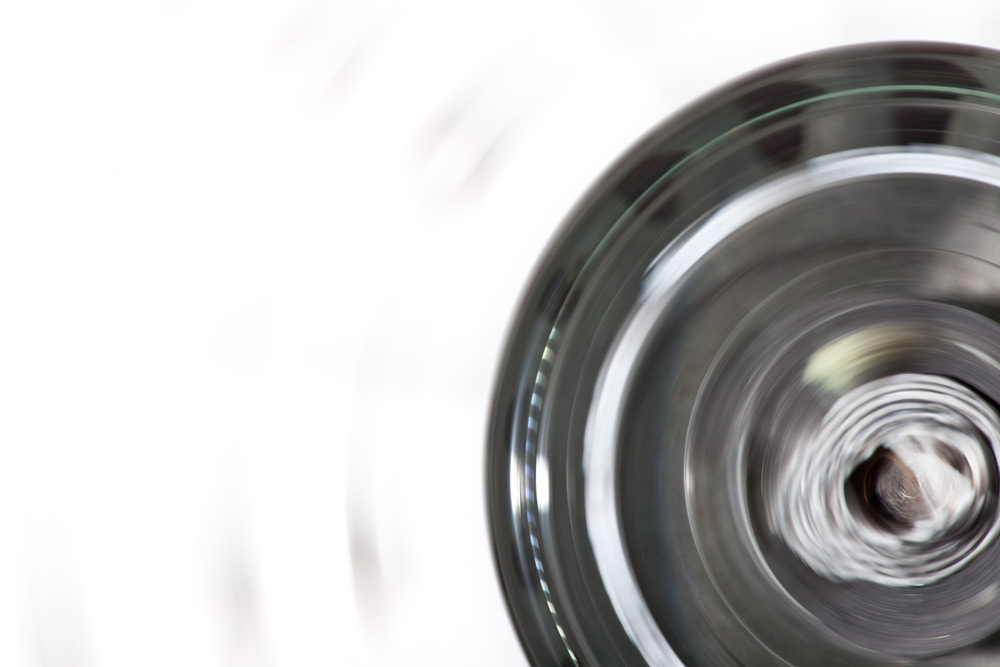 As we see, the Elinchrome Digital 1200RX behaves exactly like any non-digital strobe: it has least flash duration at maximum power. Same as in my test with Alien Bees 400.
For a second I thought that it might be spinning  speed of the disk got raised, and snapped a shot with Einstein E640 in close to a minimum power, without stopping the disk. Result is below.
Paul C Buff Einstein E640 in action mode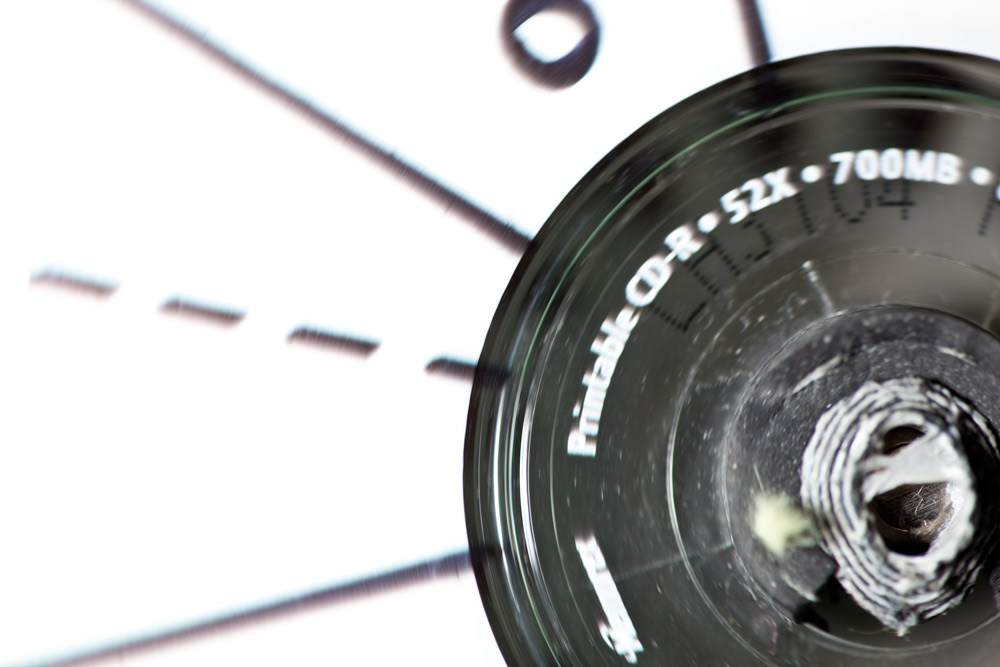 Color shift is evident, but 1/13000 sec of flash duration is evident as well:-) To see in-depth flash duration test I had with Einsteins and Canon speedlites, go there: Paul C. Buff Einstein 640 in-depth flash duration test: action v.s constant color mode.
If you are going to buy Elinchroms in US, I recommend to do it through BHphotovideo.com, they have one of the best pricing and great customer support. Saying this not because I affiliate with them, but based on my 7 year purchasing experience:-)
Elinchrom Digital RX 1200   Elinchrom Style 600
All the best!
Alex