Invicta Watch Shot: How to Photograph Watches with One Light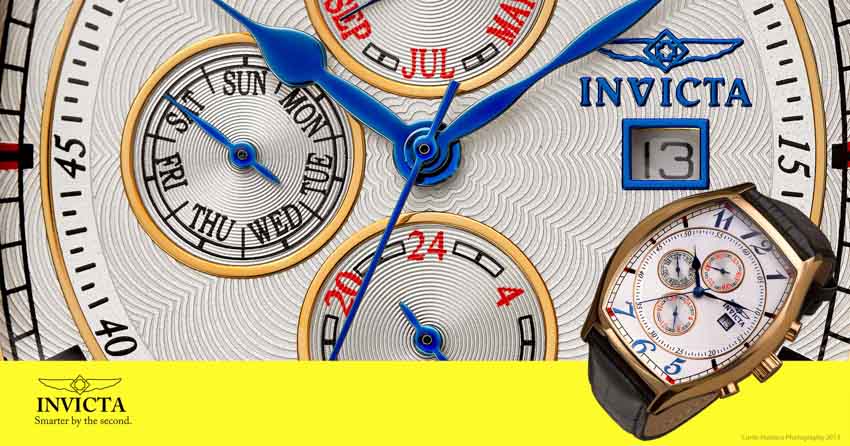 First off, let me beg for some forgiveness here!  haha :) I shot this in my living room.  My studio is full of projects right now that can't be disassembled so I took this at home.  I had to re-arrange the living room which apparently my wife was not too happy about! :)  Anyway, on to the shot . . . .
The inspiration for this shot was a double page ad in the WSJ (The Wall Street Journal Magazine) July/August 2013 issue.  The magazine had Woody Allen on the front cover and when you open the magazine you will see a two page ad for Brequet Watches.  Of course this isn't an exquisite Breguet Watch, but it is a very nice inexpensive watch.  If Brequet ever wants me to shoot their watches, I would be more than happy to do so, they are works of art! :)
On to this watch!
The first watch I ever shot was done with a similar set up to this. First time around I constructed a 4×6′ wooden frame from wood 2×2's that I bought at the local lumber store and covered with paper Vellum. Vellum works just fine, but there are two problems with vellum. One, Vellum is very fragile, you hit it and you will punch a hole in it. Two, apparently if you get Vellum to close to a hot light, it catches fire!!! So, for safety purposes, I only use the Savage Roll diffusion material.
This time around, I made my life a little easier on myself and bought a cloths rack and covered it with Savage diffusion material. This you can find on this site (click HERE ), Alex Came up with the idea and I thought I would just capitalize on that idea and use it. I bought two of these frames from Amazon.com for $12 Each. I only used one however for this shoot.
Before I get into the details of the shoot, I would like to make a comment on equipment. I shot this with a Medium Format camera, however, you do not need a medium format camera to take great photographs. I have one, so I use it.  But you can just as easily use your Canon, Nikon, Sony  . . . whatever you have. Is there a difference between a DSLR and a Medium format camera?"  Yes, there is in my opinion.  Can you tell the difference if you hold them up side by side?  Yes you can in my opinion.
Will anyone ever take the exact same photograph with a DSLR and Medium format camera and hold them side by side?  Probably not.   So shoot away with whatever you have.  If someday you have the extra $$'s and you want to play with medium format equipment, go for it.  But don't ever feel you have to have it to take great photographs! ;)
In the Gearbox

Camera:  Mamiya DF Medium format body
Digitial Back:  28 MP digital leaf back
Lens:  120mm Mamiya Macro
Strobe: 1 Paul C Buff Einstein
Radio Triggers: Pocket Wizard Flex TT system in Basic Trigger Mode
Tripods:  Bogen 3036 and Manfroto NeoTec
Tripod Heads:  Nothing special (ball heads.)
Light Stands:  C-Stands by Cowboy Studios
Light Modifier: Alex's Cloths rack conversion covered in Savage Diffusion material.
Additional Light Modifiers: White foam core (large and small), Silver sided paper.
Additional Materials:  Assorted Clamps
Watch Support:  Two Acrylic Tubes
Comuters: MacBook Pro (for tethering) and IMac for processing (i5 processor, 8gb ram)
Software Used:  Capture One (v7), Photoshop (CS6), Helicon (focus stacking)



The Final Images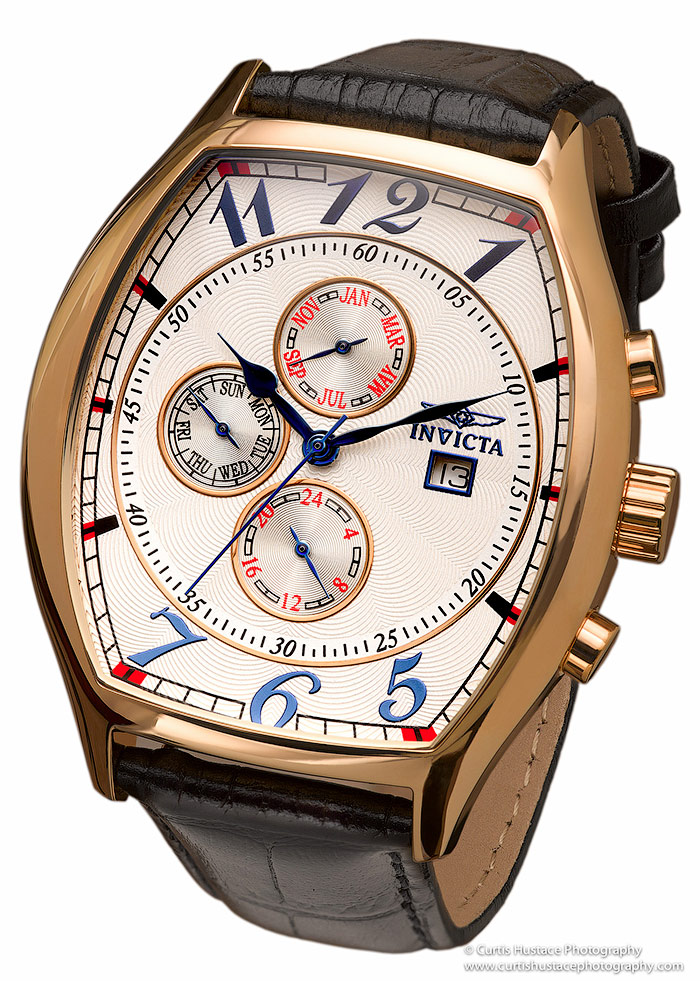 This is a TWO shot image though.  So I had to get a close up of the face, I just re-positioned the watch slightly and got this when it was all said and done!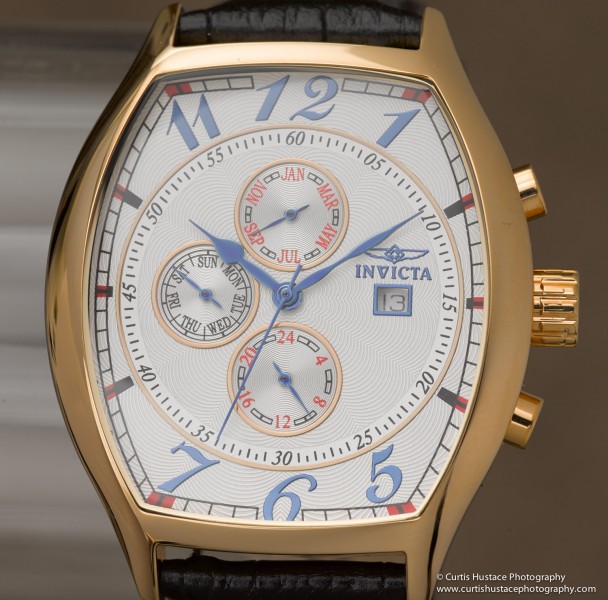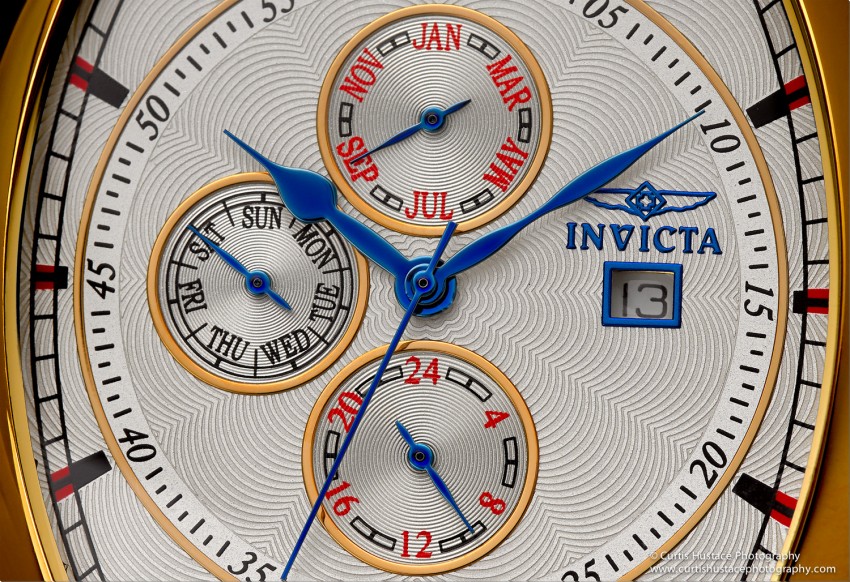 Then I composited the two and you have your final image!
I hope this was helpful, if you have any questions, feel free to contact me via email or Google+ or post your comments right here, under this post.