Fuji X100 vs Leica X1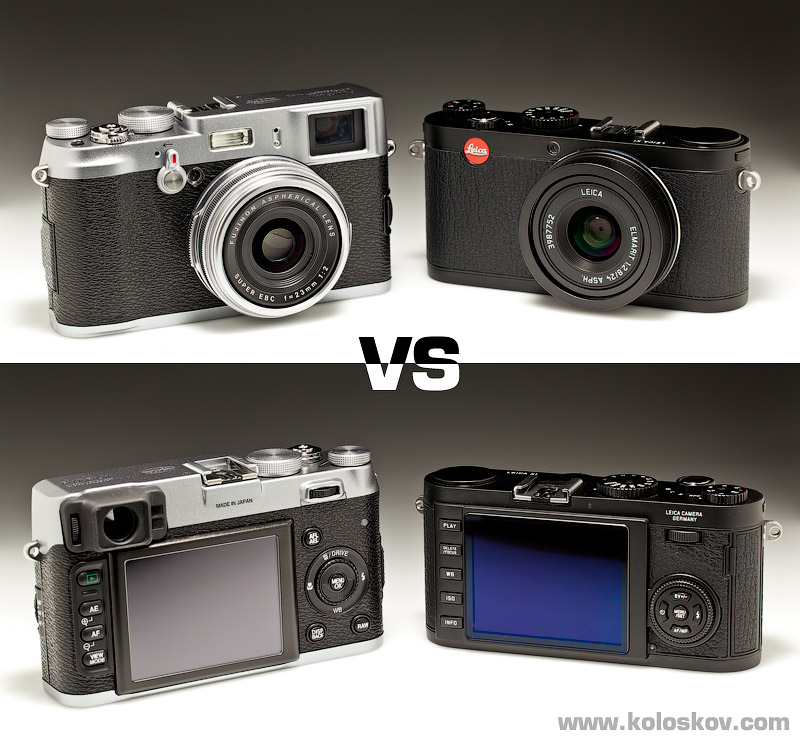 I've always been looking for something small like a point and shoot, but powerful and fast like DSLR to carry around with me. The first time I saw the Fuji x100, I already new that this would be a good candidate for the camera I was looking for. I have never been interested in Leica; I knew they produced good P&S cameras, but they're asking too much for their little red logo :-) However, the Leica is the closest competitor to the Fuji and it be unwise not to include it in the test.
Below is what I have discovered:
Both cameras are quite similar: they have the same APS-size sensor, the same focal length lens, the same megapixel count. Now lets take a look at the things that are important for me to know, the specification differences between both cameras. Highlighted in red is what I consider to be better:
Fuji X100 vs Leica X1: specification difference
Leica X1
Fuji X100
ISO Auto, 100, 200, 400, 800, 1600, 3200

ISO Auto, 200, 400, 800, 1600, 3200, 6400 (expandable to 100-12800) + 3 stop ND filter

Macro focus range 30 cm (11.81″)

Macro focus range 10 cm (3.94″)

Normal focus range 60 cm (23.62″)
Normal focus range 80 cm (31.5″)
Number of focus points 11
Number of focus points 49
Maximum shutter speed 1/2000 sec at any aperture
Maximum shutter speed up to 1/4000 sec:
1/4000 at f/8, 1/1000 at f/2, plus 3 f-stops built-in ND filter
Maximum aperture F2.8
Maximum aperture F2.0
N/A
Video: 720P: 1280 x 720 (24 fps)
Continuous drive: 3 or 2 fps
Continuous shooting: 5 or 3 fps
$2000
$1300
It looks like the Fuji has better looking specifications. However, a few things can be misleading: the Leica has a shutter speed 1/2000 across the entire aperture range, while the Fuji can be limited to 1/1000 when shooting with a wide open lens. I think this is why Fuji added a 3 f-stop Neutral Density (ND) filter to the camera, otherwise shooting at f2.0 in the bright sun might be very problematic.
Fuji has better macro performance compared to the Leica. Being that the Fuji has macro mode and Leica does not. 30 cm is not a macro distance for 35mm lens. However, adding a true macro mode to Fuji lens may compromise IQ. We'll see that later in the comparison.
Part one. Real life performance and first impressions.
The first series of tests were performed to imitate the real use of these cameras, the same way you might use them. We're shooting the surrounding landscapes, our kids playing, etc.
1. Body/design
This aspect is very subjective, but both my wife and I (her hands are half the size that mine are) liked Fuji better. A larger, heavier camera is easier to handle while shooting. Also, we both liked built-in image preview on the Fuji rangefinder (viewfinder) very much. It not a 100% "see-through" rangefinder you can attach to a Leica. It won't help you to manually focus, unlike the real rangefinder.  But who cares? It works in sort of a dual mode: you'll see the real stuff through the viewfinder and then as soon as you take your photo, you see the image preview of composed image right in the viewfinder! Pretty cool, isn't it?
One more advantage of having this unique image preview viewfinder: it works much better under bright conditions. Whereas the Leica's LCD isn't able to show you much of the details in similar conditions.
The Fuji has a fixed length lens, the same that you would find on old 35 mm film camera. In opposite, the Leica has a retractable trunk which looks odd on a non-macro, non-zoom lens. Maybe there's a reason for this? We'll see later in the second part of this test. There I'll show you how both cameras performed in studio.
Were there any lens imperfections that will become more visible? For now, the only one real drawback from the Leica lens design is that I was not able to turn camera on and play with menus or review the images without taking lens cap off. Not a big deal, but with opened long lens it's too easy to stick glass into something. Fuji doesn't have this problem, the camera fully functional with the lens cap closed. You can even take a picture of the nearest black hole :).
I also preferred the Fuji controls more than Leica. The aperture control is on the lens, shutter speed and Ev compensation dials around shutter release button. See it yourself: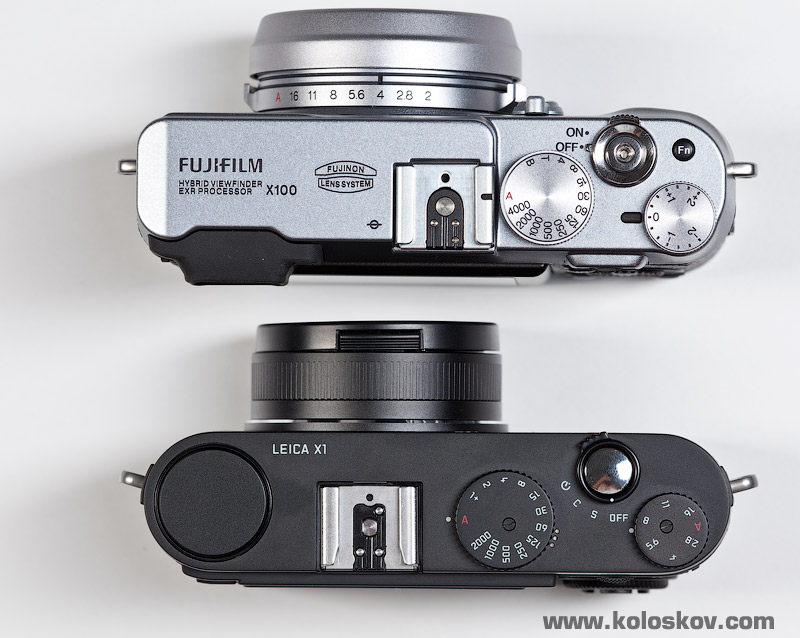 2. Landscape/outdoor
Leica mounted on Manfrotto giant head (looks funny, isn't it?):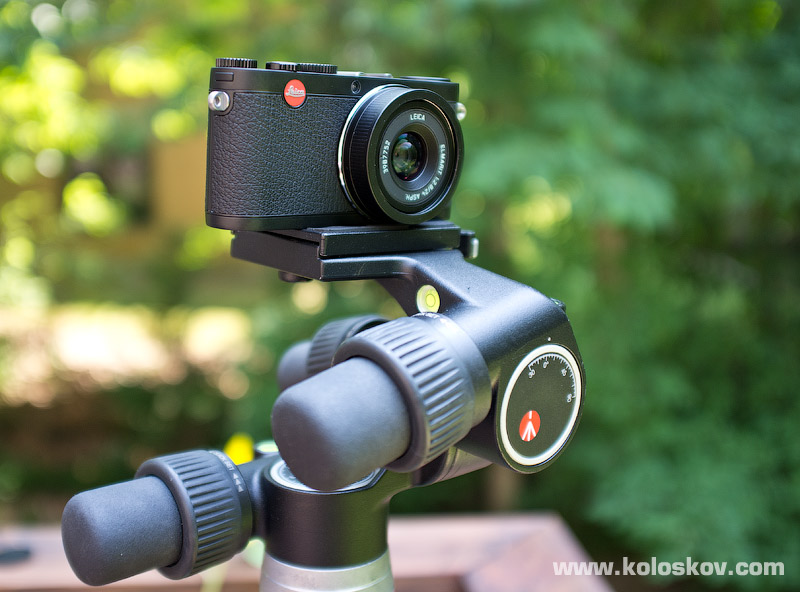 I used these settings on both cameras: Auto white balance, ISO was set to 100 for the Leica X1 and 200 for the Fuji X100, Center weighted metering mode on both cameras. The images were converted in ACR 6.4.1 using the default camera settings.
The composition: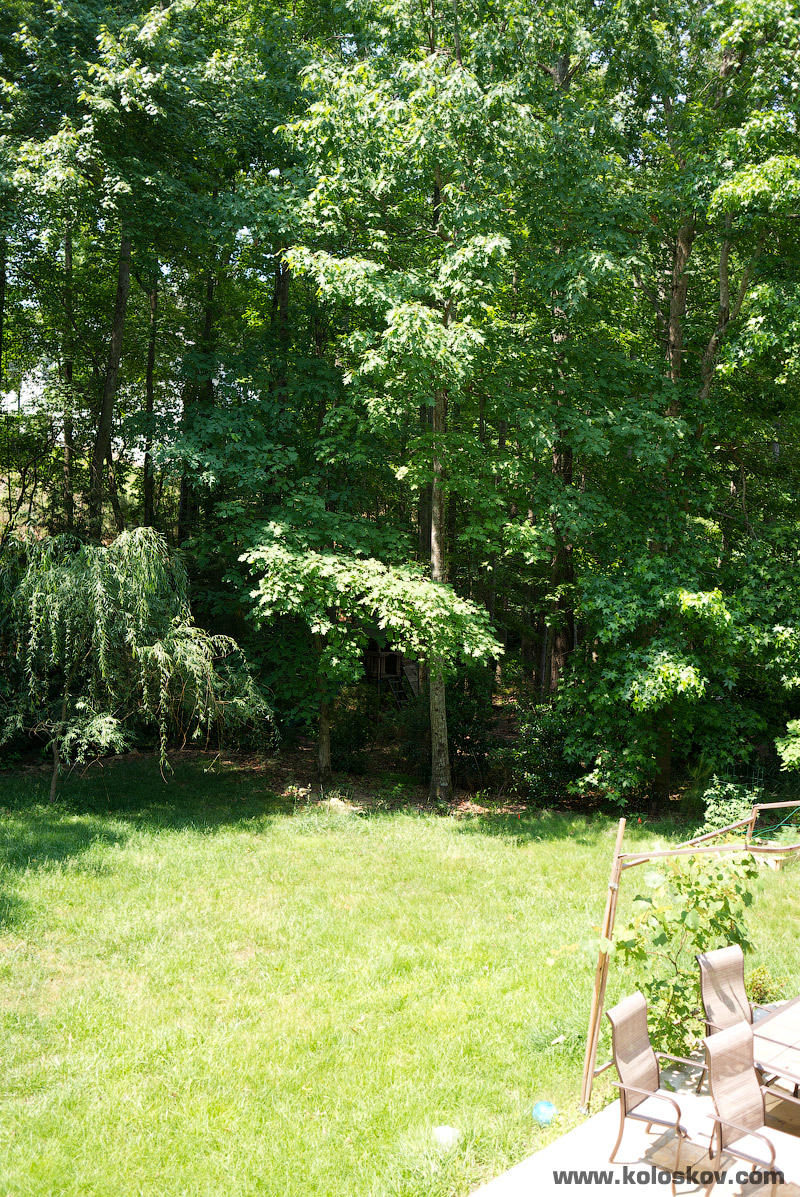 The image has both bright and dark areas. It was interesting to see how both cameras handled such broad dynamic range requirements
Below are 100% crops. Fuji X100 is what you see by default, mouse over to switch to Leica X1:
F2.8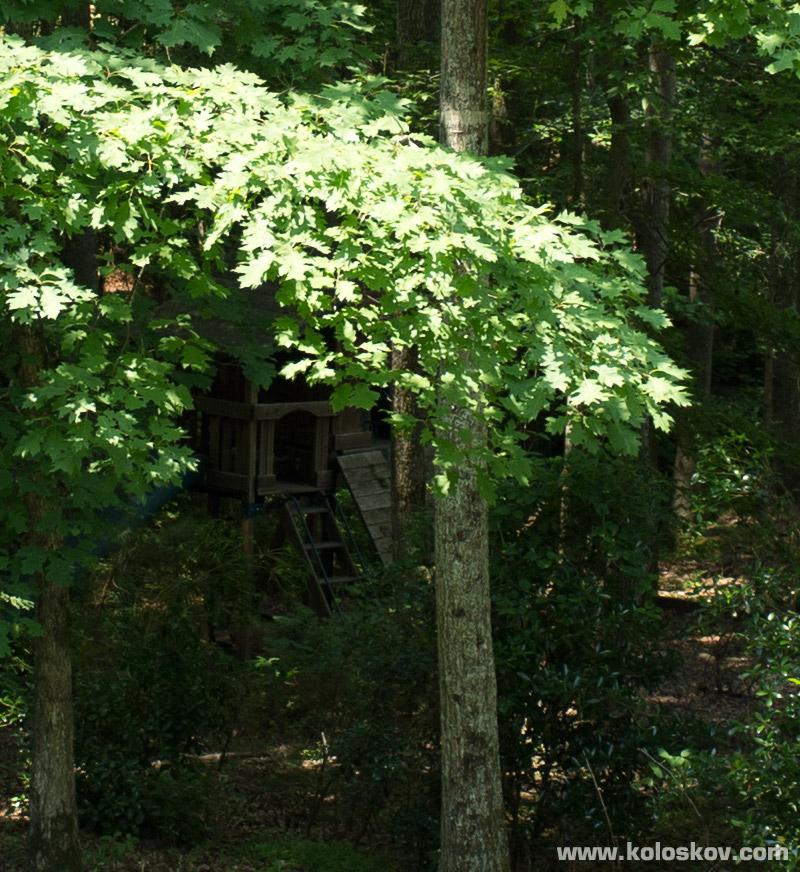 I can see no difference between them. Good shadow detail as-is on both cameras. Below is what I've got when tried to recover shadows and highlights: +50 Fill light and +85 recovery was applied.
This is Fuji. Mouseover to see Leica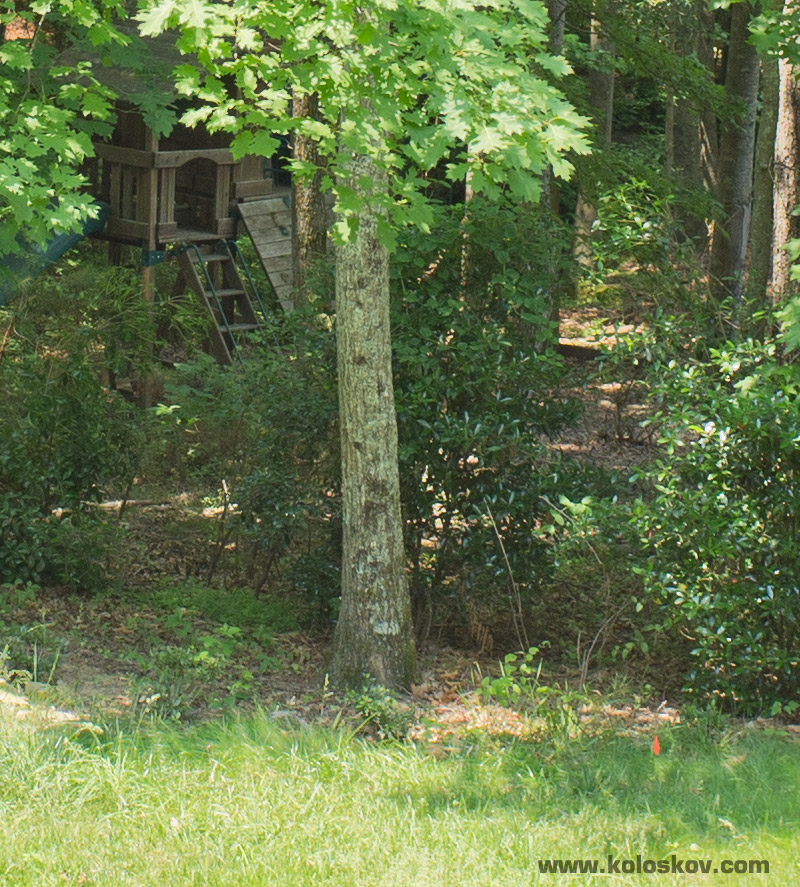 Again, no real difference between them. Both are good at mild shadow recovery, both are bad at highlights. I did not include the crop form another area, as you can download RAW files (links at the end of the article), but the overexposed areas around porch chairs were not recovered.
Another area (as-is image) on the same composition at F8:
Fuji X100 @ F8.0, mouseover for Leica X1 @ F 8.0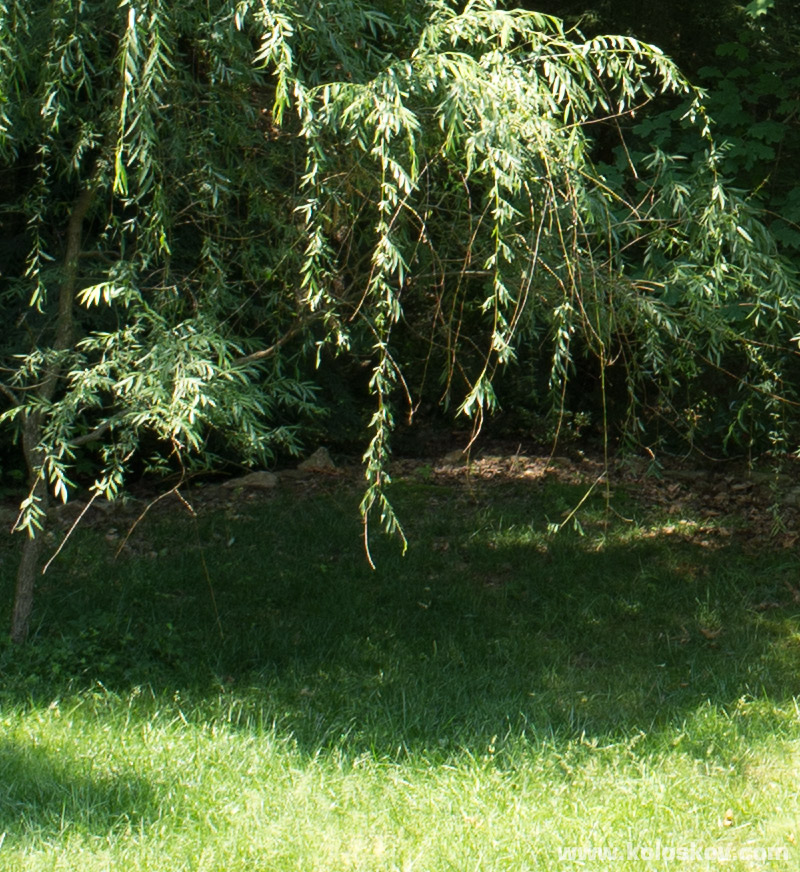 No difference, as expected.
3. Macro performance.
Both cameras have macro mode, but the Fuji has a real macro (10 cm minimum focusing distance) while Leica has minimum distance 30cm. So I've tested both lenses at 30cm distance in order to make the results comparable. The composition is below.
BTW, it was interesting to see the difference in bokeh between at F2.0 and F2.8 on this example below. You see a Fuji image at F2.8, mouseover to switch to Fuji F2.0: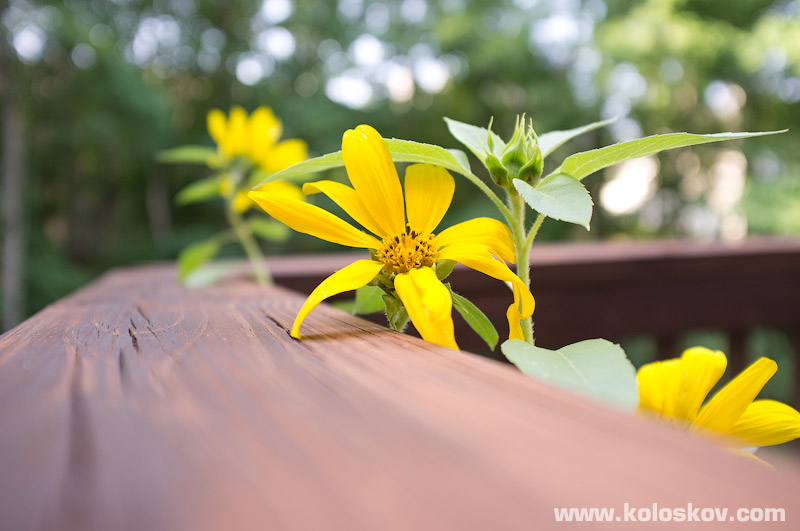 Now lets see a 100% crop of the same shot made by Leica and Fuji:
Fuji X100 F2.8, mouseover for Leica X1 @ F2.8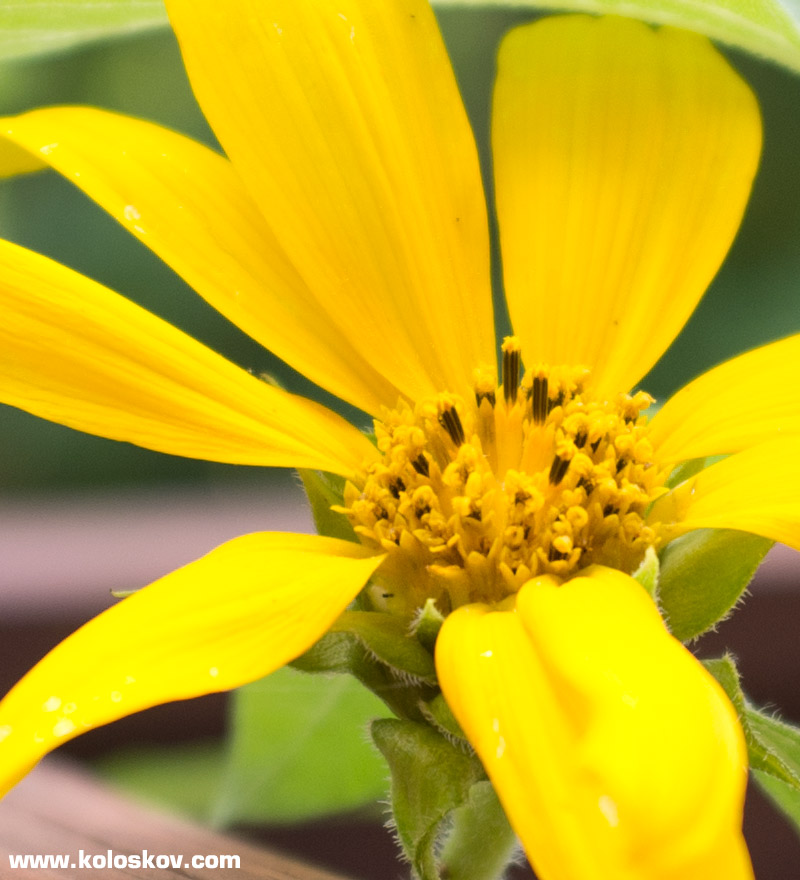 I see more details on Leica image, not much but slightly better. Colors are also better on Leica. It looks like Fuji  sacrificed some IQ to build a smaller lens (since it does not retract like the Leica) with the real macro capabilities. I have more evidence on how much Fuji sacrificed on the lens on the second part of this review (studio "synthetic" tests) which will be posted soon.
Back to our macro tests. Below is how the REAL macro looks like, by Fuji X100. Not bad for 35mm lens: 10 centimeters to the subject, full image @F4: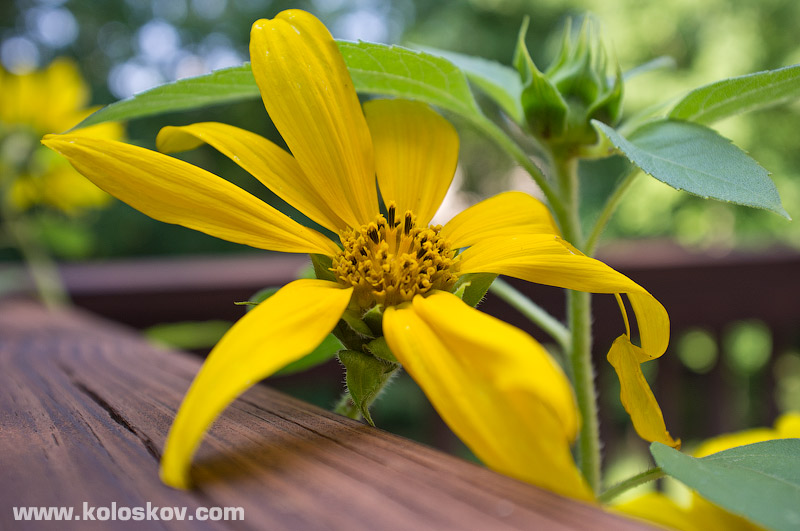 4. Focus performance:  shutter lag and auto focus speed
To test how good the focus is, I was trying to shoot our 3 and 5 year old kids at play. Unfortunately, the delay between the time I've pressed a shutter release and picture was taken was too long for both the Fuji and Leica. Almost no in-focus images were made. Usually, the target moved out of focus by the time the camera decided to compose a shot. It was very disappointing to see the same shutter lag and slow focus that I've experienced with Canon G11 on such expensive P&S cameras. I was expecting more, considering price and wide angle non-zoom lenses.
I was really enjoying Fuji rangefinder (some people say this is not a real one, but I am fine calling it rangefinder:-). It was much easier to look into the small hole and have camera pressed to my nose to compose a shot, rather than have to hold it a foot out in front me. I also feel like Fuji was little bit faster (in both focusing and shutter lag). Can't measure this though, lets call it subjective feeling.
Below are the best I was able to get (it terms of the sharpness during these "catching the moment" shots):
Leica X1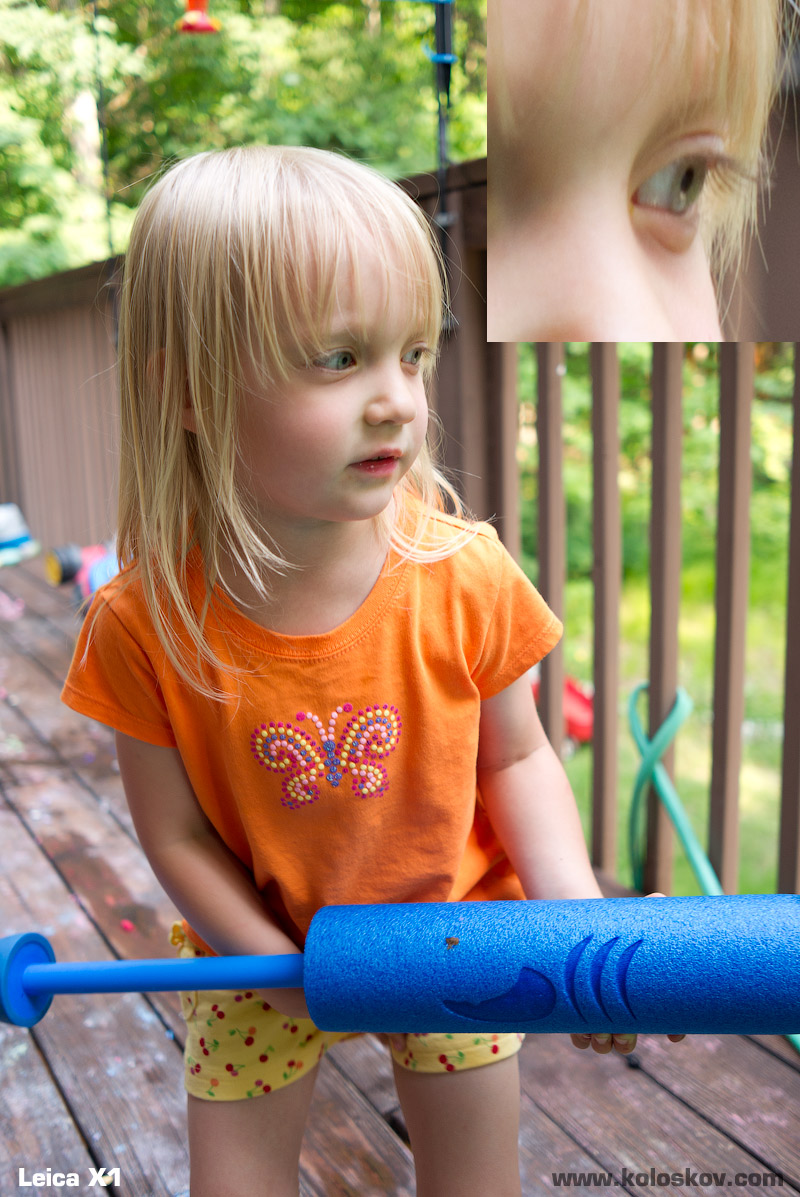 Fuji X100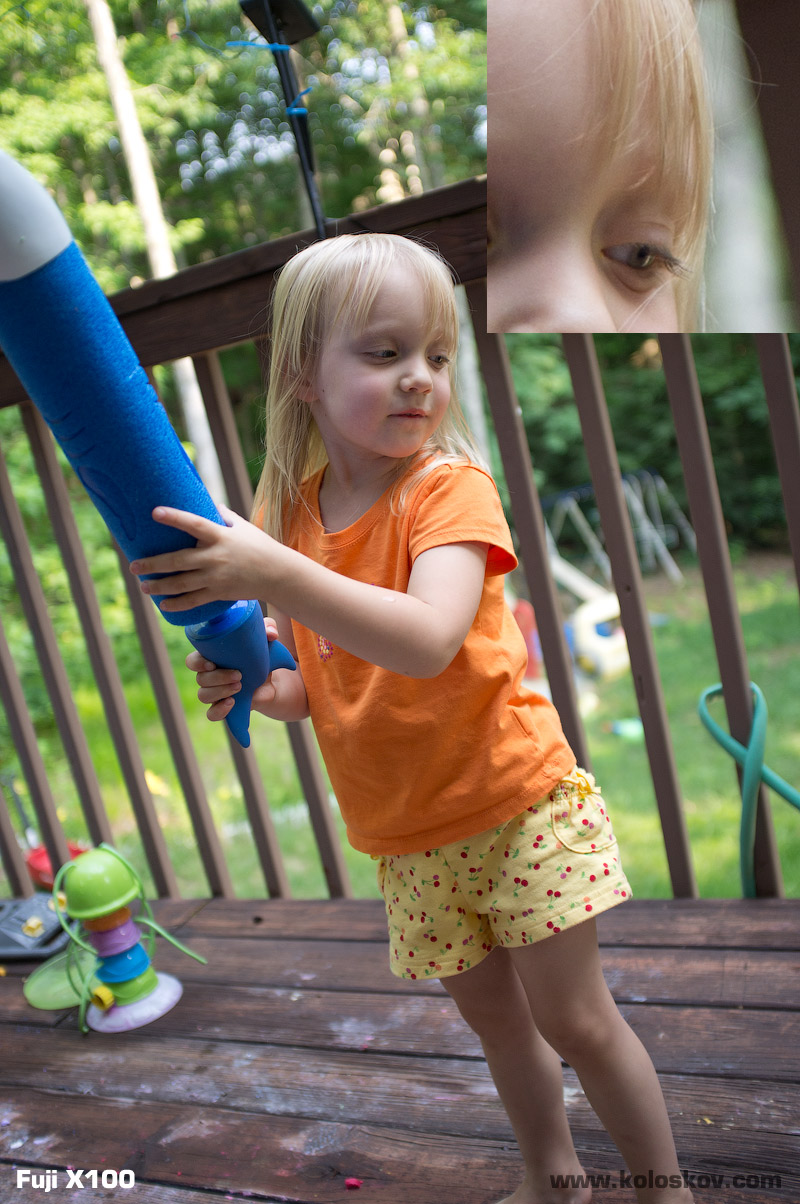 In most situations, the Leica X1 was able to produce a better skin tones at default settings. Both images above were made with  Auto WB, both were little bluish so I've changed WB to daylight on both in my RAW converter. The Leica's colors look more natural to me.
5. Image Quality at higher ISO
The same situation I had with color can also be seen on high ISO images. Both pictures below were taken at Auto WB, ISO 800:
Leica X1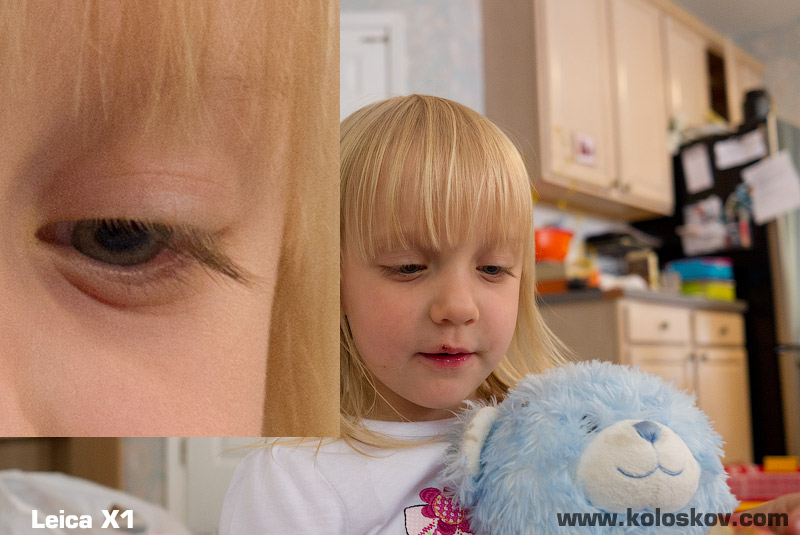 Fuji X100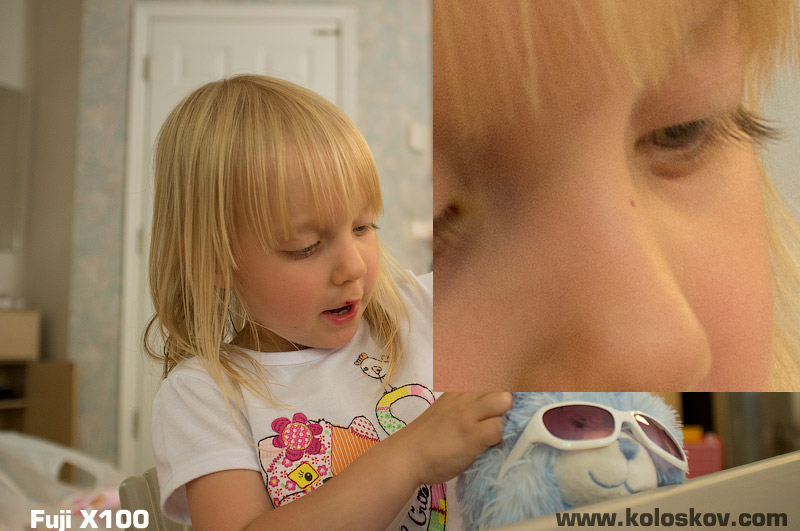 Leica has a better algorithm to calculate white balance.  Obviously when shooting RAW any file can be easily adjusted in ARC. But how many owners of these cameras will shoot in RAW? BTW, at ISO 1600 image does not impress me at all in either cameras. It's very similar to what I am getting from my DroidX2 phone.
6. Video capabilities
It is simple: Fuji has 720P video, Leica does not have it at all.
Fuji X100 as-is sample video:
Looks pretty nice, vivid colors and good quality video. However, the camera was not able to adjust focus on the second child after she got close to the camera. The focus was off after I've moved back and stayed on the child farther from the camera. Software bug?
Here is the RAW files from both cameras, feel free to download and take a look yourself: leica-x1-fuji-x100-samples-by-koloskov.zip.
Both cameras was provided by BHphotovideo.com. If you decide to buy Fuji X100 or Leica X1 and want to support my blog, you can use these links below to get them from B&H:
---
In the second part (I need more time to put everything together) I'll show you the results from more sophisticated and much more precise in-studio tests. In such conditions it was easy to see the difference in lens performance, as well as the sensor and A/D converters on both cameras. The test was similar (but not the same) as I had for Hasselblad H4D-50 and Leaf Aptus-II 12 recently.
Do not want to miss it? Subscribe here to get articles delivered by email.
Continue to part two:
Please share if you like the article. Thank you!
P.S I was looking for a good review on the same subject, and found a good one at SteveHuffPhoto.com: My Leica X1 and Fuji X100 Comparison photos, and my thoughts… Take a look, he has a good info over there!
DPreview.com has a nice information about Fuji x100 as well.
Many thanks to Evan (@etantum) for fixing my broken English:-)
Just a quick reminder about my upcoming Liquid Splash photography masterclass which will  be this Saturday, 11th in Atlanta.  Only one day left, you still have a chance to attend or refer a friend to earn $50:-)
Alex