Leica X1 vs Fuji X100:
Two hi-end point and shoot cameras compared.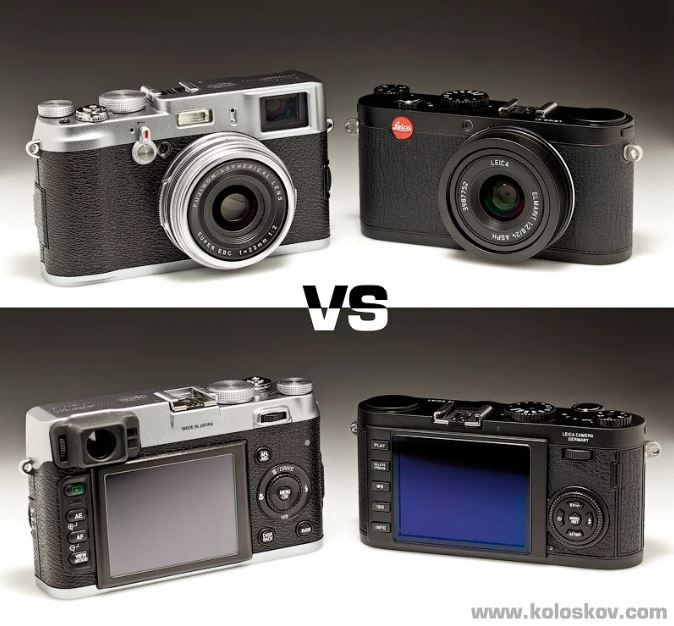 Leica X1 vs Fuji X100 biased comparison by professional photographer
I've always been looking for something small like a point and shoot, but powerful and fast like DSLR to carry around with me. The first time I saw the Fuji x100, I already new that this would be a good candidate for the camera I was looking for. I have never been interested in Leica; I knew they produced good P&S cameras, but they're asking too much for their little red logo 🙂 However, the Leica is the closest competitor to the Fuji and it be unwise not to include it in the test.
Below is what I have discovered:
Both cameras are quite similar: they have the same APS-size sensor, the same focal length lens, the same megapixel count. Now lets take a look at the things that are important for me to know, the specification differences between both cameras. Highlighted in red is what I consider to be better:
Fuji X100 vs Leica X1: specification difference
Leica X1
ISO Auto, 100, 200, 400, 800, 1600, 3200
Macro focus range 30 cm (11.81″)
Normal focus range 60 cm (23.62″)
Number of focus points 11
Maximum shutter speed 1/2000
sec at any aperture
Maximum aperture F2.8
N/A
Continuous drive: 3 or 2 fps
$2000
Fuji X100
ISO Auto, 200, 400, 800, 1600, 3200, 6400 (expandable to 100-12800) + 3 stop ND filter
Macro focus range 10 cm (3.94″)
Normal focus range 80 cm (31.5″)
Number of focus points 49
Maximum shutter speed up to 1/4000 sec:
1/4000 at f/8, 1/1000 at f/2, plus 3 f-stops built-in ND filter
Maximum aperture F2.0
Video: 720P: 1280 x 720 (24 fps)
Continuous shooting: 5 or 3 fps
$1300