Pentax? I almost forgot that they are exists, was never looking at their 35mm DSLR cameras, knowing that there was nothing for me as a professional shooter. On other hand, my older friends in photography were talking about medium format film Pentax cameras with every respect possible.
Now Pentax announced their first medium format DSLR with 40 MP sensor, sized 44x33mm, more like older Hasselblad or Phase One sensors.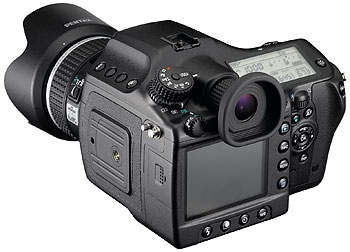 Pentax 645D 40MP DSLR camera back
Nice? Looks very promising for me:-)
with 40Megapixels, 44x33mm sensor, and price  "to be" not more that $15000 or even round $10K, this camera can be a good addition to a medium format digital world.  However, there are few things which may stop potential buyers like me from buying this Pentax:
1.  No digital back, meaning sensor is built-in, like on my Canon Mark III.
2. 14-bit A/D converter (v.s 16 bit on the rest medium format DSLRs) , like on my Canon. Again.
What does it means for me:
Same headache with the cleaning sensor from dust. Pentax has image sensor cleaning function by supersonic vibration, like mine Canon, and I know how it works, not as good as it sounds. when i use my Cambo master PC   tilt-shift  adapter, dust is a big issue. Especially in product and jewelry photography I am specializing.  One of my  reasons to go with medium format DSLR in nearest future is ability to clean sensor easily, not by dipping swabs in the camera.
While Pentax claims  dynamic range of 11.5 f stops, 14 bit sensor is not what I am looking for in $10K+ medium DSLR camera.  This  sensor can be really good, but it never will have the same "true" dynamic range as 16bit sensors from Hasselblad, Leaf or PhaseOne has.
I still think that it will be a great, affordable camera,  but for me it is like a half-step to a medium-formal world. And I always prefer big steps, or even jumps:-)
Below are the spec and futures, enjoy your reading!
645D Specifications
Type
TTL autofocus, auto-exposure medium format digital SLR camera
Effective Pixels
approx. 40 megapixels
Image Sensor
Total pixels
approx. 40.01 megapixels
Type
CCD with a primary color filter
Size
44mm x 33mm
Pixel size
6.0 μm x 6.0 μm
Dynamic Range
11.5f - stops
Recorded Pixels
Still
JPEG: L[40M]7264x5440 pixels, M[32M]6528x4896 pixels [21M]5376x4032 pixels, S[13M]4224×3168 pixels [7M]3072×2304 pixels
RAW: [40M]7264×5440 pixelsFormatsStillRAW(14 bit): (PEF/DNG), JPEG: (Best), (Better), (Good), RAW+JPEG: availableRecording file FormatStillRAW (PEF/DNG), JPEG (Conforms to Exif 2.21),
Conforms to DCF (Design rule of Camera File system) 2.0Sensitivity
( Standard output sensitivity )Auto:200-1000, Extension:100, 1600 (1EV steps or 1/2EV steps or 1/3EV steps)Storage MediaSD, SDHC memory card (Dual slot)White BalanceAuto, Daylight, Shade, Cloudy, Fluorescent Light ( D, N, W, L), Tungsten Light, Flash, CTE, Manual setting 1, Manual setting 2, Manual setting 3, Color temperature setting (3 types) with WB fine adjustmentCustom ImageBright, Natural, Portrait, Landscape, Vibrant, Muted, Reversal Film, MonochromeViewfinderTypeTrapezoid prism finderFocusing screenNatural-Bright-Matte focusing screenField of viewapprox. 98%Diopter adjustmentapprox. -3.5 – +2.0m-1Magnificationapprox. 0.62 x (with D FA645 55mmF2.8 at infinity),
approx. 0.85 x (with FA645 75mmF2.8 at infinity)MonitorTypeTFT color LCD monitor, Wide angle view, Brightness adjustable, Color adjustable, AR Coating, Reinforced glassSize3.0 inchDotsapprox. 921,000 dotsPreview MethodOptical preview, Digital previewPlayback1 Image, 2 Image, 4 Image, 9 Image, 16 Image, 36 Image, 81 Image, Enlargement (up to 32X, scroll available), Image Rotation, Folder view, Slideshow, Histogram, Resize, Cropping, Bright/Dark area, Calendar view, Index viewDigital FilterPlayback ModeMonochrome, Extract Color, Color, Base Tweaking, SoftFocusing SystemTypeTTL phase difference detection, 11-point autofocus system (SAFOX IX+)Focus ModeAF-single, AF-continuousFocus PointAuto, Select, CenterSuperimposeavailableExposure ControlMetering SystemTTL open-aperture 77-segment meteringMetering Mode(1) Multi-segment metering, (2) Center-weighted metering, (3) Spot meteringExposure RangeEV 2-21 (at Standard Output Sensitivity 200 with 55mmF2.8)Modes(1) Program AE, (2) Sensitivity-Priority AE, (3) Shutter-Priority AE, (4) Aperture-Priority AE, (5) Shutter and Aperture Priority AE, (6) Metered Manual, (7) Bulb, (8) X speedExposure
Compensation±5EVAE LockavailiableShutterShutter TypeElectronically controlled vertical-run focal plane shutterShutter SpeedAuto:1/4000 – 30 sec, Manual:1/4000 – 30 sec (1/3 EV steps or 1/2 EV steps), bulbDrive Modes Single-frame, Continuous (Hi, Lo), Self-timer (12s, 2s), Remote control (0s, 3s ), Remote Continuous Shooting, Interval, Multiple Exposure, Exposure Bracketing, Extended BracketingContinuous
Shooting
approx. 1.1 fps, RAW(PEF)+JPEG(40M at starstarstar): until approx. 13 fps, RAW(PEF): until approx. 13 fps, RAW(DNG): until approx. 13 fps, JPEG(40M at starstarstar): until approx. 15 fpsMirror Lock-up
Shootingavailable by dedicated dialFlash SynchronizationHot shoe, X-sync socket, sync-speed: 1/125 sec., P-TTL, high-speed-sync, wireless-sync with PENTAX dedicated external flashDust Removal Image sensor cleaning function by supersonic vibration (DR II) with dust alert functionTimeWorld Time75 cities (28 time zones)Data FolderFolder NameDate (100_MMDD···), PENTX (100PENTX, 101PENTX···) ,File NameStandard, User customizePower SourcesRechargeable D-LI90 lithium-ion battery
Optional AC adapter also available.Battery LifeNumber of
recordable imagesapprox. 800 (23°C) *, approx. 700 (0°C), approx. 650 (-10°C)Playback timeapprox. 440 minutes (23°C) *, approx. 400 minutes (0°C), approx. 380 minutes (-10°C)InterfacesUSB2.0 (Hi-Speed:mini B type), Video output (mini phone type), HDMI output (type C mini), DC input , Cable switch, X-sync socketsVideo OutputCompatible with NTSC and PAL formatsLens MountPENTAX 645AF2 bayonet mountUsable LensPENTAX 645AF2, 645AF, and 645A mount lensesDimensionsapprox. 156(W) x 117(H) x 119(D)mm (6.1 x 4.6 x 4.7 inches)Weightapprox. 1480 g (52.2 oz.) loaded and ready with battery and two SD memory cards
approx. 1400 g (49.4 oz.) without battery and SD memory card.Bundle softwarePENTAX Digital Camera Utility 4 (Ver.4.20)
Other features
1. HDR (high dynamic range) function to create one composite image with an extra-wide gradation range from three images with different exposures
2. Dynamic-Range Expansion function to compensate for both whitewashed (excessively overexposed) and blacked-out (excessively underexposed) areas
3. Digital Level function for easy checking of the image's levels
4. Automatic compensation of distortion and lateral chromatic aberration (available in combination with the D FA 645- and FA 645- series lenses)
5. Versatile white-balance control system, including the CTE mode designed to emphasize the dominant color components of the captured images, which works especially well with such scene like sunset.
6. Mirror shock/operation-noise reduction function to assure smooth, quiet operation of the mirror during shooting
7. Attachment of copyright credits on recorded images
8. Compatible with the SDM (Supersonic Direct-drive Motor) autofocus mechanism, designed to assure smooth, quiet operation using the supersonic motor installed inside SDM lenses
9. HDMI terminal (for type C mini connectors) for high-resolution image data output
10. User-friendly, color-classified control buttons/switches, based on the color universal design concept
11. PENTAX Digital Camera Utility 4 software package, including a RAW-data processing applicattion (based on the popular SILKYPIX RAW-data processing engine developed by Ichikawa Soft Laboratory) and browser application.
Read more on Pentax.jp