Entry Level Studio Strobe Light Review: SF-ABRL 160 Stand Mount Flash with LED Modeling Light
Welcome to a new segment on Photigy where we will be providing in-depth reviews on affordable studio photography equipment. We've partnered with B&H Photo to give our readers a hands on look at various different lights, modifiers, and other studio gear.
Our first few reviews will be aimed at beginner budget equipment, and later we will provide reviews for more advanced equipment. These reviews are not going to be extremely technical, while we understand the need for such technical reviews, we find that having a practical review without a lot of technical jargon is more useful.
Our first review is of a little known slave flash, the SF-ABRL 160. Don't let the name fool you, this little light has a lot of great features and may be a perfect solution for your studio set-up.    
Comparing to Broncolor and PCB AlienBees strobes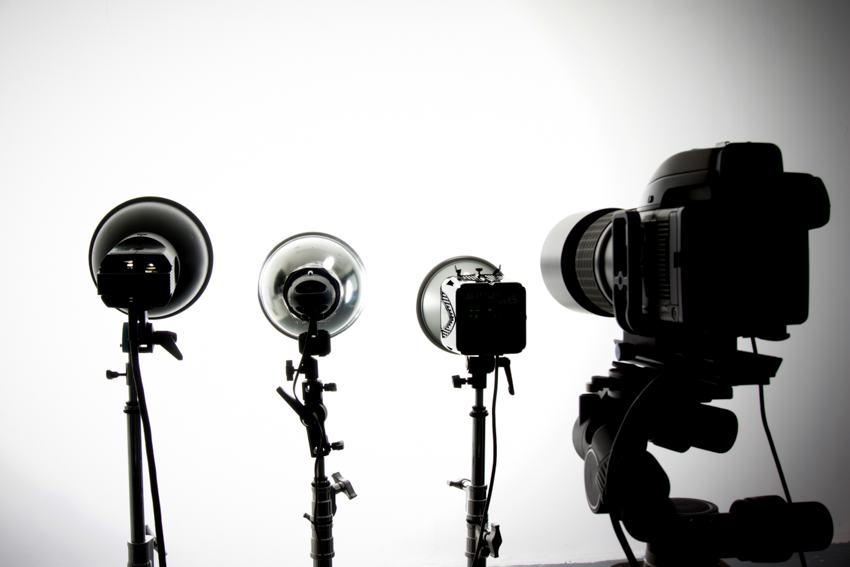 Overview of the SF-ABRL 160
The Impact SF-ABRL 160 is a lightweight mono light that attaches to any stand with a 5/8" stud. What is a very unique feature about this light is that it has an LED modeling lamp, which we have been hoping that the bigger lighting companies will someday implement. This light is pretty powerful for its size at 160 w/s and the price is amazing. You can purchase this light at B&H Photo for only $84.95 which is 2 and half times less than an AlienBees B400 Flash Unit at $224.95 (which has the same maximum power of 160 w/s).
Some of the key differences between the SF-ABRL 160 and the AlienBees unit is power variability and recycle time. So we aren't saying that the SF-ABRL 160 is better than the AlineBees unit, but rather an alternative or an addition to it. The SF-ABRL 160 has optional light modifiers that you can purchase including two different sized softboxes (you will a see a review for one of them below), a snoot, and barndoors. There's even a flash head kit you can purchase with the barn door and snoot included.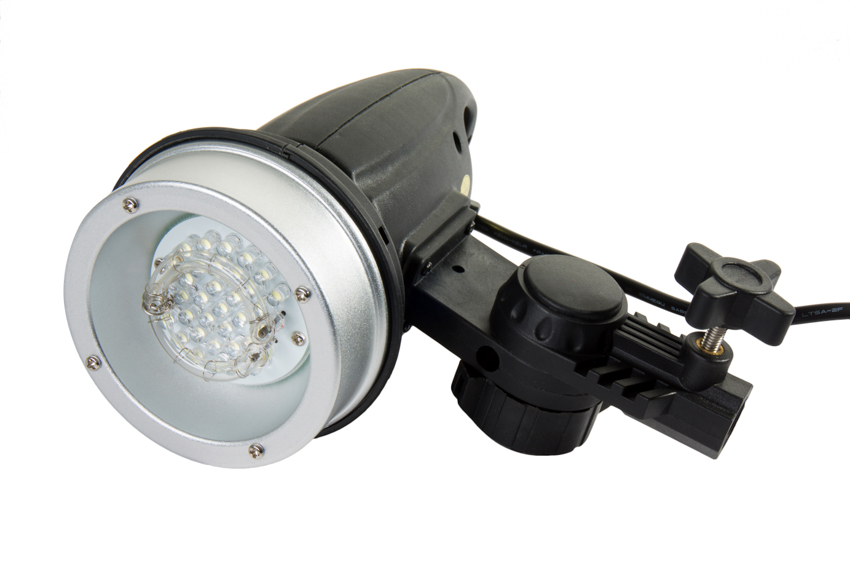 Technical Specs and Features
Maximum Power in Watt/Seconds – 160
Modeling Lamp – LED
Recycle Time: We want to say 1 to 1.5 seconds (but we do not know for sure)
Flash Power Settings an Variability – Full Power and Half Power
Operation Voltage – 120VAC
Receptacles – Built in Umbrella Socket and Built in "speed ring"
Mount Type  =5/8 Stand Mount
Slave Cell – Optical
Sync Socket – 3.5mm phone (Comes with Sync Cord – PC to Mini)
Dimensions – 7.5" x 6.5" x 4.2" (19cm x 16.5cm x 10.7cm) – Length x Diameter x Height
Weight – 1.5lbs (.68kg)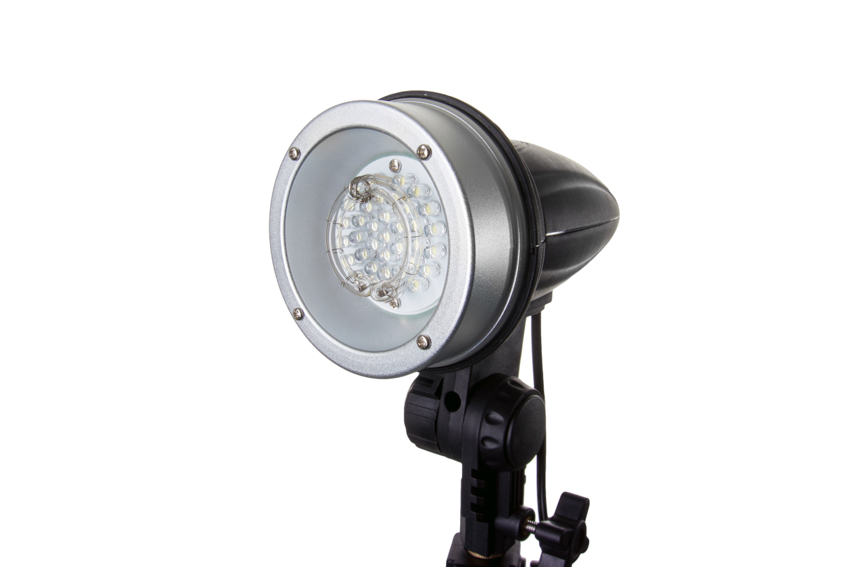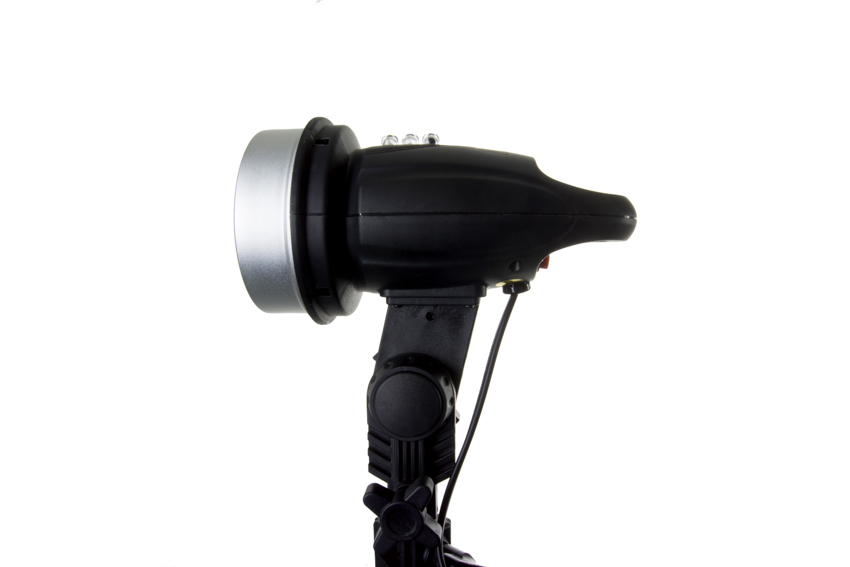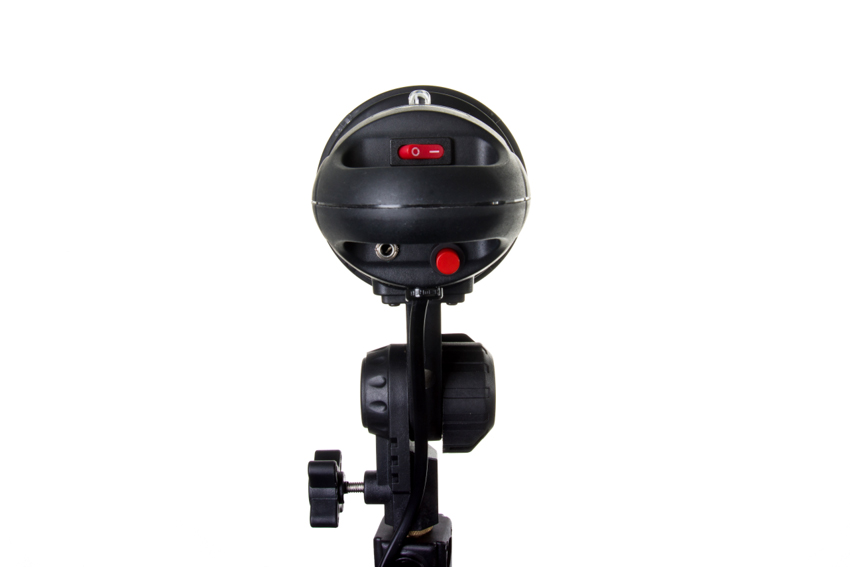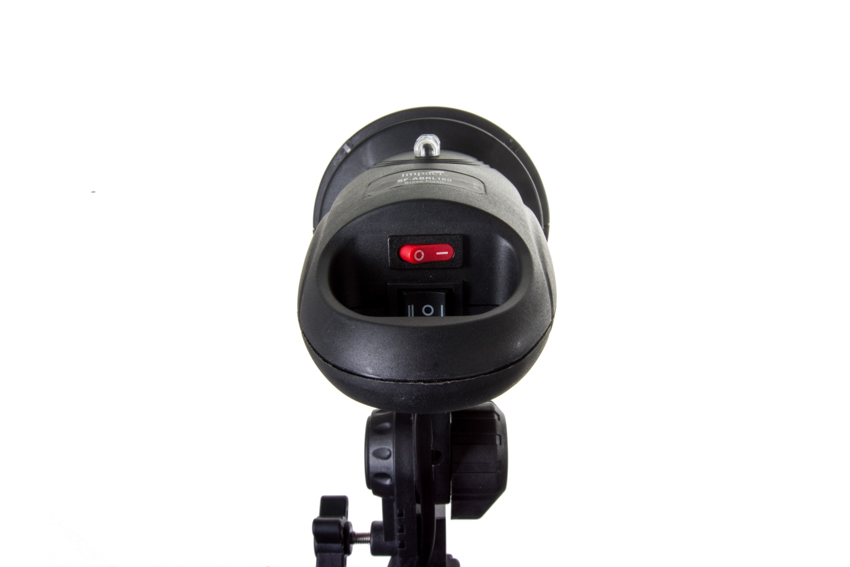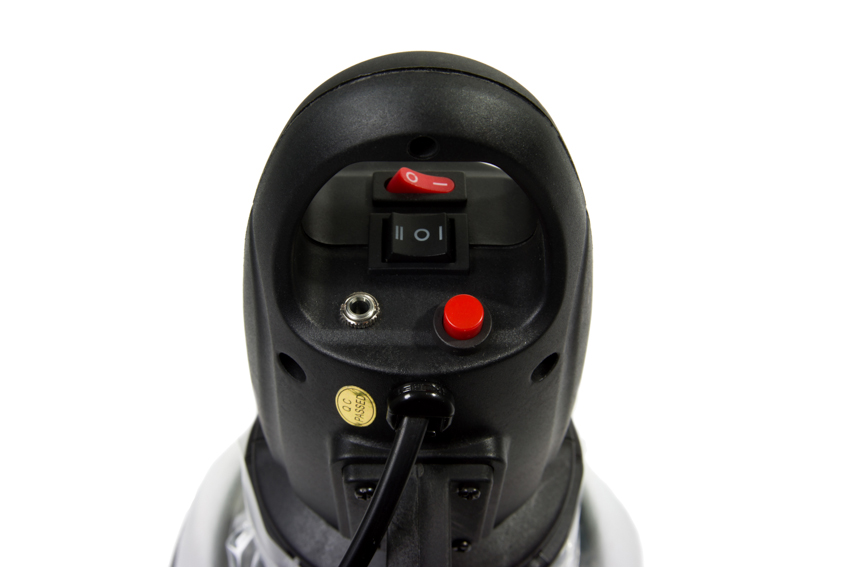 Swivel Umbrella Adapter
One interesting issue we encountered while using this flash (especially with an attachment) was that it could not swivel from side to side. We could easily adjust the light up or down, but not left or right.
This isn't really a problem if you are using standard light modifiers like a reflector, snoot, or barn doors, however, when you use a softbox (particularly with this unit as it has a fixed "speedring" it limits the mobility of this light. Alex came up with a brilliant idea of adding a swivel umbrella adapter and the problem was solved.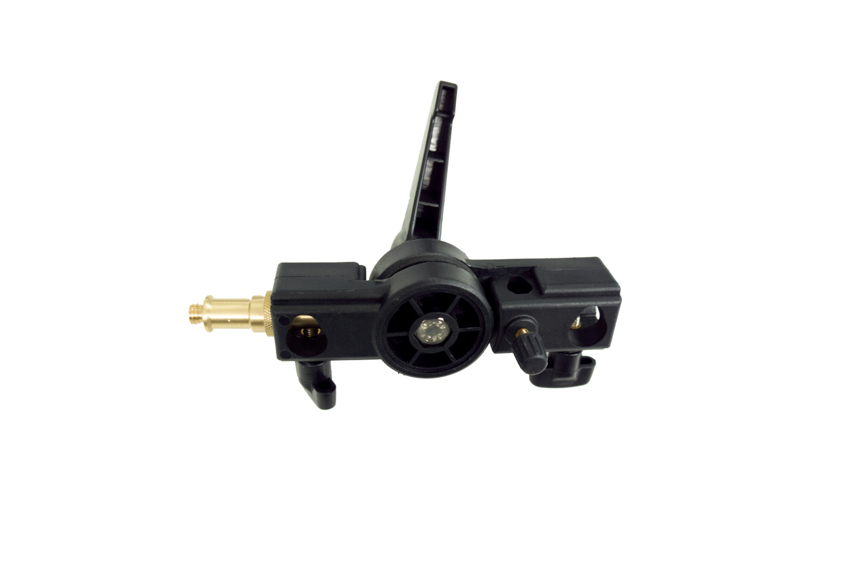 DIY Reflector
Another issue that we easily solved for was creating our own reflector for this unit. Now we want to caution anyone trying to do this that this could potentially damage or harm the unit or yourself (and we are not responsible for any harm or damage coming from this modification), so please use common sense and caution when doing this modification. Basically we just taped a PCB Einstein Reflector to the unit. The reflector's diameter was just large enough to where it would not cover the bulb.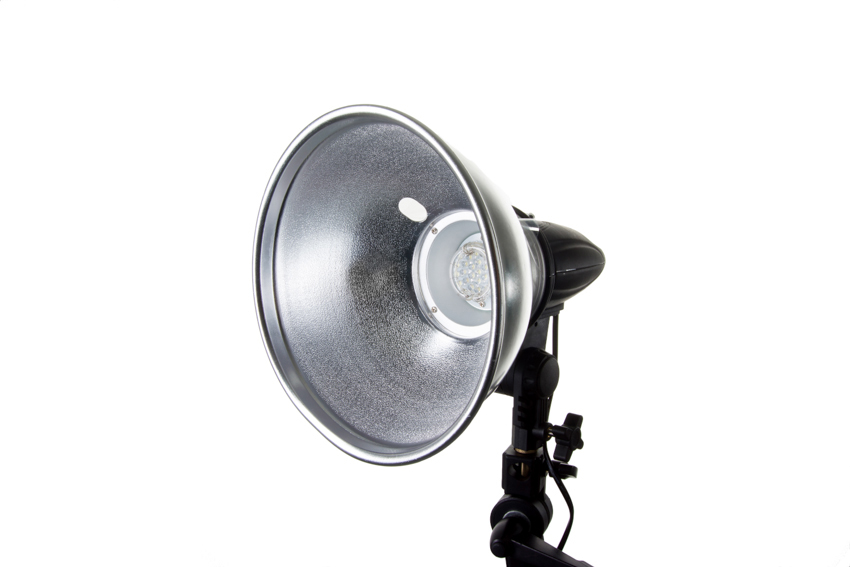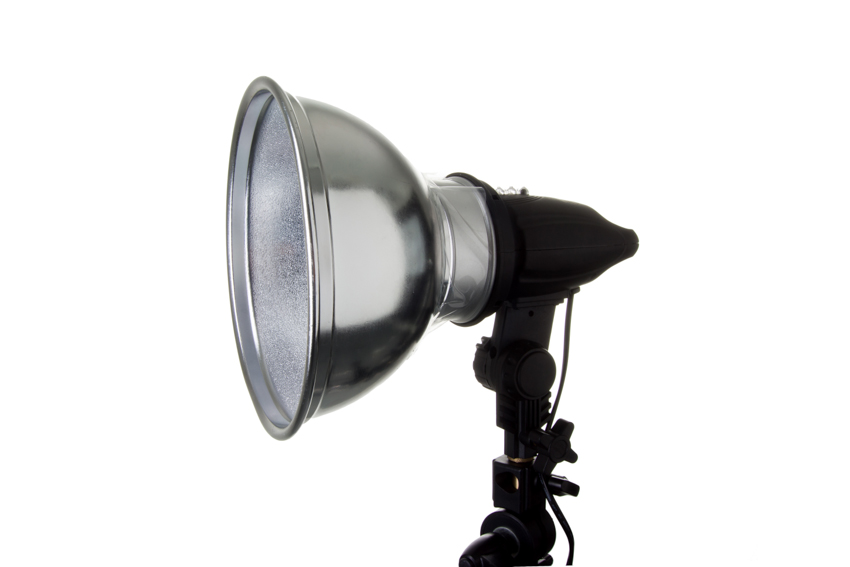 Lighting Comparison to other Monolights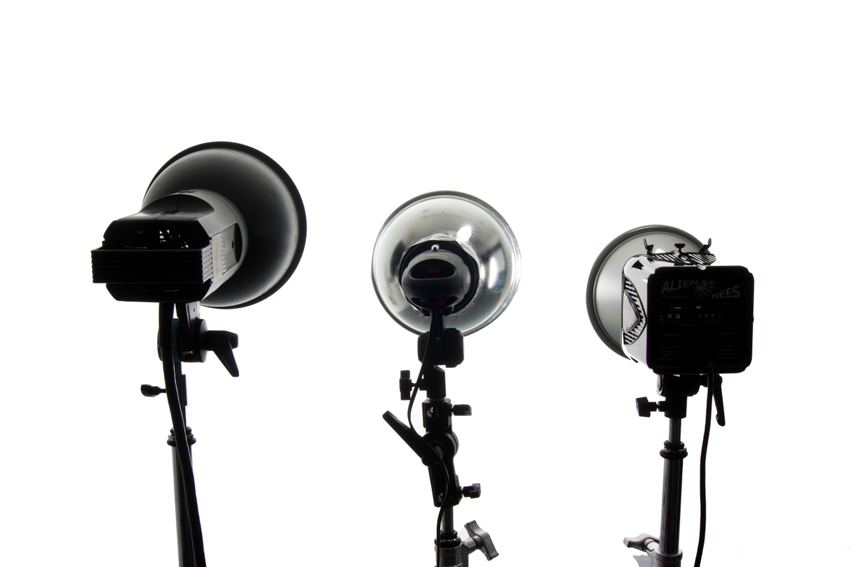 As you can see in the images below the color temperature of the SF-ABRL 160 is nearly identical to its extremely more expensive counter part, the Broncolor light. The AlienBee s 800 had a quite different color temperature. For these images we just shot the wall on the back of the studio at equal distances.   We had to dial down the Broncolor to 100w/s because for some reason it was a lot brighter than both the Alienbees and the SF-ABRL 160 at 160 w/s. We think it has something to do with the design of the reflector.
Light Temperature Comparison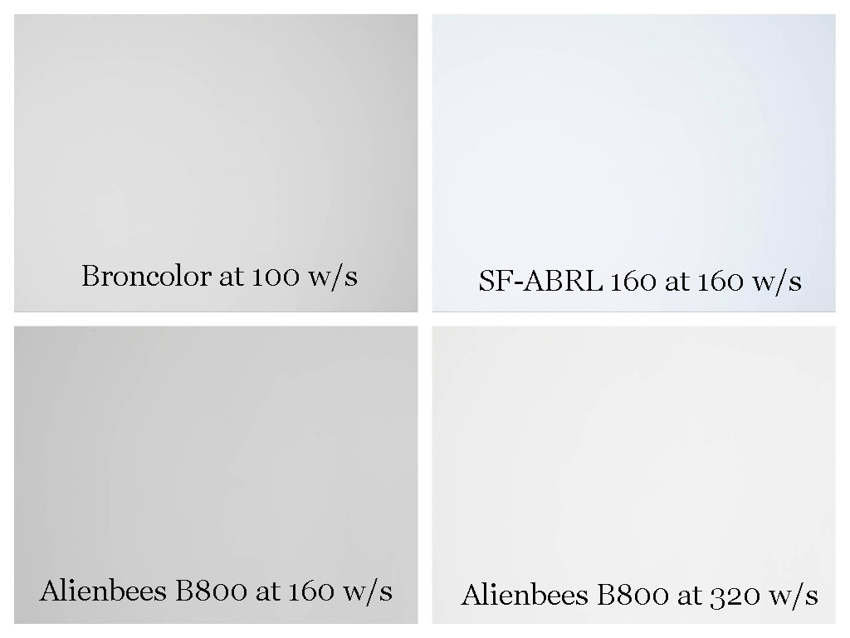 The Impact 50 x 70 Softbox
There are two softbox attachments you can purchase that specifically attach to this light. There is the Impact 50cm x 50cm Softbox and the Impact 50cm x 70cm Softbox. The price for the 50 x 50 is  $38.95 and the price for the larger 50 x 70 is $49.95 (shown below). The price is pretty reasonable, considering other brands that have softboxes this size, typically start around $100.00 or higher.
The softbox was a nice way to modify the SF-ABRL 160, however it would have been nicer if there was an inner baffle to diffuse the light a little more evenly. Putting it together was a little more difficult than your average softbox, but as for the output on our test shot it was quite good (see the test shot toward the end of this article).
You can see the difference between the spread of light of the Impact Softbox and a Paul C. Buff stripbox below. The PCB stripbox spreads the light more evenly across the face of the stripbox as opposed to the harsher gradient on the Softbox. It isn't a huge issue (we may be a bit critical here), but something to consider.
Impact 50 x 70 Softbox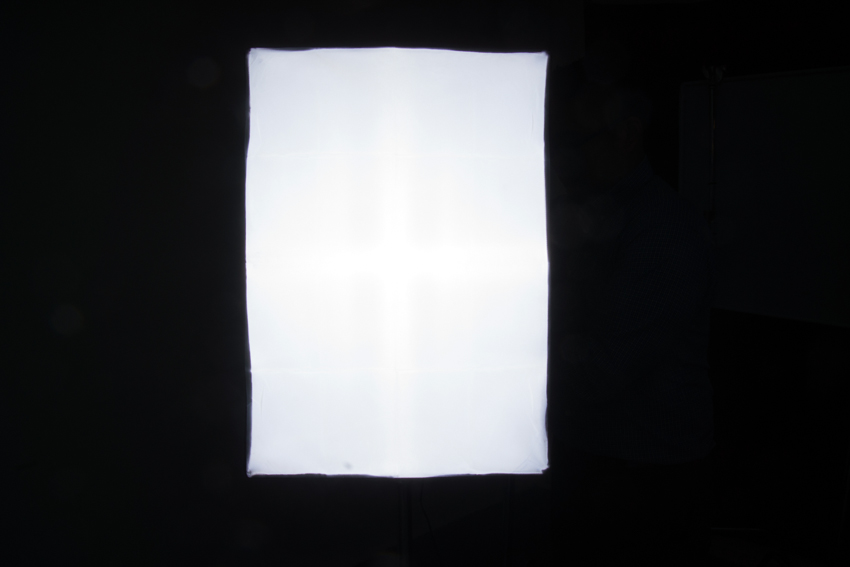 Paul C. Buff Stripbox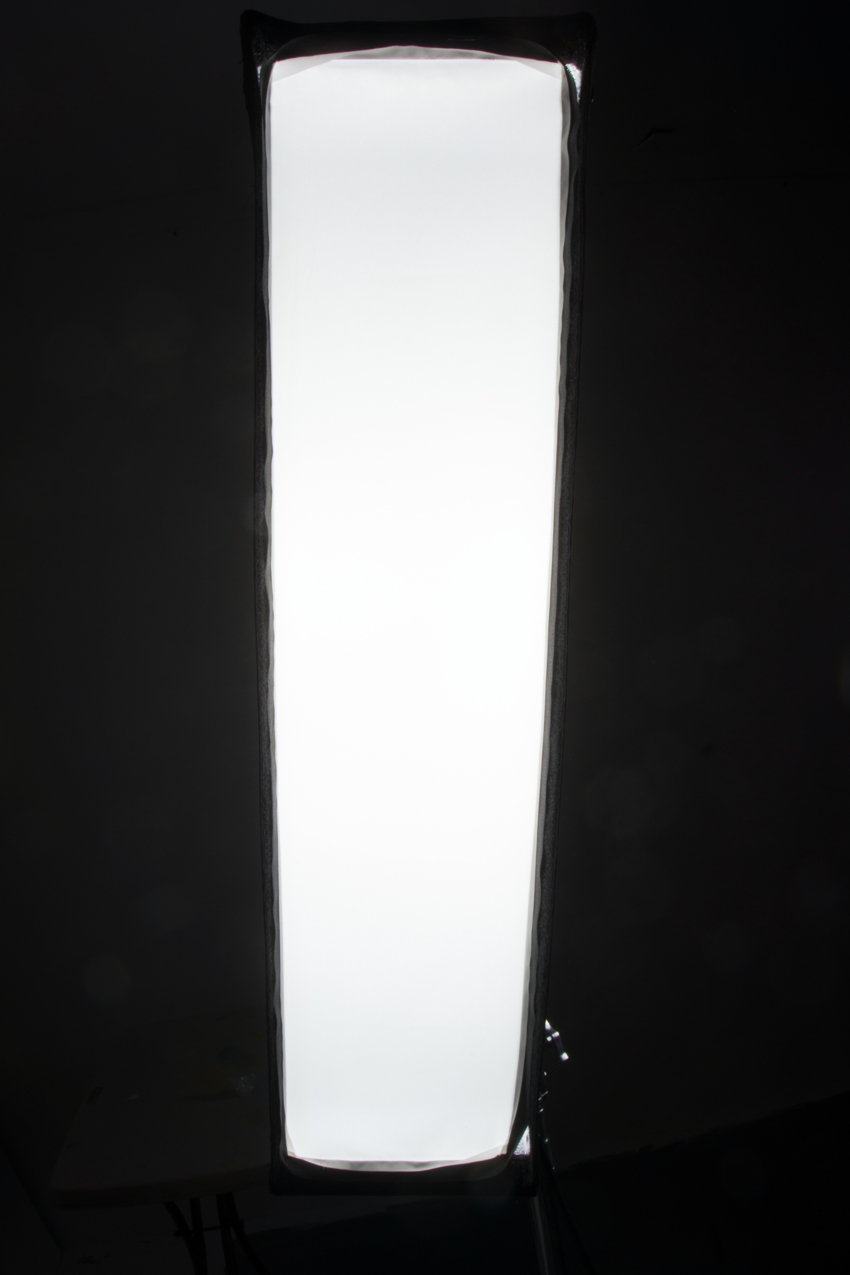 Our Test Shots
Camera Settings:

ISO: 50

Focal Length: 120mm

Aperture: f /20

Shutter Speed: 1/200 sec
 Light at Half Power (Unedited Image from Camera)
 Light at Full Power (Unedited Image from Camera)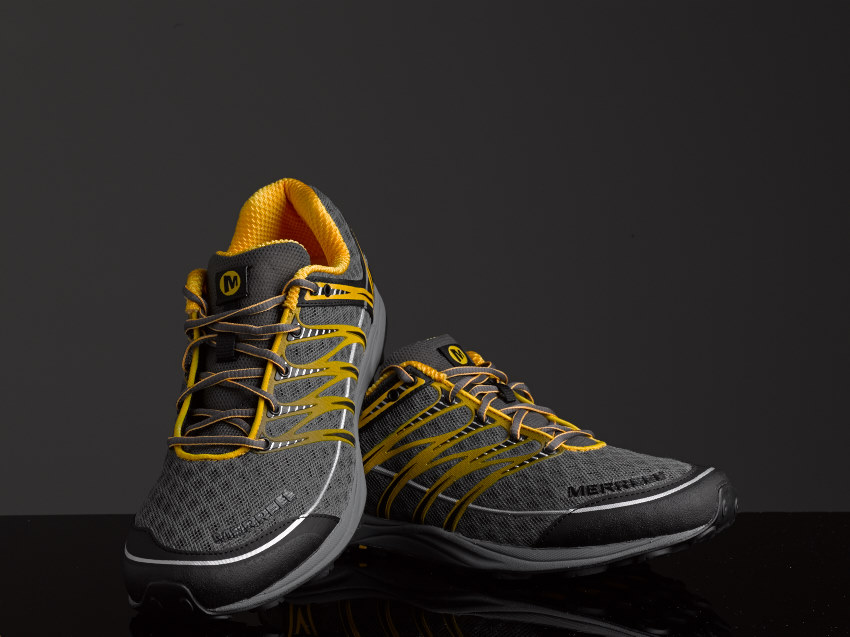 Crop of Full Power Image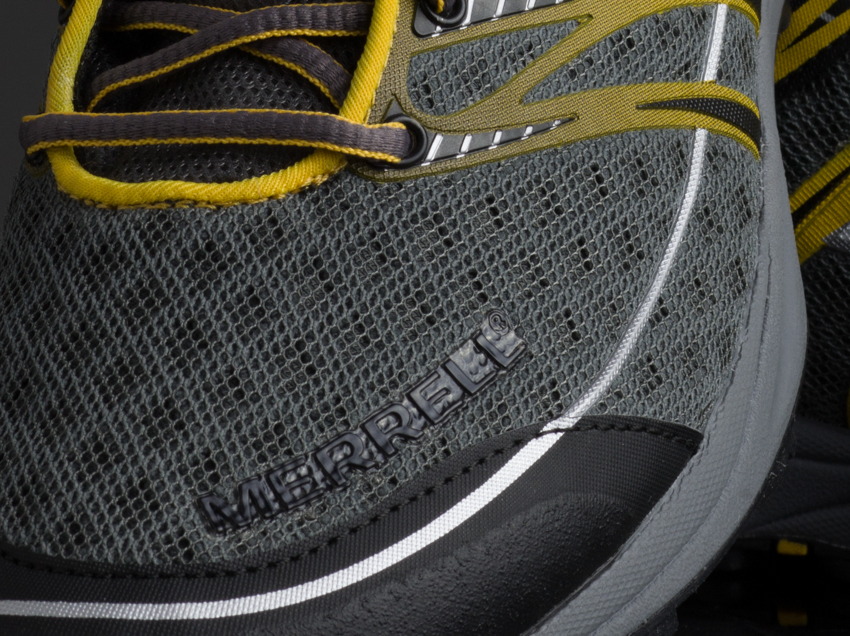 We created a simple lighting set up and shot a textured subject (shoes) for this entry level studio strobe light review. Basically we had the SF-ABRL 160 on the right side of the subject while we used a simple foam board to bounce the light on the left side of the subject.
As you can see the light performed fantastically and really help illuminate the texture of the shoes. Even with a very low ISO of 50 and at a small aperture of f/20 the light performed very nicely.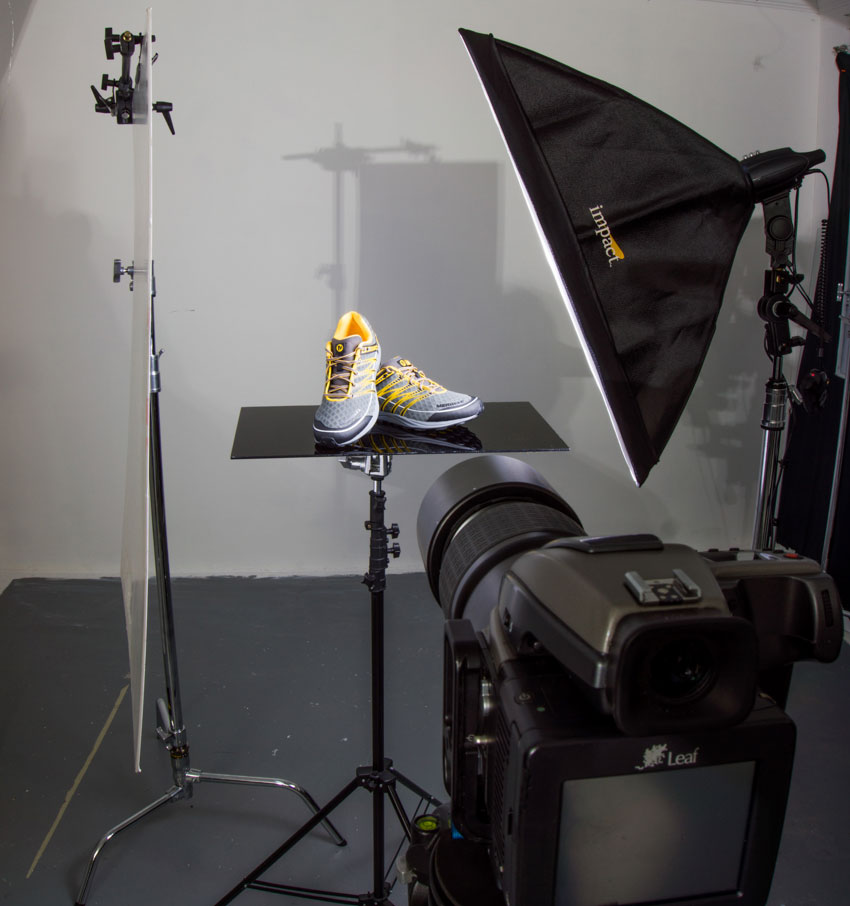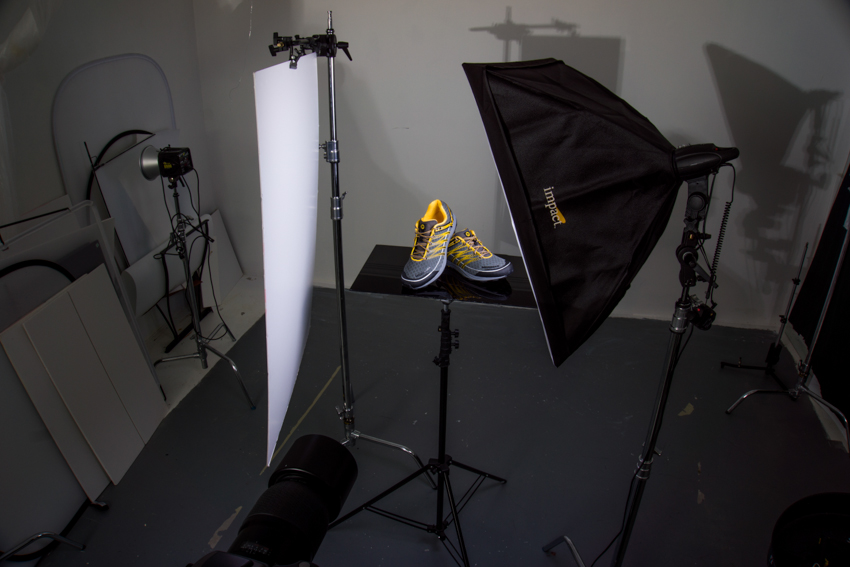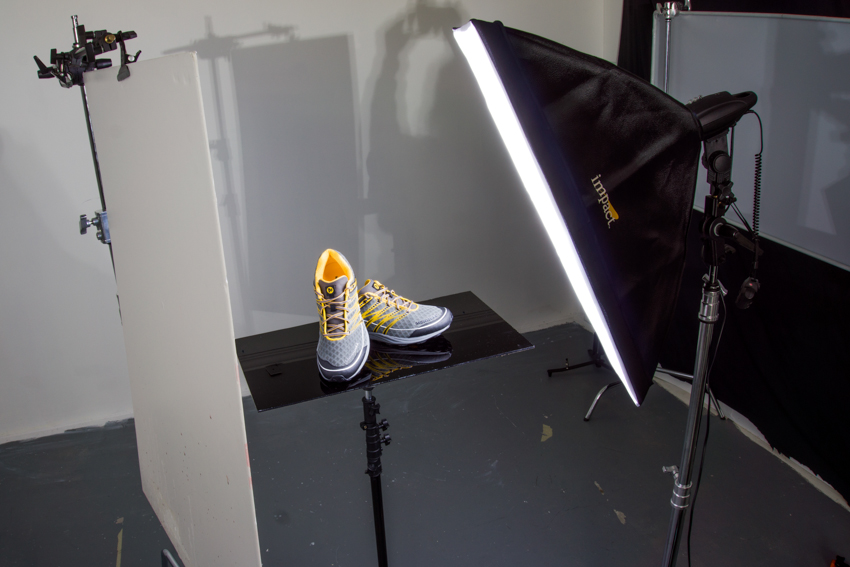 The SF-ABRL 160 is an amazing light and for the price it is perfect for any beginner who is starting out in photography. Let's face it, studio gear can be very expensive, but this light can get you in the door of creating amazing product and still life images.
This is going to be way cheaper than a camera branded speedlight like a Canon 430EX ($249.00) or a Nikon SB-700 ($326.95). I'm not saying speedlights are terrible or expensive, they have their place in the photo world, but what I am saying is that for Studio Photography the SF-ABRL 160 is a great start or even great addition to someone who already has a few monolights. This flash does not have all the bells and whistles of a more advanced monolight.
You won't be able to control the power as your options are limited to full and half. You'll have to think creatively on how to adjust for this (maybe moving the light further from the subject or changing your camera settings a bit). The LED modeling lamp is pretty awesome and could be a reason alone to get this light. I can't tell you how many times I've been burned trying to change a light modifier on other lights, because the modeling lamp would heat up the light and any attachments.
For me personally, I'd like to make a daring statement in that it is like a "Nifty Fifty" lens (50mm prime lens). A "Nifty Fifty" isn't the greatest lens in the world (doesn't have zoom capabilities) and the focusing can be a bit slow, but the image quality (dollar for dollar) is amazing and it's a great lens to work with. The SF-ABRL 160 is like the "Nifty Fifty" lens, it has some quirks, but for a beginner who truly wants to learn how to light and learn how to see and control light, this unit dollar for dollar is one of the best you'll find.
So our bottom line recommendation: Get one (or even better get three or four) if you are beginner and you don't have lighting gear and are on a budget. Get one if you have lighting gear that is equal to or less than 160 w/s and need an extra light (maybe for backgrounds or even for more surgical applications – with a snoot or barndoors).  Get one if you are tired of changing the scorching hot batteries on speedlights and are shooting product indoors (this one is my personal favorite recommendation haha).
You can purchase this unit here on B&H Photo's website.
Was this review helpful? Please let us know how to improve or if you have any questions by commenting on this article or emailing [email protected] 
Buy the Strobe directly from B&H as well as these other great accessories, mentioned in this product review here:
Also, check out other deals form our sponsor: Deals on professional photography gear.
A Huge Thanks to our Partner B&H Photo for providing us with the gear to review!
Watch on Photigy youtube channel: Studio Strobe Light Review: SF-ABRL 160 Stand Mount Flash with LED Modeling Light