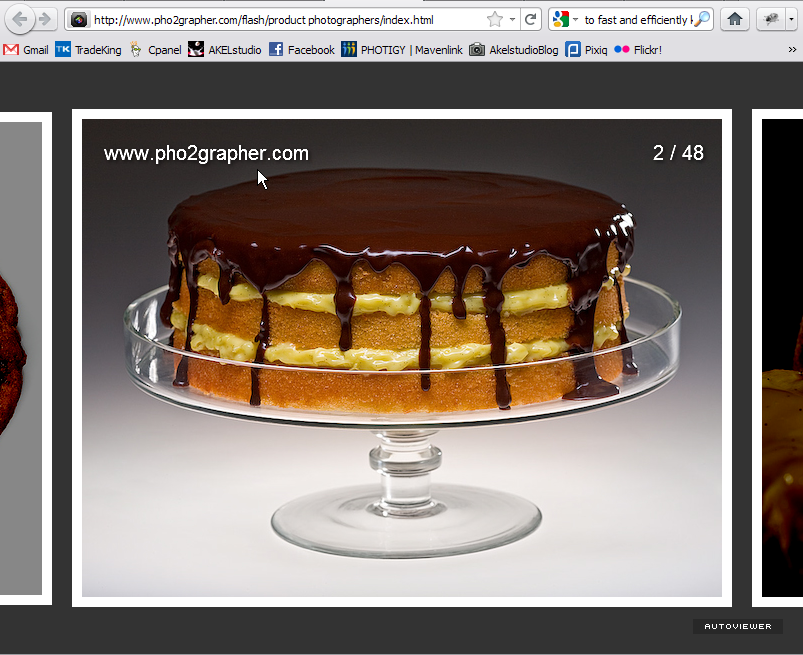 Breaking a copyright law: a story of how to fast and efficiently kill your career.
One day ago I've got an email from one fellow photographer (thank you, Paul!) about a portfolio of Dubai Wedding photographer, Sohail Nazish. (you can find him on almost any social media)
There are URLs which were sent to me:
http://www.pho2grapher.com/flash/product%20photographers/index.html
http://www.pho2grapher.com/dubai-product-photographer.html
I expect these URLs to be dead soon, so this is the screenshots: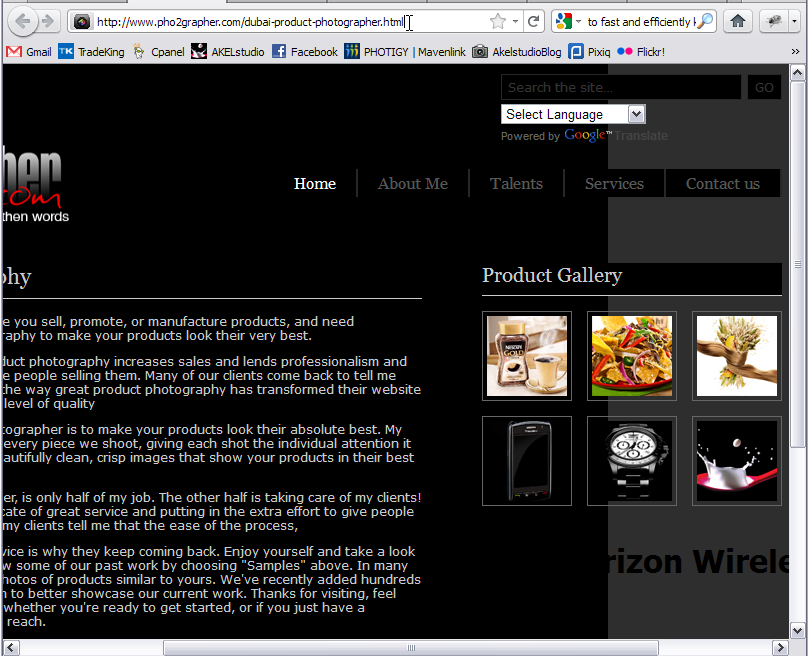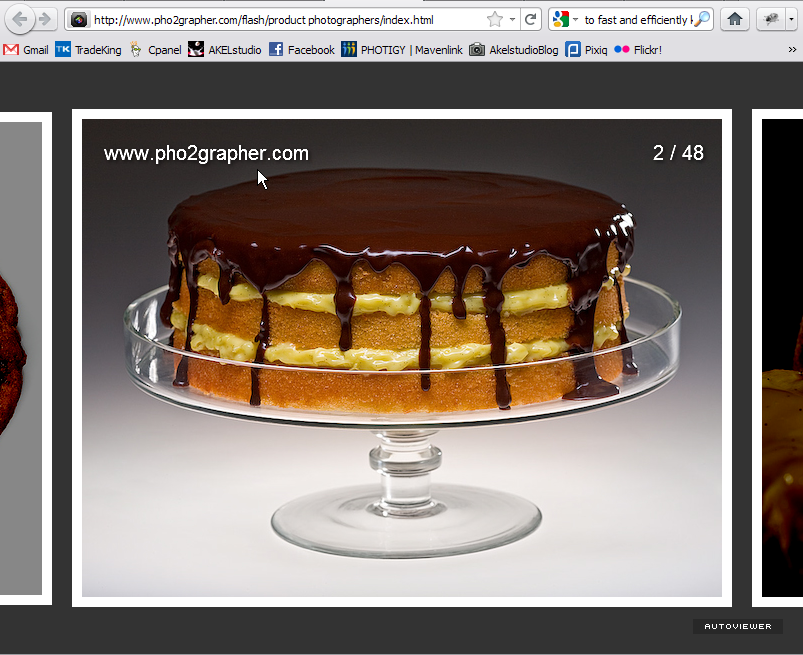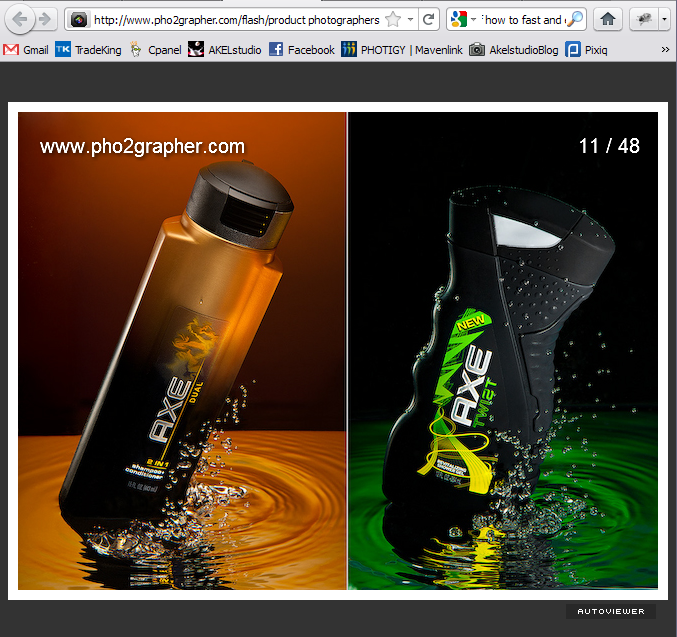 Looks familiar, isn't it? If not, take a look at koloskov.com food/product portfolio.
I am very familiar with situations when people take images online and use them in website design, brochures and blogs without giving any credit to the author. It is not good, but understandable (at least for me). Especially if we are talking about countries without strict enforcement of copyright laws (post- Soviet Union countries is a bright example). Such thing does not bother me much.
However, this sort of things I see first time in my photography career:  some dude took images from somebody else portfolios (he got most of my food/product) and using them as his own work!
Very fast and clever way to build an outstanding portfolio, isn't it?
But seriously, what he was thinking about?  I see a very wide range of photograph's work on his portfolio, Yuri Arcurs is one of them, as an example: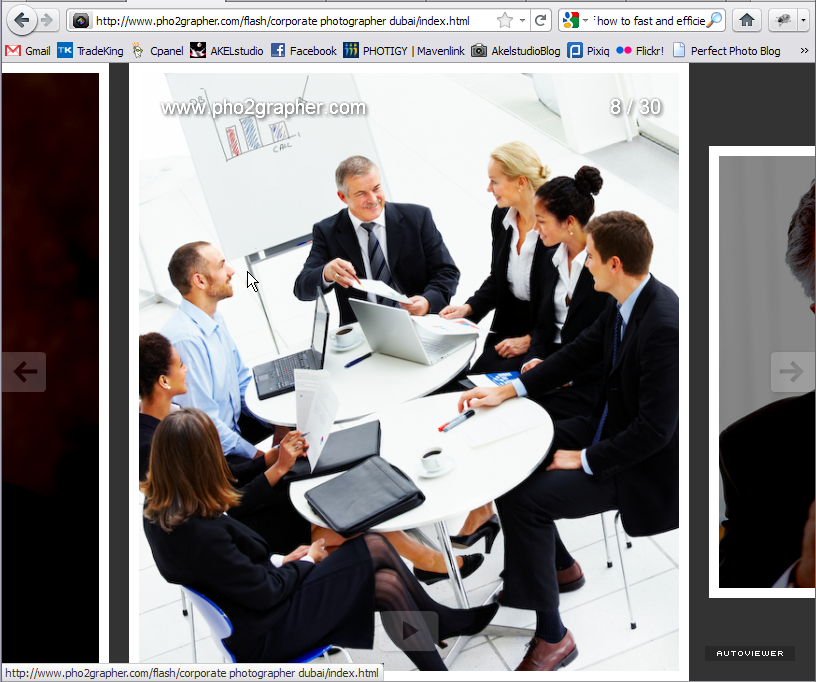 Now, check out this: http://www.shutterstock.com/pic.mhtml?id=7704406
If he was trying to become a photographer, get running business… what he was thinking? Dubai is too far from the rest of the world?
Truly, sometime people's logic is like a martian language for me:-)
Also, Check out this post from yesterday on his Blog, which is lifted from Jerry Lodriguss' Blog.  (thanks to randomised756).
One thought though: he might be a SEO guy, making money on AdSence, not a photographer at all. This type of things I do not like the most.
In any case, I've decided to post this here, so I can share steps I do in such situation, hope it may be useful for others. Plus, I hope to get some feedback from the readers as well.
I already have a great source of information fro photographer's community on reddit/r/photography (Update:  I was banned  there in July 2012 :-)
I do not want to spend much time to finding and contacting the guy, but the only thing I want is to have pho2grapher.com to be taken down. It should be easy.
So far I did:
Filed a Copyright claim (similar to this takedown notice) to GoDady.com (here) , website host provider. This should be enough to have his website suspended.
Filed a Google removing content claim here, as the guy uses AdSence on his website, and uses stolen image to make money on google ads. This claim should take care of his visibility and SEO
Again, I do not want to spend much time on this, as the guy did not do any harm to me (like stealing my customers or not paying for my images, etc).
I think the most of the damage he did is for his reputation and career. Something which is hard to earn and very easy to loose.. forever.
Stay tuned, I'll be updating this post as soon as I'll get any news. Really curious to see how all this will work, this is very new to me:-)
---
UPDATE:
Today, 04/04/2011 I've received response from GoDaddy stating that infringing web-site was suspended:
Dear Alex Koloskov,



 

Thank you for contacting Go Daddy's Copyright Claims Department.  We

 have suspended the site in question pending a resolution of this matter.

 Please allow up to 30 minutes for these changes to take effect.





 As a web hosting provider, it is not our position to act as the arbiter

 of intellectual property disputes, to judge who is right or wrong in a

 claim of infringement, or to determine who, if anyone, actually owns the

 content in question.  We have provided the specifics of your

 infringement claim to the owner of the site, along with your contact

 information, since the most efficient resolution of this situation comes

 through direct communication between the two parties involved.





 If the site owner indicates they are prepared to remove the infringing

 content, we will re-activate the hosting account in order to allow that

 to happen.  If they complete a counter notification regarding the

 work(s) in question, according to our Copyright Infringement Policy, a

 copy of the counter notification will be sent to you.  The site will

 then be re-activated 10 days following receipt of the counter

 notification by us unless we receive official notice that you have

 initiated court proceedings.  If we do receive such official notice, the

 website will remain down according to the directions of the court(s) at

 that time.
Now website is blocked.  So, it took goDaddy.com one business day to react on my copyright claim I've sent last Friday. Pretty fast, and I would  say pretty easy. Easy when you know what to do, so thank you reddit community, you first pointed me into a right direction.  Even though case is not over yet (if Sohail will decide to fight, I'd have to go to a court), I am satisfied with the result. Will see,  hope dude is smart enough to make a right decision:-)
The steps I did to make it happen described above. So far only goDaddy has answered, Google has 5 days to response.
---
UPDATE (04/09/2011):
pho2grapher.com is up and running. All the content belongs to me was removed. The dude took the action:-) There are lot of stolen images on his website, including Yuri Arcurs photo. I am pretty shire the whole corporate portfolio is filled with stolen photos. However, I can't do anything to this, as I am not the copyright owner of that content.  Can only wish Sohail good luck:-)
---
Thank you all for valuable advices! If you think that my case can be interested for other photographers, please share this article. I'll be posting update to the case if anything happen.
Alex