Instructor: Alex Koloskov & Genia Larionva
In the previous course – Jewelry Photography Part 1 – Studio Work you learned how to photograph various types of jewelry in a studio setting. You gained the knowledge of what equipment that you need to create professional looking images as well as how to use the equipment, how diagnose and correct errors, and how to build a high quality base image.
As a professional product photographer, your work is not done yet. Even the best of shots in the studio will still need work done after the shooting is done. Here in Jewelry Photography Part 2 – Post-Production you will gain the fundamental skills to finish the job. Even if you plan on sending your work out to a professional retoucher, having these basic skills will not only allow you to save time and money by performing some initial cleanup, but will put you in position to better communicate to the retoucher that which you want done.
Course Breakdown:
Total Running Time: 7hr 40min
Level:  Advanced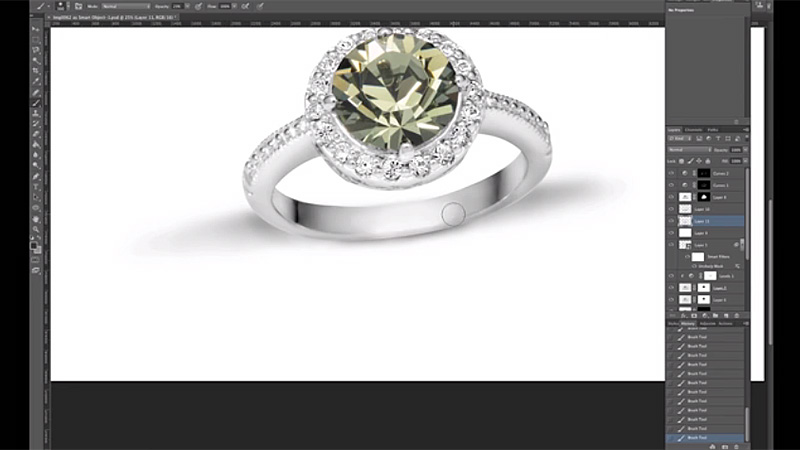 While the basics for processing each of the images have the same workflow, the exact steps for processing the image will differ based on the content of the image.
You will begin by opening the image in Adobe Camera Raw – if you use Adobe Lightroom, the exact same processing can be done there before importing into Adobe Photoshop.
From there the processing will guide you through the cleaning up of any spots caused from dust on the object or on the sensor of your camera, adjusting lines and shadows, removing or correcting any kind of distracting elements as well as other adjustments that result in improving the overall quality of your image.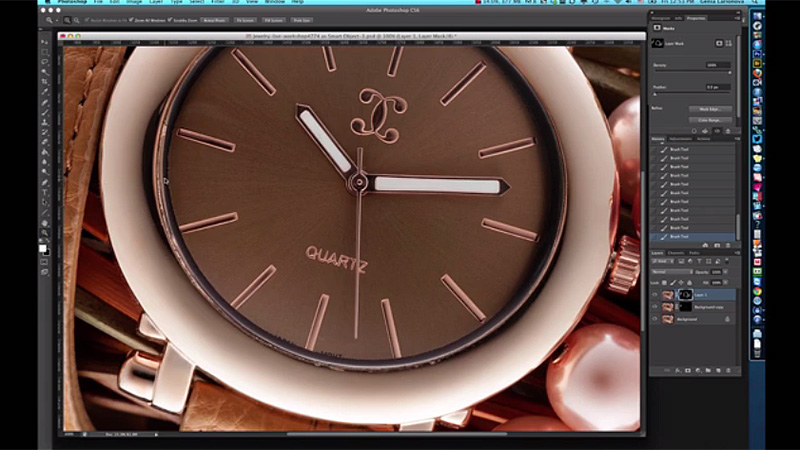 While there are times that the amount of post-production work is minimal – this is especially important when creating catalog work where there are a lot of shots of basic images, there are other times where quite a bit of adjustment is needed. It is here that you will learn how to use the many tools that Adobe Photoshop has to offer such as the Clone Stamp tool, Healing Brush, adjustment layers, and more.



These videos correspond to the shots created in Part 1: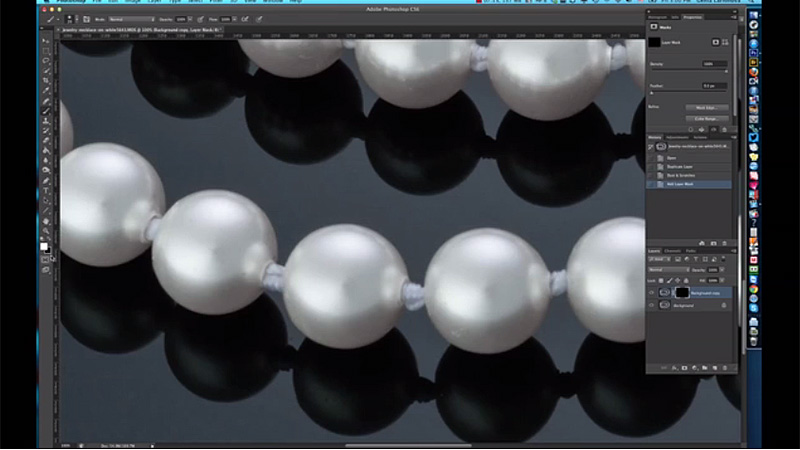 Video 1: Large Crystal Golden Ring on Black Background: – 1hr 31min

Video 2: Two Silver Rings: – 1hr 18min

Video 3: Swarovski Crystal Silver Ring on a White Background: – 54min

Video 4: Pink Gold Ring with Gemstones: – 1hr 5min

Video 5: Creative Shot of a Gold Watch, Pearls, and Leather: – 1hr 13min

Video 6: Pearl Necklace on a Grey Glossy Background: – 17min

Video 7: Gold Ring with Green Gemstone: – 1hr 24min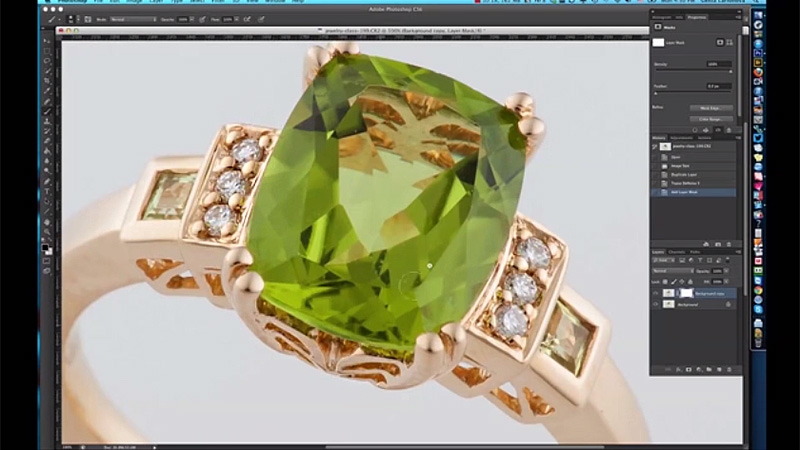 Jewelry Photography Part 2 – Post-Production
You will spend your time improving your images, but the whole point of all of this training is not to watch, but to do your own work and use this training as a starting point to creating your own body of work. So go out, create your own images, work them through post-production, and then start over again. It is through this repetition that you will accomplish your goals to become a better product photographer.
Before and After 
Before is a JPG from a  camera RAW, after a final version after a post-production
Course Curriculum
Large Crystal Golden Ring on a Black Background (PP)

01:31:00

Two Silver Rings (PP)

01:20:00

Swarovski Crystal Silver Ring on a White Background (PP)

00:54:00

Pink Gold Ring with Gemstones (PP)

01:05:00

Creative Shot of a Gold Watch, Pearls and Leather (PP)

01:23:00

Pearl Necklace on a Grey Glossy Background (PP)

00:39:00

Gold Ring with Green Gemstone (PP)

01:24:00

Asessment
Assignment For Jewlery Post-Production Course

00:10:00

00:00
Course Reviews
5 stars

3

4 stars

0

3 stars

0

2 stars

0

1 stars

0