Einstein 640 V2 in-studio flash duration test:
Hi-speed strobe was never affordable like this.
I was waiting for this monolight for a long time, and eventually got it few days ago. Talking about latest Paul C. Buff invention (intervention to hi-speed strobes market? :-), all digital Einstein 640 monolight. I've ordered few of these units back in spring 2010 "to try", ordered separately (meaning soon I've receive another one:-). That was a longest back-order line I remember, but the good thing that I've received Einstein V2 unit: it suppose to be improved from the original one I've ordered.
The main reason I was so anxious to try the unit is that currently I desperately seeking a solution for my studio high-speed photography, mostly for action-freeze of liquids. We've started to get more and more assignments in this area, and I do not feel very comfortable working with my Canon Speedlites (have four of them).
So, my ultimate choice was between power packs such as ProFoto 7A or Broncolor Grafit (probably used) and PCB Einstein V2: 640 Ws would be enough for me, the only thing I have to consider is reliability, color consistency and of course the price. At this point I am leaning towards Einsteins, really hope they will work well for me.
I am not going to try to go through a full test with my Einstein 640 strobe: there are so many already posted online. The best one I know is Rob's Galbraith review on the same subject: Stopping action with the Paul C. Buff Einstein 640 monolight.
My goal is to share results of the real, in-studio tests of flash speed duration by shooting a liquid splash: nobody has calculated the speed of water drops firing from a glass, even Rob's test with spinning disks was not enough for me:-)
Obviously I knew that Einstein strobes will be fine at freezing splash, but I did not know  if flash power of that "stopping action" duration will be enough for my work. The main question was the distance and F-stop number I can use  at ISO 100 at that power level (at full power Einstein is usual mid grade strobe, the magic begins when we dial power down).
So, I've started from F22  and my favorite lens for water splash photography: Canon 180mm F3.5 L macro. Long focal distance allows me not to worry about protecting the camera and lens from the water while F22 will give me enough DOF to cover my subject.
As you see, Einstein works great: even one light is enough to get some nice splashes. I really like how the Beauty Dish gets reflected from a stream of water: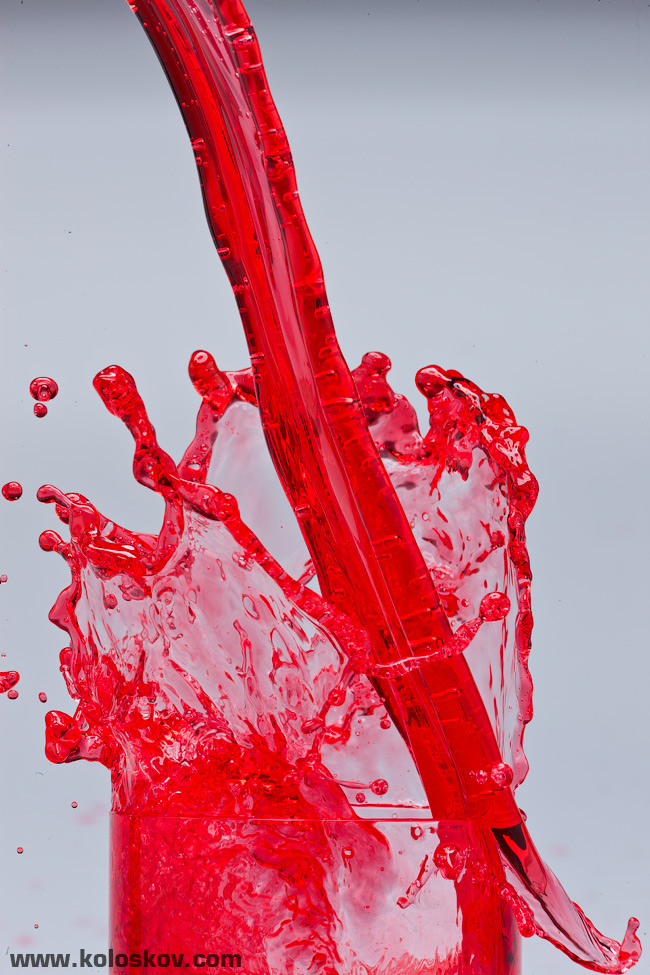 Einstein 640 flash duration speed test studio action photography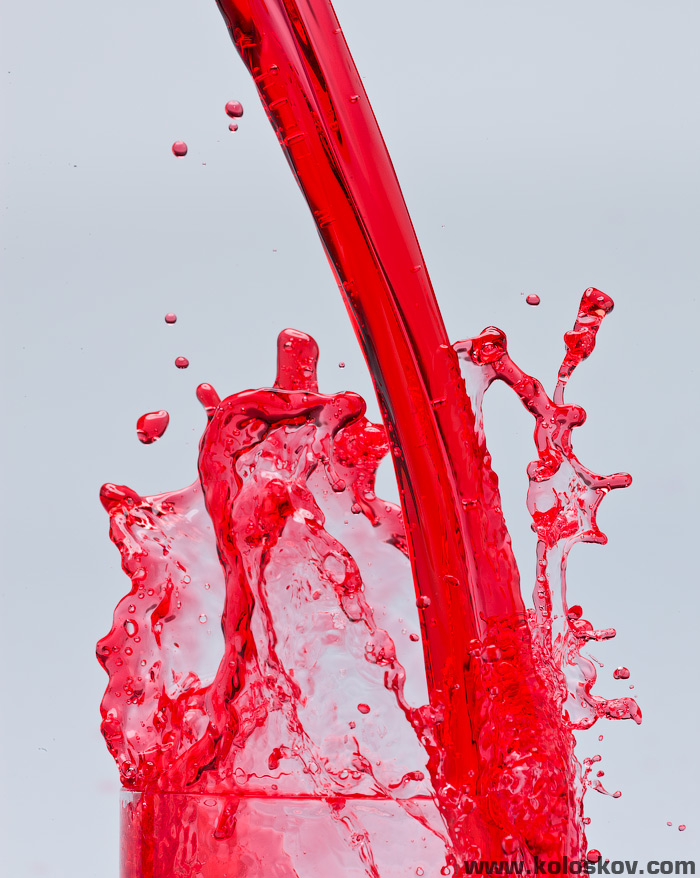 Einstein 640 strobe studio flash duration test: freezing a liquid
90% crop from above: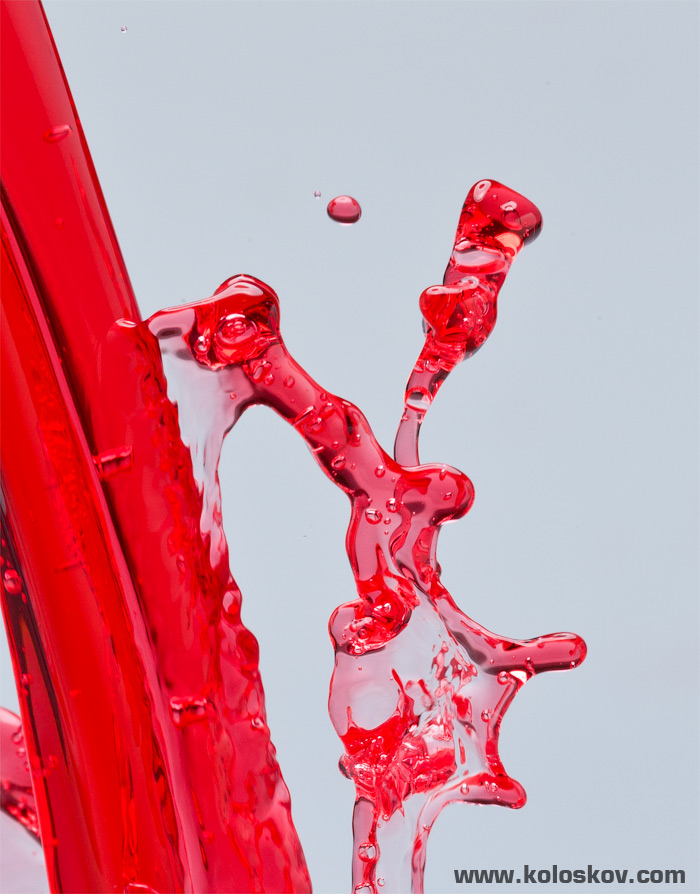 Einstein 640 monolight 100 crop liquid splash flash duration test
Paul C Buff Einstein V2 monolight speed test liquid splash
90% crop from the above: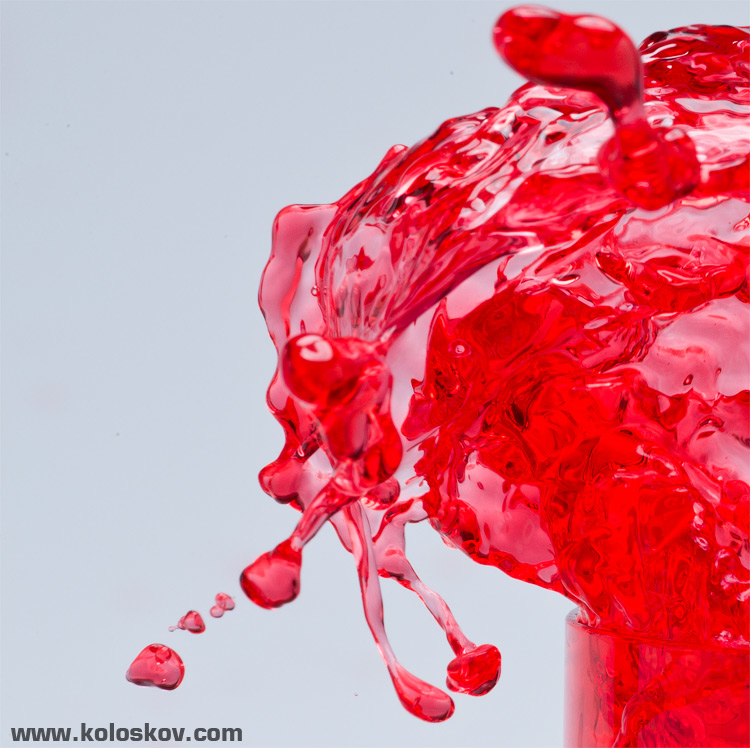 100 crop einstein flash unit speed test flash duration
Looks nice, is not it? The last thing I did is a continues shooting mode: Camera was set to F5.6 1/250, continues shooting mode, strobe had 14Ws of power. My canon 1Ds MKIII could do only 4 frames per second shooting RAW, so this is how the sequence looked:

4fps Einstein 640 flash sequence shots fast flash duration
Not as impressive as this video, but it was cool to run this test:-)
Update:
You can compare this test to a very similar photoshoot I had with Canon Speedlites hot shoe strobes:
Paul C. Buff Einstein 640 in-depth flash duration test: action v.s constant color mode
Hope this was informative, Enjoy!
---
Camera gear:
Lighting, light modifiers and accessories:
Exposure specification: shutter speed 1/250 sec, F5.6-22, ISO 100
Alex