Jewelry Photography vs Jewelry 3D Rendering:
What is More Realistic?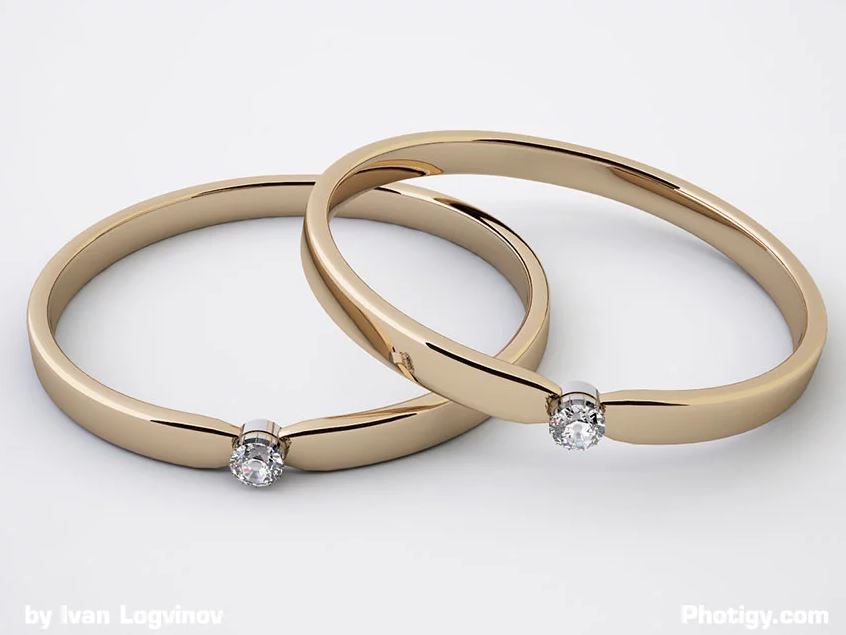 Will Jewelry 3D Rendering Replace Jewelry Photography?
A good friend of mine, Ivan Logvinov, sent me these shots of cool examples of jewelry photography, and asked my opinion. I immediately started to think what can be done differently (my "review and critique" process kicked in: -) but then I realized that one of the rings was one that I already photographed a couple years ago.
Then I started to question Ivan where and how he got these photos, and the answer was that this is a 3D rendering of jewelry, and one of the models was done using my shot of that huge diamond ring. So, I am asking jewelry photographers: if it will be that easy to create such realistic 3D models of jewelry, do we need to think about switching to work with something else? Or, is it still far from a good jewelry photography?
Lets take a closer look at these 3D rendering of jewelry below and see what we can do better (or differently) using jewelry photography as a tool of creation.
Diamond Ring, 3D Jewelry Rendering Example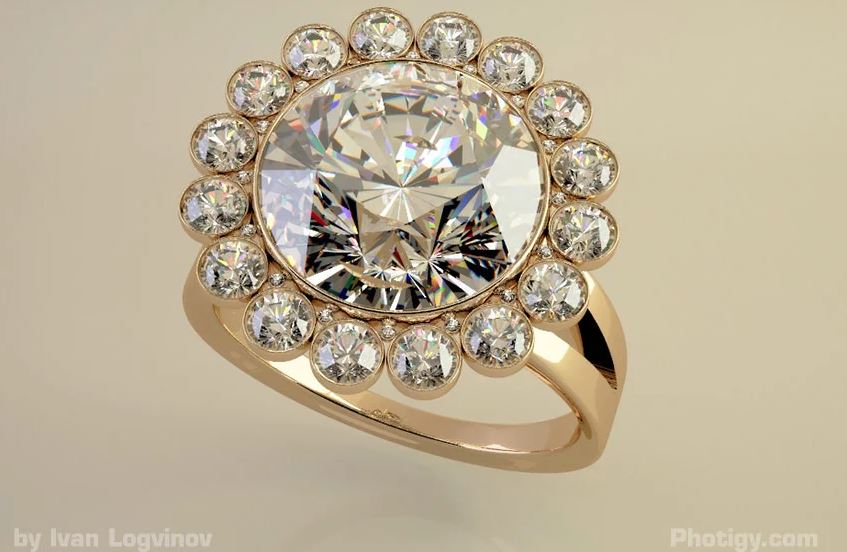 Here I see some imperfections of the diamond's crystal shape, it looks like it's missing facets on top of it. Ivan explained that it would be an easy fix for his 3D model: he did not add enough facets on the diamond to speedup this work, as it was just a test for him.
Lets see how my jewelry photography of this ring looked like, Ivan used it to create his model for this 3D rending:

Example of Real Jewelry Photography of the Diamond Ring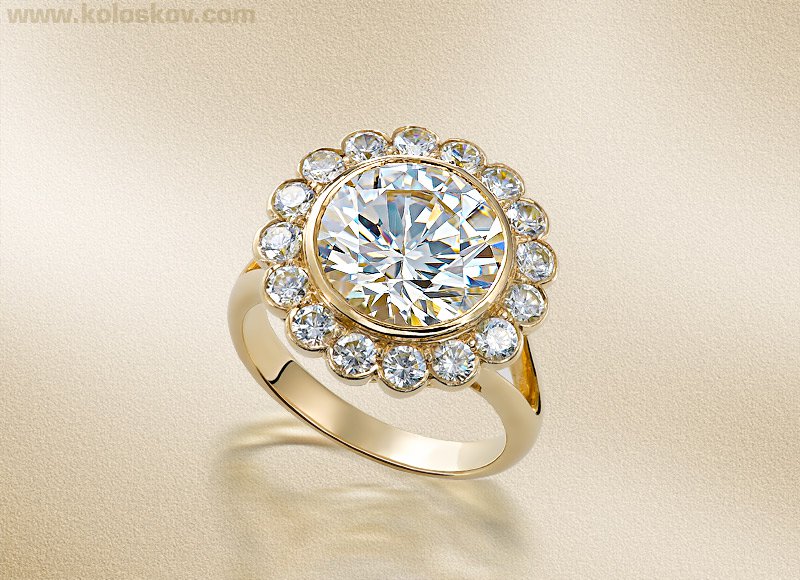 I like mine better (he-he;-), but considering that Ivan was not even close to a jewelry photographer (and any photography, he bought his first DSLR just a couple months ago) and his diamond ring was "just a test", as he explained. The result is freaking amazing to me. I can only imagine what could be done with the real ring in hands and few hours more spent on creating the model…
Does it Sound Dangerous for a Jewelry Photographer?
Not much of a danger, in my opinion. But if I'd be running a large studio specializing in jewelry photography, I'd definitely would hire (or make from existing team members) a 3d rendering specialist. Imagine how mind-blowing could be a union of jewelry photographer and 3D modeler? Would be cool to hear opinion of jewelry photographers  like Vadim Chiline. (BTW, Watch our updates about Vadim, we'll have something really interesting for you on Photigy)
I have shared a few screenshots of how he rendered that diamond ring with us. It was about an hour's work, he explained.
3D Jewelry Modeling Using 3D Max
As you see, there is a lighting setup and diffusers around the ring, same as in jewelry photography process we do in the studio. Of course there are much more in 3D renderer to be set for a good result, but in general everything is about lighting. I am wondering how cool it would be for a jewelry photographer to have this program with a set of the most commonly used models of jewelry pieces. And be able to play with the lighting in the 3D rendered before going to a studio for a shot?
We all know that most jewelry photographers will prefer to play with the real stuff (I am the same). But still, with the 3D rendering program we can learn and experiment with different lighting for jewelry photography while staying away from our studios. What do you think? 🙂
Diffuser and Background All Around the Jewelry Ring
Diffuser and Background All Around the Jewelry Ring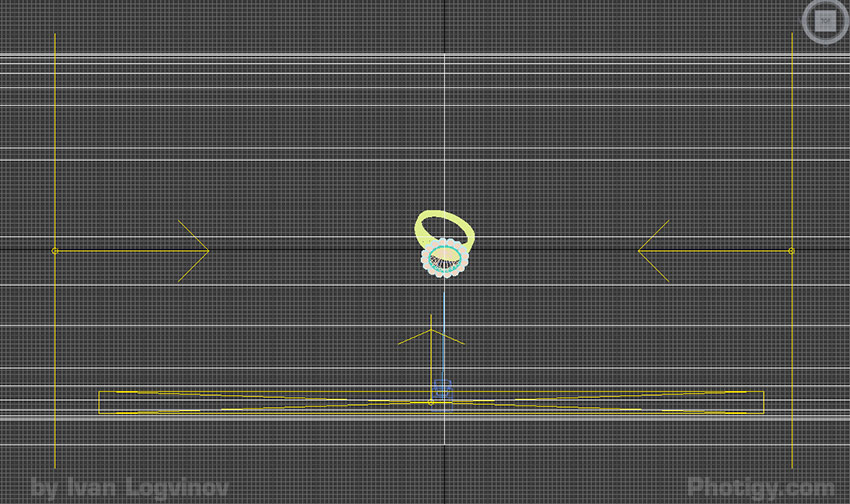 The Lighting for Jewelry Photography.. in 3D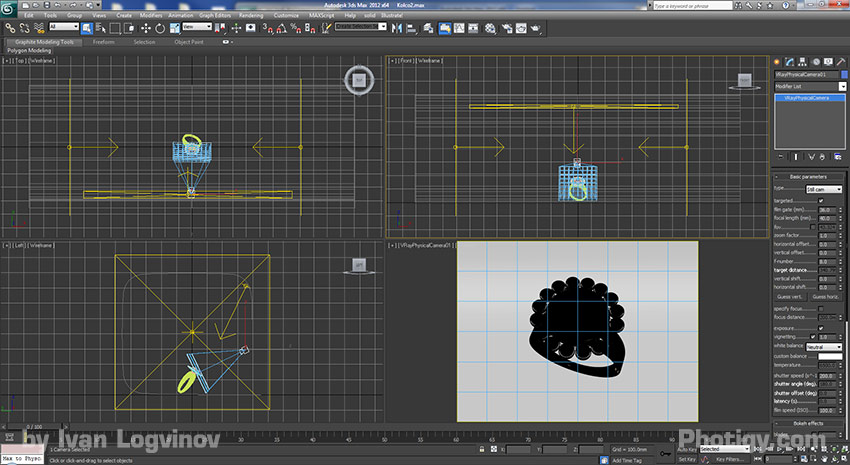 So, is it time for me to talk to Ivan Logvinov about private lessons for 3D modeling? I want to learn this stuff!
More about Ivan Logvinov: He is a businessman, actor, 3D modeler and an amazing  friend. Together with his wife they run the Solo School Of Fine Arts in Atlanta. This is an amazing place for kids to learn Russian culture (language, art, music, drama, history and much more), our kids love to go there.
Check out Ivan's 3D modeling portfolio.
P.S
If you were wondering how that diamond ring we have looked like before the post-production, here it is, enjoy. Note that before an image is one from a sequence I created for focus stacking.