The dSLR to large-medium format DIY build:
Nikon D800e on Sinar P camera.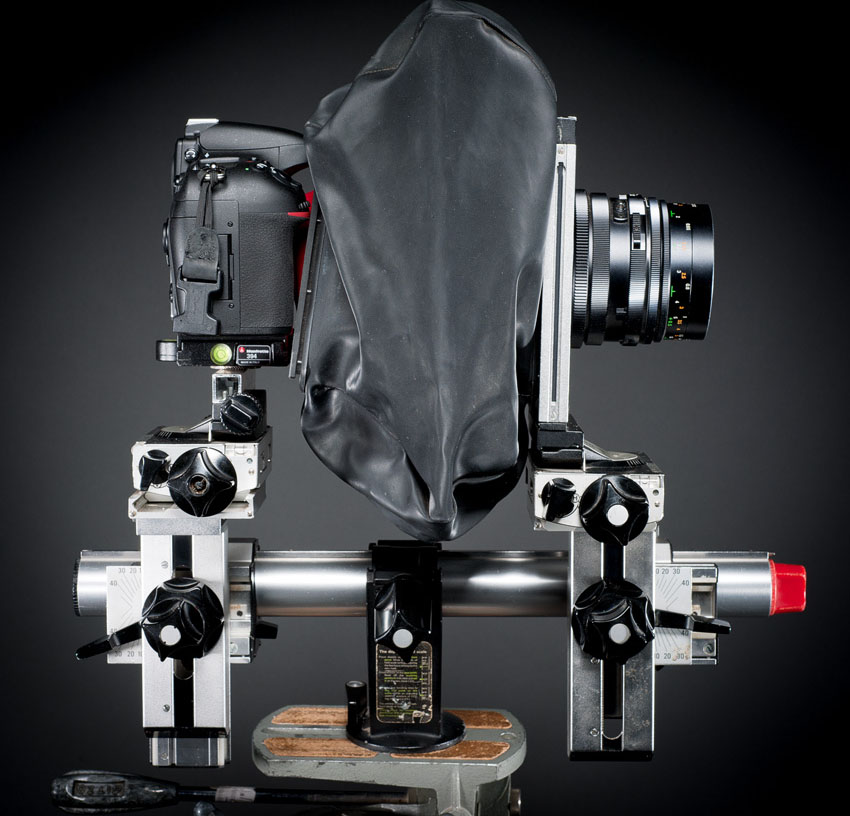 One of Photigy forum members, photographer Darren Coleman, has posted a great walkthrough of his DIY project, dSLR to large-medium format build. He modified Sinar P large format camera to make it work with Nikon D800e like with a "digital back".
This is a really nice build, and Darren was so nice to let me to re-post his forum topic as an article here to let other curious photographers to see it. First, lets meet Darren: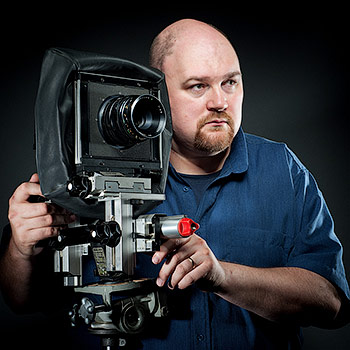 Hi, I'm Darren, sometimes known as 'colda', no this isn't me having a gangsta name or anything like that, it's simply a concatenation of the first letters of my last and first names put together that's stuck over time. A photographer and a bit of an engineer, spend much of my photographic time alongside Lisa (my wife) at our studio in the south west of England.
Originating from the Black County (the industrial heart of England) and never been much of an academic, I've got my way through life with a 'get it done' attitude and a logic based mindset. Self-taught tends to be more fun anyway!
Always had a fascination with photography for as long as I can remember but life had other plans and I found myself in the world of IT, although in the mid 90's this gave me the opportunity to take on digital photography with a Kodak DC25, roughly 10 years later I got my first dSLR (Nikon D70) and starting taking things more seriously.
Done a lot of music photography, some sports and of course studio work. The strong passion for engineering tends to drive me towards creating non-standard solutions to achieve what I want.
Nikon D800e on Sinar P camera DIY conversion build by Darren Coleman
Ok, there's a story behind this, over the past few years I've been a bit of a wide angle addict but recently needed to produce some more 'correct' images i.e. buildings with straight vertical lines. So, using my trusty 14-24mm I found myself feeling rather uninspired by the results and thoughts quickly turned towards a desire for a 24mm tilt-shift.
At roughly the same time there was also a food assignment which got me considering all the benefits of having an 85mm tilt-shift to hand in the studio and that was it, I wanted something that could do tilt-shift and not cost me the earth, so the mind wondered about other solutions.
I've known of the concept of bolting a dSLR on the back of a 4×5 system for a while but only really considered it in terms of replacing a polaroid, although, not being a large format guy I would just look on with envy at the movements but appreciate the convenience of a digital 35mm system (don't get me wrong, I love film, just can't justify losing a day at a time to develop-scan-refine to be at the same point as when I upload digital raw files). There is also a very nice Mamiya RB67 setup in the studio that never gets used, so in the mixing pot of the mind the elements came together and 'The Contraption' idea was born
After more thought and a healthy amount of googling I found that there were are few out there that had done similar things (Alex Koloskov being a strong point of reference), with plans in my head, some knowledge of engineering and a large dose of ignorance, I was sure it would work.
Firstly I needed a monorail camera and managed to get a very nice Sinar P
from the usual online auction site, this came with 4 lenses and some other goodies, oh how tempted I was to leave it untouched and just enjoy it as intended. Right, to work, task one was to mount the D800e on the rear assembly; this was done by removing the rear standard and disassembling the mount from the frame (also took the opportunity to replace the front standard with the better condition frame from the rear standard).
The build:
Using some aluminium square section I drilled and tapped (M4) 4 holes as per the removed frame such that the section could fastened to the rear standard mount, also in the section I drilled an 6.5mm hole so I could pass through a 1/4″ BSW machine bolt (oh, and a 10mm hole on the other side of the section to allow for the head of the bolt), the bolt is then fastened into a Manfrotto 394 Plate Adapter (using a 3/8″ – 1/4″ thread adapter)
Sinar P Rear Standard modification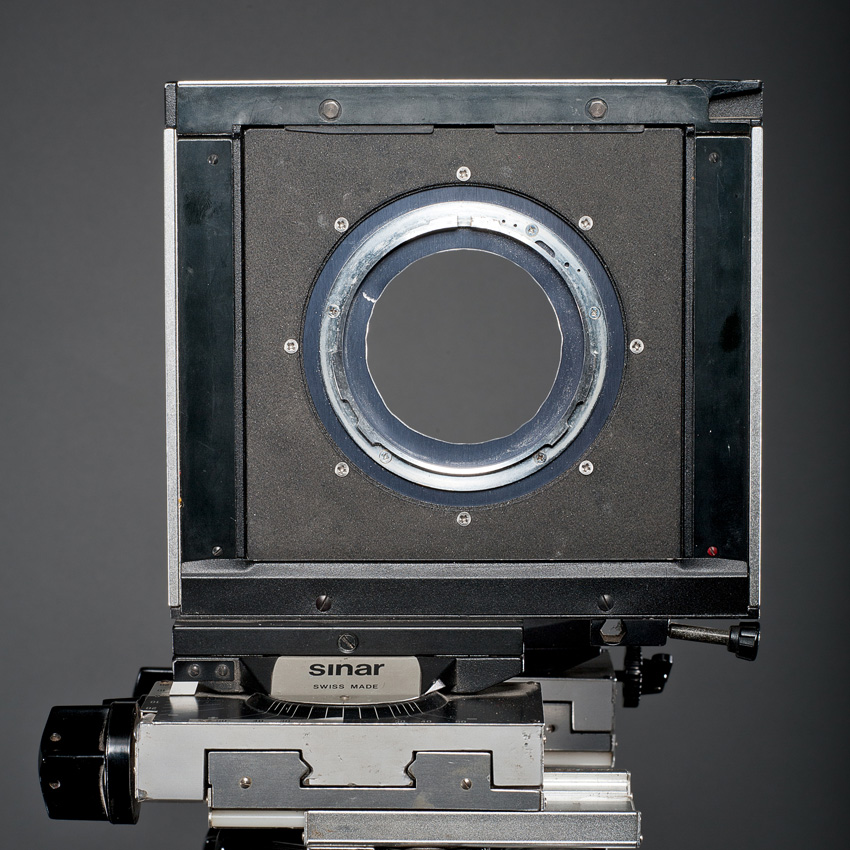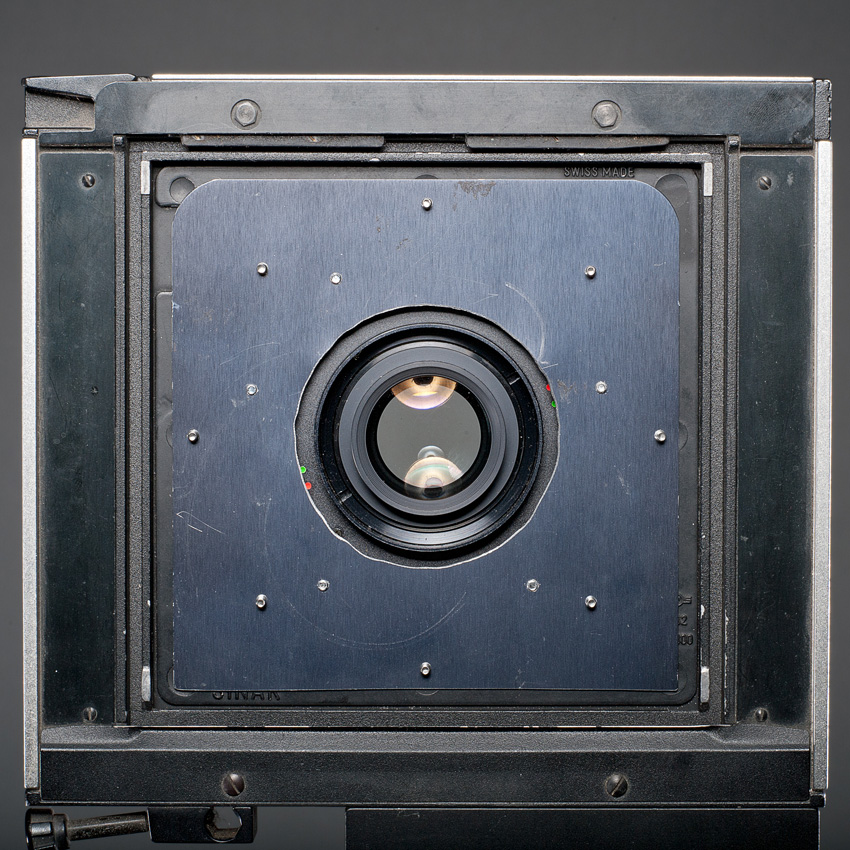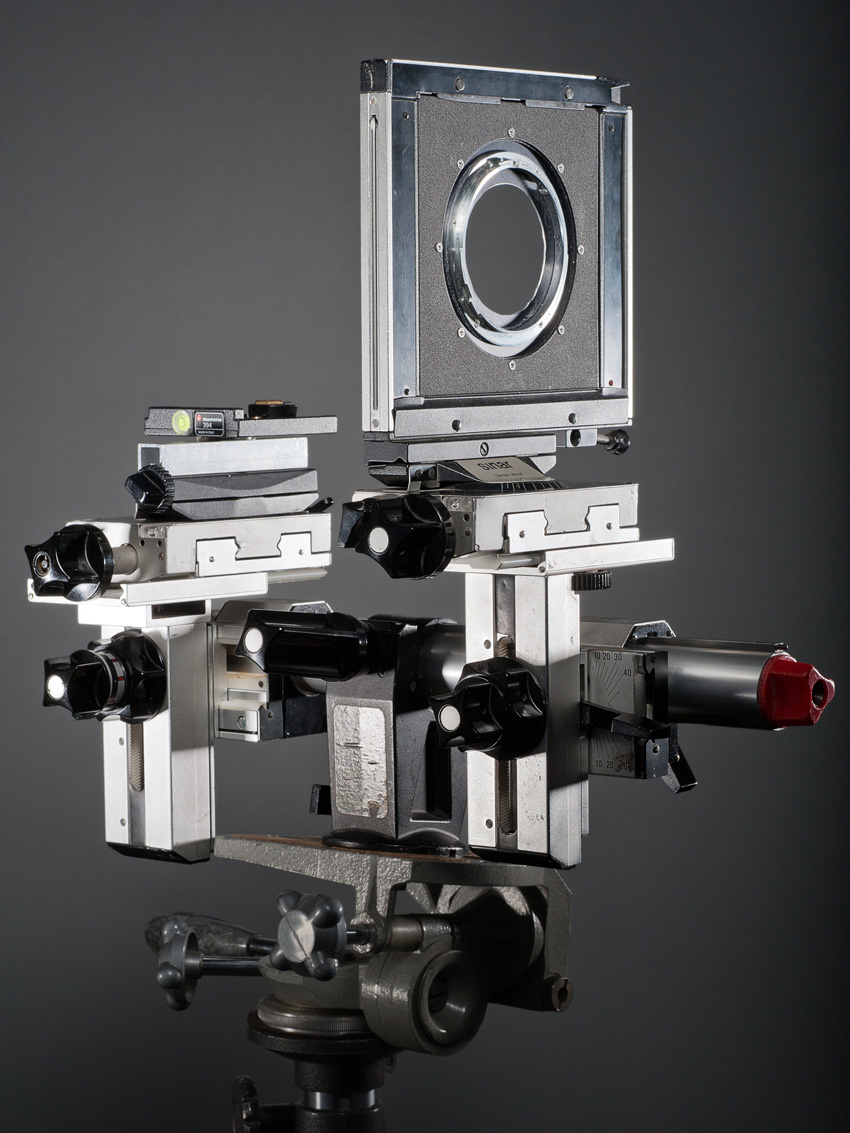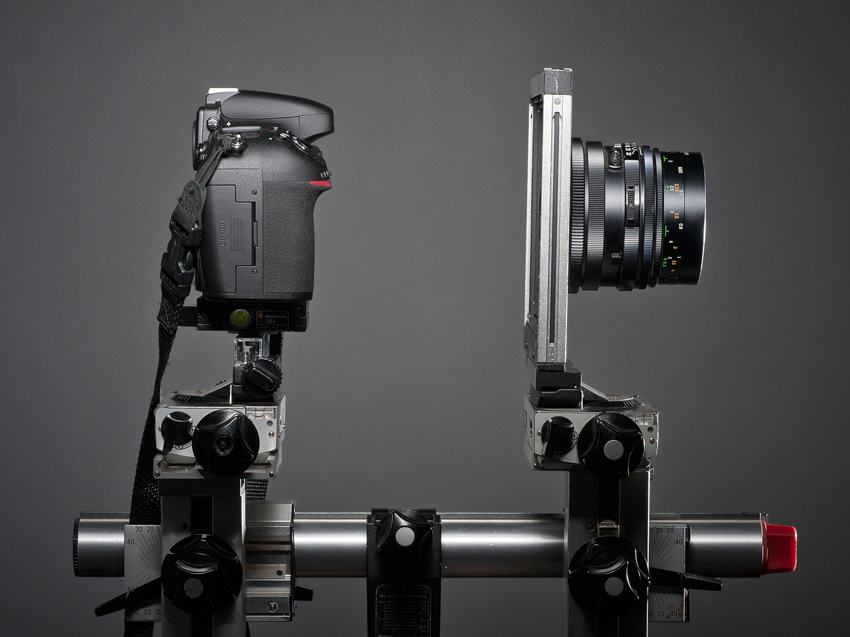 This only leaves the bellows, the camera to bellows adapter is made from a neoprene laptop sleeve, a section was roughly cut out and a hole carefully made in the center. An M42 mount is pushed through the hole with an M42-Nikon adapter then screwed on the other (red) side and tightened to sandwich the neoprene between them. Then using the fixings inside the bag bellows I made a template to mark out on the neoprene precisely where the 2mm holes should be such that I could fasten the neoprene inside the bag bellows:
Ready for use 35mm DSLR to large format system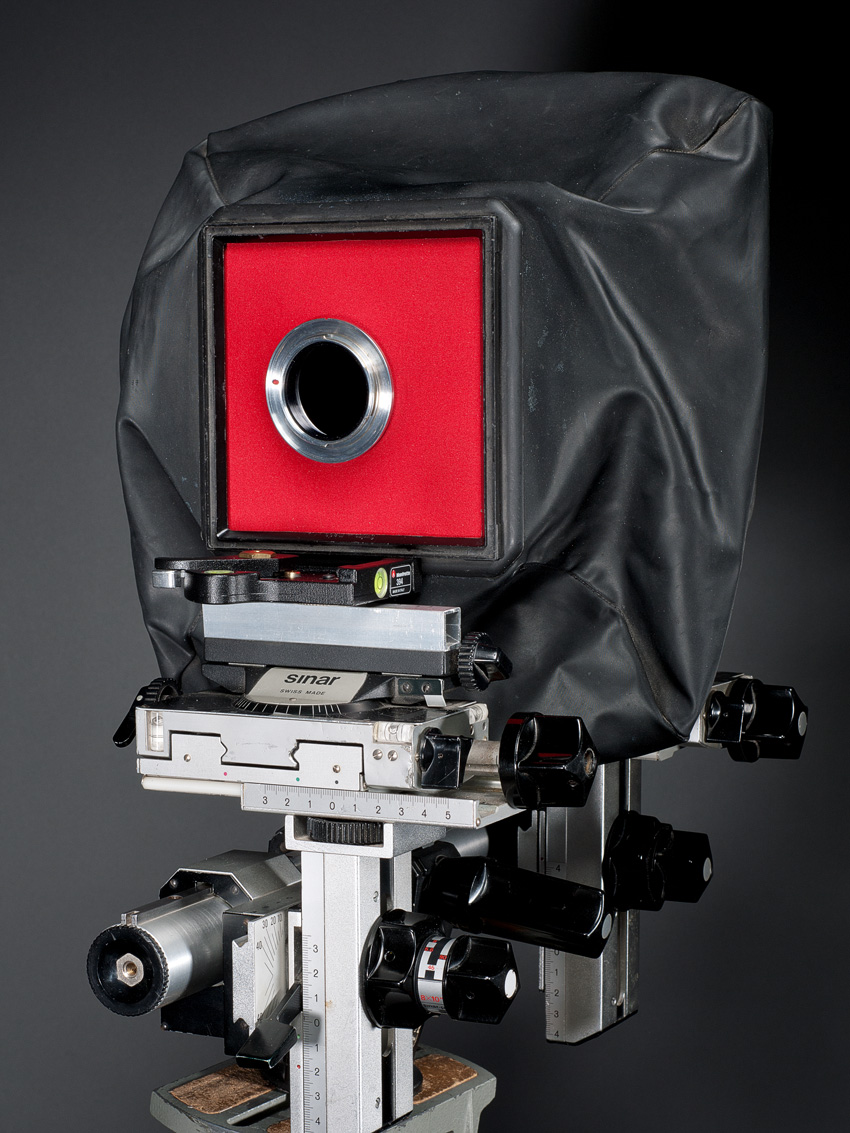 Nikon D800e "naked" sensor view