Advertising Photography Tutorial: How to Photograph Product With Water Splash
Advertising Photography Tutorial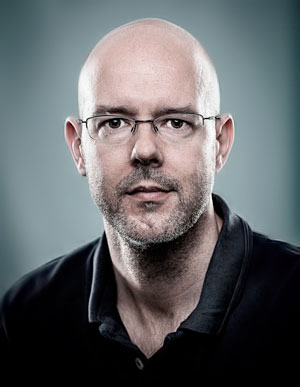 Hello, my name is Andy McLaughlin and I'm a Graphic Artist, Illustrator, and Photographer. I have a small studio in the village where I live here in the UK, tcistudio.co.uk.
I graduated from Blackpool and the Fylde College in 1993 studying Technical Illustration and have worked as a freelance Illustrator and Graphic Artist since. After a short spell working as a technical illustrator, I went freelance and have produced illustration and graphic artwork for many clients across a broad range of industries but usually with a slant to the technical and data-heavy subjects like computing and popular photography. I've worked extensively in National Press Graphics and magazine publishing, illustrating and designing. I use Illustrator, Photoshop, Form•Z (3d), InDesign and of course, photography in my work.
I discovered Alex's work a couple of years ago, and wow, I was amazed and hooked. The detail in the frozen splash and the creative possibilities of combining great product photography and liquid, shots like the Godiva bottle shot inspired me and opened a whole new creative world!
I work extensively with Photoshop with all of my Graphics work so the post-production is just as important to me, the more I learn in my photography the more benefit I see in the post-production, it's a Ying and Yang thing! I also love using high-speed techniques, multiple exposures and HDR in my other photography and graphics work.
Married with a daughter I live in a small village near Saffron Walden, Essex, UK, (very close to the City of Cambridge).
How to Photograph Product With Water Splash: Creating a Dynamic Advertising Image
In the Gearbox


• Canon 5d mkII
• Canon EF 24-70 2.8L mkII
• 4x Paul C Buff Einsteins, 2 with strip softboxes, 2 with reflectors and grids
• large home made light diffuser panels (Translum over homemade frame) 1.5m x 1m
• Threaded bar (10mm) and nuts
• Small inflatable paddling pool and large plastic sheeting
• Translum plastic
• Black and white cards/reflectors
• Various stands and supports, clamps, grips, sticky tape, bluetack…