I've got the set of lens adapters for iPhone (thanks to our sponsor, bhphotovideo.com) and run a series of tests. The main idea was to find out which lens provides the most benefits by extending zoom of built-in iPhone lens and less impacting the image quality. Plus, does this job for less money.
I've run in-studio test, having my iPhone 4s mounted on a tripod, as well as doing the same test outside. I also took many shots all around just to show more examples of what look you'll be getting using each lens.
Below is what I've got for the review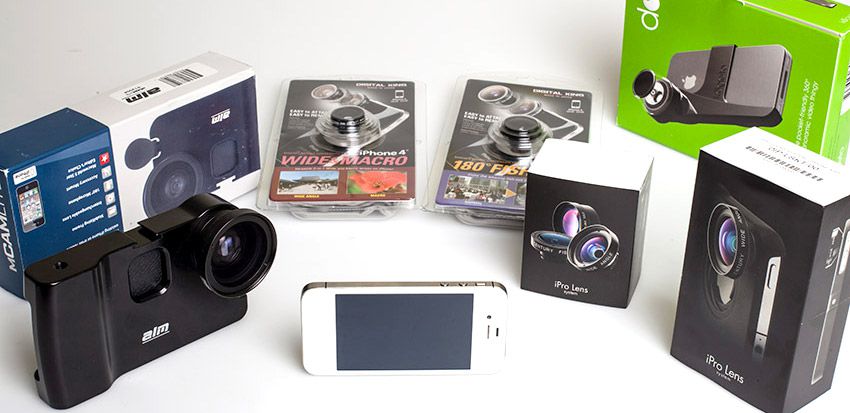 Introduction:
I had iPhone mounted with all respect on my old and cool carbon fiber tripod for both, in-studio and outside tests. I've used 645Pro camera application (it is proved to deliver the best image quality in a single TIFF shot), set on five sec timer to ensure shake-free shots.  ISO was between 64 and 80 for both, in and out shots. Aperture was wide open, F2.4 on all of the shots. Meaning it was a tough job for the lens:-)
I did not capture setup outside, and inside it looked like this: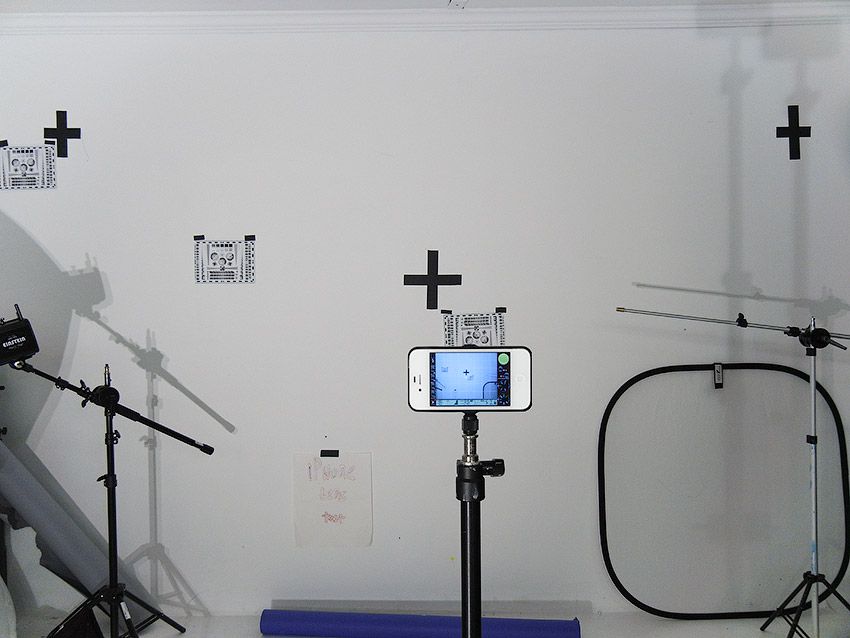 I've used Adobe Photoshop CS6 ACR converter to crop and resize iPhone TIFF files. No sharpening, no noise reduction, everything as-is from ACR.
---
Image Quality tests
Lets look at all three lenses image quality results. Each image has 100% crops from a center (where I have focusing point set) and another 100% crop from the egde.
Native iPhone 4s camera outside:
Native iPhone 4s camera in studio, 100% center crop: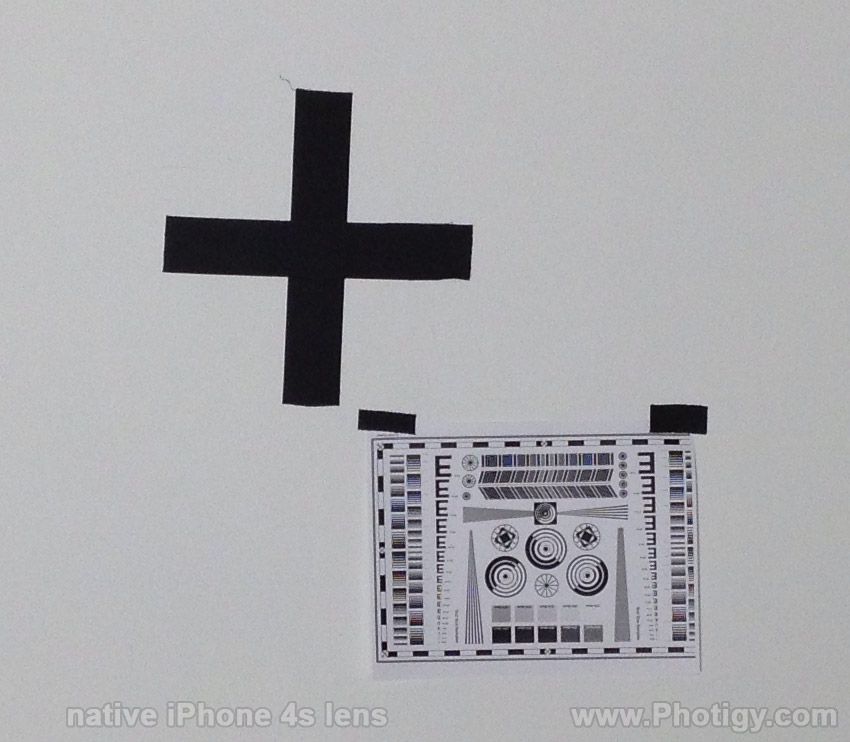 ---
 iPro Schneider Lens System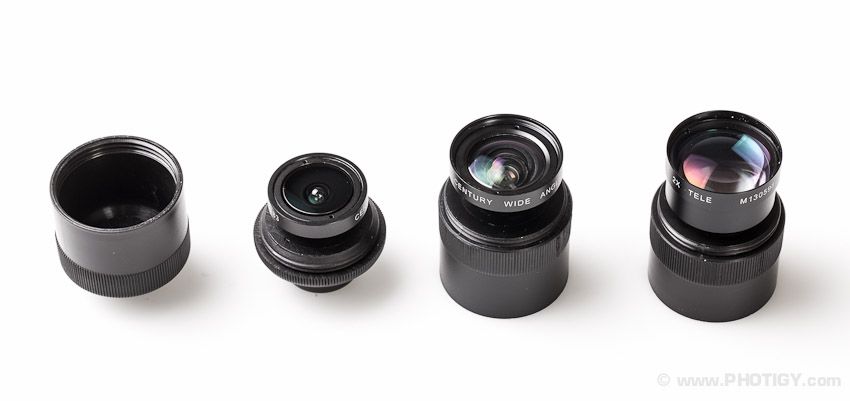 I've got 2 sets: one has wide angle macro and fisheye ($190),  and second piece is 2x Teleconverter lens ($99).  Quite expensive set, but it has the best mounting solution:
Schneider iPro lens iPhone case with mount socket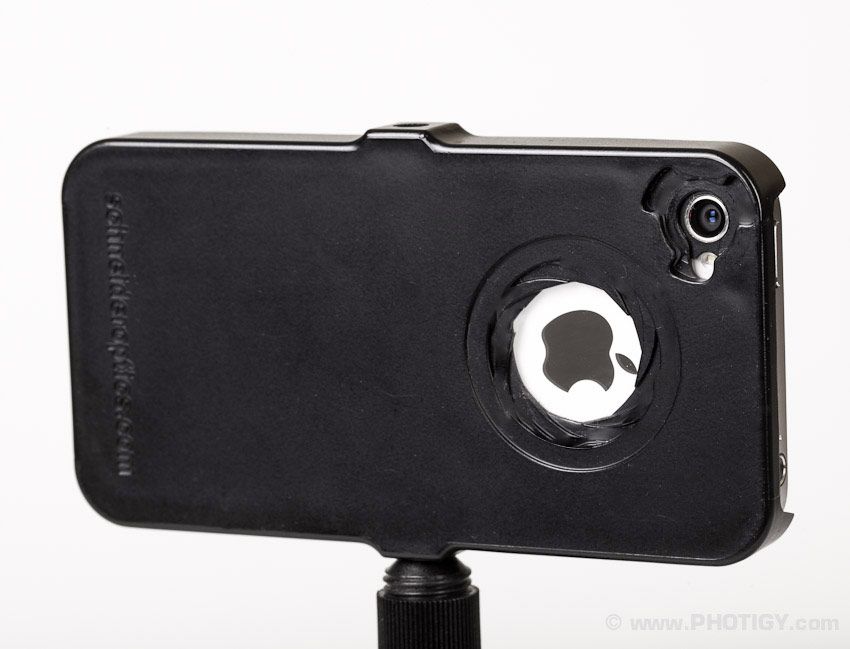 ~I hate dust on my shots! ~
 Schneider iPro lens iPhone case with mounted lens
Lens sits securely, there is no way you can accidentally loose it. However, this is meta-to-plastic relationship inside the mount, which tells me that one day it may get loose…
Lenses are packed into cool little penal, I had no issues to carry it with me all the time. Really, this is the best solution:
 Schneider iPro lens iPhone case and lenses in a penal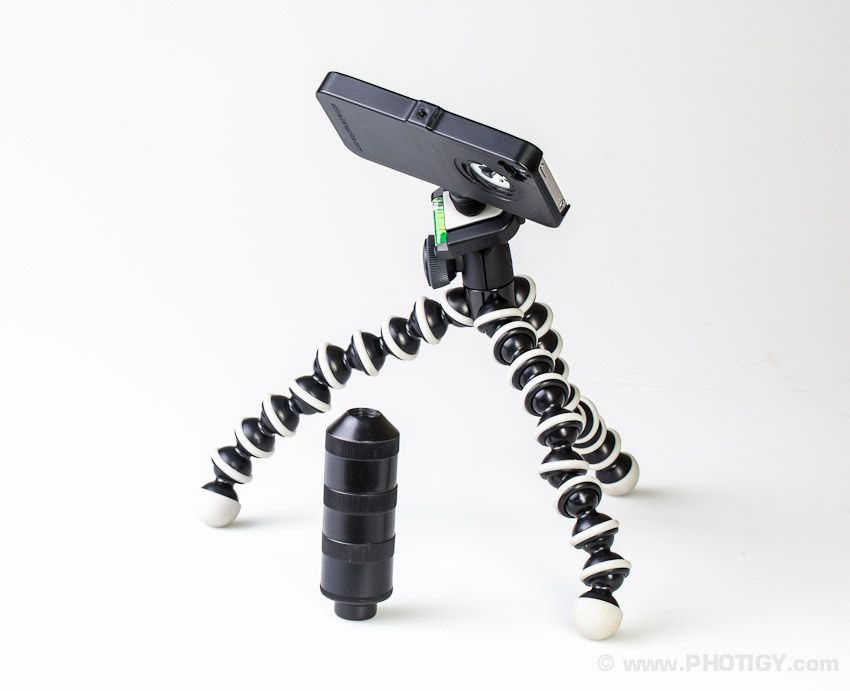 BTW, this is nice little Joby tripod for iphone and P&S cameras I was using here.
All 3 lenses sits inside this black cylinder. It also works as a handle if you mount it between the iPhone and a tripod.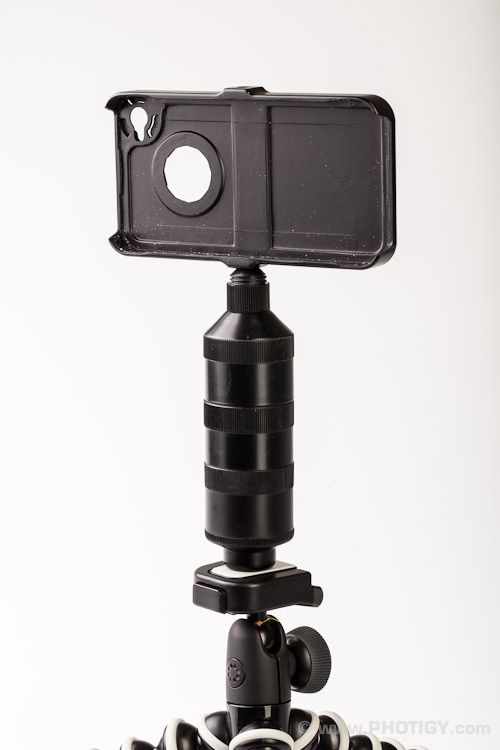 I did not like it this way, because I exchange lenses quite frequently and it is easier to do w/o taking the phone off a tripod. Meaning I had lenses in my pocket instead:-)
 Schneider iPro lens system iPhone: beautifully packed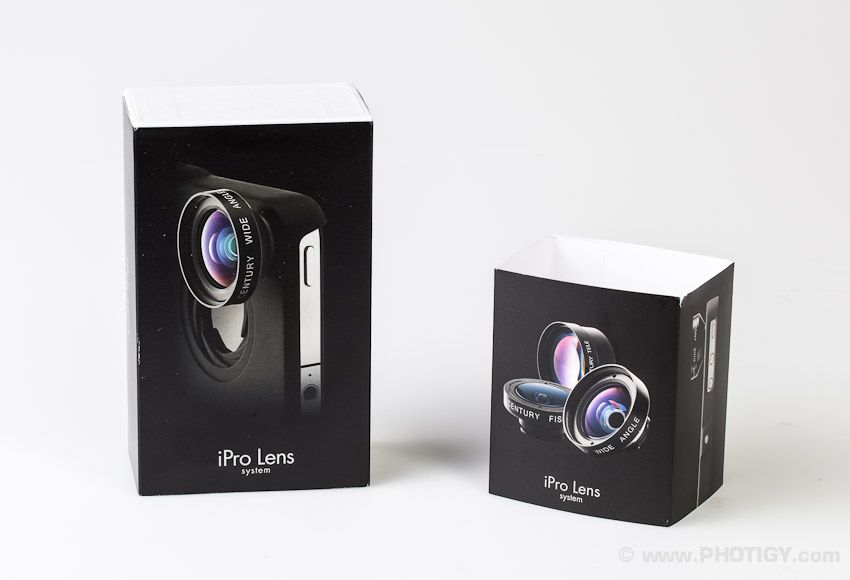 More about Schneider optics for iPone.
Let's see the performance of each lens from the set.
1. Schneider iPro lenses: 2x Telephoto
 
2X Telephoto  outside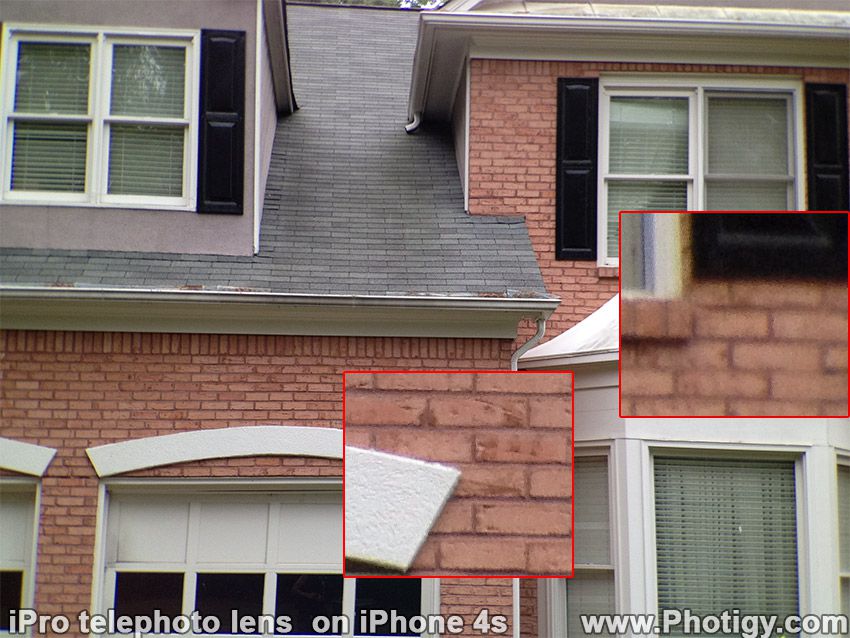 2X Telephoto in studio, 100% crop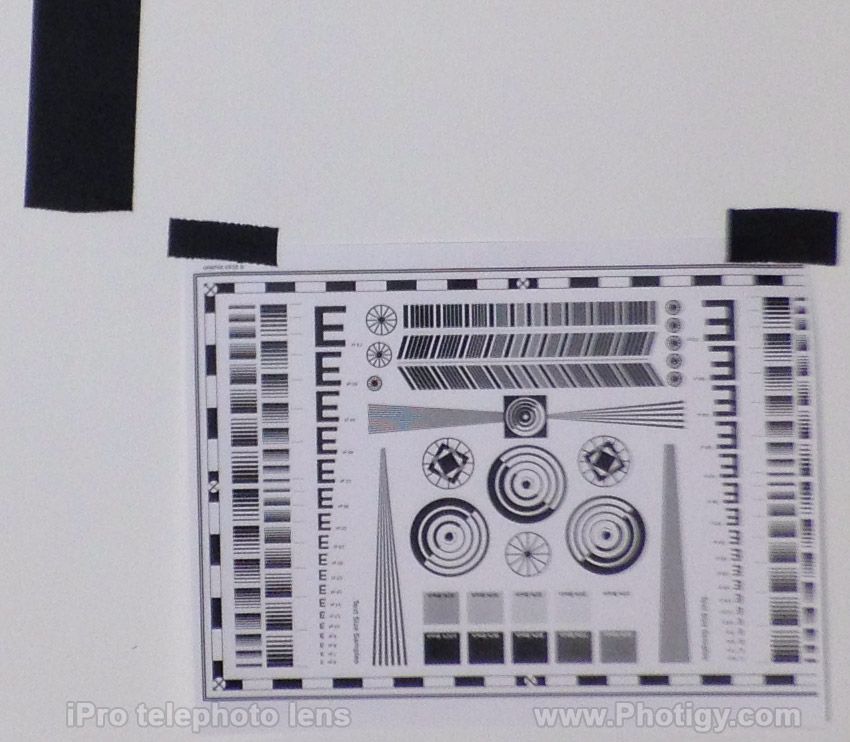 What do I see here? 
It looks like 2x teleconverter reduces DOF, as well as it might be that I did not have the camera 100% in parallel with the building or a studio wall I was shooting, even though I did my best to make it parallel.
Otherwise it won't be such a loss of sharpness. It is not quite visible when shooting at 30+ feet (home), but much more impacting when dealing with 6 feet focusing distance in the studio.
In a real life, this lens will work great for portraits or true infinity-focus shots. See example below.
Some real-life example shots with iPro 2X telephoto lens:
This is a hand-held portrait, processed and sharpened in ACR and Photoshop CS6. No other alteration was made, DOF is what we got from the camera.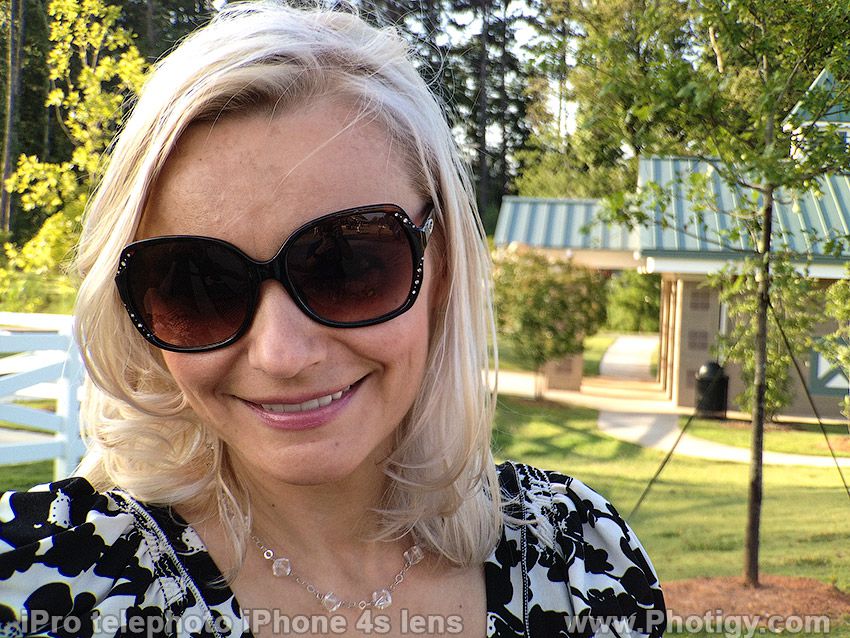 This cool house was captured using Joby Tripod, same treatment as on the image above: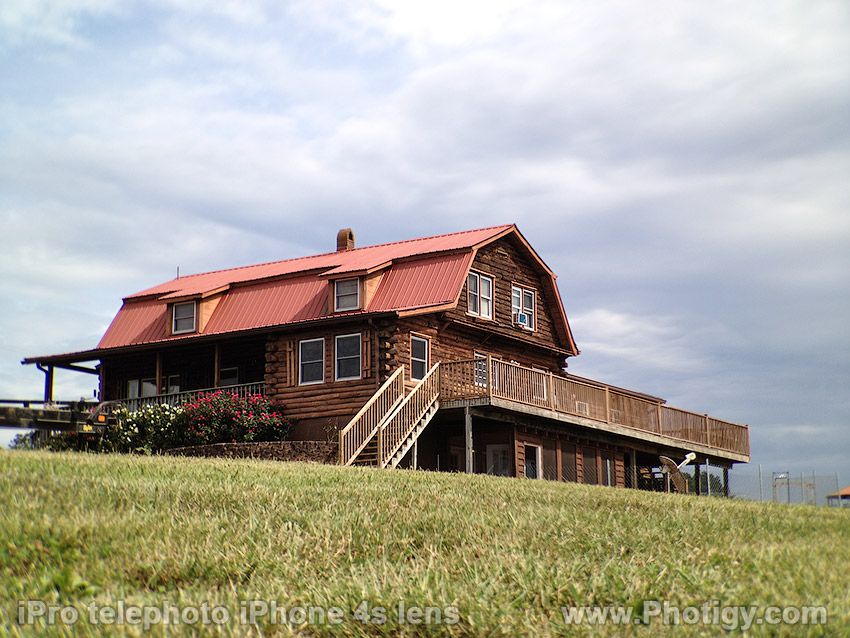 ---
Conclusion:
iPro 2x telephoto lens for iphone is not perfect. Same as photographer who uses it:-) However, you can get a real non-phone shot look with this lens, especially if images will be treated seriously, as you do with DSLR RAW files. It will also work very well with Instagram or any other social media photo sharing network.
Good: Great quality when in focus, shallow DOF good for non-phone look on portraits.
Bad: Edge blur.
 2. Schneider iPro wide angle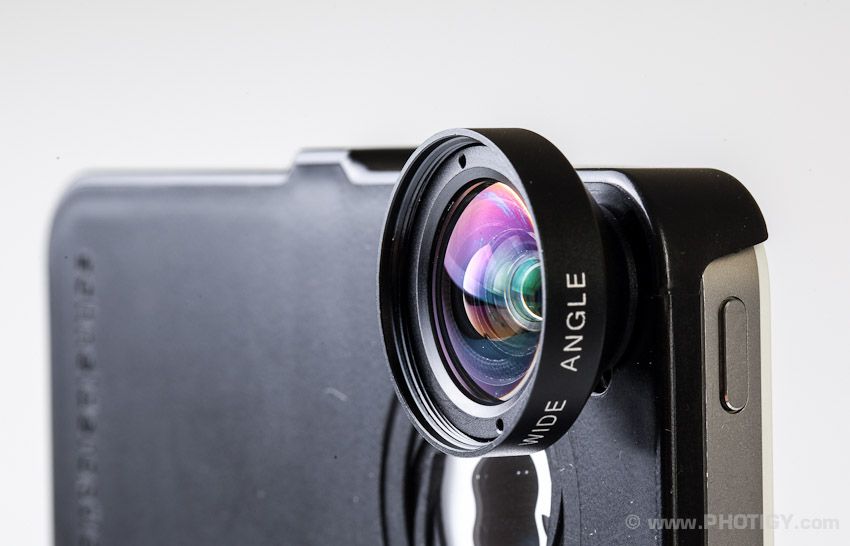 iPro wide angle Schneider lens  outside: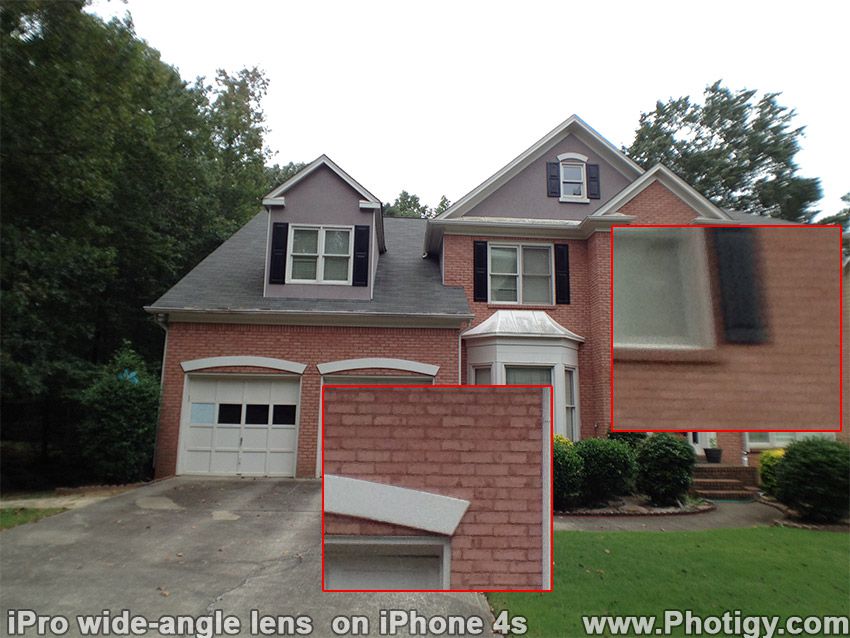 iPro wide angle Schneider lens inside, 100% center crop: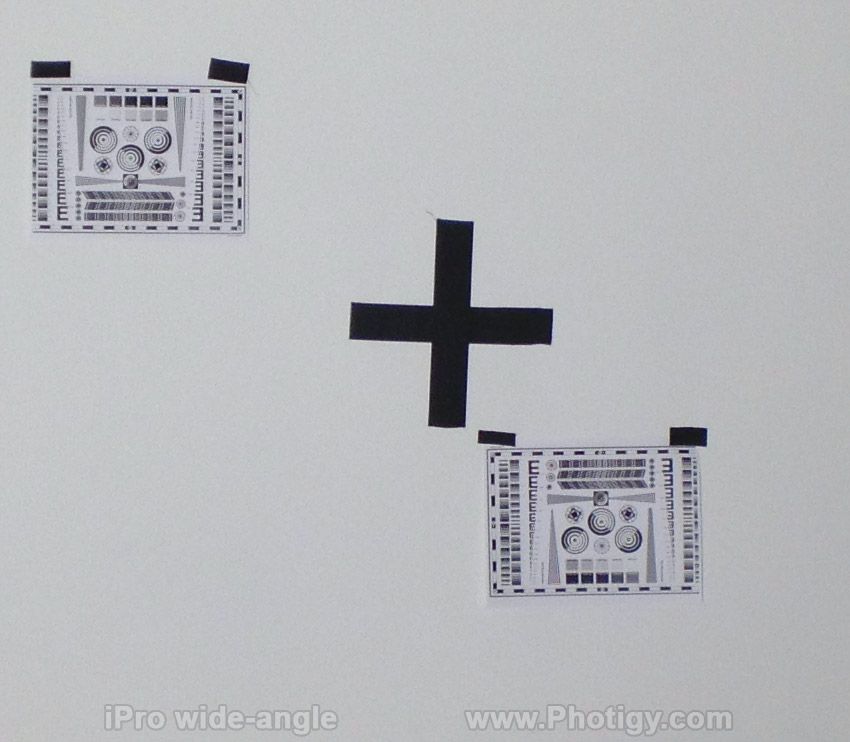 What do I see?
As expected, DOF is deeper and it is easier to get things in a focus. However, edge sharpness is quite disappointing. Good: no visible barrel distortion, which is pretty good for such wide angle lens adapter.
 
iPro wide angle Schneider lens Real-life example: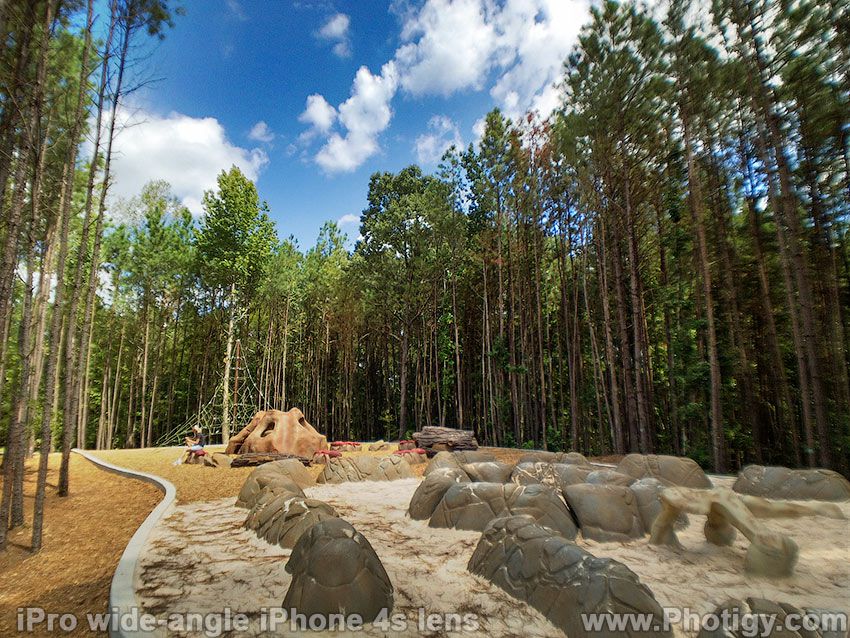 I've used the same Joby Tripod, hanged iPhone on a tree and captured 2-exposure HDR using this technique.
---
Conclusion:
Not the best quality for such expensive piece of German glass, but considering that it was shot at wide open aperture and absence of barrel distortion makes this lenses a good choice for a wealthy iPhone geek.
Good: No barrel distortion.
Bad: Edge quality.
 3. Schneider iPro fisheye lens
iPro Schneider fisheye lens  outside: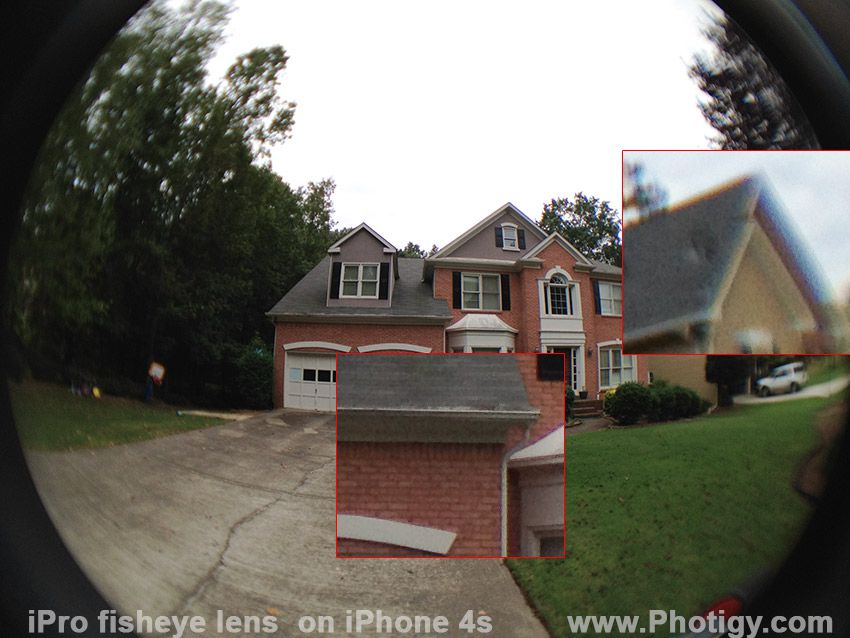 iPro Schneider fisheye lens inside: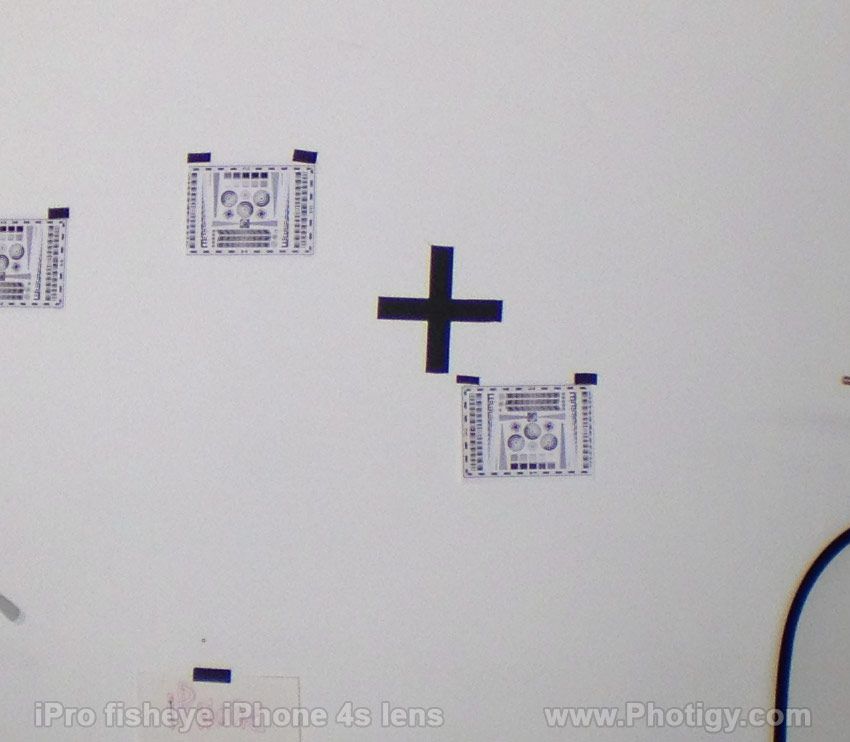 What do I see?
Fisheye was never the king in producing distortion-free images, and you can expect the same performance from this lens as well. Everything is about the crazy look you'll be getting from a fisheye lens. It is crazy, and you'll love it if you crazy enough for this lens or have some experience using fisheye lenses on your DSLR.:-)
iPro wide angle Schneider lens Real-life examples: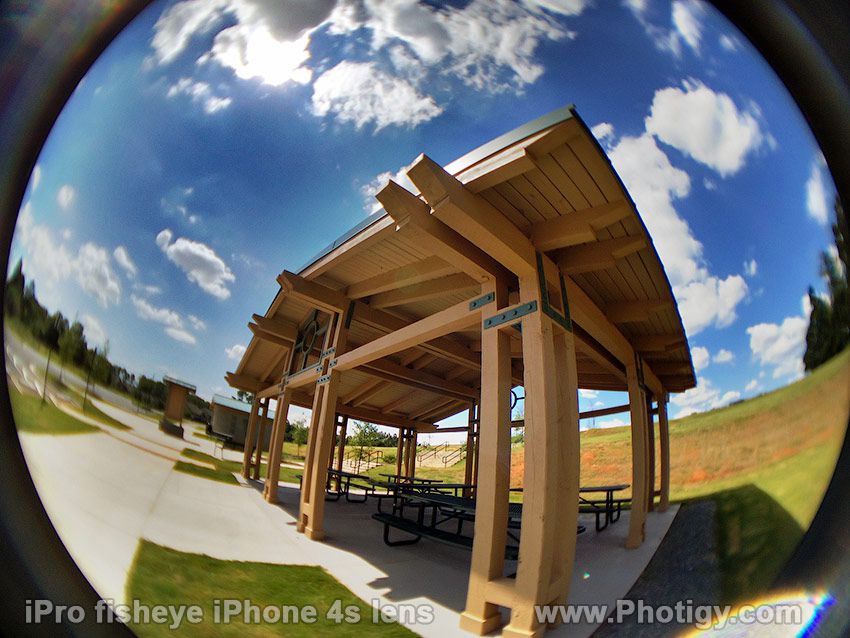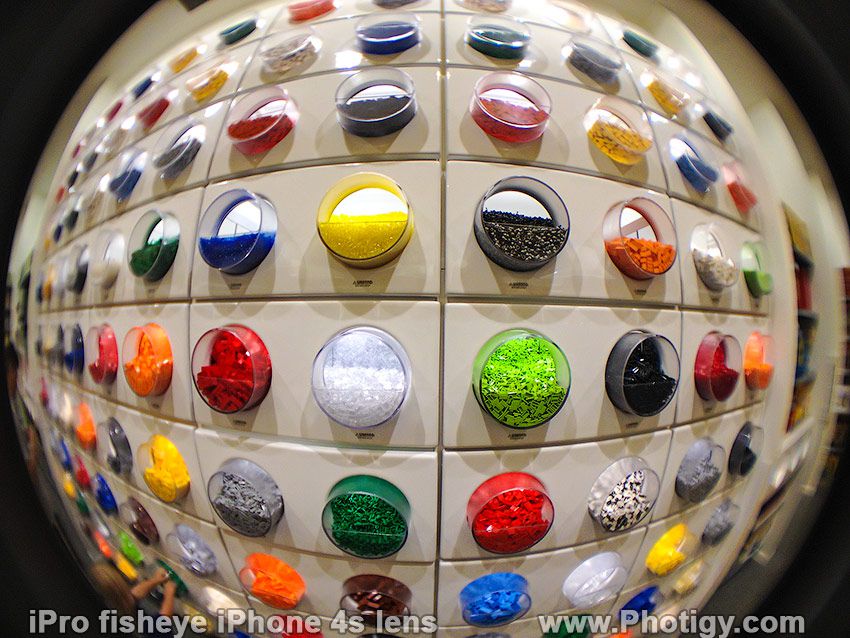 Conclusion:
I love fisheye lenses, so I can't really judge this little beast. If you are creative enough, you'll have fun with it.
Good: Crazy look.
Bad: Crazy look and poor edge sharpness.
Hi-res original TIFF and JPEG files are available for download absolutely free, you just need to sign-up for our newsletter.  To sign-up, use the top form on right sidebar, and link to our special downloads page will be sent to you.
---
 Links to the lenses I am testing. Usually BHphotovideo.com has the best pricing:-)
| | | | |
| --- | --- | --- | --- |
| | iPhone mCAMLITE Mount for iPhone 4 / 4S | Magnet Mount Conversion Wide Angle & Macro Lens for iPhone 4 | |
| | | | |
What next?
Macro performance: I'll go with super macro shots with each of these lenses to see how close it can shoot, how shallow DOF i"ll be getting (meaning it will optically blur a background), and what quality it will deliver.
I'll show you how to get this kind of shots directly from the iPhone, without any tilt/shift and other software blur filters: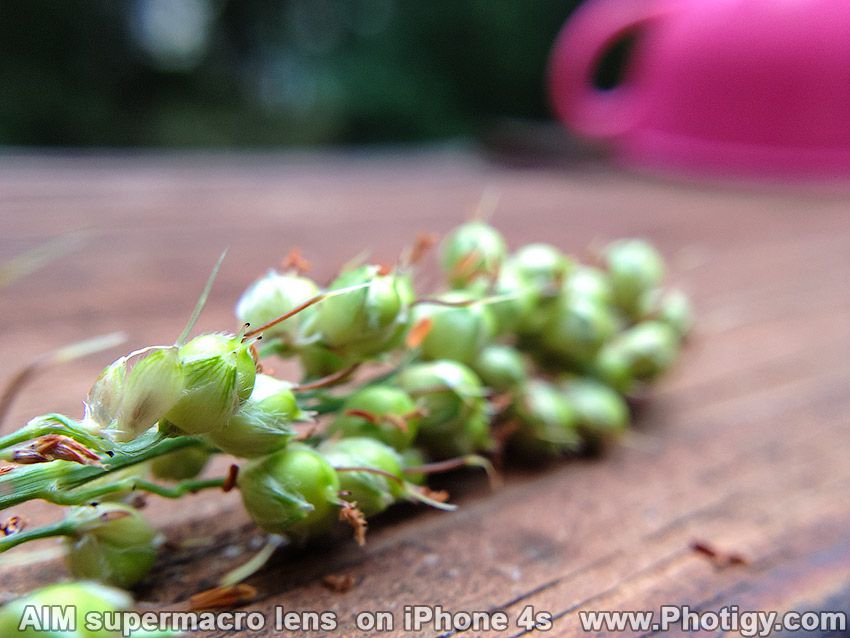 Do not miss the second part of the review: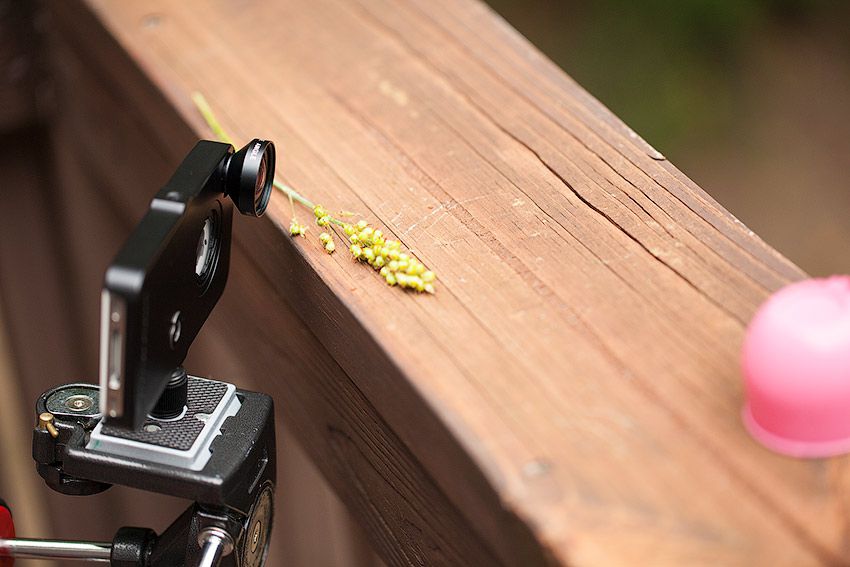 The same tests of Digital King Wide-angle and fisheye lenses, plus super heavy and pretty serious iPhone mCAMLITE systems as well as $6 no-name lens tests. It is just too much for one article: 60+ images will take minutes to load.
What about iPhone 5? Yep, will test it in a month or so:-)
Stay tuned!