This topic contains 6 replies, has 4 voices, and was last updated by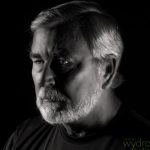 Robert Wydro 8 months, 3 weeks ago.
Hello, this is is the forum for "Zero Gravity Photography" course students.
Please post your questions, requests, as well as submit your work for the review and over here.
Create a free account on Photigy and… welcome to the community!

First thing to do is to download a list of things I was using for the device build. Its attached to the topic
Let me know if you have any questions

Hi Dan
Yes, please refer to this image:

So I built the launcher. I only had to buy some of the hardware. Had most of the wood lying around in my shop. I did make a couple of modifications to make it more rigid and reproducible. I used wood cross pieces rather than the metal strapping (which bends under tension). I put the electromagnet and metal bar in line with the "piston". I also added guides for the piston to minimize wobble. It works great and is extremely reproducible. Since it was Halloween, I used candy corn, skittles and wrapped candies. The most time was spent picking up after each shot. Somehow I never recovered the same number of Skittles after each shot. Those buggers bounce all over the place.
You must be logged in to reply to this topic.