This week I've got 2 additions to my studio gear I was waiting for a long time: heavy, solid and huge Fatif studio stand and amazingly fast workstation laptop, Lenovo W700ds. Both of them are really monstrous creatures: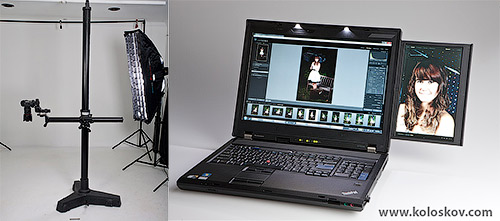 Fatif studio stand:
Old, by still strong as my red pepper Ukrainian vodka I brought 8 years ago and still haven't tried: about 180 lb heavy, 8 feet tall, it feels like an WWII cannon:-)
I was looking at this type of stands for a while on eBay (was not ready to spend the money for new one: a good camera studio stand cost somewhere from $2.000 to $21.000).
Why so expensive? I was wondering before I got mine, now I know why: so heavy, so solid built and so much easy to work with in a studio comparing to my Manfrotto tripod, it is  definitely worth its money.
I was lucky to get mine form (many thanks) Tony (TonySmithStudio.com) for a fraction of it's original cost. The shipping from Miami to Atlanta cost me more than 50% of the price I've paid:-)
Have you ever sit in a tank? Ever drove one? Imagine you have  a small one in a studio: move it around (I'd have to remove the rest of the carpet in the studio), aim  on a target, park and shoot.
There is no way I can accidentally hit this stand it and move the camera off from its target. I can easily break my leg, yes…  but no way I can loose camera's focus or composition anymore:-)
I remember how frustrating it was when I accidentally hit one of  tripod's leg while shooting super (3x lifesize) macro: the whole composition was ruined in a fraction of a second. Now, with such studio stand it won't be a problem: it has more then 2 times smaller footprint than my tripod, it is easy to move it when wheels are engaged, and it solid when locked.
Here it is: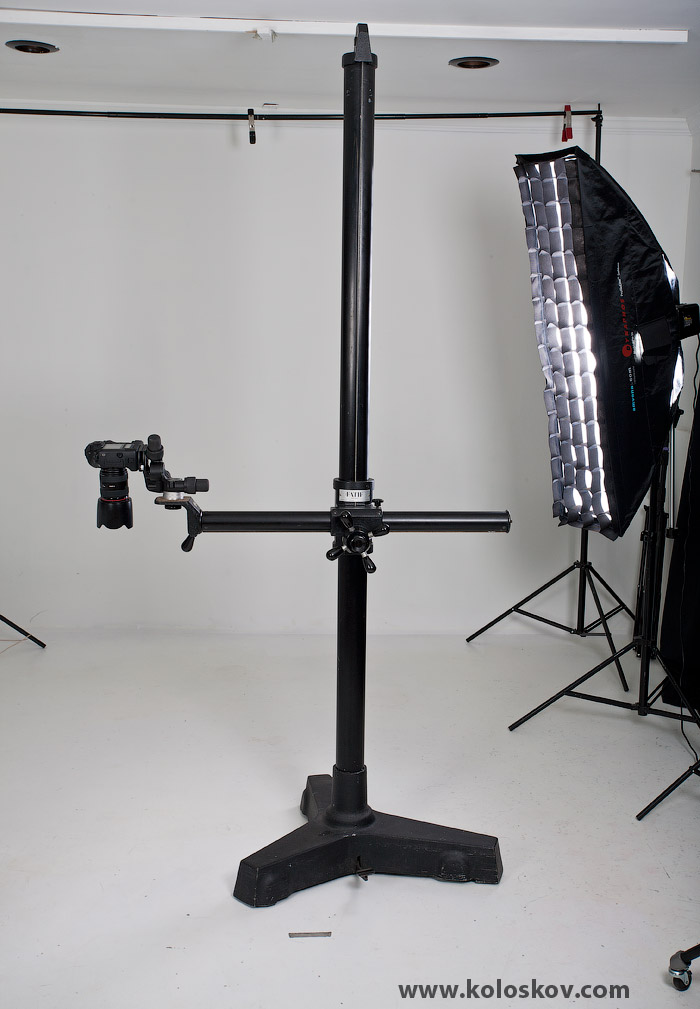 Camera can be lowered from few inches from the ground up to a ceiling in a couple of seconds. Counterweight is inside, so even my wife can do it without much effort:-)
To move stand around, base should be lifted (see below): hidden wheels gets engaged and the whole thing can be easily moved. When base is lowered, all 180 pounds is on the floor, nothing can even shake it.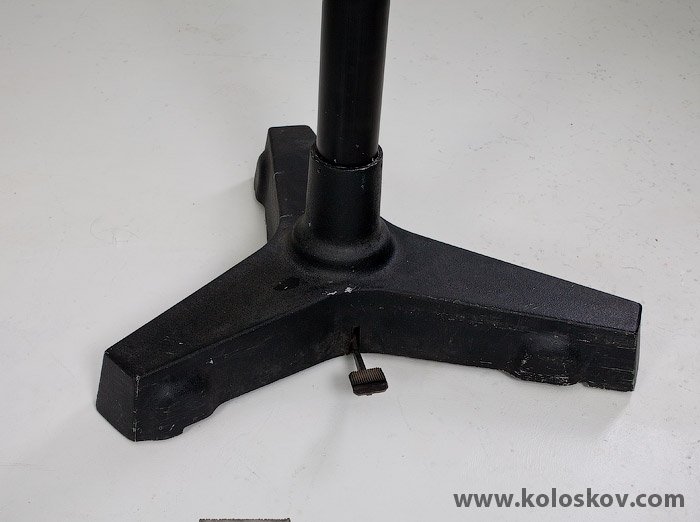 I a going to mount laptop on arm, opposite to a camera, already ordered Wall Mount LCD Arm.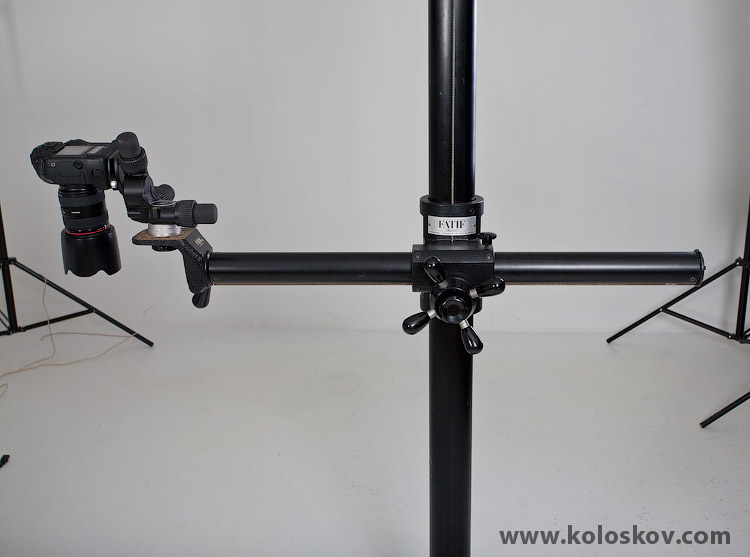 Now the second toy: Lenovo W700ds professional workstation from IBM.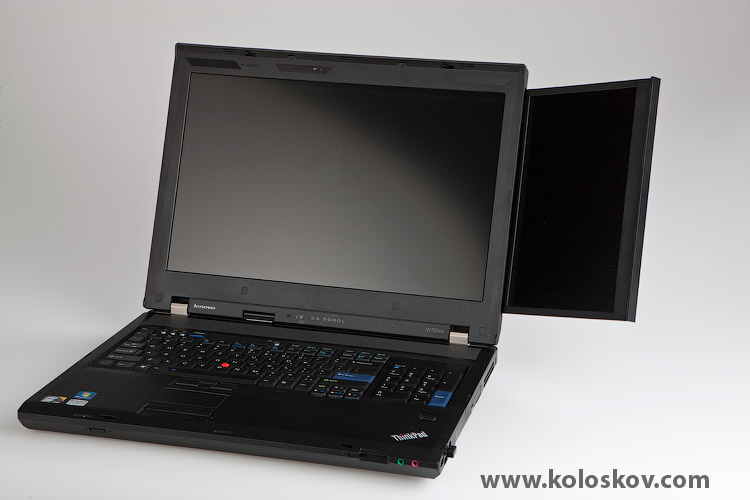 (tech details of the shoot are below)
It look nice on a picture, but still the monster: Two screens:  17" (1900×1200,   wide color gamut (72% Adobe® RGB)  and 10.6" (768×1280) retractable one. I could even get a Pantone Color Sensor + WACOM Digitizer w/ Stylus integrated into it, if needed! I do not need it, as this is my only photography workstation, all photography post production being held by  desktop workstation.
8 GB PC3-8500 DDR3 memory, Intel® Core™2 Extreme QX9300 (2.53GHz, 12MB L2, 1066MHz FSB), dual HDD: 128Gb SSD + 320Gb 7200RPM drive, Windows 7 x64 pro.
Love this machine! With system drive on Solid State Drive,  it simply flies! (for those who does not know: SSD disk use the same technology as flash drives: meaning no spinning disks, which leads to much fast seek read/write times.)
It also has the best (IPS based) LCD matrix, something you can't easy find on a laptops. Even macbook pro does not have such good screens.
Speaking of Mac/Apple: I do not know why, but for some reason Mac treated as a professional tool for photographers. It is almost "must have" if you do photography, right? (I've never seen photographer using non-mac computers before, except me).
Honestly, I will never understand this:-) It is like using Leica cameras for professional photography (especially in-studio): no doubt Leica has really nice and solid cameras (same as Apple computers or monitors), but there are much more professional and convenient cameras for professionals, right?  They are less stylish, true: you can't beat Leica here (same as Apple).
For me functionality is the most important thing I need from my gear. I need hi-end functionality and usability to do a stylish photography, not the opposite. This is why I do not use Apple: prefer functionality over the style, prefer to pay for the functionality and freedom of what tools to use first, style is a secondary … I apply this rule for all my gear:-) This is the reason  why I did not buy the latest lenovo W701ds series: for a half of it's original price ($4800) I am getting 99% of the performance and functionality: top of the quad core processors are very close to iCore 870 series, the rest is quite similar.
Now, back to my Lenovo.
Instead of highlighting a keyboard, it has two LED lights on the cover: when turned on, they lighting up the whole workspace: screen, keyboard and a table around. May look strange at first, but it is much easier for my eyes to work in darkness this way. I've tried, I've compared with only keyboard highlighted laptops, and I like it better.
See how it looks  in a darkness, two LED on top are ON: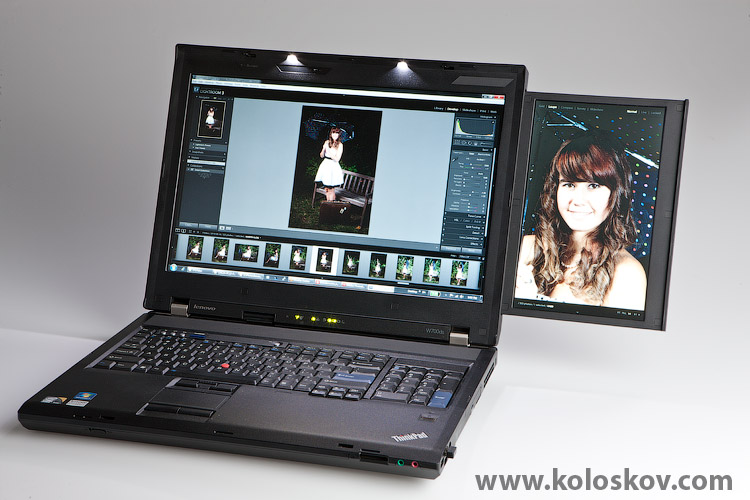 Well, not in a really darkness:-) I was using the same technique as I had for a recent LED lamp shot : no modeling lights for studio monolights, dark studio and 30 sec exposure. This way I've got combined exposure from a strobes and laptop lights in one shot.
Just in case you'll be willing to see a lighting setup for this shot: I liked first photo of the notebook: considering  only 5 min was spent to  setup the lights, no Photoshop, everything as-is off the camera, it does not look bad. I especially like that curved reflection on a screen: diffuser panel are the best for the task:-)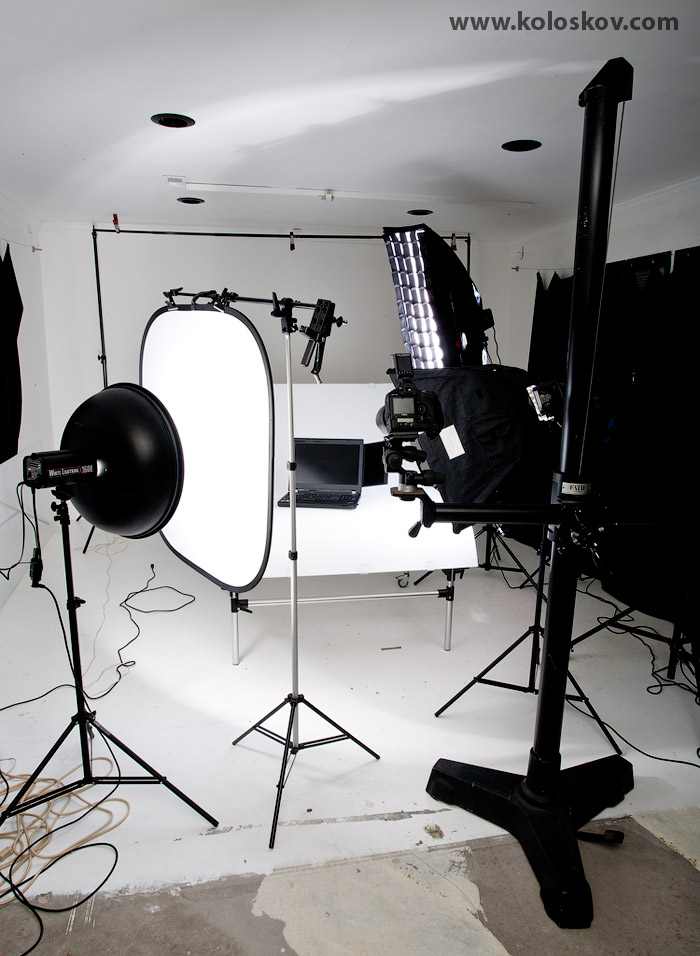 3 light sources: Paul C Buff  beauty dish through the diffuser from left-front, softbox from the right, stribbox on the right-behind. Simple and efficient:-)
Must say that for the dark studio shot (second image of the laptop) I've turned off left light to avoid that reflection on the screen.
This is it:-) Would be glad to hear your opinions.
~Alex
Update (8/31/2010): got a support arm for a laptop, now the whole "photographic workstation" is almost done: