Canon 5Ds 50.6MP Full Frame DSLR:
What to expect from a new camera?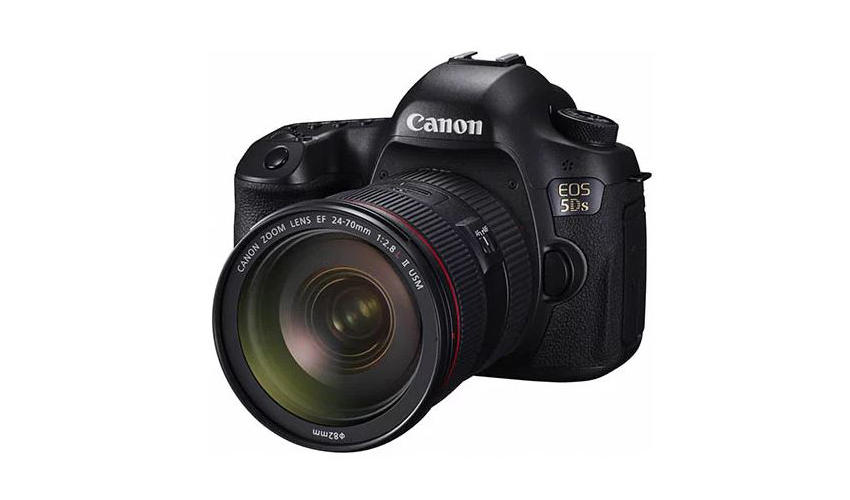 Yesterday an image of the new Canon 5Ds 50.6MP Full Frame DSLR appeared on the web. So, most likely it is true and Canon is going to release the world's first 35mm DSLR with over 50 Megapixel sensor.
There are quite a few opposing opinions among photographers about the new Canon camera, and here I want to try to do a quick analysis of what a 50 Megapixel sensor in 35mm form factor could mean for us studio and product photographers.
What's good about the new Canon 5Ds 50 Mpx monster:
✓ Great amount of detail, but probably more than most current Canon lenses can optically resolve.
✓ No more tight-crop or bad composition shots. Photographers can shoot without thinking much about the rule of thirds and other composition-related "rules" and then later crop image the way they want. The same goes for freedom with in-studio high-speed liquid splash shots: shoot loose and crop later. You will never have your splash fly outside of a frame.
✓ Possibly great ISO performance in "low megapixel" modes. In low light situations, pixels can be used in groups, producing 16-20 Mpx images from the 50+ Mpx sensor with much better low light ISO performance using interpolation. I am not sure if Canon will utilize this possibility though. Maximum ISO of 6400 suggests something else: Based on Canon Rumors the lower maximum ISO could be because the camera has "a much stronger CFA which will produce much greater color accuracy than anything currently in the Canon lineup."
What's bad about the new Canon 5Ds 50 Mpx monster:
X With a high pixel density sensor, "old" lenses won't be able to produce enough optical resolution for such small pixels. In other words, photographers won't be able to get all the possible detail with the new Canon 5Ds using lenses they have now. Which also means that new, (and most likely more expensive) lenses with greater optical resolution will be released soon. These new lenses will be able to produce a sharp enough image for the new 50 mpx sensor. Most likely, it will be Carl Zeiss optics. Take a look at what the best lenses performing on 36mm (highest Mpx sensor for 35mm as of today) here: Camera Lens Ratings by DxOMark.
X The high pixel density sensor will produce more internal noise, meaning poor High ISO performance in "full resolution mode". Of course, better A/D conversion in-camera software and more powerful processor will help to fight this issue. We can only tell how good it will be when the Canon 5Ds is released to the public.
X With smaller pixel sizes, diffraction will limit the maximum possible optical resolution. Same as with ISO performance, the in-camera computer could help at some degree, but it will be hard to fight with the physics of our world 🙂
More thoughts about 50 Megapixel Canon 5Ds:
We used Canon for many years for both our studio commercial and our outdoor/landscape/family fun shots. However, when it was a time for upgrades, we upgraded our studio cameras to Hasselblad and outdoor/leisure cameras to Sony a7 line.
Based on experience with both systems, there are areas where Canon 5Ds may not be able compete with Hasselblad in studio and Sony outdoors.
Medium format cameras with detachable digital backs v.s 35mm DSLR:
50 Megapixal medium format sensor size with less pixel density will resolve more details than 50 Mpx 35mm sensor.
Medium format detachable digital backs will be a preferred choice to work with technical (large format) cameras, regardless of resolution that a 35mm DSLR will offer simply because an "open" sensor will allow more tilt/shift/swing movements of technical camera comparing to a sensor hidden inside DSLR body.
Larger sensor with low pixel density will allow the camera to work with a wider selection of lenses that could resolve enough details, comparing to 35mm sensor packed with the same amount of pixels.
Outdoor photography: Canon v.s Sony. To compete with 36 Mpx Sony A7R , 50 megapixel sensor won't be enough.
Flip screen is a big advantage that I experience every day when comparing our Sony a7 to the Canon 5D Mk III. I can shoot from the ground without laying down (Canon's Angle Finder won't help much here).
Sony's advanced face recognition and tracking makes portraiture, especially kid-friendly family "action" photography much, much easier. Especially for non tech/camera savvy photographers. You only care about the composition and peoples emotions, and the Sony will focus on a face and can even do exposure compensation when needed (example: when you subject runs against a bright sky and turns dark – when face is found, Sony a7/a7R will immediately adjust exposure, blowing the background and correctly exposing the face)
Canon needs to expand their "classic" functionality and body design to get back on top of the DSLR game. Boosting only megapixel's won't work: it is all about user experience and extra features that the camera can offer a photographer. Now, let's wait and see what the actual Canon 5Ds will look like. Rumors are great, but they might be not accurate.
– – Canon 5Ds (Possible) Specification Highlights – –
50.6MP full frame CMOS sensor
5DS R has the low pass filter removed
Magnesium Alloy Body
Dust and weather sealed
Dual DIGIC6 processor
ISO Range of 100-6400
5FPS continuous shooting
High precision 61-point AF
EOS Itr AF
"fine detail" added to the Picture Styles
1.3x and 1.6x crop shooting mode
Customizable "Quick Control screen"
Time-lapse movie
Anti-flicker
Interval Timer
Bulb timer