Liquid Splash and Beer Photography Tutorial:
Shooting a Beer Bottle with Ice drops
In this beer photography tutorial we will see together how I used a small bottle of beer along with some acrylic ice cubes, to finally deliver a promotional photo and splash – liquid technique.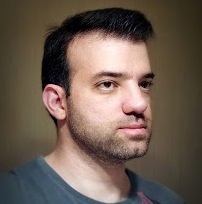 About the Author
Marios Karabalis studied Graphic Designer and has worked as a Designer and Photoshop post production specialist for 12 years as a freelancer and partnering with great daily newspaper. Since 2006 he has founded the "File Photography Studio" based in Athens, Greece and works as a photographer and retoucher.
Since 2004 he became interested in advertising – product – comercial photography and started to gather specialized studio equipment and specializes in photographing jewelry. Today he continues increasingly to specialize and know new techniques.
Beer Bottle with Ice Drops, the Final Image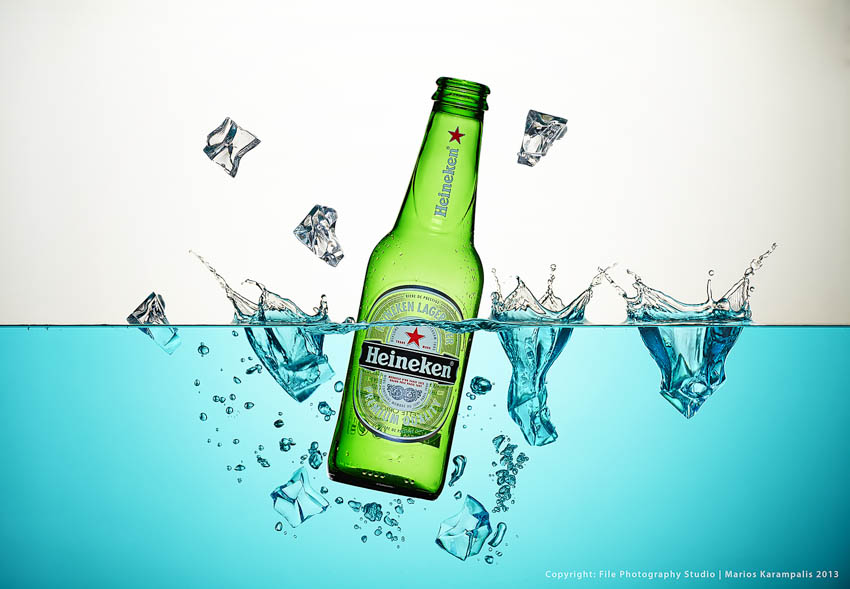 The Lighting Setup for the Beer Photography
From the outset I wanted to create an effect clean and sharpen. I did not want the background to be completely white and that's why I posted as background reflector the plexiglass which would create a gradient from the center to the edges of my frame.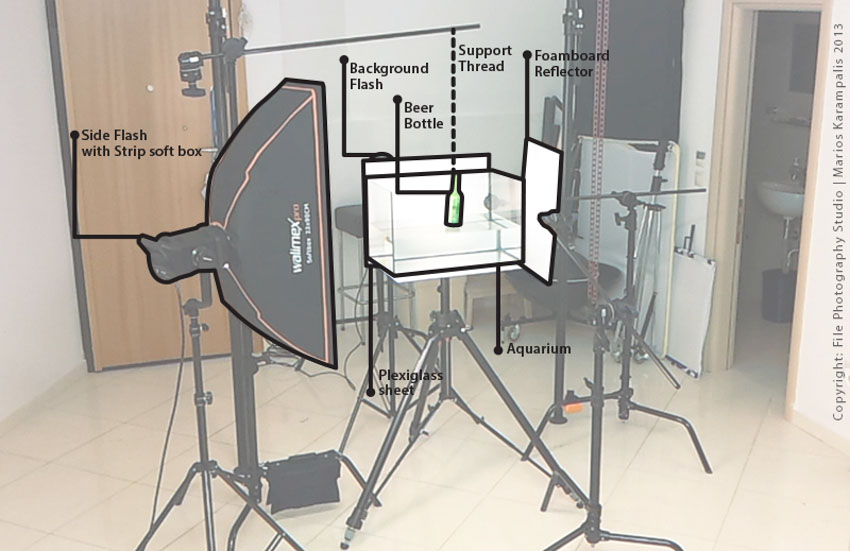 The lighting setup is simple in both photographing the bottle with ice cubes, and then photographing the bottle itself.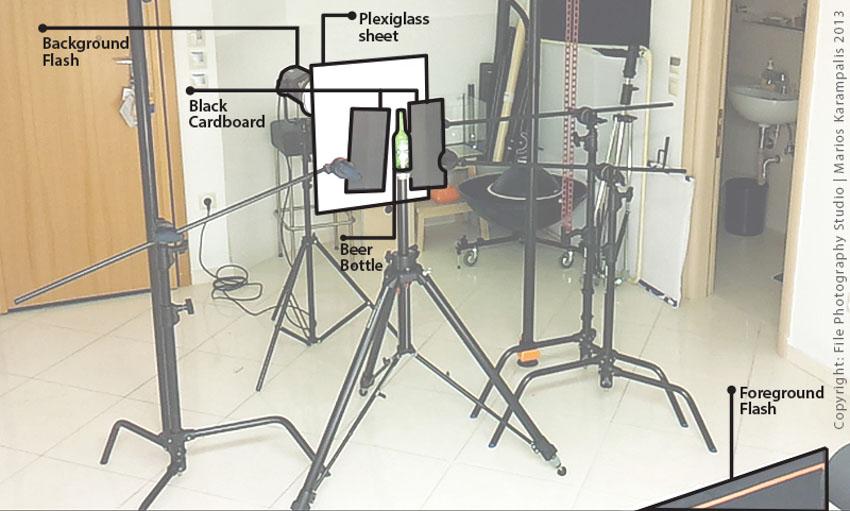 How it was Photographed: Bottle of Beer
At first i used the Background light with a plexiglass and a Strip soft box left of the tank, to give a nice highlight on the entire length of the bottle.

In the case of photographing the bottle I used the same Background light and Strip soft box forward and too low to illuminate the logo of the bottle without getting reflections. To place in specific places ice cubes that seem to be half in the water, I used a stick of plexiglass, on the edge of which I stuck ice cubes that i want to use.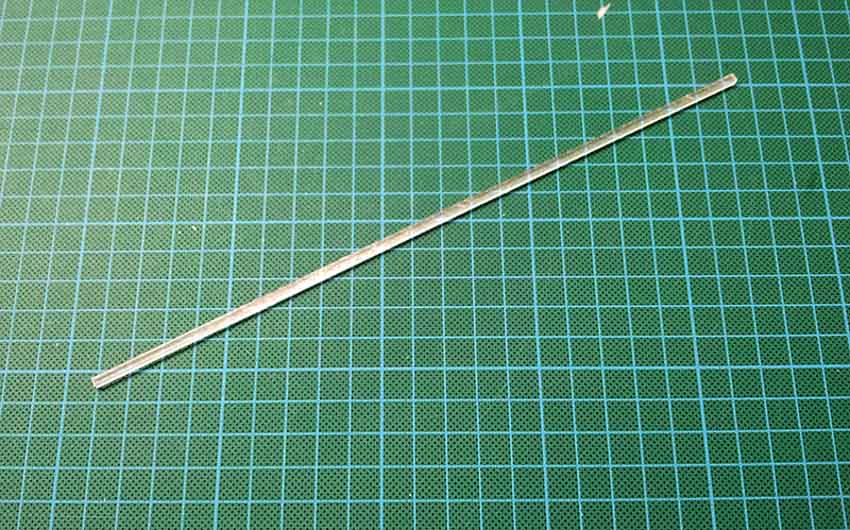 Individual Images of the Composite Shot
The final result came from several individual images which are associated with Photoshop to give the final image.
Note from Alex Koloskov:
Take a look at splashes Marios was getting when ice cubes were dropped into the tank: there is motion blur on the tip of each splash. Evidently, there was not short enough flash duration of Bowens Gemini strobes Marios used for the shot. Spec sais 1/1000 t.5 , and I know by my own experience that the minimum which will work is about 1/2000 t.1 ( can be roughly translated to 1/3000 t.5).
Therefore here is my suggestion:
Strobes like Bowens can be OK for liquid splash photography only in educational purposes, when photographer do research and developing the techniques, trying to get the shot. However, it will be hard to position yourself as a professional hi-end water and liquid splash photographer with blurred splashes on the images in the portfolio. To find out what strobe will work for splash water and beer photography, check this article : What equipment you need to start water and liquid splash photography