Making of "Winter Fruit Bowl" –
Food Photography Behind The Scene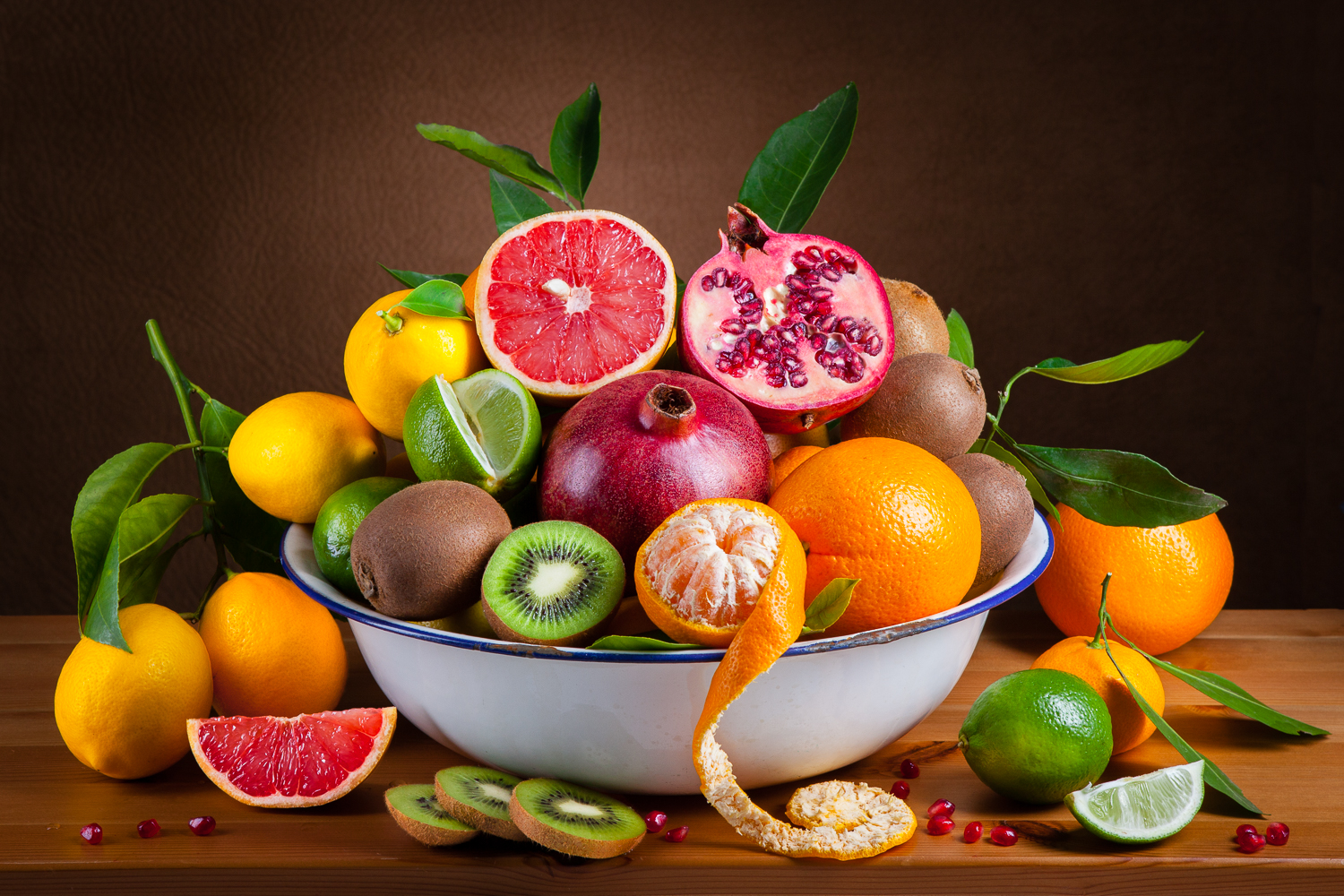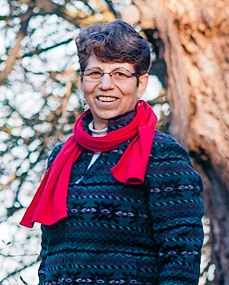 Hello, my name is Suzanne Hambleton, a photographer from Sacramento, California. I studied photography at my local community college in order to capture better images of my daughter and her soccer team. This was 12 years ago!
I found my favorite genre is food and beverage photography. I'm just starting out in the field, after a long career in environmental science. I share a studio with 2 other women, which allows me access to the studio 2 days a week with an occasional third day a week.
My city, Sacramento, is currently a big proponent of "farm to fork" movement and we have a lively restaurant scene (for a small city). I hope to find a photography niche in this arena.
This is the image I created with fresh California winter fruits, most grown locally
.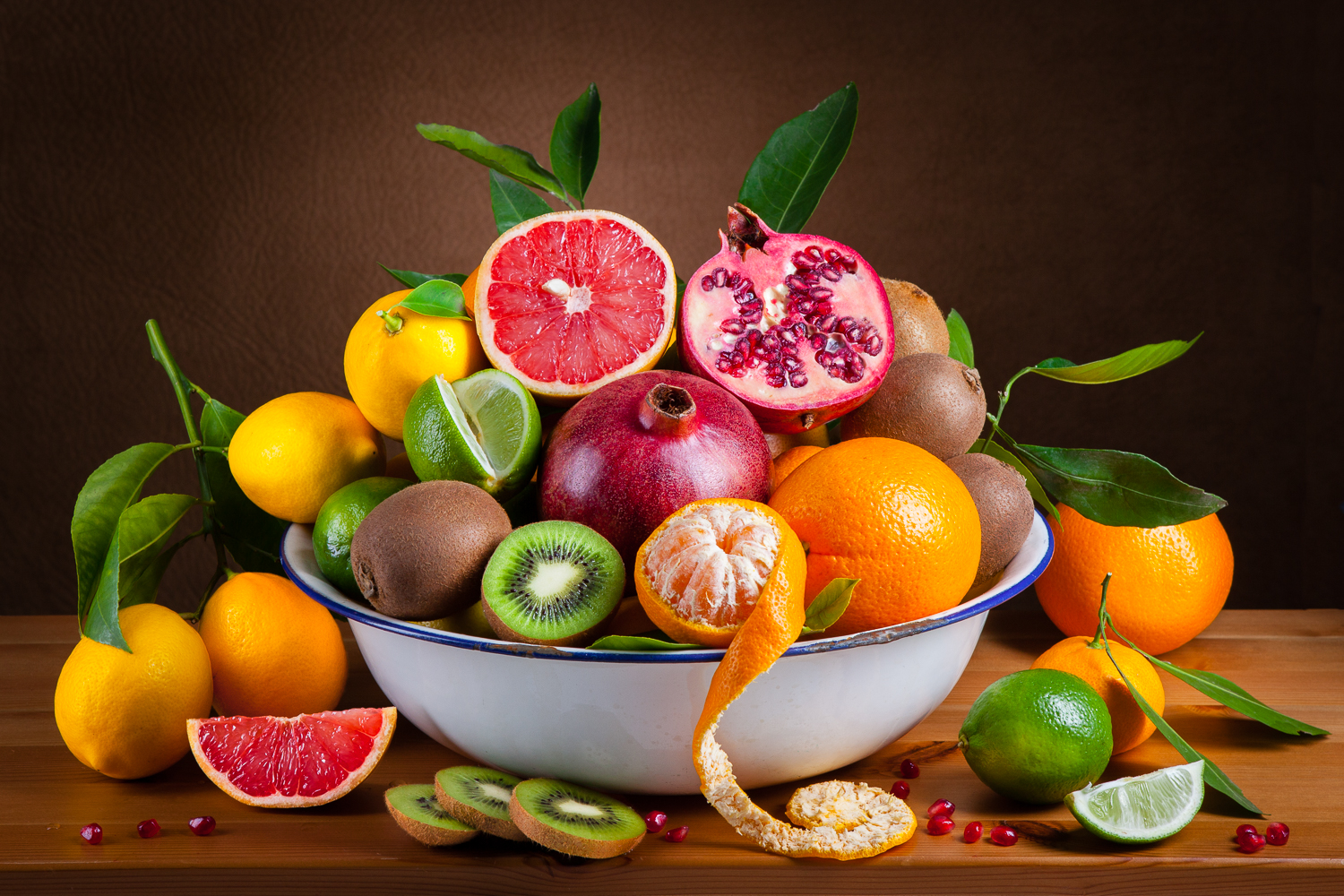 For this image, I spent a lot of the time getting the fruits, washing and styling them before the making of the photograph. We have a lemon and mandarin tree in our back yard. It is have access to fresh fruit, and have access to the leaves too!
The fruits should be clean and look good, so I start by washing them!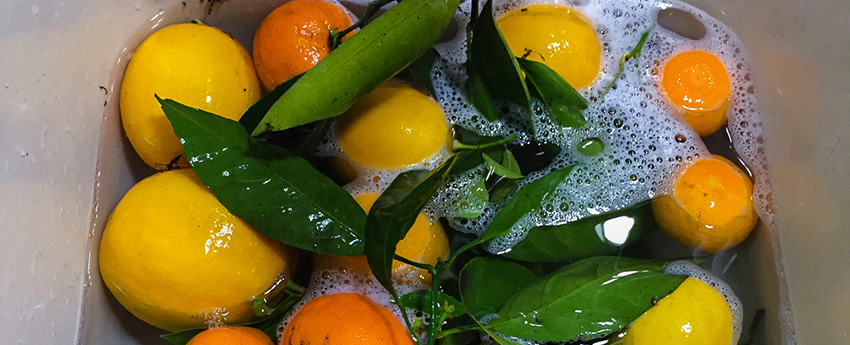 For the setup, I assemble the background, and the strobe light that will be the spot. This light will have a reflector and grid, to give the image some dimension, and the grid will focus the light right where I want it.
As you can see I have attached some fabric with gaffer's tape to a PVC pipe. I can easily roll the fabric up and store it this way and it stays pretty well without wrinkles.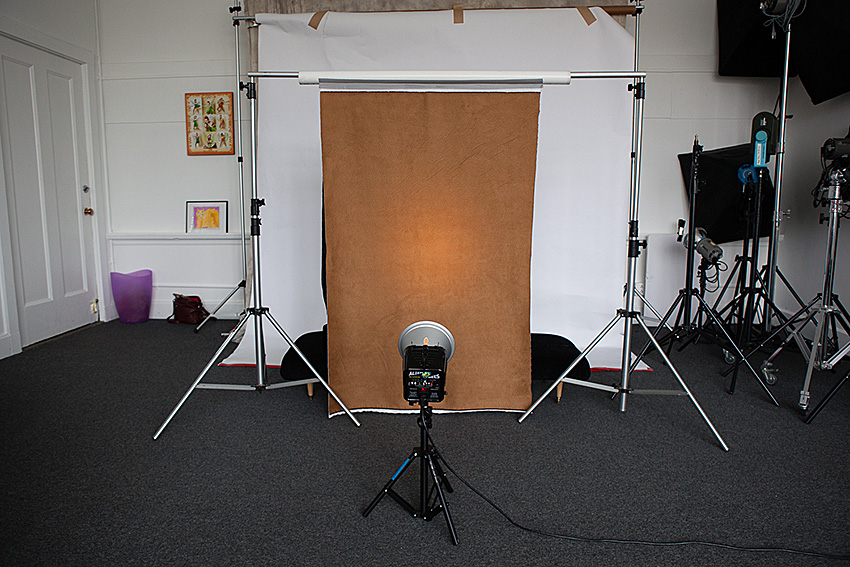 For the food portraits, I use a medium size table to assemble the food. For this image I used a wood shelf from an old bookshelf as the wood piece under the bowl. The bowl is from an antique store that I had from another project.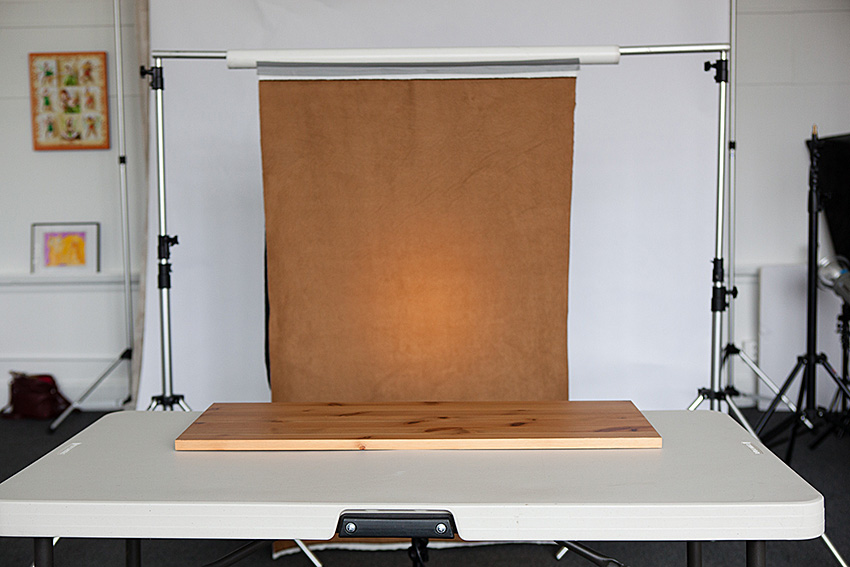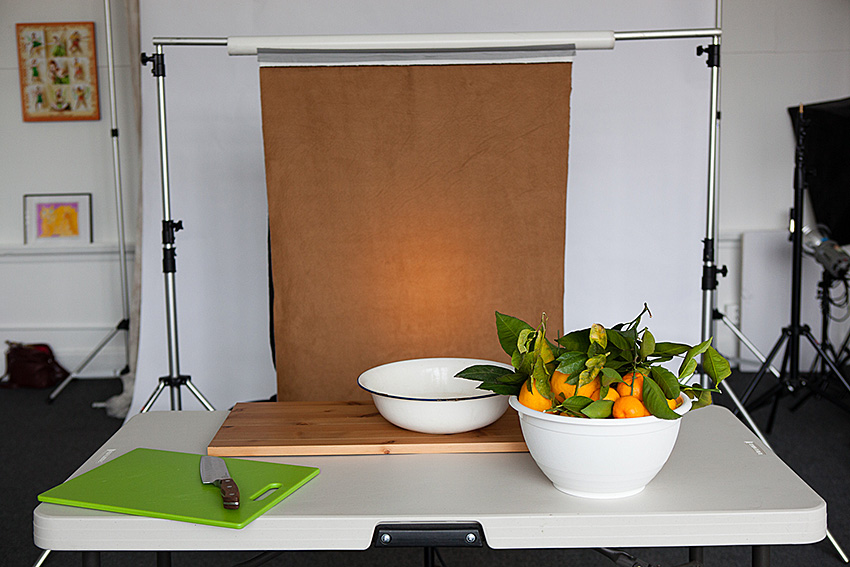 If you want to save some money, you can fill your bowl partway with other materials, really anything will work as long as you cannot see these in the picture. I have some wooden blocks or Styrofoam balls handy that I often use.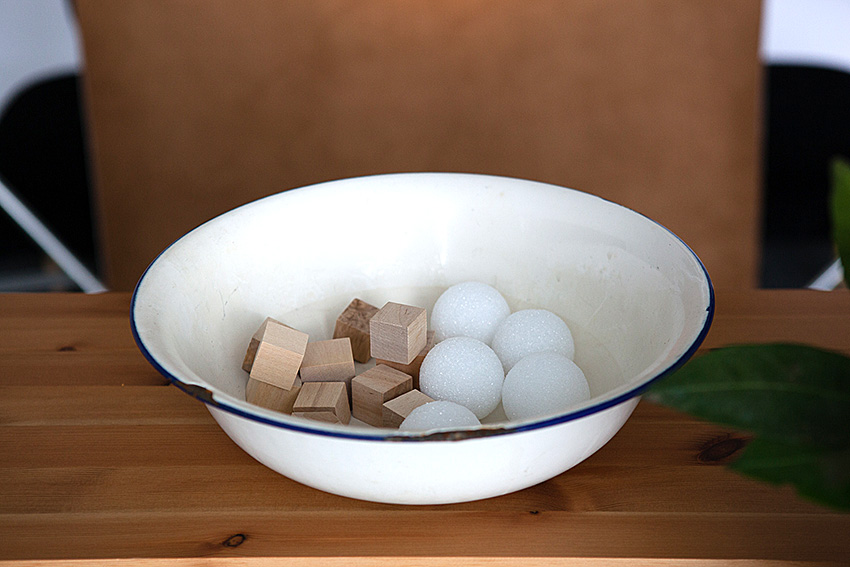 Next I will style my fruit bowl. This takes some practice, but start with how it looks good to you. You can keep same fruits in groups or mix them up. Groups of 3 are nice. Also, spritz your fruit and leaves occasionally to make them look and stay fresh!
I look at other similar styles to get ideas. My inspiration is a Paulette Tavormina, paulettetavormina.com  
Before I finish styling the bowl, I'll set up my other lights. I used 2 lights. One on the right is the main light, the one on the left is for fill.  Both have strip boxes. I try and produce one stop difference at a minimum to show some depth.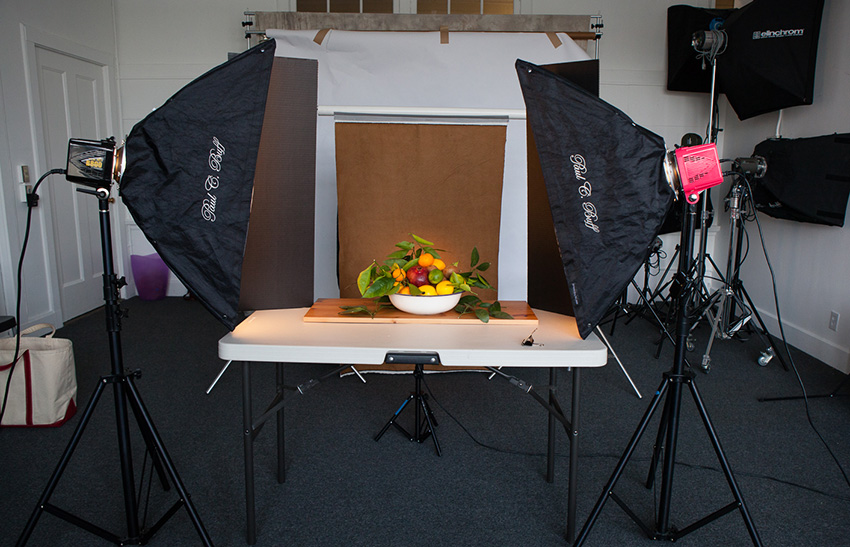 Lastly I finish styling the shot and make the image. You will also need a knife, cutting board, a spriter and some paper towels to help you style!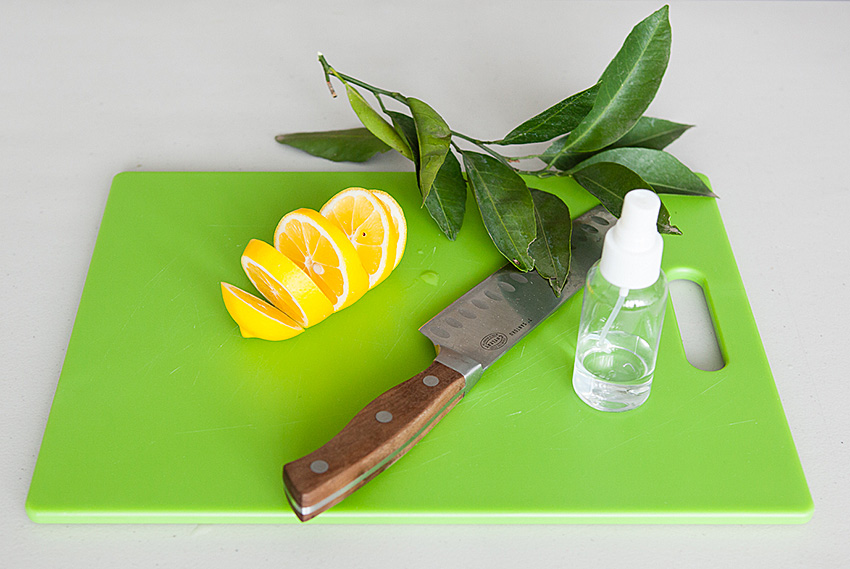 You can see more of my work here:
In the Gearbox

3 Alien Bees (800)

1 Reflector with 20-degree grid

Canon 5D Mark II

Canon 100mm macro lens

2 Paul C. Buff strip boxes