Water Splash Photography Tutorial, Part 2:
Photo Editing in Photoshop
Photo Editing in Photoshop
In this part of the water splash photography tutorial I will show you how I edited this shot, both in Lightroom and Photoshop (first part, the shooting is here: 
Liquid Splash Photography Tutorial: Samsung Galaxy Note 2 – Part 1
)
As usual  when I'm done shooting I import all photos from the camera into Lightroom. When the import is done, I start going through every image and mark out the ones I want to use for the final shot. I mark them with colors in Lightroom so I quickly can sort them to see what shots I did use.
I´ve got 166 splash shots from this session to choose from, I can honestly say that I just did a really quick look through of the images before starting to combine them in Photoshop. It was just so many shots to go through so I did just take a look at the thumbnails to see the shape of the shots, and when I found a shape that I thought I could work with I opened it and edited quickly in Lightroom before opening it into Photoshop.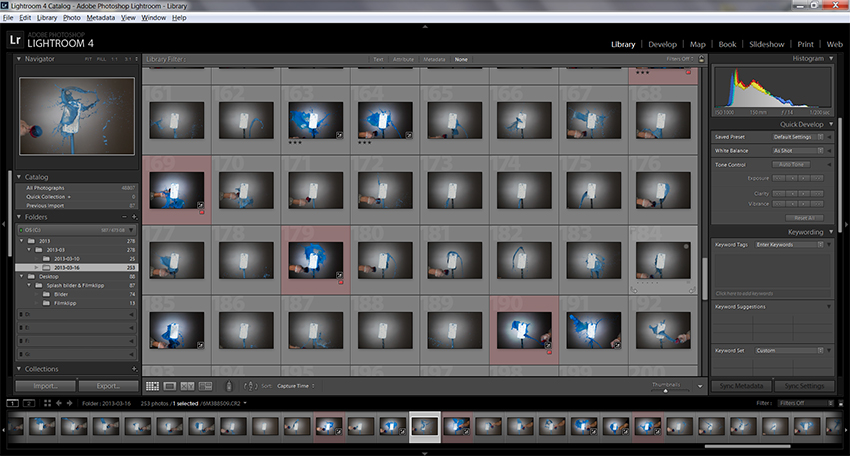 (View from Lightroom library)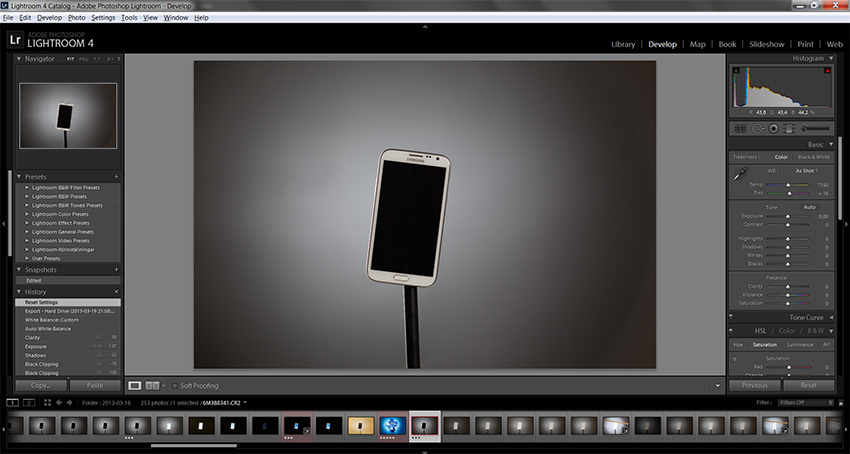 (Unedited RAW file of the phone)
In Lightroom i did the following adjustments for the phone shot:
White Balance adjustments
Exposure: +1,07
Contrast: +60
Highlights: +19
Shadows: -56
Whites: 0
Blacks: -76
Clarity: +50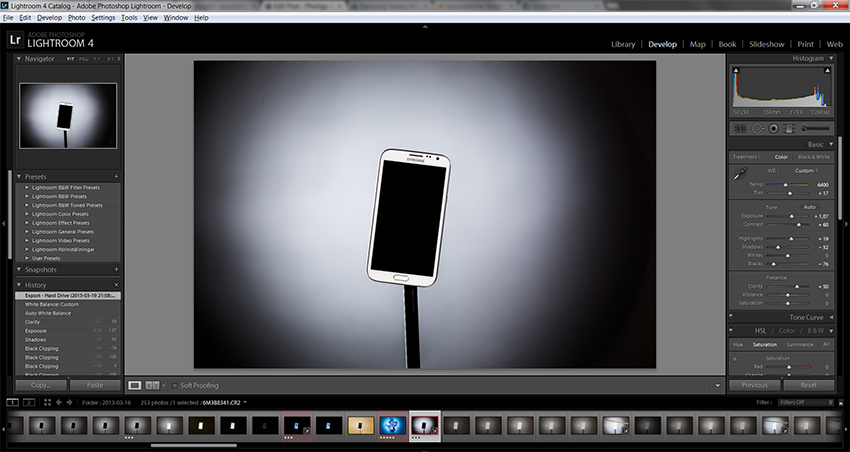 (Phone shot edited in Lightroom)
Here I will show you one of the water splash shots, unedited and edited with the settings I used.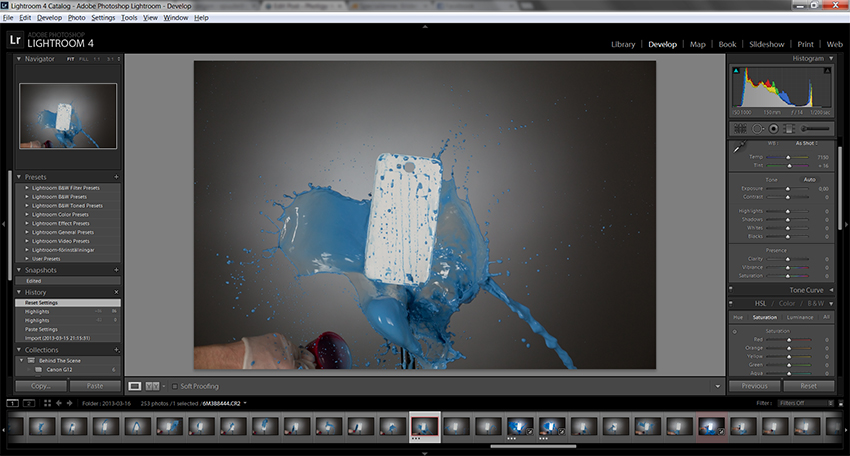 (Unedited Shot in Lightroom)
As you can see the RAW file just looks flat and a bit boring, so I made some basic adjustments to make it pop a bit, and then I boosted the blue color.
Here is a list with the settings in the edited images I used for the final shot.
White Balance adjustments
Exposure: +0,12
Contrast: +50
Highlights: +86
Shadows: -33
Whites: +33
Blacks: -17
Saturation of the blue chanel: +89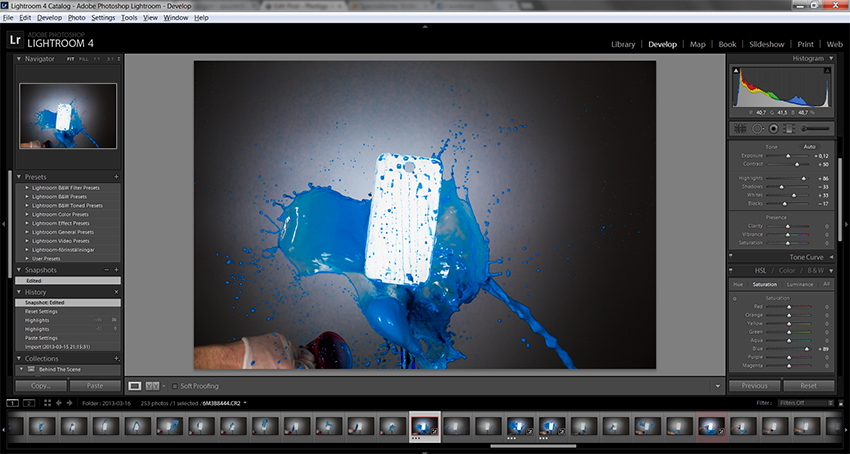 (As you can see there is a lot of very small blue drops all over the image that become visible when i boost the saturation of the blue chanel)
When I have applied these settings to all the splashes I was going to use in the final shot I opened them as layers in Photoshop and started to mask them. Here is a list of the shots that I used in the final shot.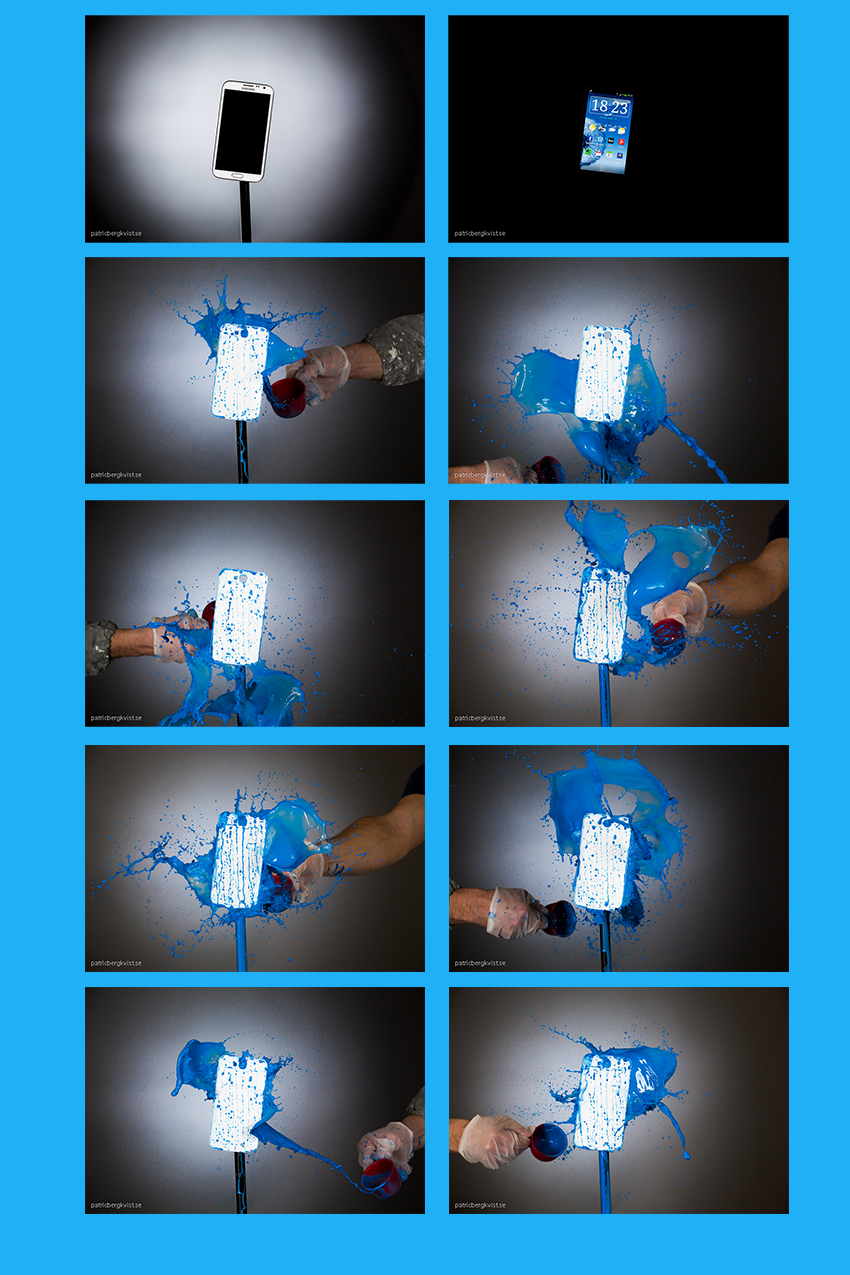 (All shots from the final composite)
Final shot